Vivobarefoot has been on the cutting edge of technical footwear development in the barefoot shoes space for a while. This Vivobarefoot Primus Lite III knit review will cover if this next-gen shoe is where it's really at, or if it's just over-produced hype.
They're designed for use in the gym, studio, and roads and are touted as the highest-level performance barefoot shoe. As a high-level performing athlete, they caught my eye!
I have mixed feelings about these shoes – you'll see why.
I'll cover the fundamental aspects: Comfort, build quality, performance, aesthetics, etc. Lets waste no time and hop right in.
For 10-25% off Vivobarefoot shoes use the affiliated code CNOMAD10 on the Vivobarefoot website and to support me 🙂
Comfort
To my feet, Vivobarefoot have made far and beyond the most comfortable barefoot shoes I've ever used. Perhaps it's just my foot structure/shape which loves them, but nothing from Nike, Vans, or Xero has come close to the footprint, materials, and general construction.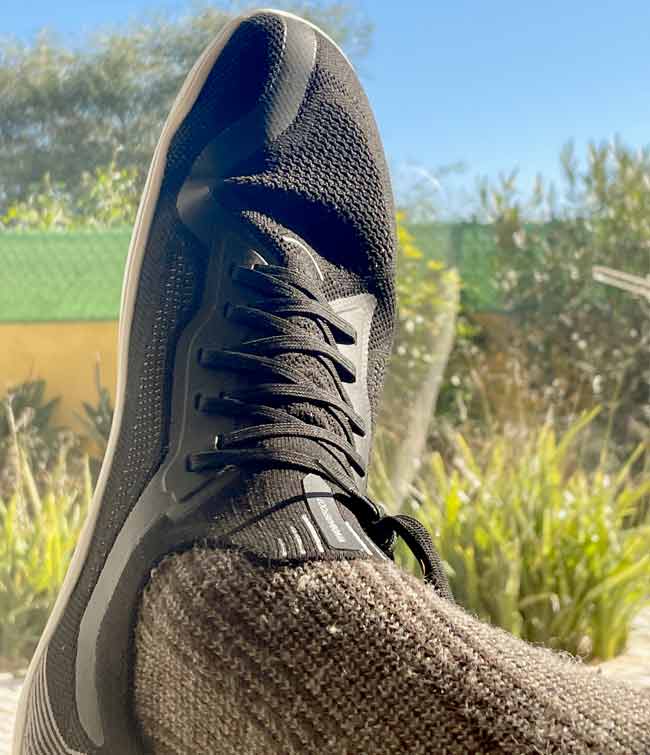 These Primus Lite III are a continuation of that as they're lightweight, thoughtfully engineered, and overall just very pleasant on the feet. In a way they feel like comfy protected socks.
However, the sizing on the Primus Lite III knit is a bit funky and I'll get on that in the sizing Vivobarefoot shoes and the build quality section. Overall though – super comfy! Just get the right size..
Materials & build quality
The biomechanical engineering is on point. The material science is excellent. The overall construction, fit, and feel is top notch.
The upper has a sort of uni-body construction with no distinct seams or separations. A strong heel counter, carefully placed internal padding and grip help to lock the foot in. Super important for high-output activity!
The upper is a recycled woven polyester and the sole a 4mm thick durable rubber with a shallow honeycomb which grips well on both dry and wet road surfaces. I do wish they had a little more reflective features for nighttime running however..
In my little opinion, Vivobarefoot is industry leading in material science, engineering, and design – these shoes being the magnum opus as far as barefoot training shoes go and no doubt the cream of the crop!
Durability
Seeing as the body of these is a knit polyester versus a solid material, you won't get the same durability compared to leather or solid plastic. Polyester is quite strong, but I know not as strong as solid leather.
However, the use-case of this shoe is more oriented towards flat surfaces and indoor training, which is going to be much less abrasive than say trail running or hiking.
As I've only just gotten these shoes, I'll update this section after a few months of wear and tear to provide real feedback vs other Vivobarefoot shoes. So far so good though!
Performance
As intended, these barefoot shoes are made for road running, training, working out, gym activities, etc. Fantastic all around! They even grip my MTB pedals really a lot better than I anticipated and through and through they're stellar.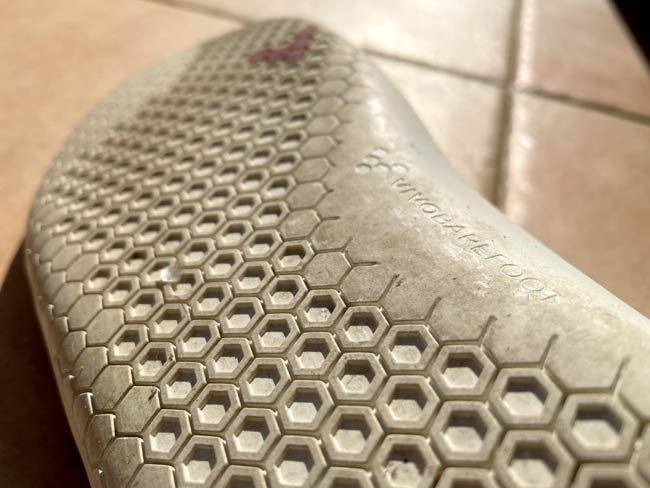 They feel like a sock, they're light, breathable, agile, grippy, etc. They do well on wet road surfaces and the tread pattern is well thought out.
I won't use these for soccer, trail running, trail biking, or anything gnarly – I feel as though the materials, design, and tread pattern will not take kindly to those. That's okay – that's what the Primus Trails are for..
Overall the performance of the Primus Lite III knit is outstanding! They lock onto the foot well, are very light, grippy, comfortable, breathable, etc. Couldn't ask for more.
Sizing Vivobarefoot shoes
It can be tricky, depending on which model you get. Especially with performance shoes like the Primus Lite 3 or the Primus Trail FG, you want to make sure you have a good, clean, no-flop fit.
You see, I got the 45 in the Primus Lite Knit since the 44 of my Primus Trails were a bit tight. I think I made a mistake.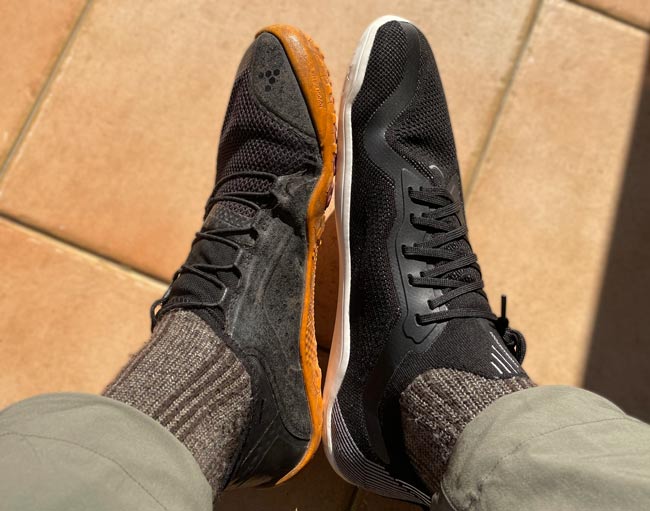 Theres a good amount more of extra material which my feet don't seem to love. For workouts and training I usually wear thin socks (as opposed to sturdy merino socks for hiking), which exaggerates this extra-space sensation quite a bit more.
The result? They don't feel as snug or locked-in as I would prefer for a high-performance shoe. I should've followed my own Sizing Vivobarefoot shoes guide a little closer…
Style/aesthetics
In my biased opinion, Vivobarefoot is waaaaay ahead of the curve in terms of styling and aesthetics go. To unfamiliar eyes they look like regular premium sneakers instead of freaky five-digit slippers or budget no-name shoes.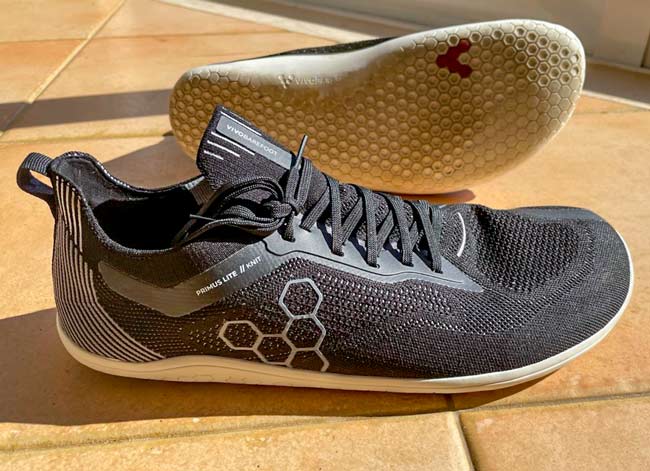 I really enjoy how these shoes look! They're somewhere between the performance footwear and casual shoe designs, which makes them versatile to use in pretty much any use case. Sporty, clean, minimal, technical. Well done!
Sustainability
Vivobarefoot is one of the most transparent shoe companies out there right now. They published their 2022 business report which clearly outlines their budget, profit margins, marketing, sustainability, goals, material research, etc.
This is awesome in my opinion and their refurbishment service is solid – you can also go to Revivo to find reconditioned shoes. I genuinely believe they're trying to do good and to me that's pretty important.

Overall
I really enjoy these shoes, however I don't really need them… Most of my use-case is trail running, hiking, mountain adventures, trail biking, and other off-road antics. I'm not in the gym, crossfit studio, or road enough for them to make sense for me.
As such I need something more abusable and durable (the Tracker Decon for example). Instead these are far better suited for the gym, going around town, and staying clean(er).
$170 is quite a lot to ask for – however it's an investment that's well worth it if you're a competitive athlete or really looking for the absolute best shoes for the job. I couldn't recommend anything else! Catch them on sale or use a discount to save some good cash.
Too, I wish I followed my own Vivobarefoot Sizing Guide a little closer and sized down..
For 10-25% off Vivobarefoot shoes use the affiliated code CNOMAD10 on the Vivobarefoot website and to support me 🙂
Anyways, hope you liked my lil review and ask away if you have any questions! Peace 🙂
Vivobarefoot Primus Lite III Knit
Overall a very good and high-tech piece of footwear. Excellent build quality, design principals, and material science. Not made for the trails or heavy outdoor use - better used at the gym or in the studio. Ensure you get the proper fit and you'll be gold - the perfect training companion!
Product SKU: 0001
Product Brand: Vivobarefoot
Product Currency: USD
Product Price: 170
Product In-Stock: InStock