Vivobarefoot has come out with a slew of new Primus Trail models recently. It can be a hard choice so here's what my opinions are from testing and trying them out.
To make it straightforward and easy to follow, here are the links below (some are missing) to the corresponding shoes in this review:
Vivobarefoot (US) affiliated store links to:
Note: Here is a link to a 25% discount to any of the Vivobarefoot stores. Use code CNOMAD10 at checkout!
Best all-around – Vivobarefoot Primus Trail 2 FG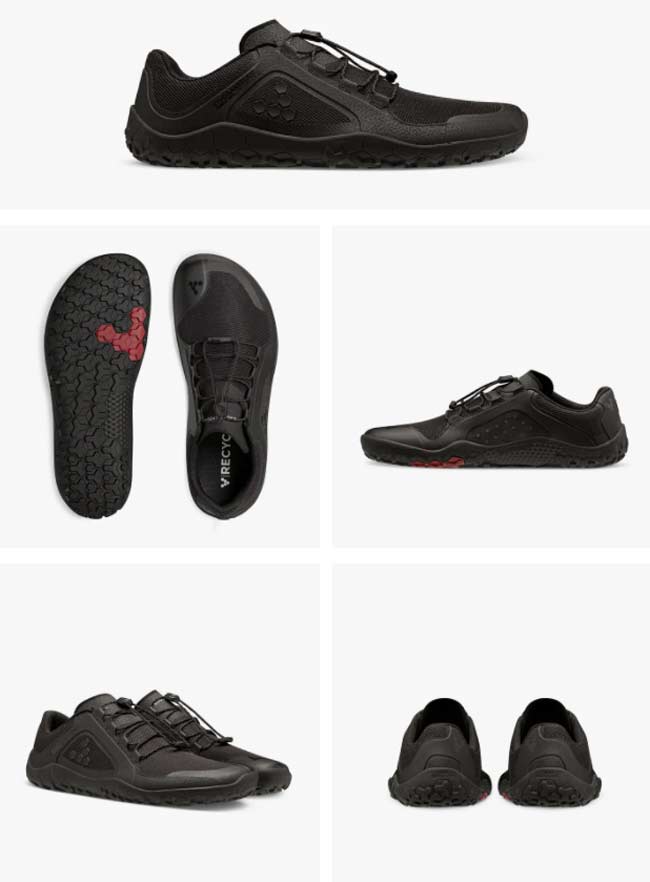 How can I not love them? I've put my first pair of Primus Trails through some serious challenges and they held up extremely well. That is until I impaled my foot on a branch while mountain biking and demolishing on the ascent of Devils Head after over a year of abuse.

The mesh is breathable, it's comfortable, flexible, fine enough for spring/fall (above 5°C), did (mostly) great on snowy winter hikes, withstood numerous ascents of slippery scree and nasty scrambling in the Canadian Rocky Mountains. Nice grip, nice feeling, overall – cannot recommend enough!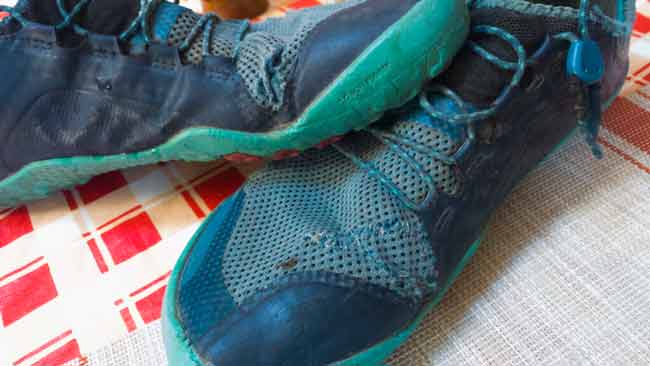 Rather, they don't do so great in the wet or extreme hot – they let water in but don't breathe as much as I'd like for those 35°C+ days. Overall though, the Primus Trail 2 FG are the winner. Check out the full Vivobarefoot Primus Trail review for more thoughts on em.

Best for hot weather – Vivobarefoot Primus Trail Knit
That knit mesh upper is so comfortable and breathable. Definitely an improvement over the Primus Trail FG and very different than the Primus Trail Winter/All-weather.

However, I wouldn't dare take these on the same mountains, scrambles, or terrain I take my regular Primus Trails. Significantly weaker and subject to abrasion, you'll sacrifice longevity in the name of comfort.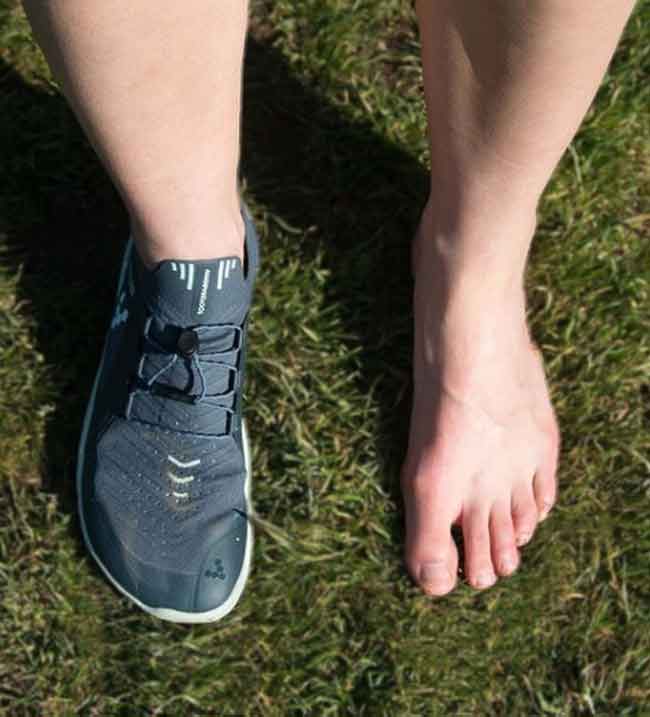 With that in mind, the heel loop, better fit around the ankle, and sock-like upper really makes this the top dog for comfort and will often prevent small rocks from coming in through the side – at least better than my original Primus Trails did but not like the Magna Trails do.
I'd say these are excellent for barefoot running in hot climates and unless you're going up mountains or dodgy terrain, these would be the best pick.

Best for cold or wet weather – Vivobarefoot Primus Trail 2 Winter & All-weather
Neither of the other Primus Trail-types had an enclosed top until the Primus Trail 2 Winter and Primus Trail All-weather rolled around. The upper is sort of neoprene (wetsuit) material with a laminated coating and has the same sole and lacing system as the other Primus Trails.

From what it looks and feels like too, they're essentially identical shoes – minus the color choices. Check my full Primus Trail All-weather review for how I feel about them.
Essentially, the difference here is that your feet will stay warm, even when wet. It'll make a huge difference when considering snow, rain, and dew. They're much better for winter months, especially in the Northern European, Nordic, and Canadian climates. Even trail running was fine up to 25°C!

Best for muddy conditions – Vivobarefoot Primus Trail 2 SG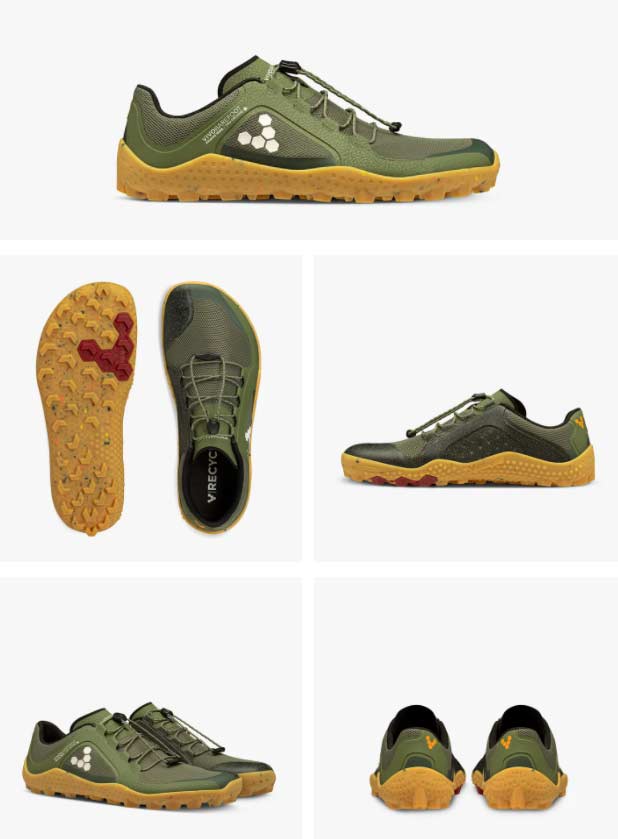 Evidently, the shoe with the deeper lugs has better grip in mud, wet grass, and sand – who would've guessed eh? I don't know why they haven't made an all-weather version of the Primus Trail 2 SG yet though – seems like you'd be using the SG lugs on muddy & wet conditions, no?

Honestly, I'm not all too fond of the added sole thickness either because to me it loses a lot of the barefoot feeling that I was originally looking for. However, for newcomers to barefoot shoes this actually can be desirable if you're not used to the raw-nature of many barefoot shoes.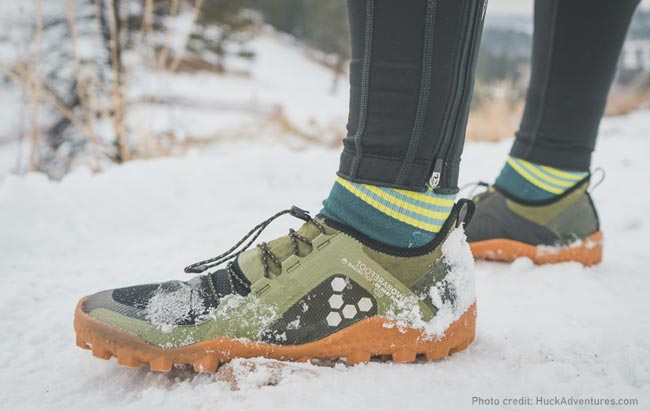 Even then, the lugs on the regular Primus Trail FG are not so thin and curb the barefoot feeling quite a lot anyways, compared to a flat-bottom barefoot shoe.
Still, if you're looking to do trail running and hiking in oftentimes wet and slippery conditions (UK, Netherlands, Denmark), maybe these are the stronger pick because they absolutely do grip better. Would you prefer some water-proof potential though? Up to you of course.

Overall
Personally, I pick the standard Primus Trail FG for all-purpose use and the All-weather if I know that I'm going into the rain, dusty, or slightly cooler conditions. The SG I don't personally use and the Primus Knit are closer to casual shoes than hiking barefoot shoes to me – I know I would just destroy them too quickly.
Make sure to hit up my Ultimate Vivobarefoot buyers guide to help find the best barefootshoe for you, as well as my How to size Vivobarefoot shoes guide to help with fitment if you're swapping over from 'regular' shoes.

Any questions or comments just drop them down below – more than glad to help out of course!
Consider donating a coffee-amount of coins via PayPal if my article helped you 🙂