I've spend a while trying to refine my gear into the most portable yet durable and comfortable possible. As someone who isn't swimming in money, I'm glad to present you with my best budget ultralight backpacking setup for 2021! My Lighterpack can be seen here and on Reddit /r/Ultralight.
I've discovered that I'm glad trading a kilo or three of carry weight for safety, durability, and comfort at the campsite. This also saved a few dollars too as extreme ultralight backpacks and such wear out quickly and cost a lot.
For simplicities sake I'll list all the prices in $USD, though I purchased most of my gear in Eu and Canada.
Sleep system – Budget ultralight hammock camping –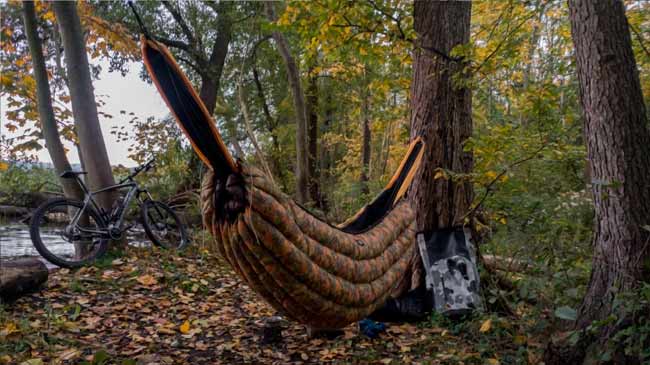 The total cost of my budget ultralight hammock camping setup without underquilt is $295. With underquilt that goes up to $700 but it's the best UQ in the scene!
I've converted fully to hammock camping now as I found it to be far more comfortable. A notable learning curve but well worth it for the amazing sleeps and campsite versatility.
Hammock

– TTTM King size – $60 – At 3.2m x 2.3m, the king size Ticket to the Moon hammock is large, weighs 700g, and can even sleep two people (with skill). I'm glad to take the weight hit on a versatile, strong, and endlessly comfy hammock! TTTM Hammock review here.

Underquilt

: LSoH Toster -10°C underquilt – $400. Coming in at 707 grams and able to keep me warm down to a rated -10°C, the 900FP Little Shop of Hammocks underquilt is a dream and well worth the investment. LSoH Underquilt review here.

Top quilt

: Naturehike 800FP sleeping bag – $100 – Cheap and hitting the 600 gram mark, it's a decent bag with questionable ethics. I plan to upgrade this one and only part of my setup this year. Naturehike 800fp bag review here.

Tarp

: Bushmen.pl 3×3 thermo tarp – $80 – At 750g it's not crazy light but good enough! Great price, thermal lining, and huge area – I very much enjoy this tarp and enjoy the fact you can effectively cowboy camp with it.

Bugnet

: TTTM convertible bugnet – $30 – Evidently optional and hitting 100g, it's a bit bulky but I bring it whenever camping in bug season.

Suspension

: TTTM Lightest Straps – $30 – About 95g – very light, compact, strap/rope hybrid – love em! Lightest hammock straps review here
I sleep in my hammock without a pillow now and use whichever aluminum stakes I have on hand.
My total weight for sleep setup hits around 3kg, which is 3 liters of water worth or 6,6 lbs. Not crazy ultralight but very reasonable indeed for sub-zero capability and ultimate comfort. No more half-nights of sleep!
My favorite budget ultralight backpack
Sensu by Jaylife13 – $100 – Excellent budget ultralight 40L pack which is 100% submergible waterproof, extra durable, and has compatibility with climbing harnesses and gear loops for poles, ropes, etc at the cost of some weight (1.1kg).
In fairness, it's not ultralight at that weight but I absolutely love it for its robustness and watertightness as someone who ventures through extreme weather and terrain often. Check out my Jaylife13 ultralight backpack review here for more info.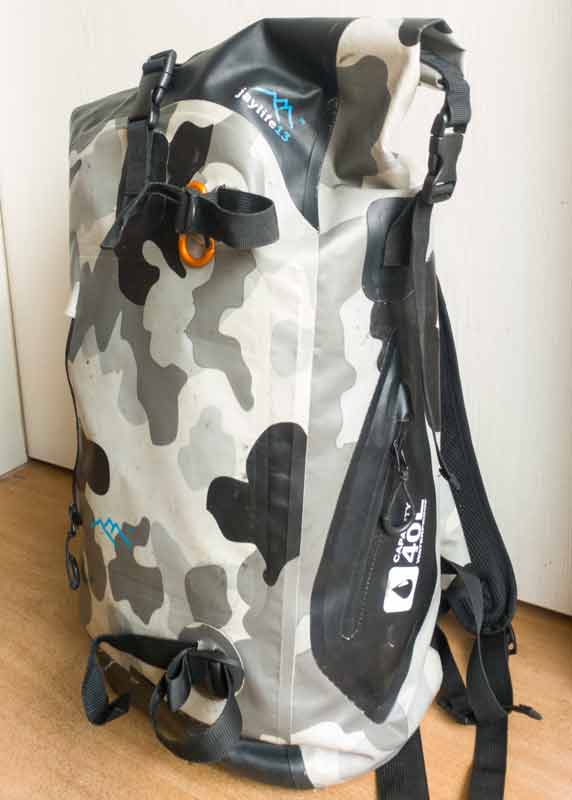 I bring a small light mesh string bag for organization and if I need to leave the backpack hidden somewhere and continue with a small gear setup.
Clothing – Quality comes first
I've tried to find great gear at great prices, but spend a lot on merino wool gear as it's a night and day difference compared to cotton or synthetic fibers. Less is more and bring the best you can!
Outer wear
Jacket – Arc'Teryx Atom LT – $80 – Found used, excellent jacket, good down to 0°C, very durable, very light.
Outer shell – Salewa Gore-Tex jacket- $50 – Found used, a simple yet durable Gore-Tex jacket for to layer on my Atom LT for extreme conditions.
Shorts – Icebreaker Merino Wool/Cordura – $30 – Bought used, super tough, warm, and look nice!
Shoes – Vivobarefoot Primus Trail – $100 – Best barefoot shoes ever. Check out my Primus Trail review or Primus Trail review video to see more.
Shoes 2 – Vivobarefoot Magna Trail – $150 – Good barefoot hiking shoes for cold climate. Check out my Magna Trail review or Magna Trail review video to see more.
Socks – Merino wool * 2 – $10 each. Gamechangers
Underwear – Merino wool * 2 – $40 each. Gamechanger².
Neckwear – Merino wool buff – $20 – Gamechanger³.
Shift – $5 – Random thrifted silk shirts
Gloves – $5 – random mechanics gloves with repurposed merino wool socks as warmth liners.
Gloves 2 – $60 – SealSkinz All-Weather merino-wool gloves
I don't include this as part of the core setup as worn gear is subjective to each person and often not in your bag.
Sleep/campsite wear
I usually have two sets of gear – one for wearing when hiking, climbing, or biking, and one for camp and sleep. This is my sleep and campsite gear:
Pants – Icebreaker Merino wool joggers – $70 – Bought new, amazingly comfortable and surprisingly durable. Use these around camp or sleeping in cold conditions.
Socks – Thick Alpaca wool socks – $20
Underwear – Merino wool * 2 – $40
I don't include this as core setup as your sleepwear and campwear situation is all subjective!
Kitchen system
My total kitchen system which I use to cook tea, warm meals, or mix cold meals with costs only $36. I love wood fire cooking and do it whenever I can!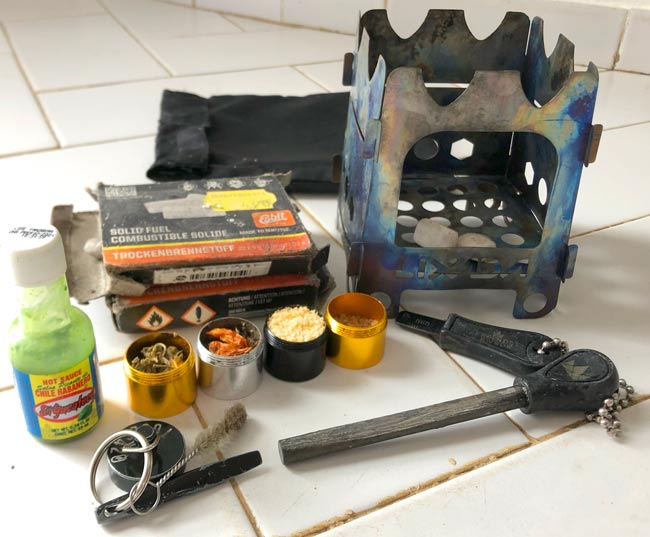 Esbit fuel cooker setup – $25 – I primarily cook with wood or use these tablets if wood is not available. Occasionally use a butane cooker but enjoy these.
Titanium tactical spork – $5 – Hilarious and effective – will make a review of it soon.
Military mess pot – $5 – Cheap from military surplus store, lightweight, and watertight.
Kitchen sponge – $1 – Cheap, light, and great for cleaning anything
Small chunk of soap – $0 – C'mon, you've gotta bring soap…
Total setup weighs like 1kg/2.2lbs or so. I consider this to be part of the core setup as you can't backpack without food!
Other
Medical kit – $50 – This includes wraps, bandages, alcohol wipes, sutures, scissors, fire steel, painkillers, antibiotics, NSAIDs, tourniquet, purification tablets, etc. A vital piece of kit and I never adventure without it and I don't weigh it because you shouldn't try to reduce the size of your emergency kit. Somewhere around 500g I believe.
Headlamp – $20 – 18650 battery compatible headlamp.
Power bank – $20 – 2 * 18650 batteries (Nitecore F2). I love 18650 battery usability and energy density. My vaporizer also uses an 18650 and between the power bank, headlamp, and vaporizer I have ~12,000mAh of juice from the 4 cells. Each cell is 3,000mAh (Sony VTC6).
Watch/GPS – $25 – Garmin Vivoactive HR (can load .gpx routes on it)
Trekking pole – $10 – Random thrifted aluminum pole which mounts my camera on it after modifying it.
Phone – Good to bring, no? I leave it off all the time unless I desperately need it. Paper maps or .gpx on my watch is my main navigation.
I don't consider this to be part of the core setup, though I often bring all of these on any adventure. Total weight is something like 1.2kg incl. batteries, vape, canna, etc.
Summary
So that concludes my budget ultralight backpacking setup for 2021 and what I've been using. My core setup can be had for around $500, and about $1170 for my entire cold-weather, expedition-ready gear setup. I can load all the weight in my hips, pack for days, climb technical routes, paddleboard, or bike anywhere with this loadout.
If you're interested in everything that I use as a remote worker and adventurer, check out my master gear list tailored towards my remote work/adventure lifestyle.
Any questions or thoughts please leave em down below or on any social media channel as I'm glad to help out. Thanks for reading and peace!