Having been deep into barefoot shoes for over half a decade, I give you my personal best barefoot shoes picks. I'm very passionate about this since 'regular' running shoes can cause injuries (which I had for well over a decade).
No garbage, no junk, no paid positions – I cover my absolute #1 choices whether its barefoot shoes for sports, barefoot hiking boots, casual/daily, sandals, and more.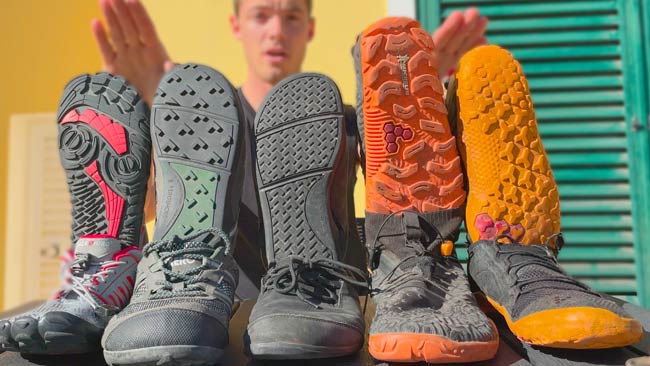 I try to remain unbiased, but of course, we all have preferences! I've tried many from Vivobarefoot, Merrell, Vibram, Xero, Belenka, etc.
Note: This is a personal list which reflects my most preferred choices. For reference, I'm an elite-level athlete and gravitate to shoes which are not just attractive but practical in daily life.
Best overall barefoot shoes
Vivobarefoot Primus Trail FG – a landslide win without close competition. I have taken them everywhere from snowy Rocky Mountains to sandy desert bikepacking. They are remarkably convenient and capable.
Key features:
Extremely versatile, do-it-all shoes
High-performance, great style, material science.
Avg. price: ~$125-$150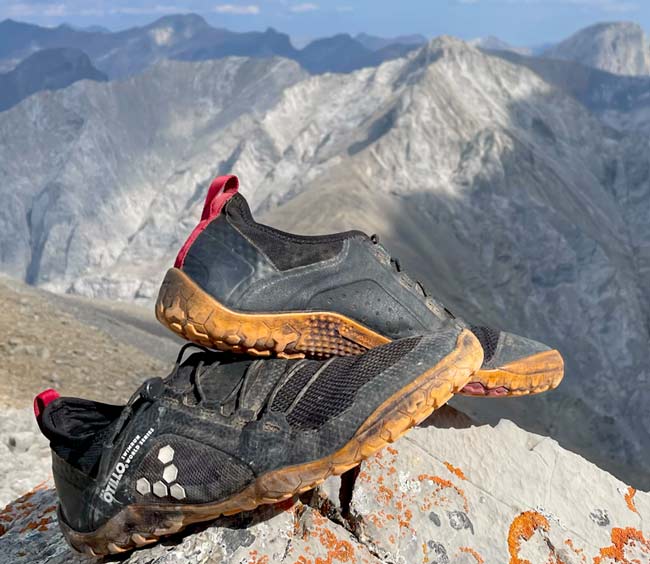 Lightweight, comfortable, durable, grippy, stylish, athletic. I use them for soccer, climbing, music festivals, going out, hitting the trails on my janky custom mountain bike, literally anything you can think of.
The Primus Trails have been on my feet for 80% of any sport, activity, adventure, and experience I've had in the last 4 yrs. Nothing has dethroned them yet and to me they're worth every penny! I usually find them on sale for 30-50% off which makes them a whole bunch more affordable.
They're simply the most versatile shoes ever made in my opinion. They can fit almost any situation and excel. Just enough tread to grip everything but without removing that barefoot sensation. Just a pleasure to use through and through.
Pros:
Lightweight and agile
Durable and sturdy
Does everything
Cons:
Expensive
Sometimes hard to source
Vivobarefoot Primus Trail II FG alternatives: Tracker Decon Low, Xero Terraflex II, Freet Feldom, Groundies All-Terrain
Best budget barefoot shoes
While shoes are IMO one of the most important things one can have, bills need to be paid and some of us don't have a hundred or two always laying around like that. These can be found as re-branded names like WHITIN, Saguaro, Jack Shibo, and more. Same shoe, different name.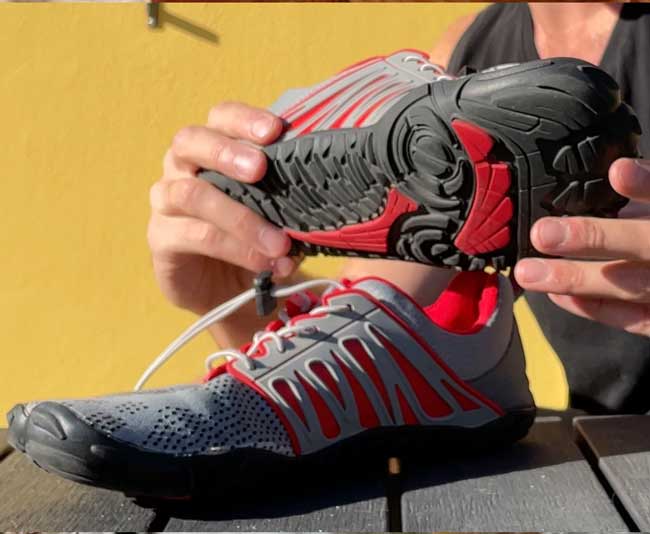 Key features:
Affordable price
Good for testing the waters
Avg. price: ~$35-$50
While Xero shoes are around $90-$130 to Vivos' $120-$180, you can get barefoot shoes on Amazon for about $35-$50.
Now let me be clear. I don't recommend these unless budget is really tight. You're far better off saving up and getting something better. Quality control is meh, the toe-box is known to be tight, and in the long run you'll be happier with a company that cares. Still, they're pretty decent for the price but expect them to wear out quicker.
To add to that, there's a lot of inconsistency in sizing between models. To add to that, these are shoes aimed towards activities and athletics. Like putting cheap ties on your car – it's fine for light/daily stuff, but not for pushing any limits or consistent high output.
Pros:
Affordable
Lightweight
Good for getting started
Cons:
His & miss build quality
Cheap materials, uncaring brand.
Best barefoot shoes for athletes
Vivobarefoot Primus Lite III take the cake. As a barefoot shoe for the gym, cardio, training, sprinting, running, etc there's nothing better. They look excellent, feel likewise, and tbh you will be hard-pressed to find a more capable performance shoe.
Key features:
Superlight, high-performance.
Material science, engineering, looks great
Avg. price: ~$125-$150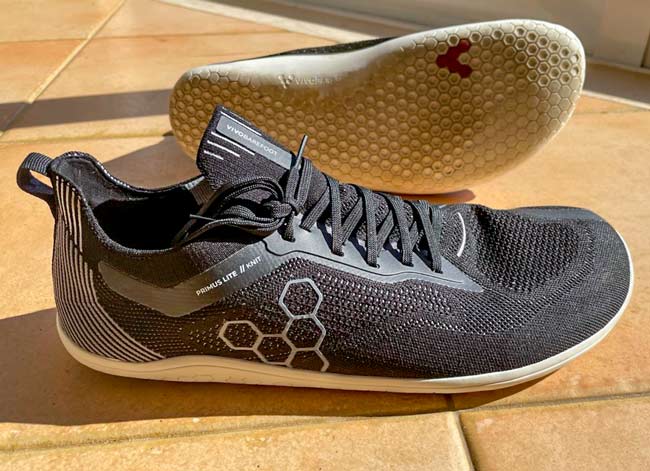 Lightweight, agile, comfortable, secure, locked-in. I really wish these things existed 15 yrs ago when I started in the pro athletics world. I would've avoided so many injuries my garbage Nike trainers coaxed my body into.
The locked-in feeling, stability, grip, comfort, style – they just feel terrific and look the part too. Perfect for training, hitting the gym, doing olympic lifting, or simply running.
Unless you're going off-road – then grab the Primus Trail of course. Otherwise, the Primus Lite are about as good as you can get.
Pros:
Transparent 'tough-skin' feeling
High-performance shoes
Look great
Cons:
Expensive
Sometimes hard to get
Vivobarefoot Primus Lite III alternatives: Geo Racer, Vapor Glove 4, DASH RunAmoc, KSO EVO, Xero Forza,
Best hiking barefoot shoes/boots
This is a three-way tie between the Vivobarefoot Magna FG, Tracker II FG, and Tracker Decon. Heck lets complicate things even more by adding the ESC (high-performance) variants to the mix. Nonetheless they have similar blood and attributes.
Key features:
Robust, flexible, comfortable.
Attractive with modern material science.
Avg. price: ~$135-$185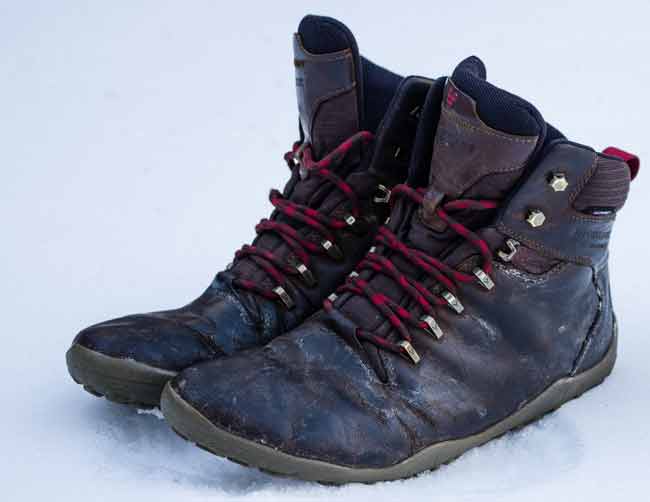 Okay lets simplify now – they're all built with the same purpose – to be excellent hiking shoes/boots. Which is what they are. Simply put they have the best traction, weight, structure, design, and overall finesse of any barefoot hiking shoe out there.
Between the Magna FG, Tracker FG, and Tracker Decon they pretty much ascend in terms of intended intensity. Magna FG fits in a bit better in the city while Tracker Decon is even better for mountain shenanigans. ESC if you want to take another step in the performance department.
There is a lot of high-quality competition in this section and while Vivo takes the win, check out the alternatives chunk below for a lot of options to consider. For me though, Vivo just takes the cake due to comfort, material science, performance, and aesthetics.
Pros:
Comfortable
High-performaning
Attractive
Cons:
Expensive
Sizing can be challenging
Best Tracker and Magna FG alternatives: MagicalShoes Alaskan, Freet Tundra, Xero Alpine, SoftStar Switchback, Groundies Williamsburg
Best casual barefoot shoes
Key features:
To me, a great casual shoe is something that is simple, works in a variety of circumstances, and embodies the essence of 'laid-back'. For me my choice is a tie between the Freet Richmond and Vivo Geo Court.
Relaxed, comfortable.
Modern, versatile, attractive
Avg. price: ~$100-$150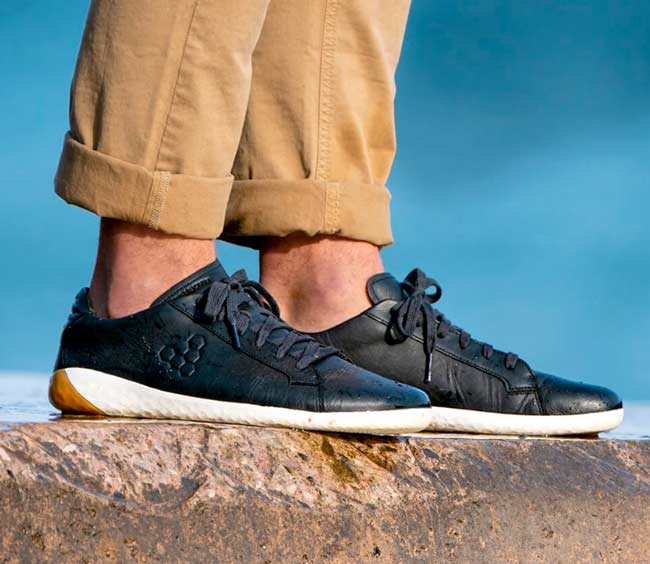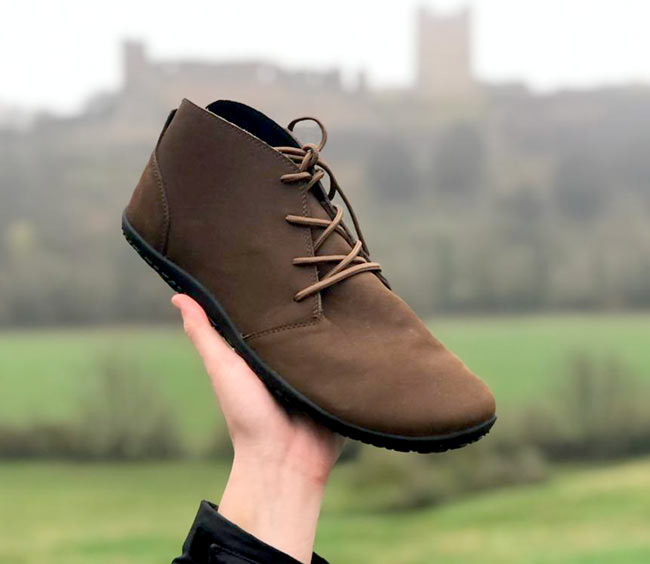 They're both humble in appearance (not looking ultra-techy or hip), modern in engineering & design, and plenty capable of taking you off-road for a spontaneous hike, bike ride, or party.
The Geo Court being better suited in the urban landscapes of concrete and cafés while the Richmond if you prefer that countryside-classy type style.
There are so many good competitors in this section not just from both companies but a ton of different brands out there. See those in the alternatives list below.
Pros:
Lightweight
Durable
Does everything
Cons:
Expensive
Sometimes hard to get
Casual barefoot shoe alternatives: Xero Hana, Vivo Gobi, Ra, Asana, Wildlings, MagicalShoes24
Best style barefoot shoes
Wildlings as a whole IMO takes the win in the most subjective category of all. Style is a big-time preference thing but the first time I came across Wildling barefoot shoes I was hooked! They definitely are not conventional in their appearance and that's what I love.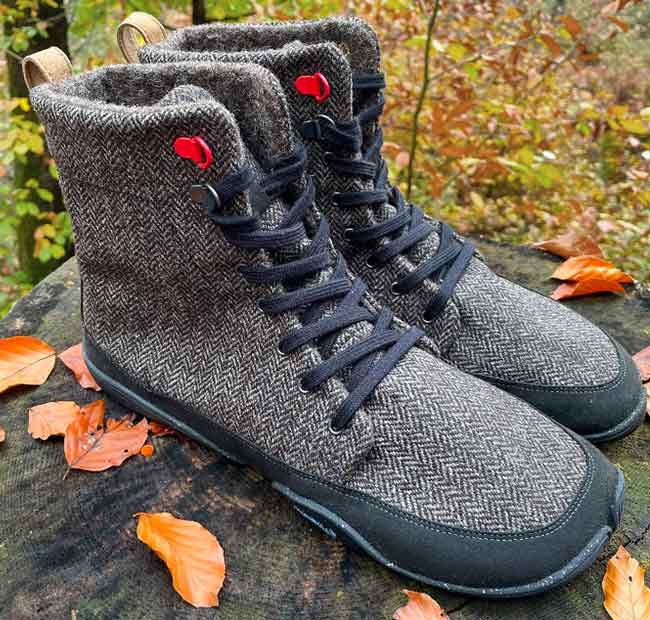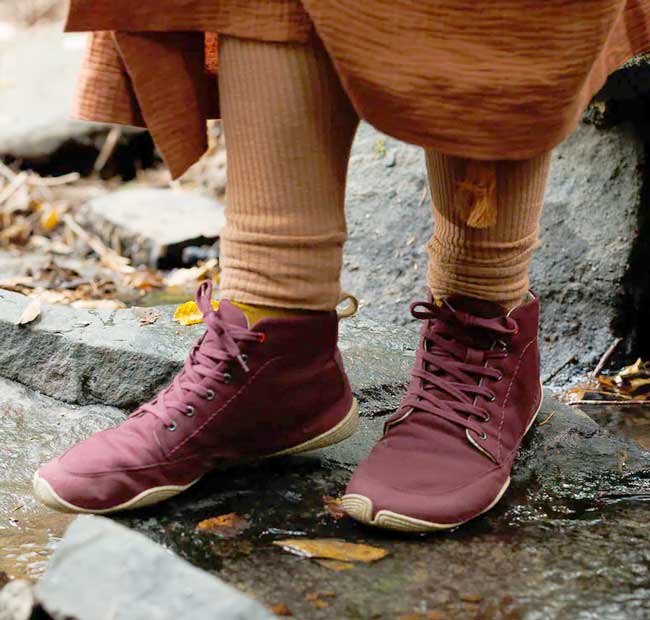 They have this designer, home-made, haute-couture type look to them. Sure Vivo has great looking shoes that are very contemporary and 'normal' looking, but that's not what I am going for here.
Rather, Wildlings are bold yet humble. They use excellent materials, have a super comfortable feeling, and are a nice smaller company to support.
Yes I love the style of Vivobarefoot (and other brands) unequivocally, however there really is just something special about the beauty and Japanese-inspired aesthetics Wildlings goes for. Every shoe they have is just marvellous!
Pros:
Lightweight
Durable
Does everything
Cons:
Expensive
Only available in EU
Avg. price: ~$125-$150
Wildlings alternatives: No one!
Best barefoot sandals
A few companies have made their mark in the barefoot sandals space. In particular 2 stand out: Earth Runners and Luna Sandals. However Xero is a great 3rd alternative as the aforementioned 2 are surprisingly expensive for sandals!
Key features:
Closest to barefoot feeling
Best for warmer, sunny climates
Avg. price: ~$50-$125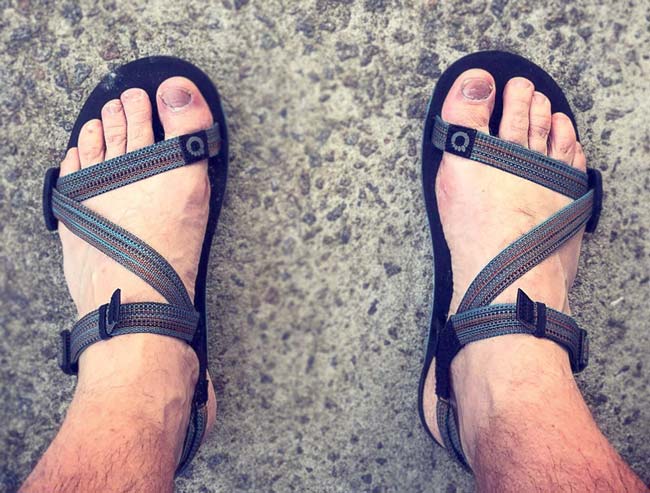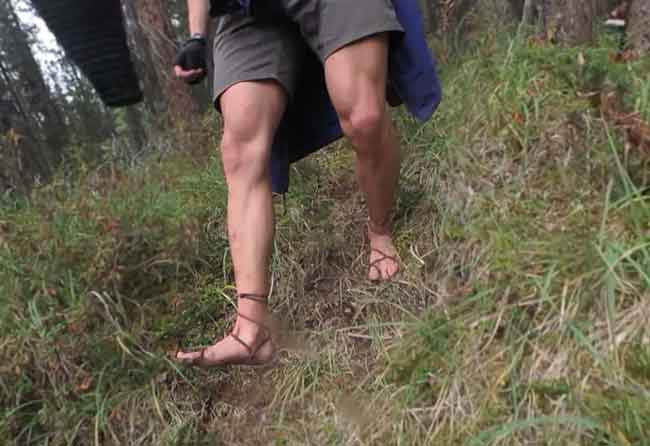 Earth Runners and Luna Sandals are both top choices for barefoot running sandals with performance, trail running, and daily use in mind. High-tech materials, soles & tread profile, and attractive designs.
Xero also has their high-tech offerings but also some more affordable offerings which are more minimal and even a DIY kit which is think is a terrific foray into the barefoot running sandals world.
Check my DIY barefoot running sandals guide to see how it's done – the custom fit and homemade feel is really special and my ultra-thin leather sandals are impressively capable on the trails!
Pros:
Lightweight
Super-minimal
Still very capable
Cons:
Surprisingly expensive
Not great for rain or cold
Best 'weird' barefoot shoes
This is a special spot for those who try to go above, beyond, and extra-planetary in their footwear efforts! Off the top of my head are the famous Vibram, GoSt barefoot, and SoftStar shoes.
Vibram of course are known for their industry-leading sole tech… and freaky five-finger barefoot shoes. Nothing against them and plenty of my friends have (and deeply love) them! I'm not one to shy away from weird footwear either, but was never personally drawn to them since I didn't want to replace all my socks.
GoSt barefoot make exceptionally unique barefoot shoes… out of chainmail! I've been wanting a set for years but have a hard time with the ~$250+ price tag. Perhaps when I do more shallow water antics, but for now I can't justify them.
SoftStar shoes make really lovely 'rustic' shoes. The high-quality , handcrafted, made-from-love feeling of these really draws me in, however the high $180+ prices are also a little our of my reasonable price range.
Conclusion
Overall, those are my personal picks for the best barefoot shoes (and sandals) out there.
Personally, Vivobarefoot just makes a style which draws me in line none other. Perhaps I've just grown used to the fit and comfort, but every other barefoot shoe I've tried simply doesn't hit the same. The Primus Trails pretty much replaced 80% of my closet and my go-to for pretty much every adventure and activity.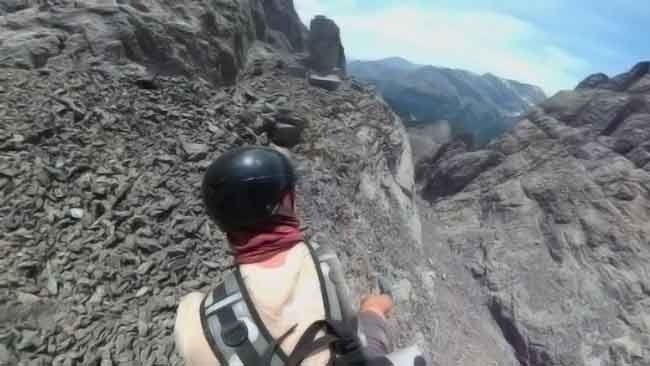 Try visiting the Vivo sales or Revivo section to find discounted (30-50% off) shoes because they're pretty pricy at regular retail price. Well worth it, but I'm a deal hunter after all! Check out my ultimate Vivobarefoot buyers guide for more about that brand and my How to start barefoot running series for exactly that!
Thanks for reading my best barefoot shoes guide – hope I helped! Any questions just drop them down below 🙂