Let me be clear. No other travel blog is as thorough/nerdy as this gearlist. I guarantee it. This gear is capable of -15°C camping excursions, mini-raves, jungle exploration, and sexy festivals.
It can be expensive or affordable if you're crafty with your spending.
For years I've been slowly curating a completely portable, one-bag travel/work/play setup for working remotely, camping, doing sports, throwing parties, etc. Now, my whole life can go anywhere.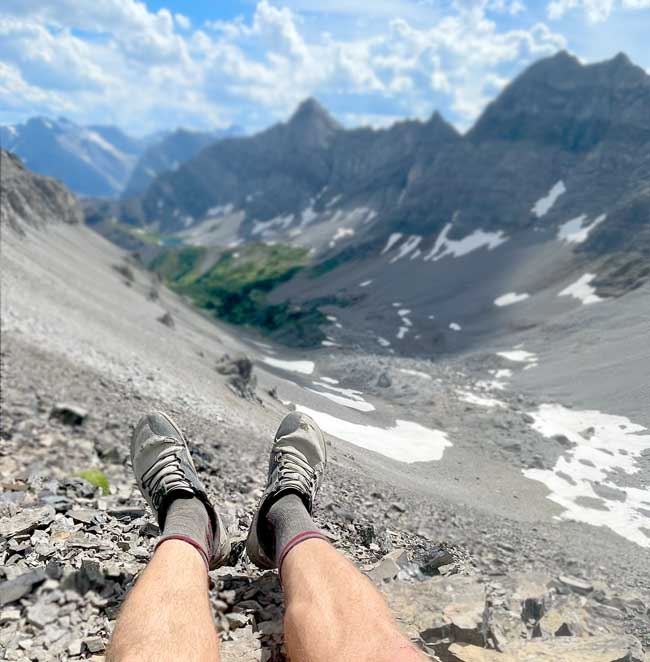 I hate consumer and materialism, but lets be real: items are needed in daily life, so they might as well be as practical as possible.
I'll cover my personal kit of camping gear, work tools, and entertainment toys that I use on a daily basis. I try to maximize $$$ value and quality. Hopefully it brings you some inspiration.
The light setup fits in a 40L backpack and contains a complete camping, living, and work/play setup.
The medium setup adds a few bits and bobs which fits in a small handheld bag.
The pro setup adds a handheld bag which contains near pro-level video & audio equipment.
All 3 setups I carry either on my person or bike, and can be used to move across continents or camp anywhere.
For a condensed summary of all the things I use, check out my complete digital nomad gearlist.
Lastly, this list is full of affiliate links, so if you'd like to support this project, please click through them 🙂
Before I go into my setups, the bulleted information below will cover some core philosophies/principals I carry when it comes to equipment for roving.
Tips & tricks for ultralight digital nomad gear setup:
When considering what things you need for living and working around, keep in mind some of the points listed below:
Weight matters! The grams add up and if you reduce 200 grams from 10 objects, you'll save a substantial 2kg. When you're hopping planes, trains, and joining random beach games, you'll be glad you've got something easy to take around. A suitcase is truly too large.
Bigger isn't better! Most jackets take up a ton of space. Blankets, towels, clothes, etc – trim down your collection and you'll be much better off. Look for something light, warm, durable, and versatile.
Invest! You get what you pay for is especially true when it comes to outdoor things. One pair of $20 socks will outperform 5 pairs of $5 socks any day of the week. Don't believe me? Read here.
Less is always more. Try and use multi-purpose items. Scarf? Try a merino wool buff since it can act as a scarf, hat, headband, and more! This applies to everything
Quality over quantity. Again, less is more and one great $150 jacket is better than 3 alright $30 layers.
Life-proof is important. You never know when a freak thunderstorm, tragic cup of coffee, or accidental slip could spell disaster. Waterproof & shock-proof are highly important, IMO.
Get cozy! Being warm not only feels good but you'll save a lot of calories & food in the long run since your body will always burn fuel to keep cozy. Life on the road often means odd eating 'schedules'.
You lose 80% of your heat from your heat, feet, and hands. Herein some good merino socks, gloves, and tubular are almost always with me no matter what.
Prepare for life. You never know what amazing opportunities or tragic scenarios await. Unlock the potential for the unknown by preparing in advance.
Not sure what to buy? Mountaineering clothing. When in doubt about the jacket, pants, gloves, backpack, etc – just buy from a high-end company that specializes in mountaineering gear (Arc'Teryx, Norrona, Salewa, etc) – it'll definitely be high-quality, lightweight, and very practical.
Light setup
Total weight: ~6.6 kg (14.5 lbs)
Total cost: ~$1,610 (sans laptop & phone)
Light to me means: fits in one backpack and easy to take camping, to the store, beach, or as an airplane carry-on.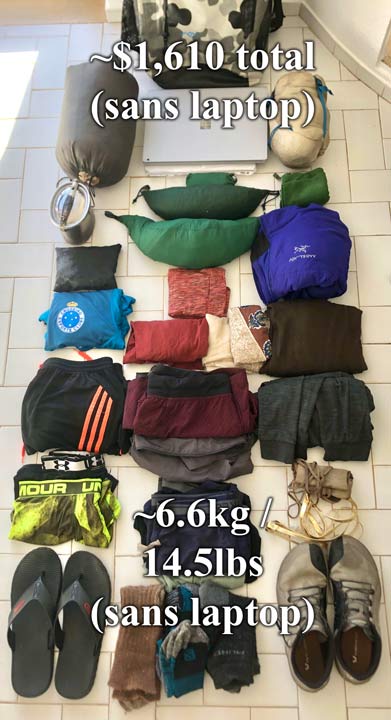 The backpack ($120) I use is a 40L Jaylife13 backpack which is 100% submersible waterproof.
In here I usually pack a laptop, a full 0°C camping setup ($780), three full changes of clothes, 1 x Minirig 3 speaker ($150), and tech pouch ($60) (phone, batteries, cannabis stuff, etc).
I also carry a tiny kitchen setup with a variety of spices & salts for good quality food whenever. Basic toiletries (toothbrush, soap, etc) takes up a very minimal amount of room.
Of course, depending on the type of trip and duration, I'll add/remove items as necessary. Usually I only take about half of the articles shown above for a week-long adventure, but for full-time living, this is the whole loadout.
Medium setup
Total weight: ~3.1kg
Total cost: ~$1,260 (sans laptop & phone)
Medium to me means portable entirely by bike or hand and can still move across countries without issue.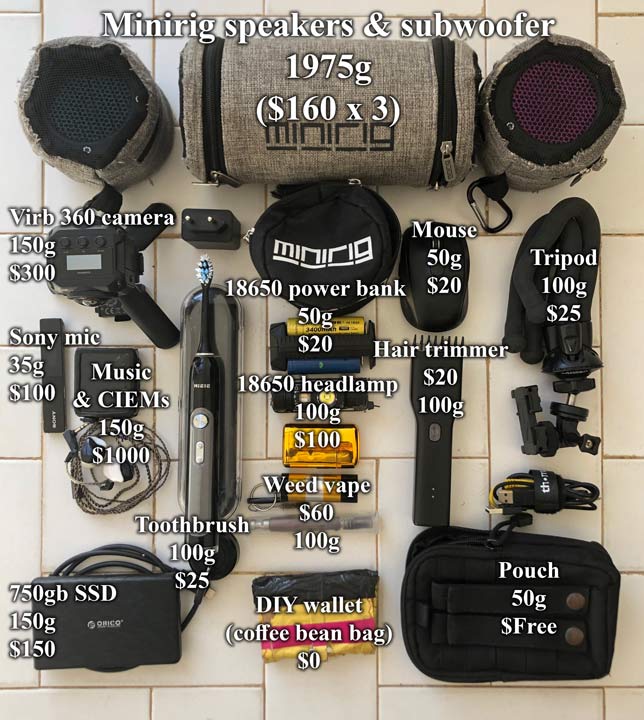 Adding a small handheld bag, I fit another speaker and subwoofer (+$320), some sporting equipment, an action camera ($400), portable microphone ($100), travel pillow, and whatever else the situation calls for.
This is the setup I usually carry around whenever I'm adventuring for a few days staying at random houses, doing some sort of adventure with friends or camping, as well as moving.
It's fully capable of providing sound for a chunk of people for doing small parties – see more about the crazy speakers in the Minirig 3 review here.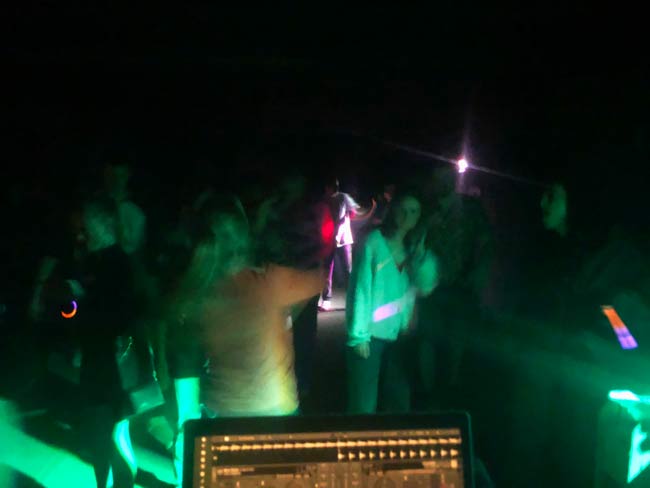 Pro setup
Total weight: ~3.0kg
Total cost: ~$3,500 (sans laptop & phone)
The professional setup includes equipment for high-level video and audio production. This all fits in one handheld bag and mostly sits at home until it's time to be used.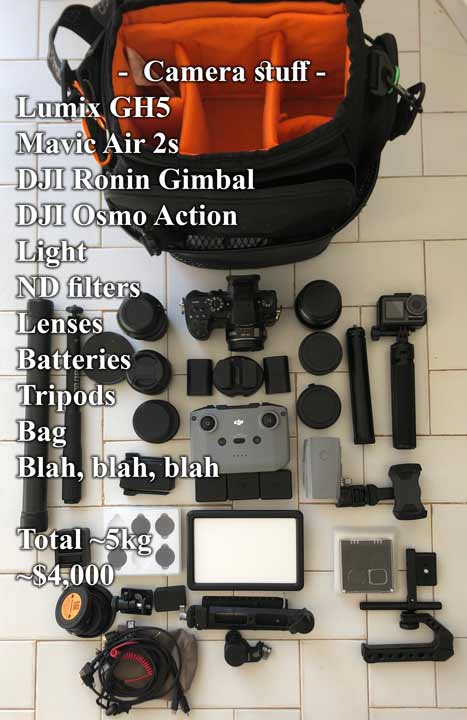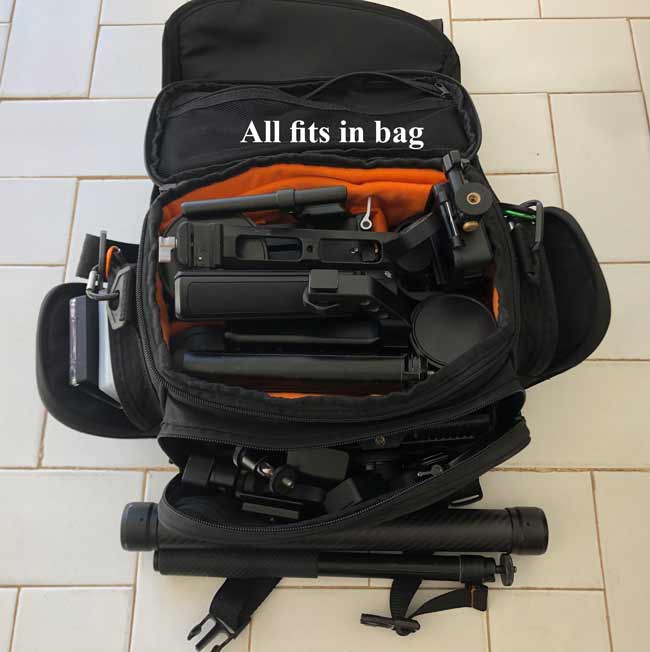 Adding a full set of camera equipment (Lumix GH5, gimbal, DJI drone, lights, tripods, etc) bumps up the cost significantly. However, this is professional-level gear and features tons of batteries, ND filters, blah, blah blah. Very excessive.
This setup can still be taken around by bike, however it leaves not too much room for food or extras (frame bag and top tube bag are available for food & extras.
In the front basket it's very safe to transport
Bike setup
You can read more about my bike equipment in a separate post, but here's a summary. I use this bike for everything from working as a courier to light downhill MTB to bikepacking to courier work to daily driving. I wanted robust, lightweight, versatile, and above all, comfortable.
I chose to do basketpacking due to the versatility in daily-life as well as for moving. Yes, it's not the best when doing singletrack and off-road adventures, however it's worth its weight in gold when it comes to groceries, moving, and days out at the beach.
Read all about my thoughts on basketpacking here. To me, it's a helluva lot cheaper that bikepacking bags and much more wallet-friendly 🙂
Read more about my complete super-versatile bike setup here!
Audio
To me, music is huge. It's a necessity and for that I choose nothing but the Minirig speakers. To be precise, I bring around 2 x Minirig 3 speakers and 1 x Minirig 3 subwoofer. They get impressively loud, have a very wide and deep frequency response, and just in general cannot be beaten in terms of size/weight/sound.
If you want to throw substantial parties in villas, awesome sunset beach music vibes or do some portable DJing, these are a must to me.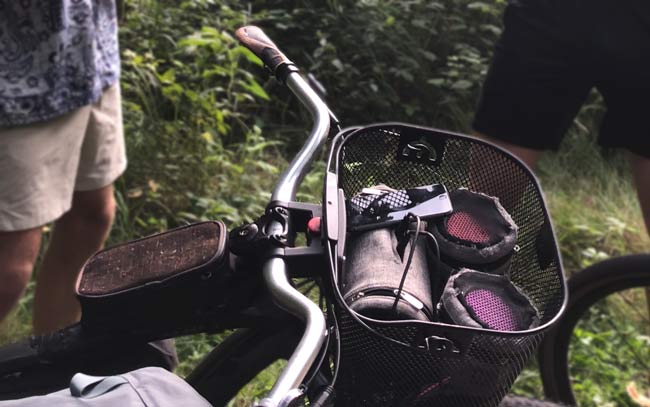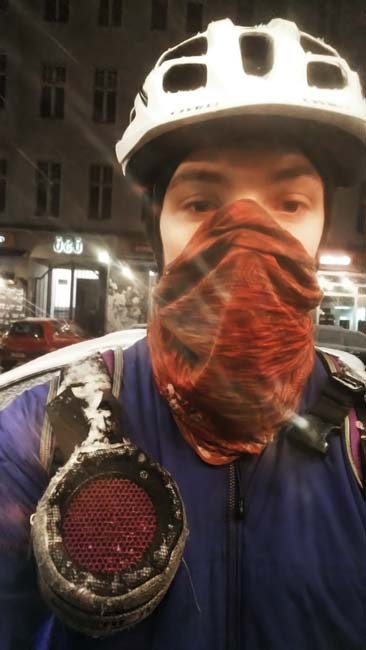 For my light setup I use 1 Minirig 3, for my medium and pro setups I use the full 3-piece ordeal. They're great for both playing and monitoring sound for video projects and audio production.
Backpack
The backpack is one of the absolute most important things you'll ever have. Why? Well, it carries all your things, duh!
To me, 100% submersible waterproof is non-negotiable. Having been through freak torrential downpours, accidental river slips, intentional sea swims, etc – the expensive camera gear, tech, and invaluable documents are just not worth risking in a regular backpack.
There are not too many manufacturers out there for 100% waterproof bags. Some that come to mind are the Exped Torrent 45, Jaylife13 Sensu, and MEC Slogg bags. To me, the Jaylife bag fits all my criteria and take my pick, hands down.
Computer
If you're working remotely, chances are that you have a laptop or workstation. Here's my thoughts:
I currently lug around a large 15" Surface Book 2 computer, however I'm keen to swap to something smaller.
To me it's on the very cusp of being too big, however the extra screen real-estate comes in very handy when video editing, writing long articles, and doing general web stuff.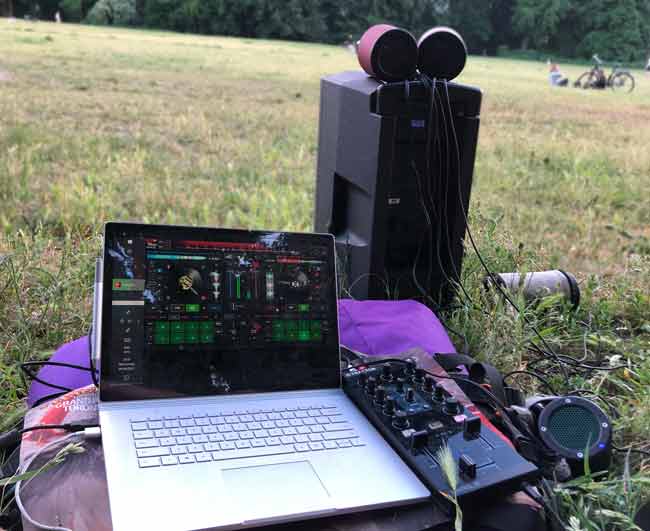 I carry a small Logitech MX Wireless mouse which has been great and improved my workflow a lot.
If I can offer some advice: smaller & lighter is better, and rugged is always a good thing. The new laptops from Apple are incredibly good on battery and pretty affordable and is what I'll hop on over to next.
Camping setup
I love hammock camping and I love comfort. I value ease of use, comfort, durability, and portability in this regard.
You get what you pay for rings very true here and it is not worth it to skimp out on proper outdoor gear. Bite the bullet and buy nice, otherwise you will buy twice.
I recommend buying from local sources, small vendors, and ethical companies. I use a Ticket To The Moon Pro setup for comfort & weight.
Camping gear is where most people use a lot of weight/space. The difference between a down sleeping bag and a synthetic one is gigantic and you can save a ton of weight/space by investing a little bit in a quality down sleeping bag.
Camera
Smartphones are pretty crazy these days and I simply use an iPhone with ProMovie & Lightroom for the majority of mobile shots.
For action-related activities I use a Garmin Virb 360 camera.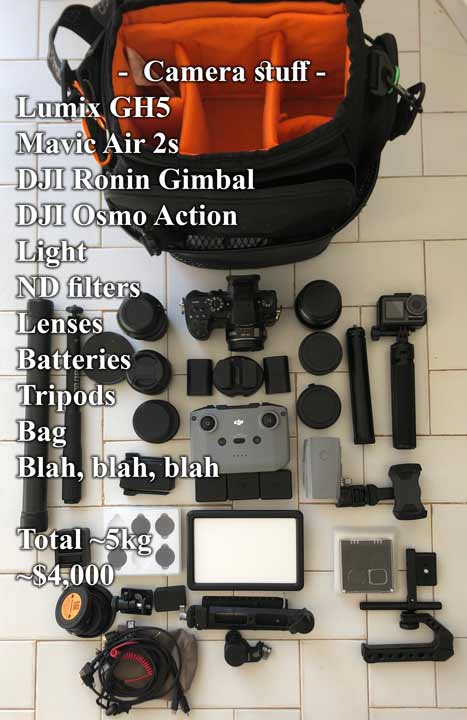 However a full near-pro level camera setup consists of a Lumix GH5, a couple lenses, speed boosters, ND filters, and more. A Mavic Air 2s drone alongside some portable tripods and so forth makes for an excellent and very portable production setup.
Clothing
This is where so many people also lose a lot valuable space to. For the last 3 months I've been living off nothing but a 3-cycle setup – 3 pairs of shorts, 3 pairs of socks, 1 jacket, 1 sweater, 3 shirts, 3 pairs of underwear, etc. Sounds crazy, yeah?
The secret? Merino wool and silk.
Naturally anti-microbial and anti-stink, Merino wool has incredible properties for wicking away sweat, drying quickly, and not smelling nearly as fast as cotton, polyester, or similar. It can be worn 3x as long as cotton before needing to be washed.
Silk is similar but not as flexible or durable, so I reserve those to just the shirt section. Everything else is wool and aside from socks & undies, almost all my items come thrifted to save $ and ecological reasons. Hand-wash frequently in the sink and you're golden.
Jacket
One of the most important pieces of gear you'll ever have is a good jacket. I use an Arc'Teryx Atom LT because it's a phenomenal do-everything jacket and is good for temperatures from 0-20°C – good for intense activities, chilling, and daily stuff. Extremely durable, very light, and comfortable as possible, it's a real good investment.
Kitchen
You're probably going to cook, lest you just want to eat nuts, dried fruit, and pastries every day.
No, a good portable camp kitchen is important to me, and what's even more important is flavor.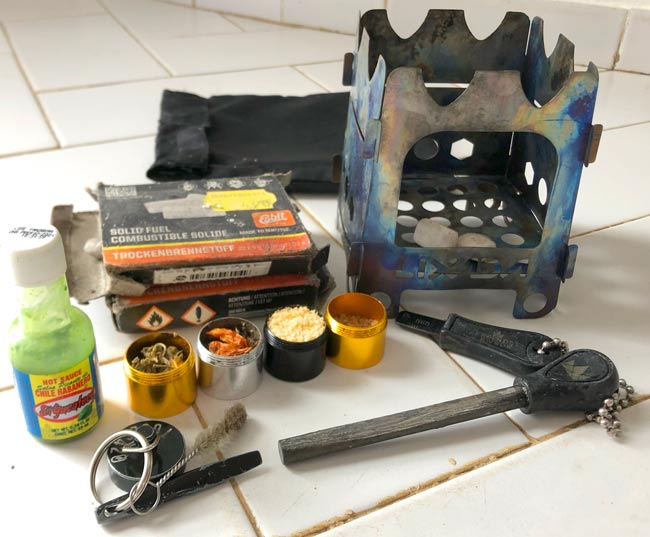 I bring a small 4-stage container with salts, spices, and herbs and a tiny bottle of hot sauce.
Also a titanium tactical spork, knife, and of course the pot.
I cook using a wood/Esbit stove – wood when dry & available, Esbit as backup for those times that wood won't work. Why Esbit?
Well, I like butane and alcohol stoves too, but Esbit is just really small, easy, convenient, and never has problems like alcohol or butane (altitude, spills, etc).
Medkit
For trips away from civilization and on any mountain or sea adventure where risk is possible, I like to bring a fully equipped medical kit involving bandages, gauze wraps, tourniquet, emergency blanket, water purification tabs, etc.
I pretty much never have to use it and hope I never have to. It's a 100% must when doing
Shoes
As soon as you're out of the house, you're wearing shoes. While you can have 4 pairs and use each one for whatever circumstance, I like to keep it simple and stick to 1-2.
Being, a pair of barefoot do-it-all shoes (Vivobarefoot Primus Trial) and a pair of flipflops/sandals. #1 is perfect for anything from mountaineering to rain cycling to going out, and the flipflops/sandals for casual use at the beach or warm days.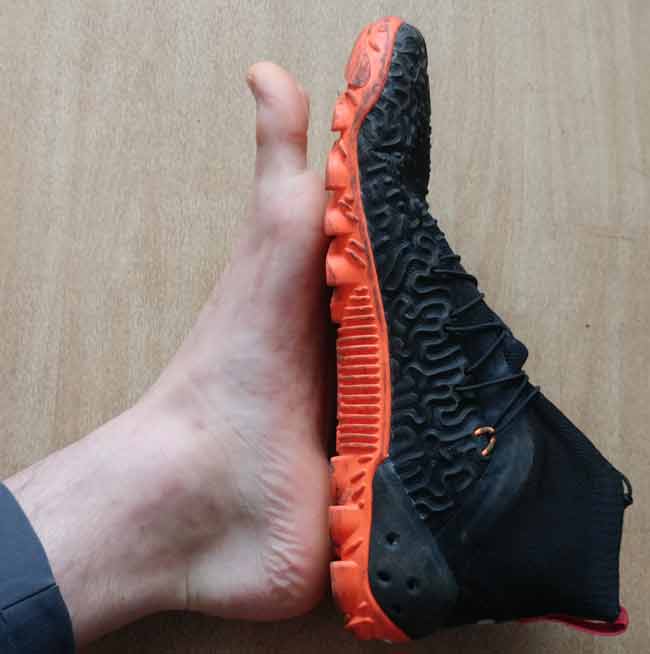 Do not buy hiking boots. Just don't do it. Unless you expect to be climbing Mont Blanc sometime soon, just get some train runners instead or better yet, the ultra-versatile, lightweight, and durable Vivobarefoot Primus Trails
Conclusion
So that's my long form list of my 'ultralight digital nomad' (agh I dislike those terms) gear.
Check out my compact & consolidated summary of my digital nomad gearlist as well as my do-everything bike setup here.
If you have any questions please feel free to ask either here or on social media and I'll be very glad to help out whenever 🙂