These are some pretty funky shoes to say the least! A quick glance of the Vivobarefoot Product page for the ESC Tempest shoes might leave you a little confused. While they're tailor made for Swimrun races, how well do they do in regular situations? Of course I'll tell you in the Vivobarefoot ESC Tempest review!
NOTE: Scroll to the bottom of the page for a video review of the Vivobarefoot ESC Tempest!

Durability of the ESC Tempest
I was very surprised by the durability of the Vivobarefoot Primus Trails – I thought with how thin they were, that they'd be broken in no time like all my other shoes.
The ESC Tempest very much feel this way too as the upper is quite thin, though the sole is quite thick. The laces are thinner than the Primus Trails and the upper neoprene-feeling ankle sock seems susceptible to wear.
The chunky soles are notably tougher than the Primus Trails and I reckon they'll stand up to wear quite well.
Honestly, after only having them for a month, it's hard to tell. I'll have to update this page later to give a more thorough overview of their durability.
So far so good though, however they're so lightweight and the materials feel more vulnerable than all the other similar Vivobarefoot shoes I've used, so we'll have to find out about long term durability.
Vivobarefoot ESC Tempest comfort
They feel quite similar to other Vivobarefoot shoes, albeit with a bit more separation between the ground and the foot. They're light, very breathable, and leave the foot comfortable.
I'm quite used to barefoot shoes now though and have been wearing them exclusively for a couple years at this point.
I would say that the Primus Trails are more minimalist and for me more comfortable, however I can see how people transitioning the barefoot shoes would prefer the ESC Tempest in terms of comfort.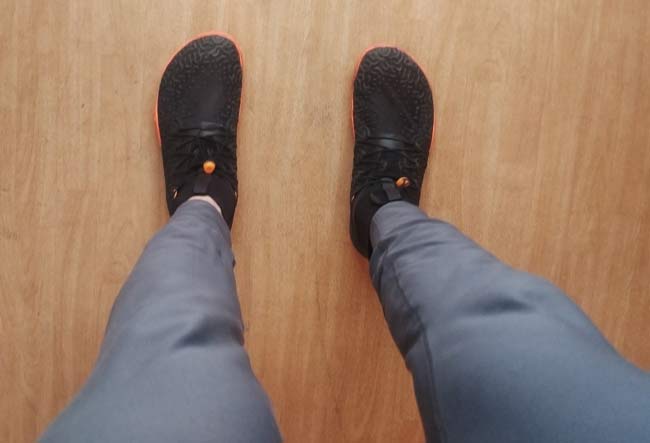 Vs the Magna Trails, I certainly prefer the ESC Tempest as they're lighter and more flexible, albeit far less warm.
Are the ESC Tempest waterproof?
No. They're meant to be permeable and to drain water quickly. They'll let in water just as fast too. Sloshy wet conditions will have your feet feeling damp quickly, however you'll be fine running around if there's water on the ground but no active rain coming down.
Personally, they're best in either dry conditions or hybrid where you're going to be swimming and running – hence the design and naming of these shoes.
Merino wool socks is a must with barefoot shoes of all types. By default, barefoot shoes insulate far less than others from the bottom, and merino wool is infinitely better.
I would always recommend running with socks on and to double down on that, always with merino wool socks. They're a literal night and day difference compared to cotton or synthetic socks and a must have in my eyes.
Vivobarefoot sizing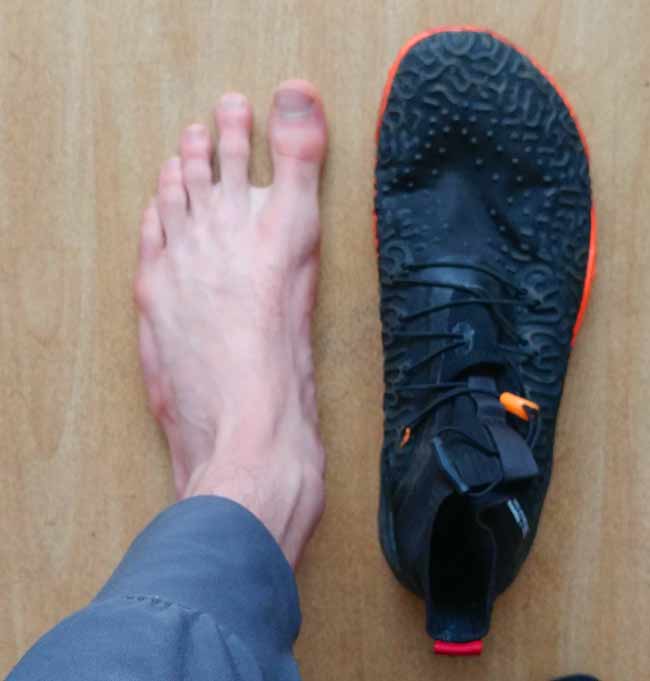 The Tempest ESC fit true to size. I fit a size 44 in my Primus Trails, in my Magna Trails, and in these Tempest ESC shoes too.
My Vivobarefoot sizing guide will go over all the important details on this.
If you're new to barefoot running and walking then keep in mind that your foot structure may slightly change and get bigger.
Keep in mind, your feet will spread out and change over the time you have barefoot shoes. I went up ~0.5 sizes after a year of wearing these as my foot structure changed fundamentally.
Vivobarefoot Tempest vs other barefoot shoes
I can compare the ESC to both the Vivobarefoot Magna Trail and Vivobarefoot Primus Trail and they feel like a pair which sits right in between these two.
Vivobarefoot ESC Tempest vs Magna Trail: The Magna Trails are significantly heavier, chunkier, and seemingly more durable. Not to mention fashionable, the Magna Trails are great everyday shoes during fall, winter, and spring. The Magna Trails are partially water resistant whereas the ESC Tempest are not.
Vivobarefoot Primus Trail Swimrun vs ESC Tempest : Both of these Swimrun shoes are excellent and shine differently. I find the ESC Tempest to definitely be far better in the water as they're significantly more buoyant. The Primus Trails on the other hand are more minimalist, more agile, and better on dry land.
Other things worth mentioning
Style and aesthetics
What are those?
Really though, they're not hideous. Obviously they're not so fashionable, however if you're out swimming, trail running, or doing sports, it's highly unlikely anyone will look twice or care much. In fact, their styling makes them look quite expensive and bougie if anything. I like the Zinc and Black colorways the most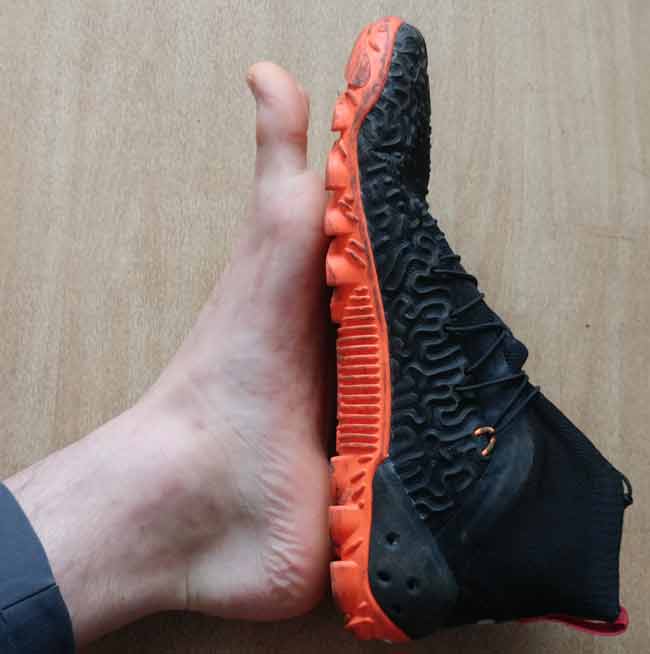 Trail running
These are definitely great for trail running in firm or soft ground. The amount of grip is excellent and whether you're on volcanic rock, mud, dirt, or wet pavement, you won't have any troubles with grip.
I haven't been able to take these for a mountain adventure quite yet, though I reckon they'll do just fine.
The ankle sock will help keep most rocks, pebbles, and grit out – however if one gets in you'll have to take off the shoe entirely.
Grip
I see no reason to request more grip in any scenario. Rain or shine, I believe these will never struggle with grip unless you're going to encounter deep snow. I wouldn't take these on winter hikes at all though since they'd get pretty chilly.
I go more into detail in my Vivobarefoot ESC Tempest Reddit Review linked here.
Overall
They're a bit strange for sure and definitely not for everyone. However, if you're a cross athlete, trail runner, swimmer, or adventurer, these shoes will do quite well.
They remind me of my Magista Obra 2 football (soccer) cleats and I love playing on artificial turf with these. In fact, I choose these over my regular turf shoes.

Thanks for reading my review on the Vivobarefoot ESC Tempest shoes! If you've got any questions or thoughts, feel free of course to leave them down below and I'll be glad to help out 🙂
My ultimate Vivobarefoot buyers guide here will also help sort you out if you're new to barefoot shoes!
Check out my Vivobarefoot Tempest ESC review video here for more of my thoughts and opinions there!
Vivobarefoot ESC Tempest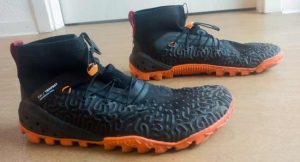 A swimrun hybrid barefoot shoe made for trail running and swimming. Overall a great shoe with a unique design but a little fragile due to the buoyant foam.
Product Brand: Vivobarefoot
Pros
Performance
Comfortable
Lightweight