I've had the fortunate ability to have used and tested many Vivobarefoot shoes now over the years. Here in this ultimate Vivobarefoot buying guide, I'll go over my top picks and at the bottom of this guide a quick say to size Vivobarefoot shoes.
This buyers guide is 100% unbiased and I've either bought or tested these shoes all in person – never received a free pair! Lets dive right in then eh.
Note: Here is a link to a 25% discount to any of the Vivobarefoot stores. Use code NOMAD10 at checkout!
Best barefoot running shoe
Ahh the Vivobarefoot Primus Trails – I love you so much. In particular, I have the Primus Trail FG Swimrun, but the regular Primus Trail FG are just about the same. I don't see much purpose in the SG unless you're running races, which I'd then recommend the Tempest ESC shoes instead.
Between the durability, the comfort, the traction, and that true barefoot shoe feeling – I can't find much that I don't like about them. The only issues I've ever encountered was tons of rocks in my socks after deep Rocky Mountain scrambling (example in the climbing Devils Head adventure).

I'd choose this shoe 100% if you're looking for an all-around barefoot shoe which is durable, versatile, comfortable, and ready for general athletics. Check out my full Primus Trail review or Primus Trail review video for more details there.

Best barefoot hiking shoe – Vivobarefoot Magna FG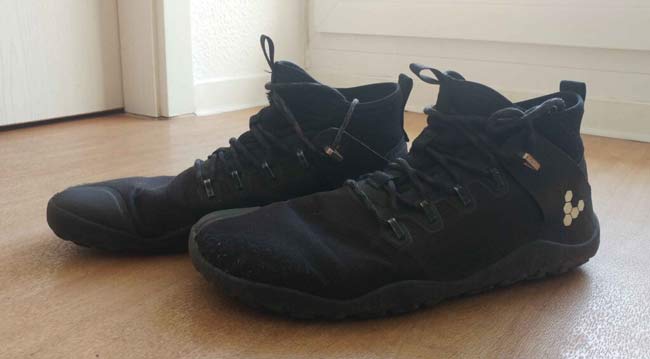 I've got to give it to the Vivobarefoot Magna FG here. In particular I own the Magna Trail Cordura (old) model, however if I would buy again I'd 100% go for the leather & wool Magna Trail instead as they're far comfier, more waterproof, and better for thermal management.
The higher ankle, water-resistant traits, and tougher construction offers more confidence and comfort when hiking. The break-in period with the Cordura Magna Trails sucked a bit and gave me the only blister I've ever gotten from barefoot shoes.
While I wouldn't pick them at all for hot summer days, they show their strengths in inclement weather. They feel closer to regular hiking boots than the majority of barefoot shoes out there and are a good choice.
Hit up my full Magna FG review or Magna FG review video for more details there.

Best winter hiking barefoot shoe – Vivobarefoot Tracker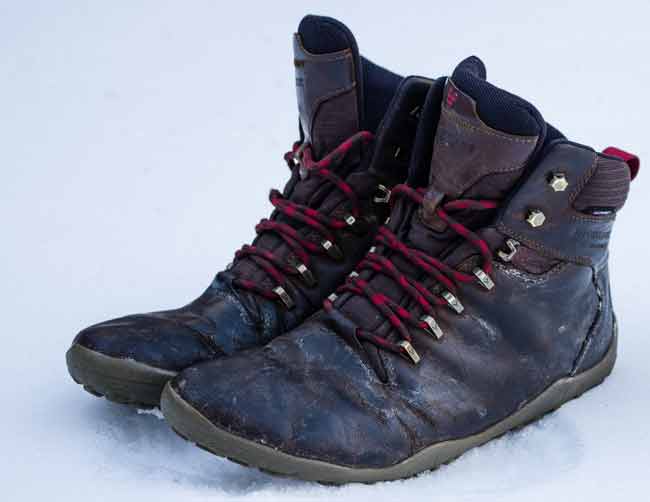 Of course this will go to the Vivobarefoot Tracker FG. These are like the Vivobarefoot Magna Trail leather & wool but with a higher ankle and even more impermeable top. If you're trudging through snow or doing winter hikes, I wouldn't recommend anything else.
If you're going to be engaging in really deep scrambles and snow-weather hiking, then the Tracker SG might be a bit better, though the Tracker FG with some micro spikes would likely give you all the grip you need on snow, ice, and inclement weather.

The Vivobarefoot Tracker Forest ESC are also a great suggestion and I picked up a pair of the new Primus Trail All-Weather which have been stellar.

Best competition race barefoot running shoe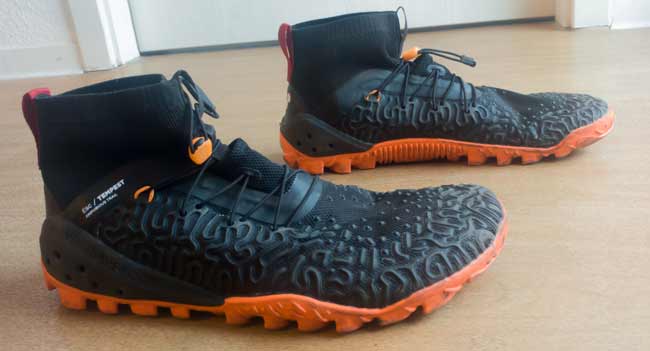 Designed and created specifically for Swimrun races, the Vivobarefoot ESC Tempest are the best choice around – that is if you're going to be on dodgy terrain and need more grip, or going through water. The heaps of grip, surprisingly lightweight build, and comfortable feel make them excellent in this regard.
However for purely on-pavement endeavours I would choose any of the flat-tread barefoot running shoes like Primus Lite or Geo Racer – though both of those are quite a bit less durable than the Primus Trails, which also take the win. Regardless, Vivobarefoot makes race-worthy shoes and you couldn't go wrong with any of these picks.
You can click my Vivobarefoot ESC Tempest review for more thoughts on those bad boys.

Best casual barefoot shoe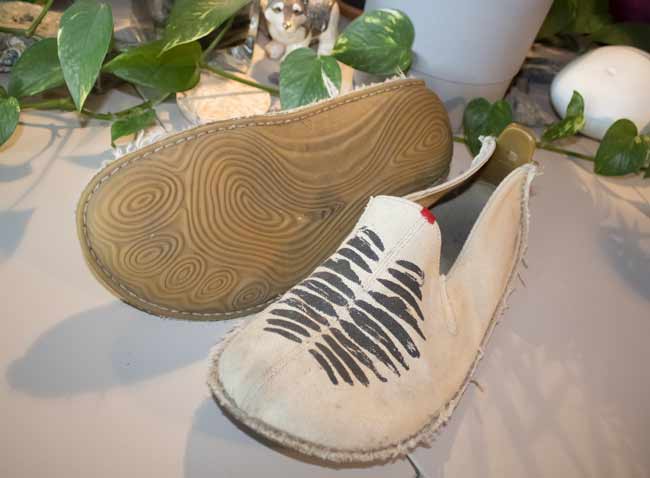 Abababoo, I choose you! The Vivobarefoot Ababa are exceptionally comfortable and excellent slip-on shoes. My buddy ended up with two pairs of these and I envy him.
Available each in canvas and leather, I quickly gravitated towards the classy aesthetic and far better feeling of the leather Vivobarefoot Ababa rather than the canvas ones. They slide on in a second, feel like a thick second skin, and are just great for meandering around the house, park, sidewalks, or stores.
In terms of aesthetics I'm not so wild over them, however in terms of comfort and practicality, oh god they're really good.

Best daily barefoot shoe – Vivobarefoot Primus Trail Knit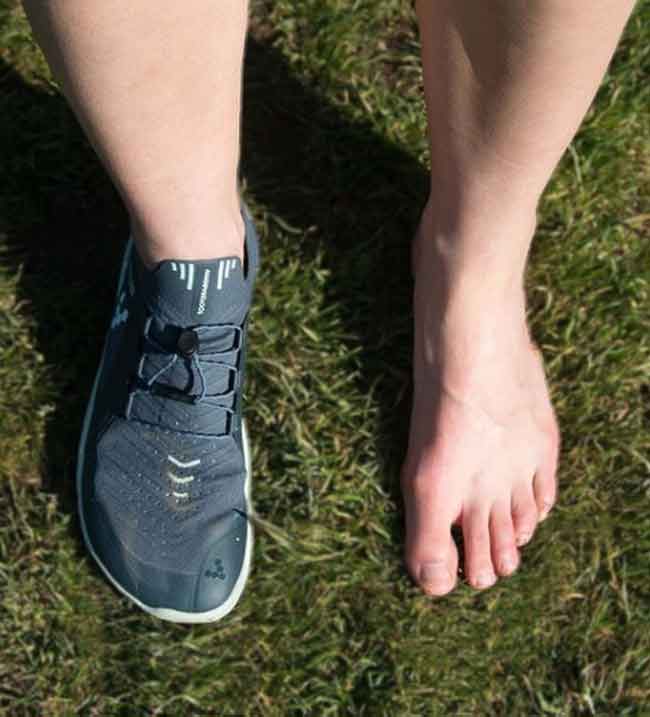 I'm partial to the Vivobarefoot Primus Lite or Primus Trail Knit in particular as I'm a huge lover of wool & leather. The thermal properties of wool are far superior to cotton, synthetics, and basically anything out there. Bonus: it smells less too.
Non-leather regular Vivobarefoot Primus Lite are also a good pick, though I prefer the leather on the lux over the synthetics.
Comfortable and breathable, they're excellent spring, summer, and fall weather barefoot shoes. The wool does surprisingly well at keeping your heat in against the cold and they look rather 'normal' as far as barefoot shoes. If you're on the fence and want a street wear and casual barefoot shoe, the Primus Knit take the pick!

Best formal barefoot shoe
I'm not a formal guy. I don't really care about fashion all too much and my style reflects that. Though, these are an excellent choice if style is your thing!

With that in mind, I can't hate on the Vivobarefoot Ra II. If you're after an interview-friendly style and a good barefoot shoe for the office to match with jeans and a button-up, then you've found a solid choice.
If you're after a high-top aesthetic, I'd hop for the Vivobarefoot Scott II instead. They're also quite a bit better for cold and inclement weather (rain, snow, and mud) than the Ra II and I'd pick those up instead.

Sizing Vivobarefoot shoes
If you're not fortunate enough to have a Vivobarefoot shoe store around, then you'll be going in blind. Lucky for me I have two Vivobarefoot stores in my city.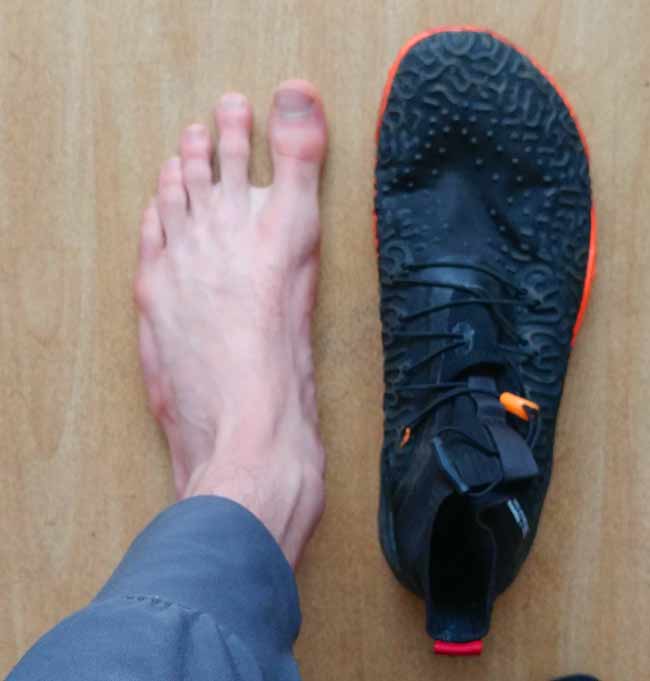 How to size for barefoot shoes
I have more detailed instructions in my how to size Vivobarefoot shoes guide linked there.
Barefoot shoes can be tricky and it's a good idea to size up at first! Your feet will naturally spread out and even 'grow' after a while since your foot is no longer tightly confined by awkward and incorrect design. Here's how to get your size for Vivobarefoot shoes:
Get a tape measure/ruler, take off your socks.
Place your heel against the wall, put your weight on your foot.
Carefully mark down the exact length.
For width, place foot against wall – ankle bone touching (or almost touching) wall.
Place tape measure/ruler under foot, record widest part of foot.
Repeat with other foot, note down all measurements.
With a measuring tape, my feet measure 28cm x 10cm. This is length by width at the widest pat (5th metatarsal).
Refer to the Vivobarefoot sizing chart.
In my example where my feet are 28cm long, I would therefor fit EU43, UK9, or US10, however, these are too tight! I use 44 in all of my Vivobarefoot shoes as 43 is too tight. Size one up!
I came from wearing Nike Free 5.0 shoes and Adidas Hyperboost type garbage, so below I've included my direct conversion from those and how my shoes fit.
Conclusion
Anyways, those are my top picks for the best Vivobarefoot shoes around. I've personally tested and used all of these and you have my honest opinions here.
In my daily life I cycle between the Primus Trail and Magna Trail the most, and use my own DIY barefoot running sandals whenever the weather is nice.

If you've got questions about the best Vivobarefoot shoe for you, then please just drop a comment and I'll be glad to hit you up ASAP! Barefoot running changed my life in terrific ways and I'm very happy to help out.
Consider donating a coffee-amount of coins via PayPal at bottom of this site if my article helped you 🙂
(2022) Ultimate Vivobarefoot buyers guide - my favorite barefoot shoes selected!
Overall I really love Vivobarefoot shoes as they're comfortable, lightweight, and durable (on average).
Product SKU: Barefoot shoes
Product Brand: Vivobarefoot
Product Currency: USD
Product Price: 100
Product In-Stock: InStock