Sizing barefoot shoes at first is tricky – they fit quite differently than regular shoes and you might make a mistake on your first go around.
This little guide on sizing Vivobarefoot shoes (link to their website) will hopefully get you sorted out right away. Let's quit the chit chat and run right into it.
I also cover various use-cases like sizing for athletic performance, sizing for hiking, and sizing for casual use.
THIS GUIDE IS UPDATED AND VALID AS OF NOV, 2023!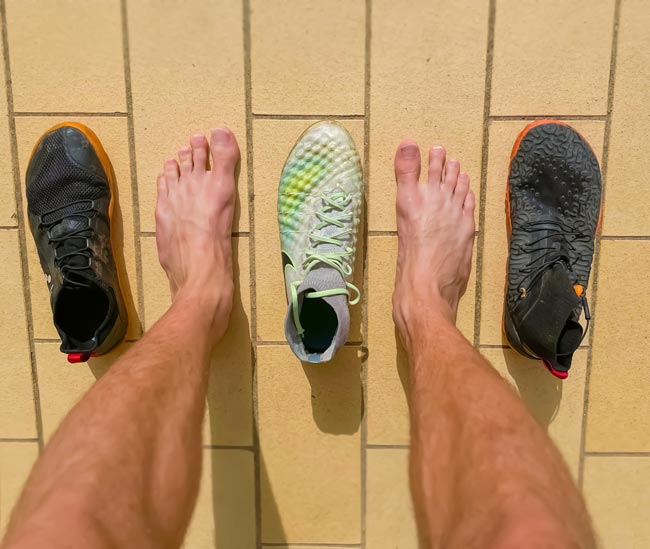 Edit 1: Here is a link to a 25% discount to any of the Vivobarefoot stores. Use code CNOMAD10 at checkout!
How to size for barefoot shoes
Sizing barefoot shoes can be tricky and it's a good idea to size up at first! Your feet will naturally spread out and even 'grow' after a while since your foot is no longer tightly confined by awkward and incorrect design. Here's how to get your size for Vivobarefoot shoes:
Get a tape measure/ruler, take off your socks.
Place your heel against the wall, put your weight on your foot.
Carefully mark down the exact length.
For width, place foot against wall – ankle bone touching (or almost touching) wall.
Place tape measure/ruler under foot, record widest part of foot.
Repeat with other foot, note down all measurements.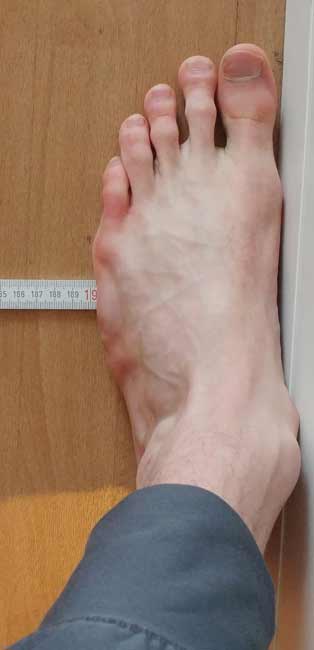 With a measuring tape, my feet measure 28cm x 10cm. This is length by width at the widest part (5th metatarsal).
Refer to the Vivobarefoot sizing chart when making your choice.
In my example where my feet are 28cm long, I would therefor fit EU43, UK9, or US10, however, these are too tight! I use 44 in all of my Vivobarefoot shoes as 43 is too tight. Size one up!
And too, the people working at the Vivobarefoot stores told me to go even bigger! I decided to not but they were adamant on it.
I came from wearing Nike Free 5.0 shoes and Adidas Hyperboost type garbage, so below I've included my direct conversion from those and how my shoes fit.
Sizing Vivobarefoot Shoes from Adidas
I fit Adidas 44 shoes and actually fit perfectly into Vivobarefoot 44. Your mileage may differ. This was applicable to their running shoes.
Sizing Vivobarefoot Shoes from Nike
My Nike shoes however tell me that I'm an EU 45.5 or US 11.5, however my shoes without insole are still short. So if you fit US 11 or 12 Nike, you'll probably want EU 44 Vivobarefoot.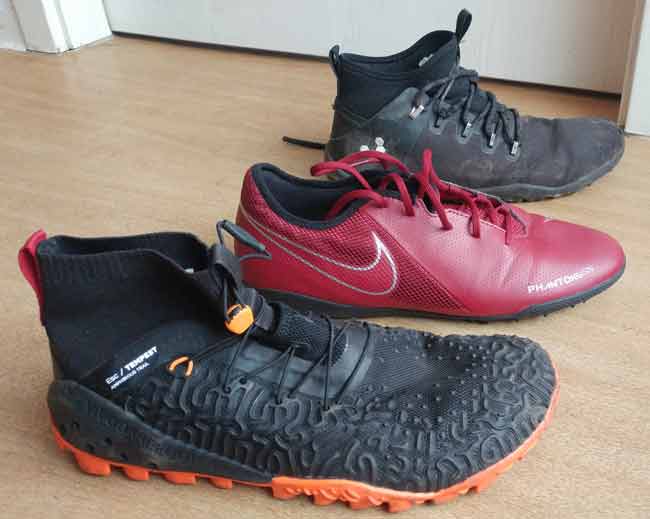 Which Vivobarefoot shoes are you getting?
This plays a big factor or which size you should get. Pretend like you fit right between a 44 and 45 – which do you go for? In general, people recommend sizing up and while that's true sometimes, it's definitely not the rule.
I separate this into 3 categories and use-cases: performance shoes, hiking shoes, casual shoes.
Sizing for Vivobarefoot performance shoes
If your purpose for Vivobarefoot shoes is athletic pursuit and performance – the Primus Trail, Primus Lite, Geo Racer, etc – then you should consider sizing the smaller way.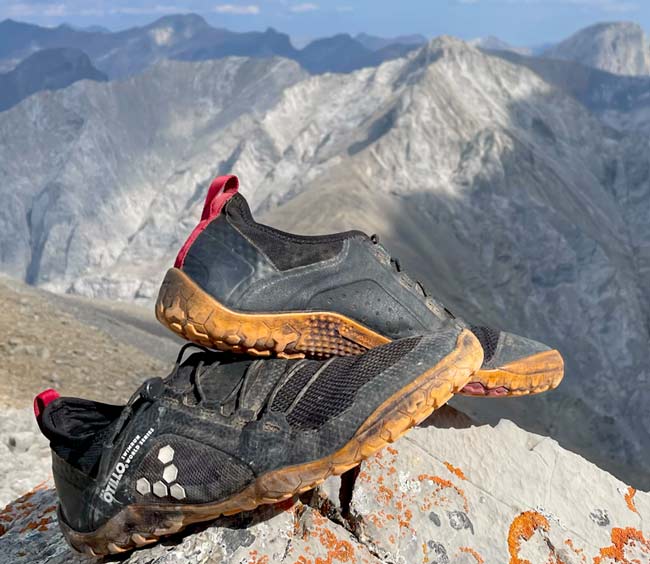 This is because shoes all naturally stretch and adapt, and it's better to have a snug and tight shoe rather than a floppy and slightly oversized one from the get go. If they're a bit too snug at the beginning – don't worry, they'll adapt over time!
When I got my Primus Lite III knit in the mail I was filled with a bit of regret – I ordered too big. While I know I fit size 44-45 and should order 45, I should've ordered 44. Why?
Well, the stretchy knit wool on the Primus Lite Knit does exactly that – it stretches to match the foot. Now I have a little too much wiggle room and space which would be acceptable when hiking, but definitely not for sprinting.
With performance shoes you're likely to wear thin socks, want that fully locked-in, second-skin feeling. Sizing tighter allows for that.
Sizing for Vivobarefoot hiking shoes
Opposite that, you're likely to wear thicker, more durable and comfortable socks with hiking shoes. This means you're going to want a bit more space, more breathing room, and more room for the shoe to adapt.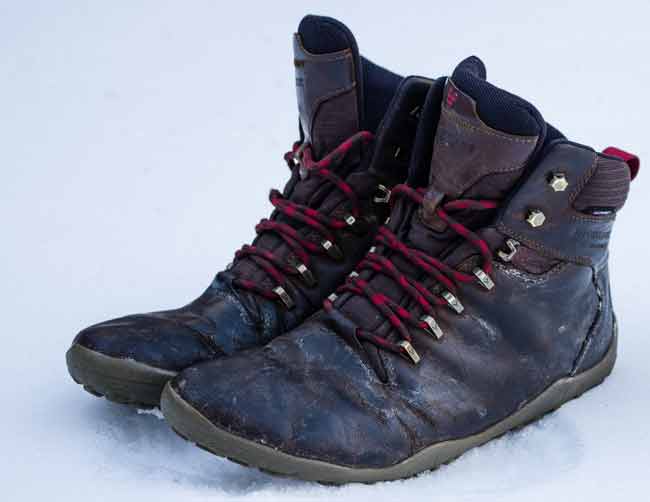 I always use sturdy merino wool socks while hiking and with my size 44 Vivobarefoot shoes they're a touch too tight, while with 45 they're a perfect match.
And when hiking for 4+ hours you'll definitely appreciate more wiggle room, flexibility, breathability, and versatility. In which case you choose the bigger size.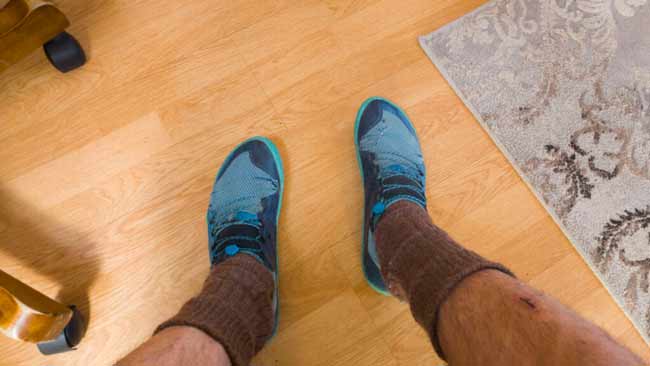 So Vivobarefoot Tracker II FG sizing, Magna FG, etc will definitely be different. Consider where you'll be hiking, the type of socks, temperatures, and various use-cases you'll have.
Sizing Vivobarefoot Tracker II FG
A common shoe people have difficulty getting the correct size on, the Tracker II FG tends to run true to size. However, the leather is going to stretch a bit over time. If you're living in a colder place, size the Tracker II FG up a touch as you'll be able to put thicker socks on a bit easier. Same applies for sizing the Magna II FG.
Sizing Vivobarefoot for casual use
Going to the office, café, cinema, or bar? This means you want versatility and comfort. Some days are warm so you wear thin socks. Some days are chilly and you go thicker.
In which case simply go for the larger pair. You feet will be less likely to get sweaty, your comfort will increase, and you won't have to worry about your feet being strangled.
Vivobarefoot shoes too big?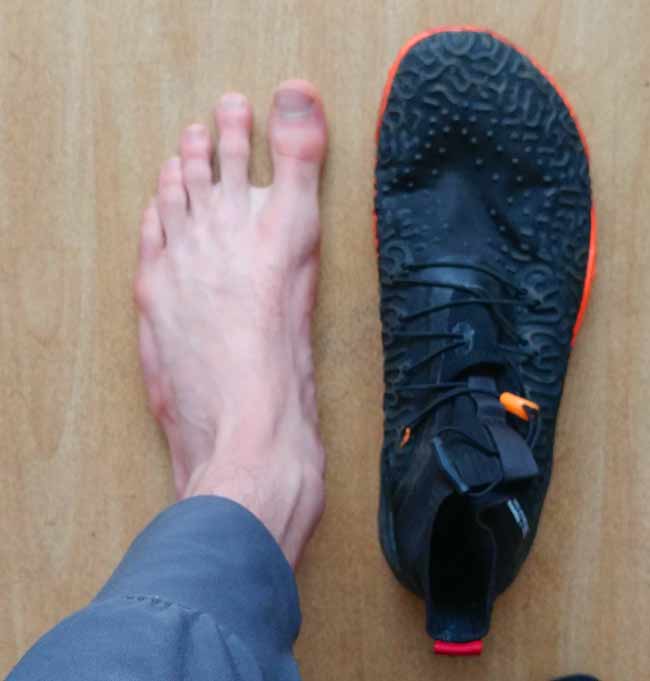 If you have more than 8-12mm (0.3149-0.4724″) space in front of your toe, I think you should try a size down. Usually 8-12mm of space is perfect for most.
This translates to more than a thumb-width of room from your big toe to the shoe.
Now, keep in mind that your feet will grow as weeks and months pass. I went to go try on my previously 'too-large' Nike shoes and found out that they are now both too short and too narrow.
So, it's better to buy a bit bigger at first and let your feet stretch out over time!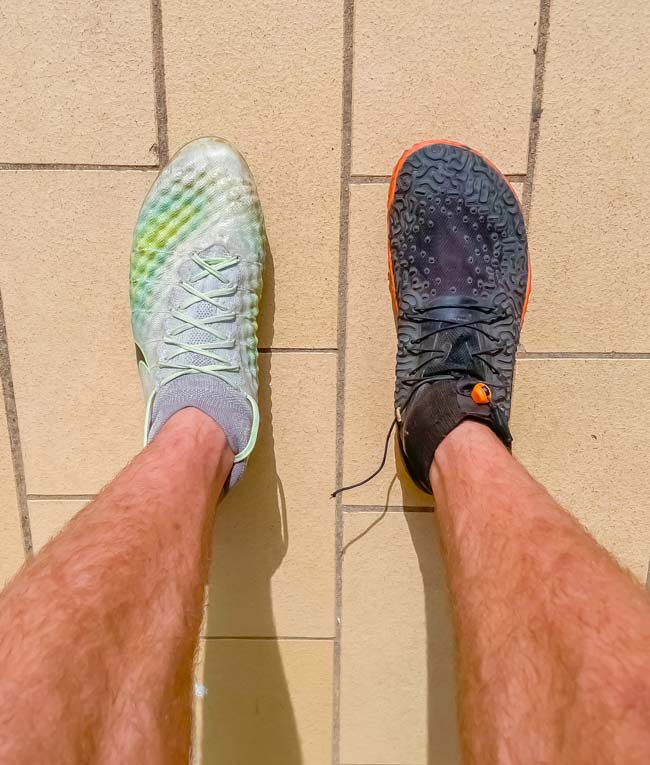 Sizing Vivobarefoot shoes or other barefoot shoes
If you can test try a pair on beforehand then that's great! If not, the manufacturer definitely has sizing guides for their selection. Here are some of the sizing guides for the common manufacturers.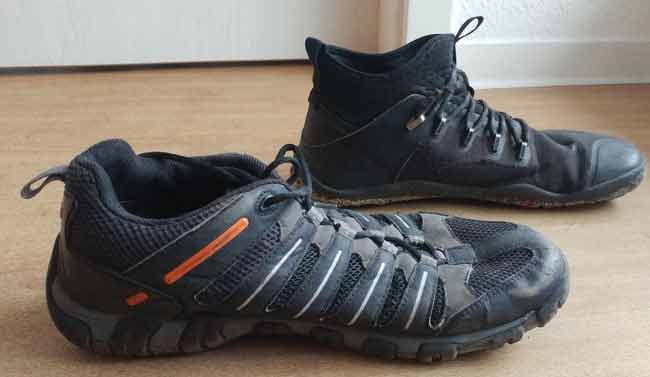 If you're not fortunate enough to have a Vivobarefoot shoe store around, then you'll be going in blind. Lucky for me I have two Vivobarefoot stores in my city.
Still, if you can, try and find a place which has some barefoot shoes in stock so you can test em out!
Conclusion
Well, I hope this helped you out! If you've got any questions or thoughts please drop them down in the comments below and I'll be glad to help out.
Otherwise, have a good day and check out my Vivobarefoot buying guide for more thoughts on my favorite barefoot shoes 🙂
Here is a link to a 25% discount to any of the Vivobarefoot stores. Use code CNOMAD10 at checkout!


Consider donating a coffee-amount of coins via PayPal if my article helped you 🙂