Big price tag and a shoe to finally ursup the Vivobarefoot Primus Trial? This Vivobarefoot Tracker Decon review will go over all the important questions you might have about these $200+ shoes including durability, comfort, grip, and more.
Created for hiking, scrambling, and adventures, the Tracker Decon FG2 and Decon Low are seemingly the answer we're been looking for in terms of a hardy mountain & trail capable shoe. I'll cover both in this review.
For 10-25% off Vivobarefoot shoes use the affiliated code CNOMAD10 on the Vivobarefoot website and to support me 🙂
Comfort
Vivobarefoot shoes for me have almost always been stellar in terms of comfort even right out of the box. However with all their boot-style shoes like the Magna FG and Tracker FG there was a notable break-in period of between 2-4 weeks.
This sentiment is similar for the Tracker Decon – the sturdier build makes for a slightly longer break-in period, particularly around the toe-box and after a bit the leather is better than the non-leather Vivobarefoot models for raw comfort due to it taking shape around your foot better!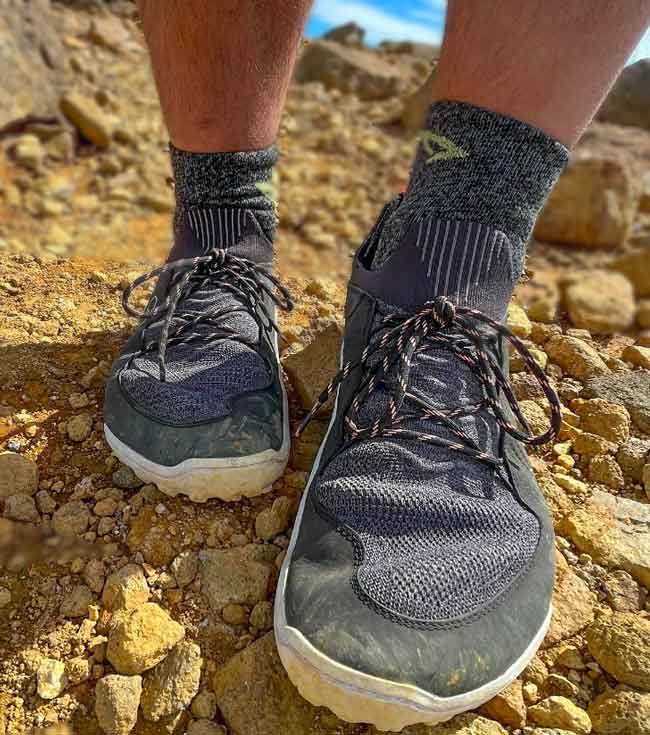 However moving past this, the comfort really feels great and as long as your thermal management is on point, these can be worn for days on end without issue or hint of a blister. The leather becomes quite soft after a while and on the low-cut model with the wool top the break-in period is nearly zero.
Highly recommend these for comfort and are comparable to the Tracker ESC/FG, Magna FG, and Primus Trail (depending on if you get the high-cut or low-cut version).
Grip of the Tracker Decon shoes
A renewed tread pattern offers more than anticipated! These definitely have better traction both up and downhill in comparison to the FG lineup of Vivobarefoot shoes while being only marginally different than that of the Magna Forest ESC shoes.
In fact, these perform very nicely on loose choss, scrambly mud, and slick conditions when hiking/scrambling. I've never found myself asking for more grip and I feel like more tread would reduce the barefoot feeling a little too much.
Temperature & water resistance
The regular hi-cut Tracker Decon FG2 are water resistant but not waterproof. Rather, they remain permeable to allow for some moisture and temperature regulation, though protected and warm. I wouldn't take these on hikes with ambient temperatures of more than 20°C/68°F as my feet would get too sweaty even with thin merino wool socks.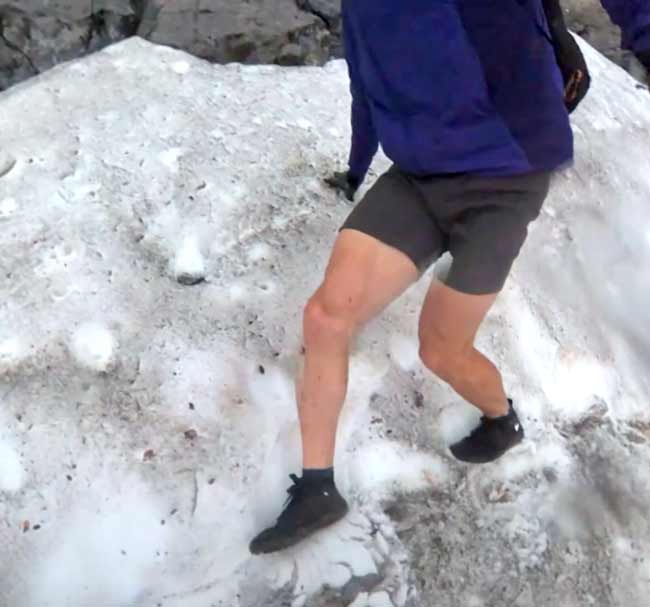 The low-cut Tracker Decon have a nicely breathable merino wool top-panel which breaths and regulates temperatures very nicely, even when it gets cooler out! Definitely better for summer hiking and even capable of spring/fall and winter hikes where you won't be ankle-deep in snow – I definitely prefer them overall for temperature management.
Therefor, choose the high-tops for cooler spring, fall, and winter climates and pick the Tracker Decon Low for summer, fall, and spring temperatures.
Tracker Decon Build quality/durability
The build quality of both pairs are top notch. Vivobarefoot has consistently made high-quality shoes and in my experience I've never had any issues. Stitching, materials, design, etc – they're great!
Both shoes use a wildhide leather, merino wool, and rubber sole template with variations to the lacing and ankle and material placement between the two models.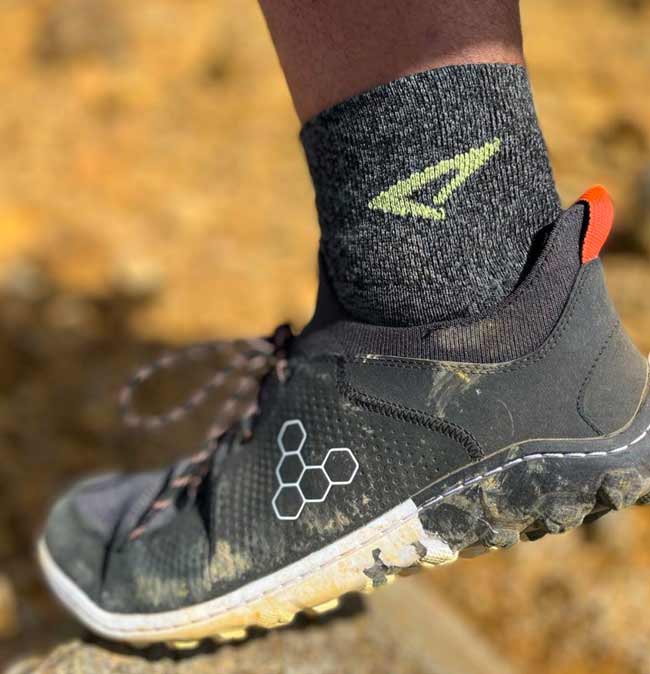 The main reason I would pick the Tracker Decon Low vs Primus Trail FG is due to that band of leather above the sole – I assume it to do a great job for longevity when passing through loose rocky terrain when hiking (like in the Canadian Rocky Mountains!) I need more time and hikes with these to really attest to that though.
Overall, a very good quality construction from the Tracker Decon shoes – and they should be at this price point!
Performance
The real metric where these shoes should be measured – the practicality and performance. So far so good! The Tracker Decon FG2 high-cut shoes are way better for scrambling on terrain which will subject you to infinite rocks in your socks and scrapes on your ankles.
If you find yourself continually getting rid of stones in your shoes and needing the ankle abrasion protecion, the get the Tracker Decon FG2 hi-tops.
Otherwise, the agility, lighter weight, and better breathability of the Tracker Decon Low is much preferable from a raw performance standpoint. Unfortunately just like with the Primus Trails I get infinite pebbles in my shoes when going down steep scrambly terrain (see vid for reference…). I wish they had a highly elastic collar to keep debris out.
Otherwise, the sole is perfectly grippy, the feedback from the surface is excellent and the ability to have precise placement/agility is a big benefit when tackling technical terrain in comparison to traditional hiking shoes/boots.
Tracker Decon FG2 vs Tracker ESC vs Magna Forest ESC
This is where Vivobarefoot has me a bit confused. While the Tracker Decon Low are a separate entity entirely when compared to the Vivobarefoot Primus Trail FG/SG/All-weather, the Tracker Decon FG2 hi-top seem like a redundancy when compared to the Tracker and Magna ESC shoes.
Yes they have a different sole and aesthetic and minor differences across the board, however they all fill the same role: a high-quality technical leather barefoot hiking boot. I can't tell you which I prefer because I need more time with the Tracker Decon FG2 to tell, but so far they perform pretty darn similar!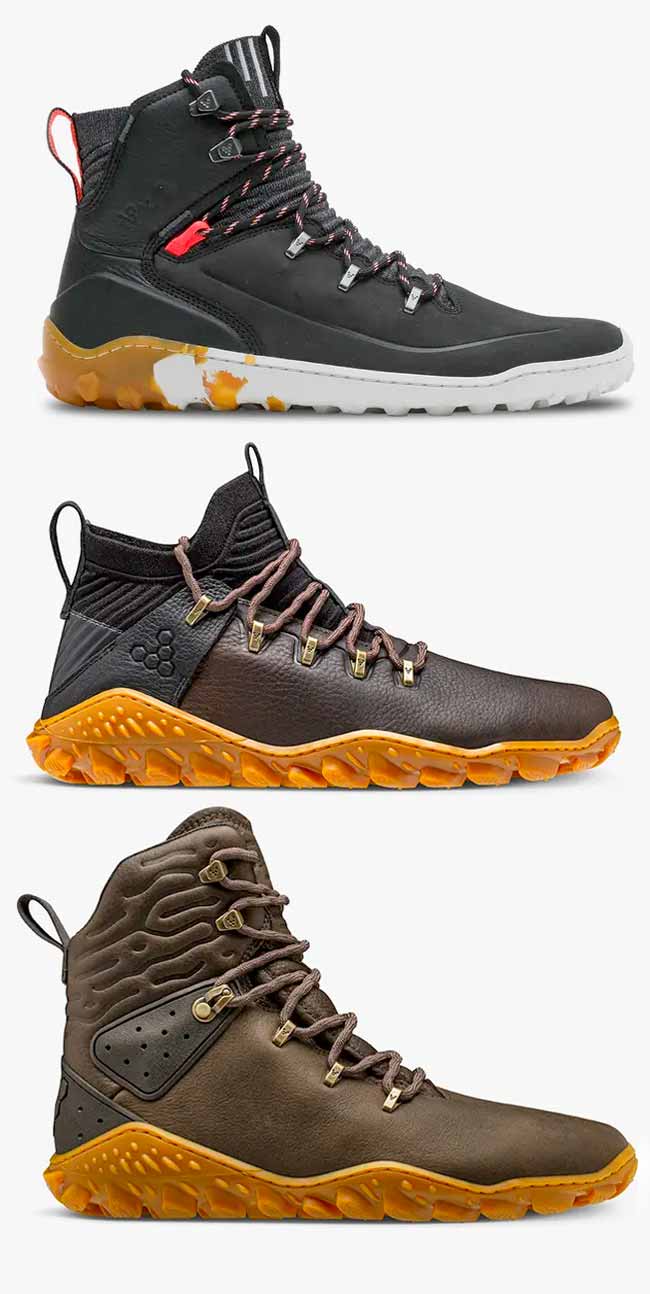 Aesthetically it's all a matter of preference and I find the city-style of the Magna Forest to be appealing and the traditional leather-boot looks of the Tracker Forest to be charming. The Tracker Decon with the multi-coloured sole is more bold and either good or bad, depending on who you are.
Some quick thoughts on them all though:
Tracker Forest ESC has highest collar, best cold-weather performance
Tracker Decon FG2 most robust for more intensive activity
Magna Forest ESC more lightweight and city-styled
Check out my individual Vivobarefoot Magna Forest ESC and best Vivobarefoot winter shoes reviews!
Tracker Decon Low vs Primus Trail
A similar footprint but overall quite different in terms of functionality! While I absolutely adore my Primus Trails for hiking, scrambling, and climbing, they get beaten up pretty bad especially around the footbox where the sole ends.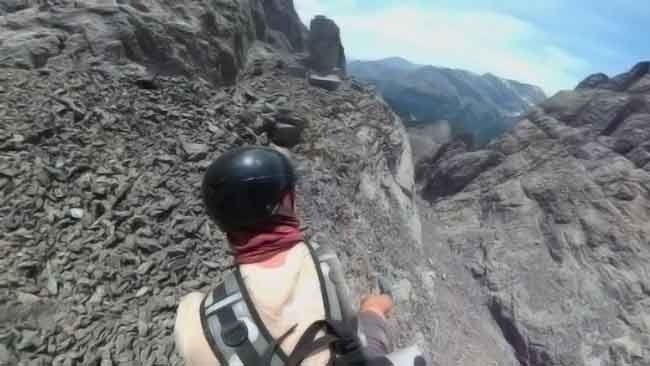 The reinforced leather is more comfortable and durable and the traction is even better. For me now the Primus Trail are a better trail running and lighter hiking shoe, while the Tracker Decon models are what I'll pick to conquer nastier Rocky Mountain scrambles and climbs.
Check out my Vivobarefoot Primus Trail review to see my thoughts on my favourite shoe ever! 🙂
Ethics of Vivobarefoot
Morals and ethics is a major thing for me when it comes to products.
Vivobarefoot is a shoe company which has impressed me overall with their social vision and implementation. While in the end they're still a multi-national corporation, they have some pretty good sustainability programmes for re-conditioning their shoes, ethical employment, and material sourcing.
However without actually being an employee and overseeing their practices, that's all I can say! Regardless, they're far better than 95% of shoe brands out there!
Overall
Finally! A lightweight barefoot hiking shoe which is rugged and able to help conquer gnarly hikes, scrambling, and climbing! I've been abusing Vivobarefoot Primus Trail FG shoes for a half decade now and unfortunately the wear and tear from the Rocky Mountains has been a bit too much for many pairs.
The Tracker Decon Low are IMO the best barefoot hiking shoe out there currently what with the grip and durability improvement. The only alternative I can think of is the Vibram V-Trek.
The Tracker Decon FG2 boot is also excellent but not too much different than the Tracker Forest ESC and Magna Forest ESC – pick whichever you feel calls to you more!
High ~$200 price tag, but I like the saying "spend the most on that which separates you from the ground – mattress, tires, and shoes".
For 10-25% off Vivobarefoot shoes use the code CNOMAD10 on the Vivobarefoot website!
Check out my related Vivobarefoot articles like best winter barefoot shoes guide, Ultimate Vivobarefoot buyers guide, and Sizing Vivobarefoot guide.
If you have any questions please ask here or on any of my social medias – always glad to help! Peace 🙂