Seriously, barefoot shoes on MTB – are you nuts?
At first it sounds completely outlandish and I agree. Hold your horses though, it's really not all that outlandish, just hear me out!

Why barefoot shoes for MTB?
Trends say stiff platforms, hard soles, and maximum mechanical efficiency. Is that true though?
Perhaps if you don't have foot, calf, or ankle muscles/bones. Chances are though that if you're riding a bike, you do.
My main sticker reason for choosing barefoot shoes is comfort. An uncomfortable shoe throughout a whole day is no fun. After all if you're hitting the trails you want to walk around, chill out, go to the store, etc.
For me the Magna Trails I have are super comfy and don't impede riding. When it comes to adventuring, exploring, walking around, hiking, etc – I'm not in the slightest bit impeded.
So which barefoot shoes for mountain biking?
I choose either the Magna Trails or Primus Trails. The tread pattern on the bottom is extremely good for gripping onto the pins of platform pedals and sticks oh so well. I rather the Magna Trails because the entire construction is more sturdy and breeds more confidence. I got giant holes in my Primus Trails after going headfirst into a tree and the branches impaling the shoe.
The amount of scars I got on my shin from biking with slippery bottom shoes was enough to convince me I should always go for grip.
The soles on the Vivobarefoot Magna Trails are thick enough that I never have any pain, but flexible enough that I can grip, balance, and move freely without any discomfort. Too, the tread seems to be lasting quite a while even with the daily abuse I put em through.
Sometimes I can physically feel the pins from the pedals and the tread from the shoes 'locking' together and it feels super stable. I've never had a slip or problem with them.
Other barefoot shoes suck for MTB
Honestly though I wouldn't recommend many barefoot shoes at all for mountain biking – they often have minimal or no lugs at all. Even other tread patterns like on the ESC Tempest kind of suck for my MTB pedals.
The triangle pattern these models have are truly terrific for gripping platform pedals and after 9 months of using them, I was really compelled to write this short article.
Summary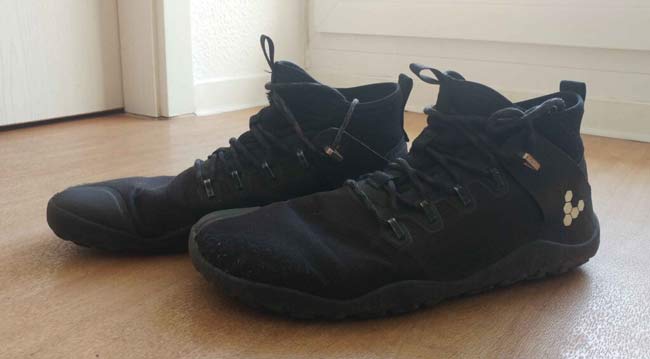 If you're a barefoot fanatic and want a pair of barefoot shoes for MTB and regular day stuff, I'd really recommend the Magna Trails, Primus Trails, or Tracker FG. The tread pattern is great and the two high-top type shoes both look the part and are protective/sturdy.
However, I will say that if you're hitting gnarly trails and have high chances of foot striking large stones or boulders during rock gardens, stick to regular MTB shoes – you will definitely be missing out on the toe protection when you nail a stone.
Anyways, hope I helped out a bit. Have a good one and peace!