Rijeka! Armada! Oh how I miss this groovy little city.
Here in this guide I'll go over everything there is to know about moving to Croatia as a foreigner, in particular if you're a young traveler. I'll cover stuff from food to culture to cost of living.
Moving to Croatia as a Canadian was an overall great experience! Though each country has its flaws, Croatia has beauty alongside flaws. I miss it dearly and was prepared to spend many years there, though other life opportunities took me away.
I'll get into some tips, tricks, and my general experiences of residing there, as well as some recommendations. Lets get right into it.
Why you should move to Croatia
Great weather
Low cost of living
Generally kind people
Relaxed lifestyle
Incredible scenery
Fun Slavic culture.
Good food
If you want to take it easy for a little bit and escape the mundane grind you're used to, moving to Croatia is a great choice. Sooner than you think, you'll settle into the 'Mediterranean mindset' as I like to call it.
That being: not doing much.
A chilled lifestyle
Sure, I'm a fairly productive fellow engaging in a lot of things, but there's something about the air, the vibe, the climate, the sea – it all just relaxes you. Yeah you've got bills to pay and maybe you're in debt, but does that matter when you're on your third beer chilling at the sea?
Living in Croatia as an American or Canadian will be a giant change of pace. We're used to our stress-invoked North American lifestyle – here, things are different. Of course many people work hard here and are stressed, though it's a different rhythm than back in Canada.
Cost of living
There's a fairly reasonable cost of living for foreigners as quality food, rent, utilities, and transportation in Croatia is rather cheap. For foreigners that is – local salaries are quite poor and Croatian people are not wealthy in general. It's unfortunate.
Down to earth people
The culture from place to place in Croatia is quite varied however they're generally quite warm people open to respectful foreigners. Not tourists, but to foreigners. Croatians (and everyone) dislike tourists, even if they're the major economic driving force.
I digress, you should move to Croatia if you want a relaxed lifestyle with nice fresh seafoods, beautiful scenery, a low cost of living, and pleasant people to be around.
Croatians are fun Russians. I mean that in the best way possible. If you mixed Mediterranean and Slavic people, you get Croats! They're still a little gritty and edgy like many Slavs and the language is a little funky, but they're the most relaxed Slavic-relatives due to the sea life, Greek, and Italian neighbors. Edgy because of history, language, corruption, and Serbia. We'll not get into that can of worms though.
Why you should not move to Croatia
Poor salaries
Mediocre education
Corrupt government, police, and administration
Janky transport system
Croatians are not as rich per-se. Salaries are moderate and taxes are high. Corruption among the government and administration leads to squandered tax dollars, poor infrastructure, and citizens who are just able to get by.
Education
Like other aspects of infrastructure, the post-communistic education system is okay not great. Friends of mine would frequently complain about the quality of professors, workload, type of work, and how their degree doesn't add up to much in foreign countries.
Edit: Perhaps post-Soviet isn't the right way to word it, however the professors, methods, courseload, and grading seems similar to how my mother from Belarus and friends from Ukraine describe it. I'm certain that it's of better quality than those places, though the difficulty is rough.
With that in mind, the knowledge my friends have gained in mechanical engineering, electrical engineering, and nursing to name a few lines up to modern standards. You'll have a fine enough time if you're on Erasmus though you can expect a more 'tough' education style, depending on where you're from.
Salaries
If you're looking to get a high-paying job, you should look elsewhere (like Denmark or Germany). Average wages for a young adult is around 20-35kn/hr. This equates to aprox. $4-6 USD an hour.
Monoculture
While overt racism isn't quite a thing, Croatia is quite a mono-culture. Foreigners of all types are quite obvious and if you have colored skin you will stick out. They enjoy other Slavic-blood nationals very much in a brotherly way – they can relate in a post-Soviet way. Still, there is much mixing and mingling especially among other Balkan nations – Serbians, Bosnians, Cathloics, Muslims, etc. People in most modern places won't care what color or creed you are.
If you're loud
If you're a loud American or Brit stuck in your ways you should also not move to Croatia. They seemingly don't like obnoxious Englishmen or Americans (me neither), and I completely understand why – they're kind of a nuisance. Be humble, be quiet, and learn a little bit of the local language.
Overall, you should not move to Croatia if you want to climb the corporate ladder, get a high-level education, or be an irritating tourist.
Cost of living in Croatia as a foreigner
As of writing this rates are as follows:
$10 CAD = 48.6 kn
$10 USD = 64 kn
10 eur = 75 kn
You can expect rent to be around $200-300 USD or Eur/month. I was paying a meager 880kn/$180 CAD monthy but I got lucky (and it was a shared apartment). However, I wouldn't be surprised if you will pay up to 500 USD/EUR per month for a good solo apartment in a nice location.
Transit is affordable. One/two stamp tickets are 10 & 15kn respectively in most places, or a couple dollars/euros.
Food
Food like Ćevapi and Burek are often 20-30kn and 10-20kn respectively. This is a couple dollars/euro for a filling snack/meal.
Restaurants for pizza or seafood will cost 50-150 hrk depending on quality and location. This is $10-$30, though I found an amazing seafood place near me where I could get a kilo of white wine mussels, bread, and drinks for 80kn or ~12 eur. A dream meal!
Sorry for switching currencies so much – trying to accommodate readers from everywhere!
Healthcare
You'll likely have your own travel insurance, but if you need to go to a doctor, for dental, or anything else you'll find rates are very reasonable compared to many nations. Medical tourism is a thing in Croatia!
Keep in mind that the quality of public facilities is definitely not the greatest. Think 1980s Yugoslavia.
How hard is moving to Croatia?
The administration is a bit of a headache and quite slow. They do things 1980 slavic style still at the police departments and higher up. That's not to say it doesn't work, but you can't do stuff online.
Rental contracts must be validated by a lawyer, you must go to the Police station for an interview, and your paperwork should have a copy in Croatian and English while properly filled out. Then you wait many months for things to progress.
Too, consider the things you need to bring with you when moving your items from Canada to Croatia. While I usually travel out of a single 40L bag or a suitcase at most, you might want to use a moving company to help move from Canada to Croatia.
Visas
In the end it's highly likely that you will get your Visa because they want foreign money coming in, and as long as you're an honest, kind person, you'll be welcome with open arms.
I moved to Croatia on a WHV/YMV (Youth Mobility Visa/Working Holiday Visa), however at the office it was officially called temporary residence permit – they had no idea what I meant when I referenced YMV/WHV.
Finding rent
Finding rent isn't crazy hard but it's not the easiest. Down at the 'Useful Resources' linked at the bottom I've linked some ways to help find a place to stay.
It'll help to have a Croatian speaking friend or some basic skills. Go meet up in person and be a good human – many landlords here are simply a kind old Croatian couple looking to rent to a clean, young person or couple with no hiccups in income flow.
Learning Croatian as a foreigner
Jebo te! Croatian is a groovy and fun language. In my opinion it's the best of all Slavic-rooted languages as the alphabet is non-Cyrillic and has nice flow to it.
That doesn't mean it's easy by any means and becoming adept is quite the task. If you can't roll your Rrrs (like me) you'll always sound funny.
Basic stuff isn't too hard
Everyday terms and simple sentences are not too hard to learn and everyone will be glad that you've put in the effort to at least learn a little. The bus driver will be ever grateful you're not a knob loudly shouting "HOW do I GET to DOO BROV NICK?".
When my mother came to visit, she was appalled at how she was treated when she was speaking English to the bus driver, and then how quickly he became friendly and warm when she started speaking Russian.
It's a fun language
The swearing is hilarious and each person will be more than happy to teach you the common phrases. You'll hear old ladies on the street talking to each other with swears interlaced at times. It's all good fun and there's enjoyable slang.
People under the age of 30/40 often speak a passable amount of English, while many youth speak it at a quality level. Not incredible, but enough to have a good talk with. Overall, I had not much issue at all communicating with people at the bakery, banks, immigration offices, kiosks, beach, bar, and so forth. As long as you put in an effort they'll be glad that you're trying to integrate with their culture.
Best places to live in Croatia as a foreginer
Don't go to Dubrovnik, don't go to Split, and don't go to Zadar.
That's what people online and in person told me. It was hard to decide where to live in Croatia at first until I asked Reddit.
Don't move to the South
Do whatever you want, but I have warned you – and so will many Croats. The culture in south Croatia (Dalmatia) is notoriously Catholic-conservative. This isn't to bash religion or political views, however every Croatian will tell you how closed-minded and 'fundamentalist' the people down there are.
This is extremely important if you're of colored skin, LGTBQ, or a minority. You likely won't have a nice time. You won't have rocks hurled at you of course, but as my 'strange' friends have experienced in their hometowns – people aren't welcoming of it.
Zagreb is cool and all, but the real reason to move to Croatia is by the coast. The sea life is where its at and living in Zagreb would be like a lost opportunity in my mind. I highly recommend the following instead:
Best places to live in Croatia
Zadar, Split, and Dubrovnik are cool and all, but overrun with tourism and actually not the choice you want to make unless you want to be surrounded with influencer types and social media people.
Rijeka
– A thriving 1980s port city yet struggling – I was thrilled to call this place home for my 1 1/4 years of living in Croatia. It's not quite a bustling metropolitan city and transit is effective, it's full of wonderful grit, entertaining people, and of course the beautiful sea. Known as the most liberal city alongside Pula, Rijeka is more open to foreigners, 'odd' people, and has some fun going on behind the scenes.
Pula
– Another city with a chunk of young life and open minds, it's a common stop for Italians and other nations and has some great sights. A terrific coastline, an active student population, and plenty of tasty bakeries, Pula is the #2 recommendation from me.
Other places are significantly quieter than the aforementioned two and almost entirely filled with sameness. There aren't so many internationals in the other places to be fair, however you'll be hard pressed to see anyone from other lands in other cities – aside from during tourist season.
Finding work in Croatia as a foreigner
You've come to the wrong country for this. Either you have savings, work online, or have a nice career lined up already. Jobs at a café and such will not pay well and unless you come from a place which has a weaker economy than Croatia, you will not see much in the way of money.
Regular entry-level jobs for young adults will see between 20-30kn/hr, which is aprox $5 CAD, $4 USD, or 3 eur per hour. If you want to move to Croatia from the US, you should know the economic privileges you posses.
Consequently, savings will last a long time if you come from a country with money – count your blessings.
Social life in Croatia as a foreigner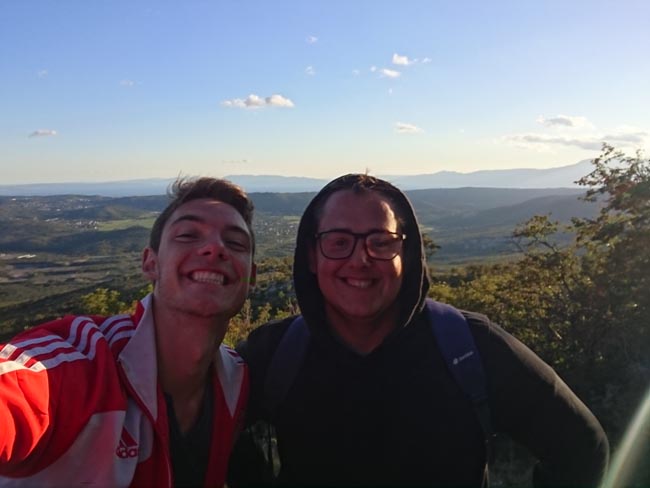 The young people are energetic, edgy, and fun to say the least! Learning that you're not just a tourist but live there, they'll often be very excited to open up about themselves and their nation. They'll love if you ask them how to swear and they'll frequently push Rakija shots towards you. Take one, maybe two, but no more! You'll feel it.
The nightlife isn't anything special however at many bars and places you'll find plenty of young adults all dressed up and ready for an evening of fun. Croatian women are quite attractive and the men are not – sorry that's just the way I saw things and if you're a handsome foreign guy you'll have success with the ladies. Just don't be a d*ckhead and have some respect.
Summer Croatia
In the summer, things get very lively if you know where to look! The common tourist places (Split, Zadar, Pula, Dubrovnik) are plagued by young partygoers, however there are a handful of smaller-size (not Ultra) music festivals happening all over which are excellent fun and have great people.
Summer Croatia is best Croatia

– Niko Cehič
– as my friend Niko and I put it. Warm weather, a terrific sea, and just eye candy scenery all-round, from early March through to late October you'll love spending time outside eating Burek and drinking wine.
Other aspects of living in Croatia and more opinions
What can I say – I love Croatia! The transit is still right out of the 1980s, the people are edgy, and it's a little grimy. I don't like a clinical & clean place (like my Living in Denmark post describes), and Croatia isn't that.
The people in general aren't exactly thriving happy and this is likely due to the stress of finances. Thanks, corrupt government. Moving to Croatia from the US is a big difference and Americans will finally understand what an actual corrupt government is.
Great cheap food and drinks
The bakeries (Pekara) are places I frequented almost every time I went outside and cute yet grimy kiosks are everywhere. Burek is a very cheap and extremely filling food (~10-15kn, or $2-3CAD each) which while not exactly healthy, happily replaced hamburgers for me. Look for Burek sa jabukom (Burek with apple), or Burek sa spinat i sir (Burek with spinach and cheese).
Drinks are affordable and plentiful. Karlovačko and Ožujsko are the most common beers (pivo), but I freaking love Jamnica Sensation. It's a soda but damn is it ever tasty. Wine is affordable and there's a great scene for that in Croatia.
Beware the Rakija. Everyone will insist on feeding you shots and of course you should try some – but that stuff is potent. My housemate Josip kept a full 2L bottle of Rakija in the apartment for… emergencies..!
Living in Croatia as a Canadian will bless you with their local food. Croatian cuisine is a blend between Turkish, Bosnian, Greek, and Italian. Though it's not absolutely incredible, it's a nice balance and coming from Canada, oh wow is it amazing.
Downtown markets
The fresh fruits & veggies in the summer are abundant and affordable. You absolutely need to go to the markets and buy stuff from the locals. It'll cost a little more than at Plodine, but it comes from a families home and is often very good.
Croatians love meat, and Ćevapi (a common Balkan dish) is a favorite. Croatians take their smoked meats like Kulen very seriously and the result is absolutely phenomenal. Thank you Josip (my former housemate) for showing me these treasures.
Bonus: Seemingly everywhere there are fig trees growing. I had no idea how good fresh figs were until I ate them. Now they're my second favorite fruit next to mango. Every day when they were growing I'd pick some off trees hanging over the sidewalks. Absolutely delicious.
Overall
Ice cream, wine, burek, and figs – this was my paradise. Do some stretching at the beach, watch a football match, go for snorkeling and a weekend trip to Krk, I miss Rijeka every time I think of it.
Croatians are tough on the outside yet soft on the inside – old ladies are so happy to give you food & advice while others are generally receptive to conversations. They're happy to engage with a non-tourist visitor and introduce you to their ways. Living in Croatia as a Canadian is a real blessing.
If you like to kick back, enjoy phenomenal scenery (seriously, the Adriatic is unbelievably nice and clear), and have the privilege of floating through live on a chunk of savings, then I couldn't recommend Croatia enough.
Thanks for reading my guide on how to move to Croatia as a foreigner guide thing. If you've questions please drop them down below and I'll get back to you ASAP. I moved afterwards to Berlin – check out Moving to Berlin as a Canadian for my experience with that.
USEFUL RESOURCES IF MOVING TO CROATIA.
Here are a list of useful links to help you with moving to Denmark. Some of these feature referral codes which help me out if you sign up. Feel free to sign up without the referral of course.
Njuskalo.hr – The Craigslist of Croatia. Get a mobile phone number and Google Translate ready!
Workaway.info – Live and integrate with locals – a phenomenal way to live somewhere for free in exchange for some labor.
CouchSurfing.com – A good amount of friendly hosts you can stay with for free – be kind!
Facebook groups – Join a Facebook group for housing specific to the place you want to live. You'll have the best success there and on Njuskalo to find accommodation. Otherwise an agency will be glad to take your money with a good commission for themselves.
www.Blablacar.hr – Great affordable transport by way of car-pooling
Transferwise.com – My favorite traveler banking/card. Low conversion rates, accepted everywhere. Saved my *ss. Link is a referral link.
Erste Bank – They were easy to deal with, have an English phone app, and signing up was not too complex.
https://www.arriva.com.hr/ – Effective and cheap medium-distance bus rides from city to city.
https://threemovers.com/moving-companies-canada-to-croatia/ – Moving company for Canada to Croatia – if you need to move a lot of items.
Apply for the Youth Mobility Visa / Temporary stay Visa for 1 year. That is if you're moving to Croatia as a Canadian. The people at the office likely won't know what the YMV is and it's best if you go there with an Croatian-speaking friend.
You'll be given to option to extend it for a second year, however I declined this opportunity as I ended up moving to Berlin.