A hybrid blend between the ESC Tempest, Magna Trail, and Tracker, the new Vivobarefoot Magna Forest ESC combines elements of all three into one shoe. A big $255/€240 price tag is affixed to these – not cheap!
Designed for adventures off the beaten path in cool climates, this Magna Forest ESC review will cover the important aspects such a durability, comfort, grip, and so forth
For 10-25% off Vivobarefoot shoes use the code CNOMAD10 on the Vivobarefoot website!
Comfort
In all honesty, the Magna Forest ESC doesn't quite match the comfort levels of their minimalist-type shoes such as the Primus Trail FG or casual shoes.
However, when we compare them to other hiking-style shoes (barefoot and not), they compare quite well.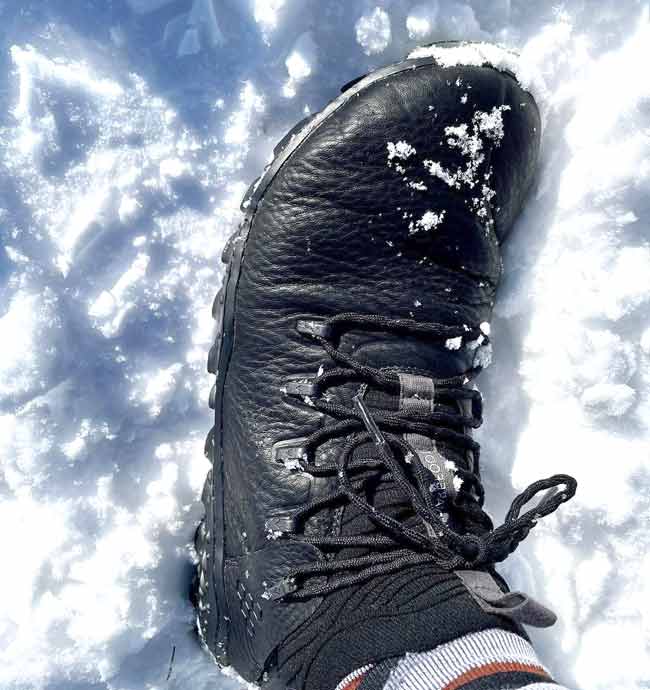 The initial break-in period will last 2-4 weeks (depending on frequency of use). At first they were a bit stiff and uncomfortable. However, just like the original Magna Trails I had – after the wear-in period they fit very nicely.
Comfortable, flexible, forgiving – my feet really enjoy them and while everyone's foot is different, I reckon they'll fit great. Use my Vivobarefoot sizing guide to find out how to size Vivobarefoot from Adidas and Nike shoes!
Grip of the ESC shoes
Compared to the Magna FG and other Vivo shoes with that sort of tread pattern, the Magna Forest ESC have quite a bit more rubber and traction when it comes to loose mud, snow, or scree. They have a 2.5mm base and 7mm lug height.
Perfect for scrambling, hiking, wading through snow, and similar activities – the grip is definitely a step up over most barefoot shoes.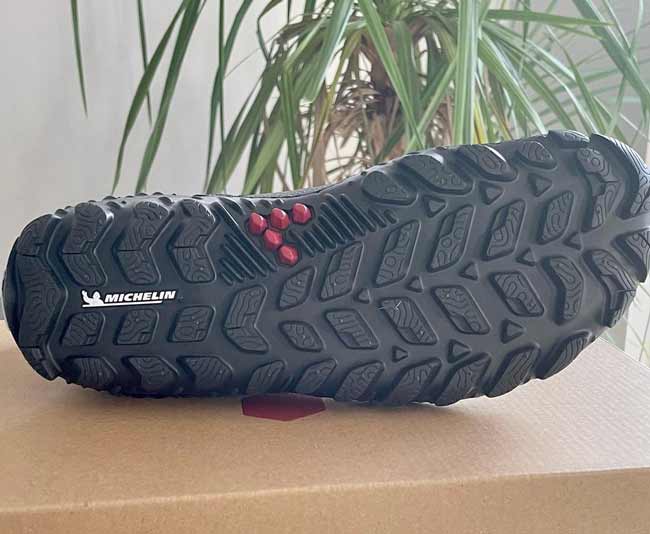 With that in mind, this amount of extra sole does reduce the barefoot feeling of feeling cracks, rocks, and similar terrain.
In my comparison of the Vivobarefoot FG vs ESC soles you'll see the stopping power of the ESC shoes is much better.
Temperature & water resistance
The Manga Forest ESC are definitely for cooler climates. Ideal temperature range would be between -20 to +15°C (-4-59°F) , assuming you're walking up a mountain or moving. These shoes are toasty.
Due to the leather build you'll have a decent level of water resistance. I wouldn't say these are waterproof barefoot shoes, but they'll certainly repel snow/sludge/water in the majority of scenarios.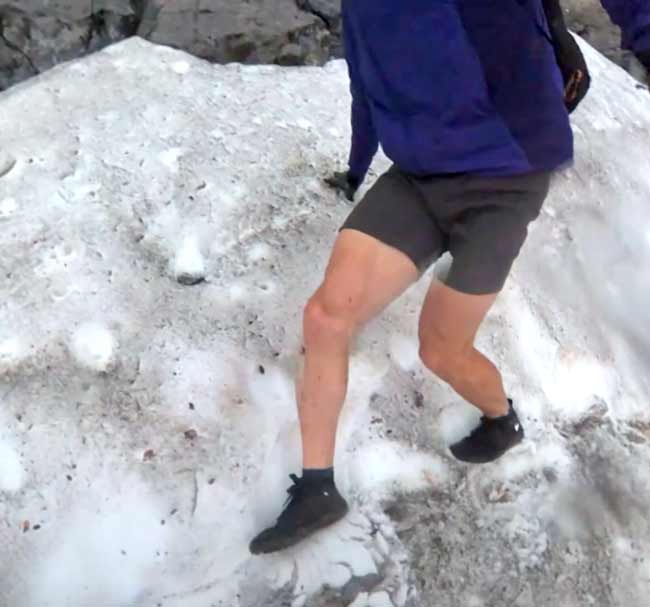 As a result of though, you won't have quite the amount of ventilation you might get with other Vivobarefoot shoes. Keep this in mind when it comes to late spring, summer, and early fall months.
Merino wool socks IMO are a must have when it comes to barefoot shoes and they'll improve comfort, smell, and temperature range over cotton/polyester/nylon socks.
I definitely would not use the Magna Forest ESC for trail running regardless of climate. Instead I would choose the Primus Trail All-Weather (review) for trail running in the winter.
Build quality/durability
Vivobarefoot has always made high-quality shoes in my experience and the Magna Forest ESC are no different. Well-implemented stitching, good material selection, and overall a very good design.
The upper is made from cow leather, the upper collar is made of Merino wool, the insole is a recycled PU, and the Michelin sole is made of rubber. Overall, a great choice of materials.
However, I found that the laces on the Magna Trail lineup have frayed and become destroyed rather quickly, and I reckon this will happen to the Magna Forest ESC as they seem identical.
It's too early to say how durable these shoes are, however if they're anything like my other Vivobarefoot shoes – I reckon they'll last a good chunk of time. Usually I burn through a pair in around 1-2 years, so if I get 1.5 years out of them I'll be very happy! I'll update this section later 🙂
Practicality
For daily use in the fall, winter, and spring I think these shoes are excellent – whether it's going to the supermarket or up some mountains. When it comes to warmer climates however you will absolutely notice how toasty these shoes are.
They aren't too hot by any means, but for hiking and such in the summer (or above 15°C) I would much prefer a lighter, more breathable shoe.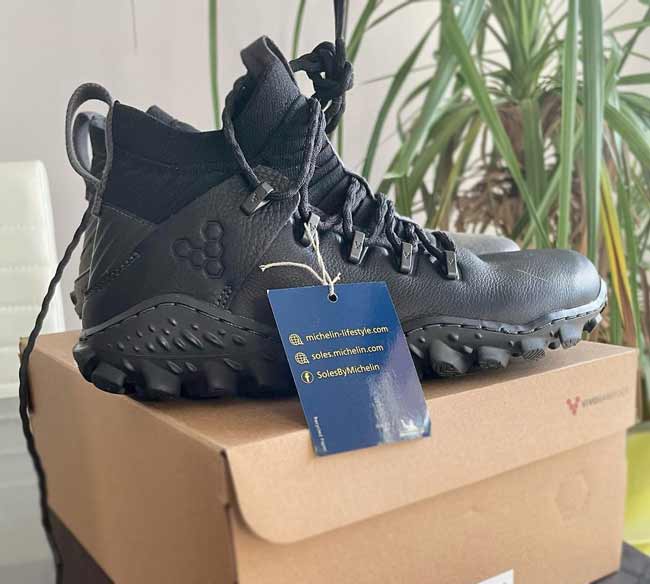 Something to mention about the style too – I think they look pretty sharp and appropriate for many scenarios! While they'll be a bit hot for wearing indoors at the club if you move and dance a lot, they're perfect for a night out in the winter.
Magna Forest ESC vs Tracker Forest ESC
Seemingly two very similar Vivobarefoot shoes, however there are a few key differences to take note of when it comes to deciding between the two:
Collar – The Tracker Forest has a higher collar to keep snow, water, and debris out better.
Tongue – The Tracker Forest has a leather upper while the Magna has a wool upper. Leather keeps out wetness, wool breathes better.
Temperature – The Tracker Forest is a warmer shoe.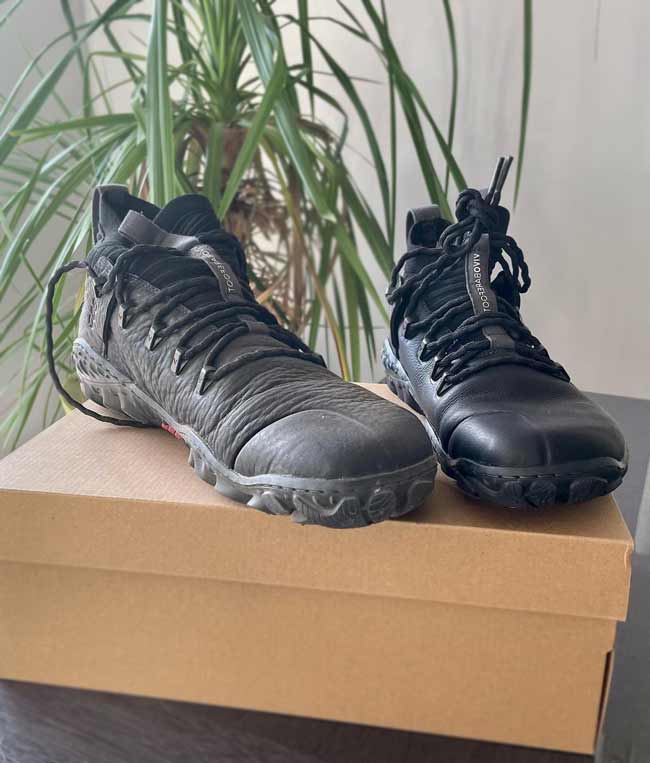 As a result, the Tracker Forest is even better for cold-weather hiking and activities, while the Magna Forest is a little more versatile in the temperature range and activities it can accommodate.
Ethics of Vivobarefoot
Morals and ethics is a major thing for me when it comes to products.
Vivobarefoot has an awesome return and refurbishing program. With Revivo, you can send in your old shoes and give them second life, or buy a secondhand, refurbished pair of shoes!
I love this because sustainability is a big thing to me.
The shoes are made in Ho Chi Minh (Vietnam), and they claim the leather is sourced from small-scale farmers and the wool is sustainably sourced. While I obviously can't confirm & witness these practices, I like to give the benefit of the doubt.
Overall
$255/€240 is a pretty big price tag. Clearly, these shoes are high-quality, technical, and have a good sustainability ethos. However, is it worth it?
It's purely a matter of opinion at this point and to me – yes they are. However, the regular Magna FG are ~$50 less and just about as good (sacrificing a bit of traction).
I find the Magna Forest ESC are really designed for pushing the limits and achieving optimal performance in places where conditions are not so great. I wouldn't use them in races, but I absolutely would use them for summiting some difficult, scrambly mountain peaks.
Yes, it's a high price tag, but creating a sustainable, ethically-produced product with high quality materials is expensive in itself. There's a cost to cheap items.
Anyways, I hope you liked this review and if you have any questions please let me know!
For 10-25% off Vivobarefoot shoes use the code CNOMAD10 on the Vivobarefoot website!
Check out my related Vivobarefoot articles like best winter barefoot shoes guide, Ultimate Vivobarefoot buyers guide, and Sizing Vivobarefoot guide.
Vivobarefoot Magna Forest ESC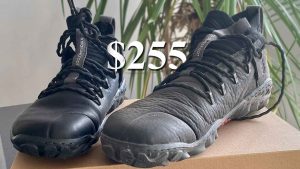 Very good shoes! Expensive but absolutely the cream of the crop and overall excellent barefoot hiking shoes.
Product Brand: Vivobarefoot
Pros
Build quality
Comfort
Grip
Cons
Price
Gaiters for waterproof