Fall and winter is right around the corner and that means cold, wet, and snowy weather. I choose what are in my opinion the best Vivobarefoot shoes for winter conditions – be it hiking, commuting, or biking.
Note: Here is a link to a 25% discount to any of the Vivobarefoot stores. Use code CNOMAD10 at checkout!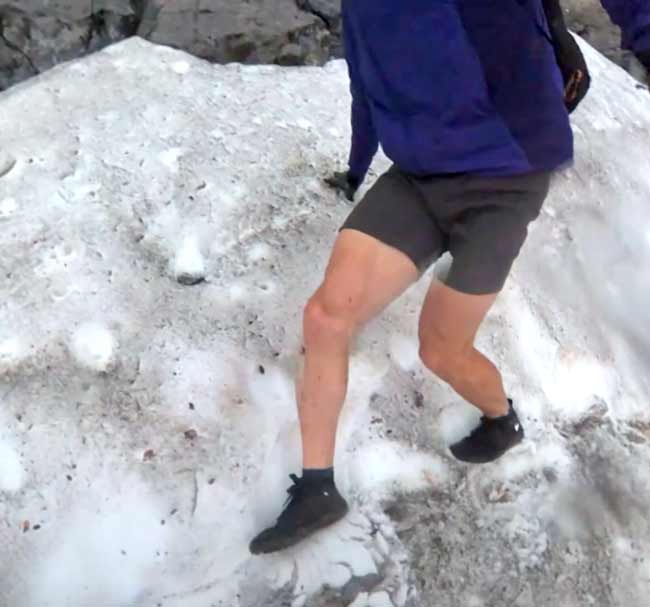 Small tips for barefoot winter shoe buying:
Before I continue with this guide, I'd just like to offer a few small tips and words of advice for buying winter barefoot hiking shoes!
Size a half size or full size up! This way you can wear a second or thicker layer of socks without constricting your feet and reducing circulation.
Merino wool socks! Merino wool is a 'supermaterial' of sorts because of it's anti-smell and thermally regulating properties. It's a literal game changer. (Merino wool socks comparison here)
Try before you buy if you can – everyone's foot is different and maybe there's a barefoot shoe store near you – worth a search!
Waterproof? Instead go for something that breathes and wear waterproof merino wool socks – now you can use them in 3 seasons and not just one.
Insole? The Vivo shoes mentioned all have insulating insoles, but custom wool/felt insoles will help your feet stay cozy even better!
Vivobarefoot Primus Trail All-Weather/Winter – Best barefoot running shoe for winter
The lightest and most agile barefoot shoe of this bunch, the Primus Trail All-Weather/Winter edition are almost identical to the regular Primus Trails except for the material on the upper.

This being a neoprene-type fabric which feels similar to that on a wetsuit. It doesn't keep the water out and your foot may still get wet, however this wetsuit-like upper helps a lot with retaining temperature. I've had multiple occasions where my feet have gotten entirely drenched with these shoes on but this warmth-retention really changed the game.

Vivobarefoot Magna FG (leather & wool) – Best all-around cold weather barefoot shoe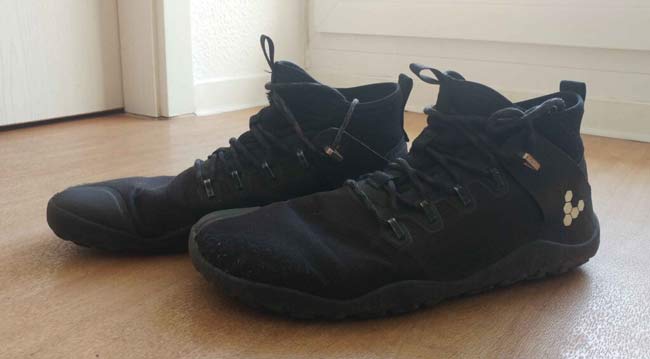 Both variants of the Magna Trail are fine, however the leather & wool Magna Trails are simply superior due to the water-repellency of leather and the thermal properties of wool.

More comfortable from the get go and with better wet & cold weather traits, I'd highly recommend the leather & wool Magna Trails over the Cordura ones. Also, I think they look fairly nice.
If you're looking to have a single barefoot shoe that works for commuting, hiking, biking, bars, and anything else – the Magna Trails are the way to go. The 'modern' design won't look out of place when you're going out for the night with friends either.

Vivobarefoot Tracker – Best all-around winter hiking barefoot shoe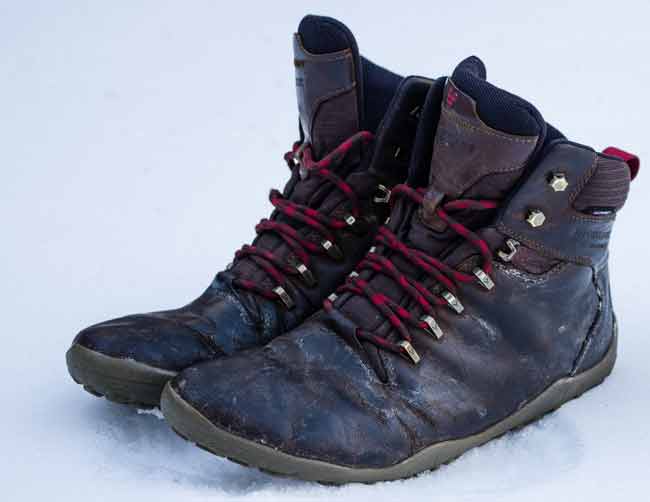 Lightweight, comfy, high ankles and made of leather, the Vivobarefoot Tracker is a solid choice overall. Enough grip for most activities and durable, these are well-made shoes and a good contender for the do-it-all work shoe.

I'd use weather-proofing or a wax if you'd like to make the Tracker more waterproof because the upper is permeable. They're not so great for warmer climates because they don't ventilate particularly well either.
A classic design means pleasant aesthetics and ability to wear them basically anywhere while blending in.

Vivobarefoot Tracker Forest ESC – Best intense hiking barefoot boot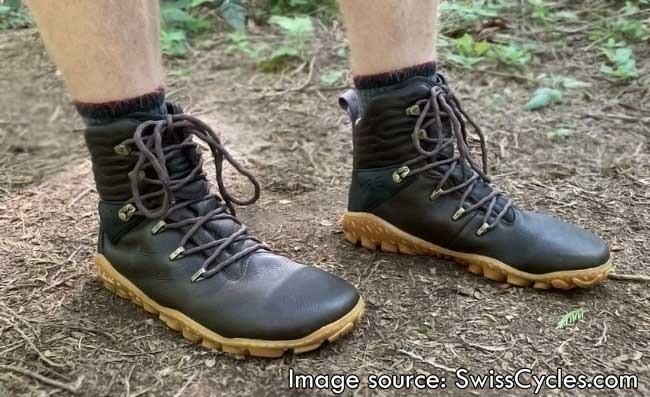 If you're more serious about wintertime hiking and need more grip, these are Vivobarefoots latest & greatest. Using a sole with thicker lugs for traction, you sacrifice some of that barefoot feeling for more secure footing in loose/muddy/snowy conditions.

The shoes aren't waterproof but water-resistant to allow for breathability. They can be treated with wax or another coating to change this, though you'll lose out on the breathability and thermal regulation these shoes have.
In terms of style, they're quite 'forward-thinking' and tech-y. Maybe this is for you, maybe not, but I find they look fairly snazzy. If you're looking to tackle trails with pace, they're definitely the right pick.

Vivobarefoot Tracker All-weather – Best snow hiking barefoot shoe
Warmer, grippier, and tougher – the Tracker All-Weather are designed for gnarly conditions. Rubberized sole, insulated upper, and hefty amounts of grip, these are great for moderate winter hikes where you'll be in snow and sludge.

They aren't waterproof either but it shouldn't be a problem with snow as that'll slide off the top of the shoe. Of course, you can treat the upper to improve this and reduce the breathability.
They look much more like snow boots than any others and they're about the only barefoot snow boot out there, so for colder climates and the likes you're best suited by these.

Summary
There are tons of other winter barefoot hiking boots by other companies but of course this focused just on Vivobarefoot for the loyalists out there.
This All-time warmest winter barefoot list is pretty good so maybe you'll find some inspiration from their page! Definitely useful if you're further up North and need that protection from the elements.
Anyways, hope you liked my little list – if you have questions or need help just leave a comment down below and I'll be glad to help out!
Check out my other ultimate Vivobarefoot buyers guide and Vivobarefoot sizing guide if you're looking to get started with their shoes.
Make sure to use the 25% off Vivobarefoot shoes with code CNOMAD10!