I'm a big fan of barefoot life now. I bought the Vivobarefoot Magna Trail as a shoe for hiking, outdoors, and casual life. I'll go over all the important details such a sizing, durability, water-proofness, and more in this complete Vivobarefoot Magna Trail review.

Check out my Vivobarefoot buyers guide to see all my favorite Vivobarefoot shoes.
Review: Vivobarefoot Magna Trail
Durability of the Magna Trails
The Magna Trails I have in particular are the Cordura model. They hold up quite well to abrasion and the daily tasks of life, however they will show their wear after a while.
In particular, the laces on mine have started to fray at the top eyelets. Not just fray – they've started to split. The eyelets seem to have worn down on them a lot and while they still work, after 4 months of frequent use I can't help but think that's a weak point.
The bottom tread and lugs have held up fairly well as I've went up a few mountains, use them daily for meandering the city, and done other outdoor adventures in them. I'd say they're fairly rugged and will last a couple years with casual/regular use – save for the laces.
Vivobarefoot Magna Trail comfort
The break-in period of the Magna Trails is not nice. The Cordura feels very stiff, it's quite hard to get on, and you may even get a blister. I rarely get blisters and even got one near my ankle bone on my first hike with them.
The Magna Trails make a 'flip-flop' sound near the toe box for the first while of wearing them which can be annoying as well. At first, not so good.
HOWEVER!
Now that I've worn them in, they're very comfortable! Granted, not as much as my Primus Trails or the leather & wool Magna Trails, however my feet have zero complaints. They're spacious, warm, and dig into my foot nowhere.
If you're having comfort problems with the Magna Trail at first just bear with it – it's worth it and you'll get past the break-in period.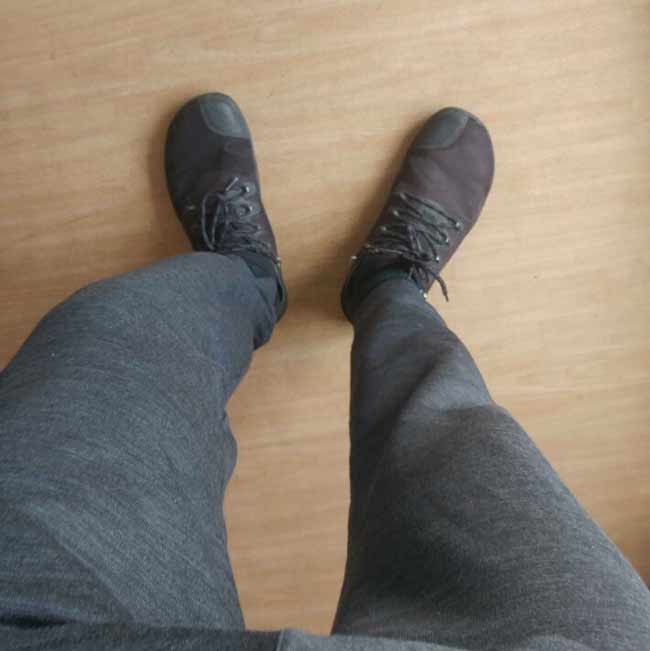 Are the Magna Trails waterproof?
At first they were. Sadly they're not quite so anymore. I'd say water resistant, but after the break-in period they wet out quickly. However in rainy Berlin weather I've not had them soak my feet while cycling, so it's ehhh. Not great but not bad. Go for leather shoes if you want waterproof.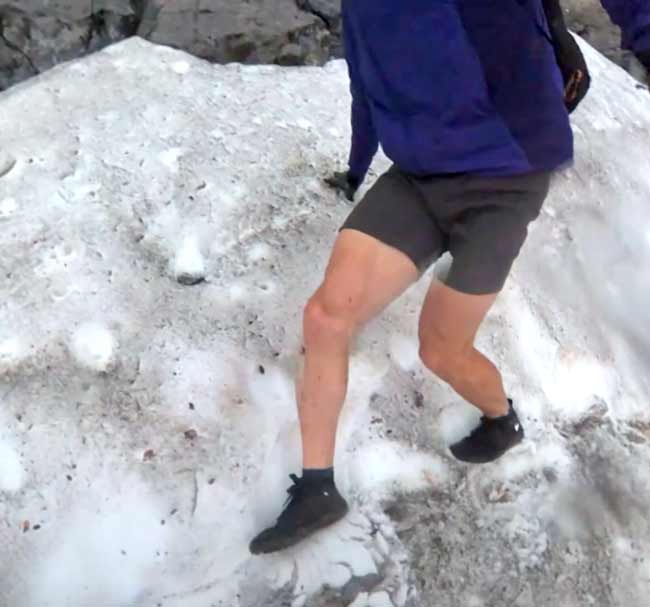 Magna Trail sizing
The sizing on the Vivobarefoot Magna Trails is a common point of annoyance. They fit 0.5-1 size bigger than other Vivobarefoot shoes I've tried, like my beloved Primus Trails (RIP).
Check out my Vivobarefoot sizing guide here for more info
Try them on in the store if you can, if not, order a size half too small. They'll be tough to get on at first and the break-in period isn't great regardless, but they'll feel a little more snug. As long as you have a thumb-width amount of room between your toe and the toe-box, you'll be happy.
Magna Trail vs other barefoot shoes
The Magna Trails are in my eyes made for winter, spring, and fall. They're substantially warmer than most barefoot shoes out there which is either a blessing or a curse.
A warm summer hike? Prepare for damp, sweaty feet.
Adventure in fall with cool weather? Perfect!
I wouldn't at all pick the Magna Trails as the best barefoot trail running shoe – they're a little clunky and hefty feeling for that. For me, they're a perfect city/nightlife/fall weather shoe. Going outside in the mud, an upper body workout at the park, or nightclub is what these shoes are great for.
Leather and wool Magna Trail vs Cordura
Just get the leather and wool Manga Trails. Trust me. I didn't buy them as I already have the Cordura Magna Trails, however I wish I waited for this next gen to come out. After a quick test in the store I was mind boggled – they feel like completely different shoes.
The comfort, the feeling, the materials, the water-proofness. For sure my next buy will be the Leather & Wool Magna Trails once these wear out (after a few years).
Other things worth mentioning
Style and aesthetics
I think the Magna Trails are the best looking barefoot shoes out there. I come from a sport leisure perspective when I say this – other Vivobarefoot shoes are classy and elegant looking. If you're a streetwear casual kind of person, the high-top style of these will match you best.
Personally I love the olive colored ones my friend has and the burgundy/wine colored one his girlfriend uses, however the full-black ones which I sport are sleek and work with any outfit I have. Even jeans (which I never wear)!
Even my buddy who is a sneaker-head and hates barefoot shoes saw these and said "what kicks are those??" – Thinking that they're regular shoes. Hah hah, fooled you – they're actually barefoot shoes!
These are the best looking barefoot shoes in my opinion for streetwear and casual use.
Trail running
Meh. In my original Vivobarefoot Magna Trail Reddit review I didn't really care for them on the trail. I still hold that sentiment. I feel slow, a little sluggy, and they're not my pick. For walking and stuff yeah, they're great. Running? I suggest the Vivobarefoot Primus Trails
Grip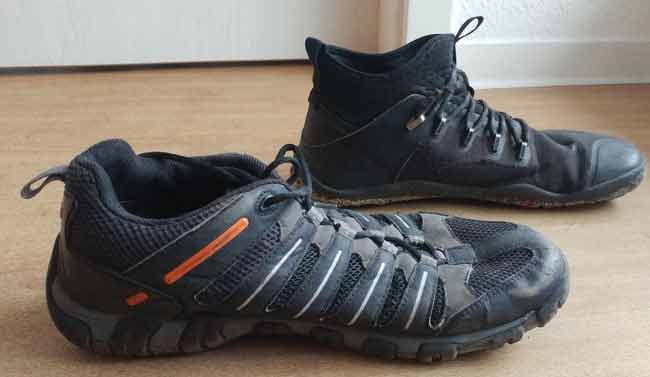 I couldn't see myself needing any more grip unless on deep snow or mud. I've done some free climbing, bouldering, mountaineering, and more stuff which required a level of grip. The Magna Trails did exactly what I needed to.
Those lugs are shallow enough to allow for enough 'barefoot feel' during daily life, but deep and sticky enough for grip on dirt, snow, mud, rain, gravel, and rock.
Overall
I very much like these shoes. I'd definitely spring for the Magna Trail leather and wool variety if I had to choose again, however these are just fine. They work great for biking around the city, dancing in the park, nightclub shenanigans, and even advanced mountain stuff. Again, here's the Magna Trail product page if you want to look at em.

Check out my Vivobarefoot Magna Trail review video right down below for a full rundown and in real life test on how these shoes perform.
If you've got questions about the best Vivobarefoot shoe for you, then please just drop a comment and I'll be glad to hit you up ASAP! Barefoot running changed my life in terrific ways and I'm very happy to help out.
Also hit up my Vivobarefoot buyers guide to see my complete rundown on all the Vivobarefoot shoes. Until next time, peace!
Vivobarefoot Magna Trail II FG
Great mid-cut barefoot hiking shoes with some minor break-in period discomfort. Robust and capable shoes overall!
Product Brand: Vivobarefoot
Pros
Comfortable
Aesthetics
Grip
Cons
Not waterproof
Forefoot wear