I've been hammock camping for about 5 years now. I started with the TTTM King hammock which I loved but then went onto their Lightest Pro Hammock due to the reduced size, weight, and integrated bugnet.
This Ticket To The Moon Original Pro Hammock review will cover everything that I love (and don't) about this hammock camping wonder which I've used for well over 30 nights of sleep now.
Wasting no time I'll give you information about comfort, materials, build quality, company ethics, etc. Lets go in!
Edit: I have a TTTM Discount code for 10% off any order! It should work for their global website. Use code NOMAD10
Comfort
The very first and most important thing of any piece of gear I have is comfort. What's it like sleeping in the TTTM Pro Hammock Original?
Well, it's awesome! First – an integrated bugnet was a game changer! I used to have a separate hammock from bugnet which just increased setup/takedown time and added steps. No longer is this the case.
The integrated ridgeline is very easy to operate and assists with finding the ideal hang angle without having to adjust your straps too much. Bonus – it can be tightened/loosened while laying down so you can adjust bugnet tension without having to get up.
The ridgeline organizer is incredibly practical & useful for storing all my gadgets & tools (flashlight, power bank, phone, pillow, etc) as it has a half dozen pockets. Every hammock should have one of these!
The material of the nylon is quite nice and soft – though I prefer to have my body wrapped by my quilt rather than bare skin touching. A preference thing. Tie outs on each corner also assist with keeping material out of your face.
Overall, the Pro Hammock Original is very comfortable and I've gotten great nights of sleep from it!
Materials & specs
A 65g/m2 parachute nylon which is essentially identical to that found on their regular travel hammocks – it's both light enough the not be cumbersome yet durable enough to last a very, very long time.
Weight: 950 grams (2lbs)
Length & width: 3.1m x 2.0m (122″ x 79″) – This is above average
Packed size: 3L
The bugnet is a fine mesh, the ridgeline is made of UHMWPE (similar to Dyneema), and lightweight carabiners load rated to 10kn (climbers safety standard).
The zippers are sturdy, the integrated ridgeline organizer is well-built, seams are triple-stitched, and I've never had any issues with any product from TTTM (I have many).
On paper everything is excellent and in practice the same is true. TTTM really has a big emphasis on ease-of-use, which is actually really nice because it improved the overall experience of setup/camping/takedown by a nice margin.
Durability
I've had my TTTM king size Travel hammock for about 4 years now and only have very minor holes/tears in it. I actually think some of these are from embers due to the shape.
To be clear: I have abused that hammock an obscene amount – hanging 4+ people in it, using it as a beach blanket, swing – anything you can think of. It has stood up extremely well and I have doubt it'll make it longer.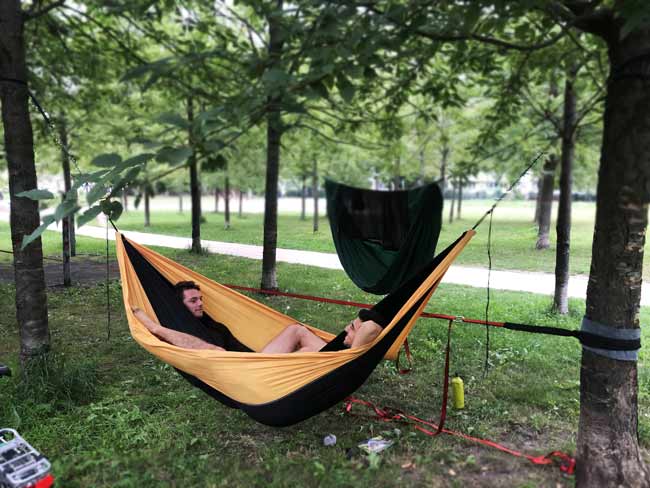 While it's rated for 150kg, I certainly trust it for more and wouldn't feel uncomfortable having 4 adult males (300kg) laying in it as I've already done that!
Overall a very durable and well-made product which I've had zero issues with.
Company ethics
Ticket To The Moon are actually one of the originals in the hammock camping scene – dating back to 1996.
Call me lame, but I like a company which has a nice moral compass and ethical standing. While I don't have boots on the ground there – they seem to be great! All of their gear is made in Indonesia – where the company was started and still headquartered.
They back up their reputation with a 10 year warranty. I appreciate that. A LOT.
Also, they have their own foundation, employ locals, offer fair salaries, and overall I have good feelings from them. Maybe I've been bamboozled by outward appearances, but until I hear anything else, TTTM sits in my heart as a positive company.
Pro Hammock Original vs Lightest Pro Hammock
I love both hammocks equally and for different reasons and actively use both for separate use-cases. Here are the raw specs:
950 grams (2lbs)
3.2m x 2.0m (122″ x 79″) – This is above average
Packed size: 3L
Max load: 150kg
65g/m2 Nylon
550 grams (1.25 lbs)
3.2 x 1.4m (122″ x 55″) Narrower than average
Packed size: 1.5L
Max load: 100kg
20D Stretch Nylon
The real differences between the Pro Hammock Original and Lightest Pro Hammock are simple: pack size, weight, and stretch factor.
The pack size and weight of the Lightest Pro hammock is about half that of the Pro Hammock Original.
For me – I prefer the Pro Hammock Original when weight is less of a factor (hiking less than 10km a day) and carry size isn't at a premium or I anticipate myself to share the hammock with someone else (casually or sleeping).
I prefer the Lightest Pro hammock if I'm going to be doing fast adventures (bikepacking, difficult mountains, etc), or really need to keep my pack weight and size down.
I do find that I get better sleep overall in the Pro Hammock Original so there are a lot of factors at play. Read my Ticket To The Moon Lightest Pro Hammock review for more in-depth thoughts there.
Edit: I have a TTTM Discount code for 10% off any order! It should work for their global website. Click here and enter e-mail to get your code!
Conclusion
Overall I think it's an absolutely excellent hammock from a good company with a solid reputation.
I've loved mine and have used it for sleeping in buggy rainforests, frozen Canadian Rockies, and arid deserts without a problem.
I pair it with my TTTM Lightest Tarp and Lightest Straps for an ultralight yet comfortable and extremely easy to use setup.
I hope this review helped -any questions please feel free to ask! Peace!
Edit: I have a TTTM Discount code for 10% off any order! It should work for their global website. Use code NOMAD10
You can see my other Ticket To The Moon reviews here:
Ticket To The Moon Pro Hammock Original
Overall an excellent camping hammock. Integrated bugnet, ridgeline, and ridgeline organizer are hugely appreciated and the materials/build quality is overall terrific. Tough, comfy, and a good company - highly recommend!
Product Brand: Ticket To The Moon
Pros
Lightweight
Durable
Easy to use
Cons
Learning curve
No pillow pouch