It has been about 1.5 years since I bought it, so I figured I'd writeup a quick Ticket to the Moon hammock review. I'll go into the things I like, don't like, and other aspects of the TTTM hammocks in this review.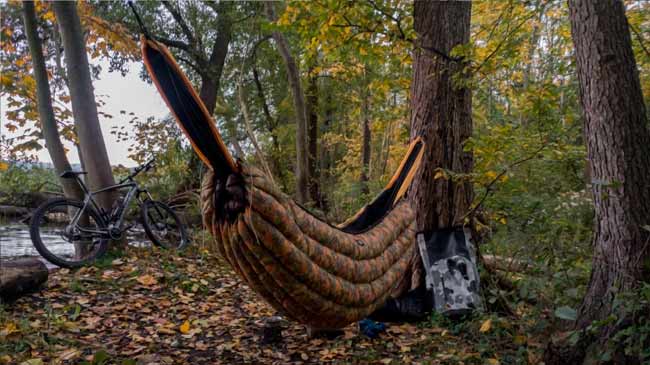 Edit: I have a TTTM Discount code for 10% off any order! It should work for their global website. Use code NOMAD10
Ticket To the Moon Hammock Amazon link (Amazon affiliate network)
Comfort
I got the king size hammock and can't recommend that size enough. I was looking for the best big hammock around so I could sleep comfortably with my large frame and even hang with a partner or even a couple friends.
At 3.2m long and 2.3m wide, the Ticket to the Moon King size hammock is absolutely the largest 'regular' travel hammock out there. This gives so much extra room for laying.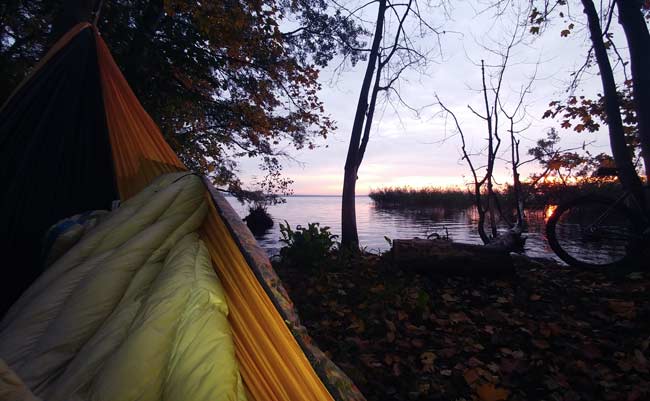 At 6'3″ I found this to be very useful. I can first always find the perfect lay due to there always being so much material available. The ripstop nylon & silk combo itself is comfortable though not quite as smooth or nice as pure silk hammocks. All in all, comfort is excellent and my transition to ground sleeping to hammock camping was done with this hammock.
However, I recognize that pure silk hammocks are smoother, more 'comfortable', and quieter than nylon hammocks. Still, I very much like this one and I can get the perfect lay every time.
With the right laying technique, you can lay down with a friend, opposite of each other, and hang in it comfortably for hours on end. The versatile size and strength pays dividends when it comes to lounging with a partner or friends.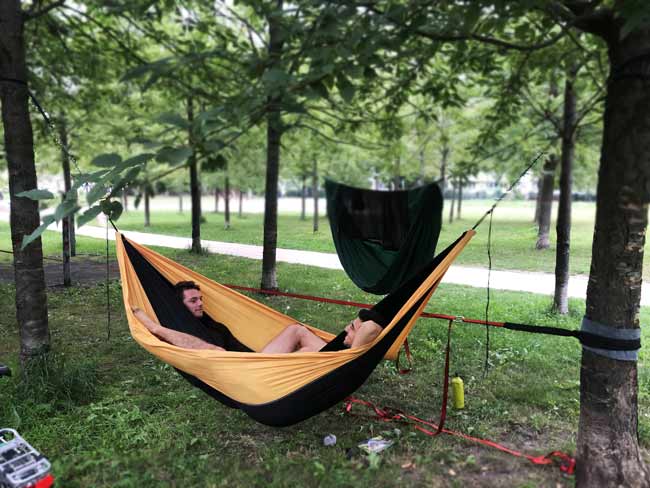 Materials/quality
They use a top notch ripstop nylon & silk blend which bears an incredible amount of weight and has great damage resistance. While you should always leave keys and sharp objects outside of the hammock, I'm pretty reckless and rough with my equipment at times – especially during festival season.
I've noticed some wear around the pocket/pouch and the material is thinning in some areas from my vigorous and rather careless use, however a year and a half later it still feels just as good as day 1 and the material hasn't ripped at all.
The king size hammock weighs 700 grams total which is on the heavy size of hammocks, but that small addition to carry weight pays off in dividends with a good nights sleep.
Overall, I'm really impressed by the strength of the nylon and now at the 2 years mark I don't see any sign of any parts of it failing.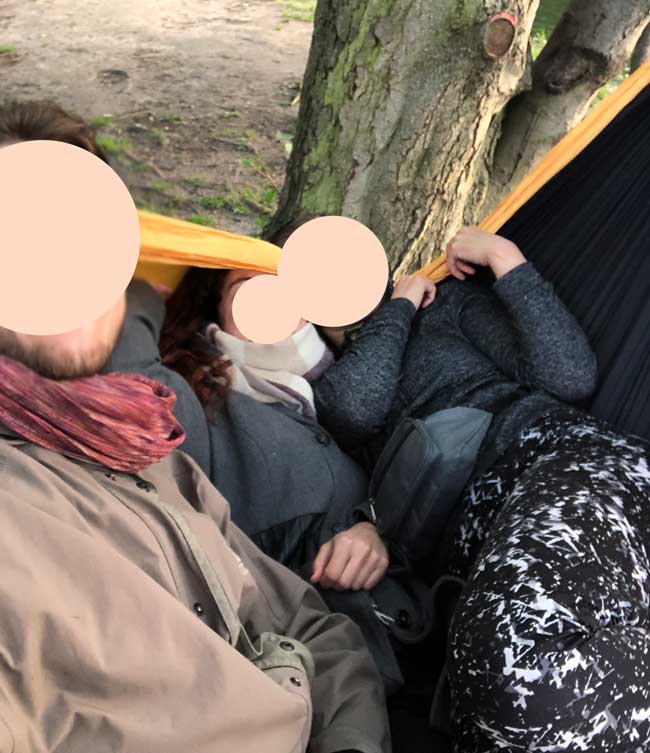 Hammock bugnet?
The TTTM hammocks can be mated with any universal hammock bugnet or their own branded Ticket to the Moon bugnet. Instead you can also just get the Pro Hammock Original which has an integrated bugnet & ridgeline.
Still, whenever it's bug season I always back the bugnet as it's light, small, and a million times better than having your blood sucked by mosquitos all day.
Sleep 2 people in 1 hammock?
Generally sleeping 2 people in 1 hammock is difficult, if not always unsuccessful. I'm glad to report back with results with the TTTM king size hammock.
With this huge 320cm x 230cm area you have enough room for even 3 people. Obviously, I doubt you'll get a good night of sleep with three people in one hammock, though.
Still, sleeping myself and one average sized partner we had a surprisingly nice sleep. Of course you'll have to adjust throughout the night and this depends on how deep/easy of sleepers you are, but we made it work very well!
Bonus – the warmth from two people makes insulation less of a worry. I use my LSoH Toaster underquilt and we found it to be plenty warm in the Canadian mountains in September.
The TTTM Honeymoon and Mammock are also options but significantly heavier at 1,420 and 2,630 grams respectively. For that reason I can't recommend backpacking with them as the weight and size is too much. I'd like to add that I've even hung out with three people inside the king size hammock before. Scary at first but it worked as well as I could've hoped.
The original TTTM travel hammock is 3.2m x 2.0m which is only 0.3m shorter on the width. This is not too significant and saves 100 grams, so if you're a weight weenie then maybe the Ticket to the Moon original hammock size may be your best pick.
Overall
I love it and highly recommend it! Hammock camping is the way to go for me and the extra real estate found on the Ticket to the Moon hammocks is especially nice for those of us who are tall, wide, or would like to cozy up with a partner.
I'm super fond of the King Size hammock as it's large, strong, durable, and comfortable. Also check out my Ticket To The Moon Lightest straps review because they're now my favorite hammock straps I've ever used!
Thanks for reading my Ticket to the Moon hammock review – if you've got any questions or comments please drop them down below as I'm glad to help answer.
Also, you may view my digital nomad gear list where I share all the minimalist gear and things I use in my life.
Edit: I have a TTTM Discount code for 10% off any order! It should work for their global website. Use code NOMAD10
You can see my other Ticket To The Moon reviews here:
Ticket To The Moon hammock King Size
Overally a very durable, large, and lightweight camping hammock. Excellent price:performance and overall I love TTTM hammocks!
Product Brand: Ticket To The Moon
Pros
Durable
Lightweight
Large size