Hammock underquilts are expensive. This Ticket To The Moon Moonquilt review will go over this budget-friendly all-in-one underquilt/overquilt combo.
The big selling point of it being fully close-able to fill the role of both an under and topquilt is pretty significant as that reduces the items to carry, carry weight, and of course, $$$ spent.
Too, the Moonquilt can be used as a standard sleeping bag/mummy bag, increasing its versatility as a do-it-all camping quilt.
Coming in at €119/$132 USD, it's a pretty affordable bit of kit, considering how expensive hammock camping gear can get. We'll judge the underquilt based off this price point
---
Edit: I have a TTTM Discount code for 10% off any order! It should work for their global website. Use code NOMAD10
Ticket To The Moon Amazon store link
Build quality
Ticket To The Moon has always put out well-made products without cutting corners – the Moonquilt is no different. The zippers are thick and sturdy, the inner fabric is soft, the carabiners are proper, shock cords, internal pocket, etc – all reliable and quality.
With that being said, it's clear that TTTM wasn't overly concerned with shaving every gram and rather chose the route of durability and reliability. I am fine with this compromise.
Clever engineering is apparent when we look at the overall layout and adjustment of the Moonquilt. It's definitely properly designed and overall I have no complaints.
Temperature rating
It's not a winter quilt, that's for sure. As defined by their website, the Moonquilt temperature ratings are as such:
Temperature rating (as bag): approx. 10ºC / 5ºC / 2ºC (comfort/limit/extreme), 50ºF / 41ºF / 36ºF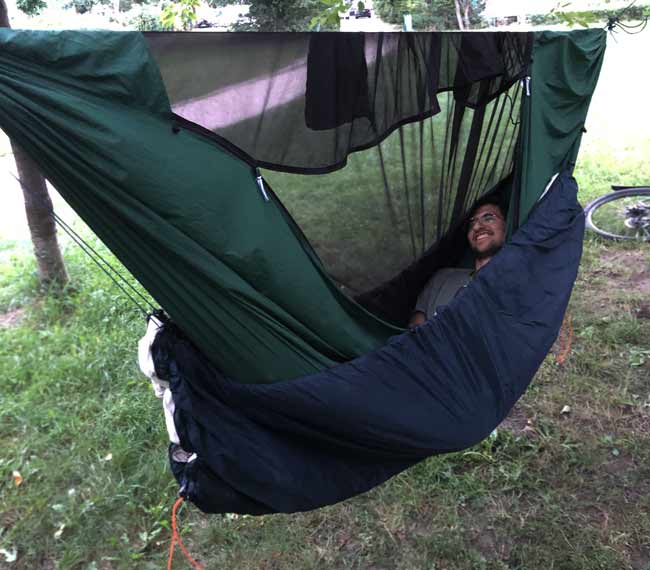 I find this is really a warm-weather quilt only. If the nights are falling below ~ 5ºC, you're gonna have a rough time. Especially if you don't have a separate topquilt, you're going to be hard-pressed for sleep, lest you're an extremely warm sleeper and bundle up with plenty of merino layers.
It simply doesn't have enough poofy loft. That's just the nature of synthetic insulation – nothing can match the weight:warmth ratio of down. Keep in mind price:warmth ratio of these materials too. You can't expect a $130 quilt to go below freezing – the material tech just isn't there yet.
So overall, the Moonquilt is really only solid for warmer conditions. Personally, I run this quilt in situations of 7ºC or above before I swap over to my winter quilt.
Materials
As pulled from their website, here are the TTTM Moonquilt specs:
Weight: 1380g (1280g without cap) / 3.0lbs (2.8lbs without cap)
Dimensions: 200cm x 140cm (6.6ft x 4.6ft)
Material: polyester 70D / 210T (exterior), polyester 50D / 320T (interior)
Filling: polyester Hollowfibre 13.5 TOG
So in essence it's a Hollowfibre-filled polyester with thick 70D & 50D fabrics. For reference, my LSoH Toaster UQ is an ultralight 15D material.
Ticket To The Moon clearly designed the Moonquilt as a durable, resilient, machine washable, nearly fool-proof quilt. I wouldn't say it's water-proof at all, but water-resistant. Down is useless when soaked, this thing will still have some loft and have some (less) insulation still.
So while it doesn't use premium 900FP down, 15D ultralight fabric and the lightest zippers or buckles possible, it uses materials which will stand the test of time. This is definitely a good selection on their part.
Ease of use
The Moonquilt is adept in terms of simplicity. While there's always a learning curve towards hammock camping and subsequent tarp, straps, and underquilt adjustment, the Moonquilt does a pretty good job at lowering this learning curve.
Clip the carabiners to the hammock suspension, adjust the shock cords to prevent air leakage, and zip up as necessary.
Instructions are clear, setup is simple, cleaning is easy (machine wash @ 30°C), and overall it's just fine.
Portability & weight
So at 1,380g it's not ultralight at all. My -15°C Toaster Underquilt weighs in at a featherweight 707 grams. To be fair, that quilt cost me $600 CAD and is much more fragile.
The fact it can zip up for full coverage is a keen selling point, seeing as you can remove the need for a topquilt. I'd say this is a mixed bag because it allows for much less space/movement within the hammock. If you're a taller person (like me), this could provide some challenges.
It's worth trying it out in the top & underquilt configuration to see if it works for you, however you might find that you'll want a separate topquilt for more room. Everyone is different so YMMV.
Personally, I use my Naturehike 800FP down quilt as a topquilt and it improves the sleep experience by quite a bit. Again, your mileage may vary.
Overall
I think it's a solid beginners entry point for hammock camping. Definitely better suited towards warmer months, I wouldn't at all recommend negative temperatures. The fact it can be sealed all the way around is a big thing as you can reduce your carry size and weight by a notable chunk without the need for a separate topquilt.
Too, since it can be used as a regular sleeping bag and was designed as such, it's good for beginners who want the ability to swap between tent and hammock camping readily.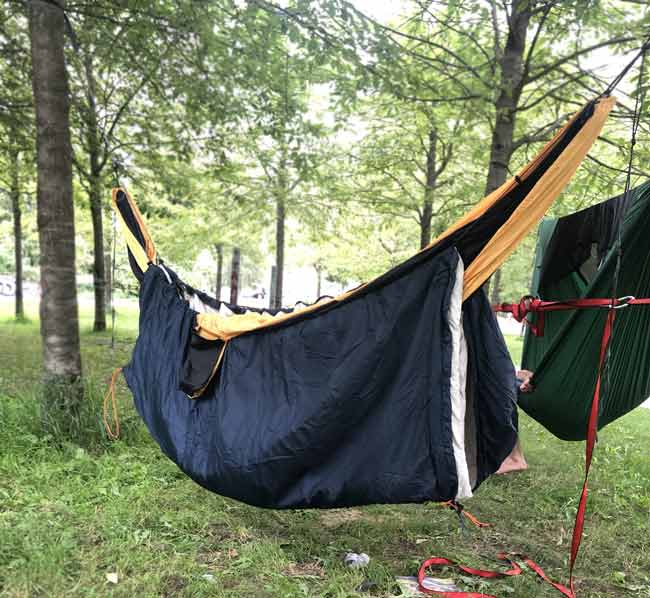 However, I'd always recommend picking up a warm and toasty down top and underquilt which can go down to -5°C or below – you'll be guaranteed to have a nice warm sleep that way and end up carrying a similar amount of weight.
Regardless, it's a well-made product and if you're keen on a reliable, well-priced, effective quilt for those summer camping months, the TTTM Moonquilt would be a solid choice.
Thanks for reading my Ticket To The Moon Moonquilt review – if you've got any questions at all, please just leave a comment below – I'm always glad to help out!
Edit: I have a TTTM Discount code for 10% off any order! It should work for their global website. Use code NOMAD10
You can see my other Ticket To The Moon reviews here:
Ticket To The Moon Moonquilt Allround
A decent hammock underquilt/sleeping bag combo. A very fair price but not in the realm of ultralight. Definitely good for beginners though!
Product Brand: Ticket To The Moon
Pros
Affordable
Versatile
Soft material