In this Ticket To The Moon Lightest Tarp review I'll go over all the important details to know such as materials quality, comparisons to other ultralight tarps, and overall impressions.
At ~$145 it's not cheap by any means, and we'll judge the TTTM Lightest Tarp based off this price point.
Edit: I have a TTTM Discount code for 10% off any order! It should work for their global website. Use code NOMAD10
Ticket To The Moon Amazon store link
Materials
Made of a 20D ripstop Sil-Nylon, it's about as this and high-quality as you can get from anything which isn't Dyneema.
20D is a very thin fabric and usually ultralight tarps range from 20D-40D, with extreme cases of 10D and 15D being found. 20D is an ideal balance between weight and portability, IMO.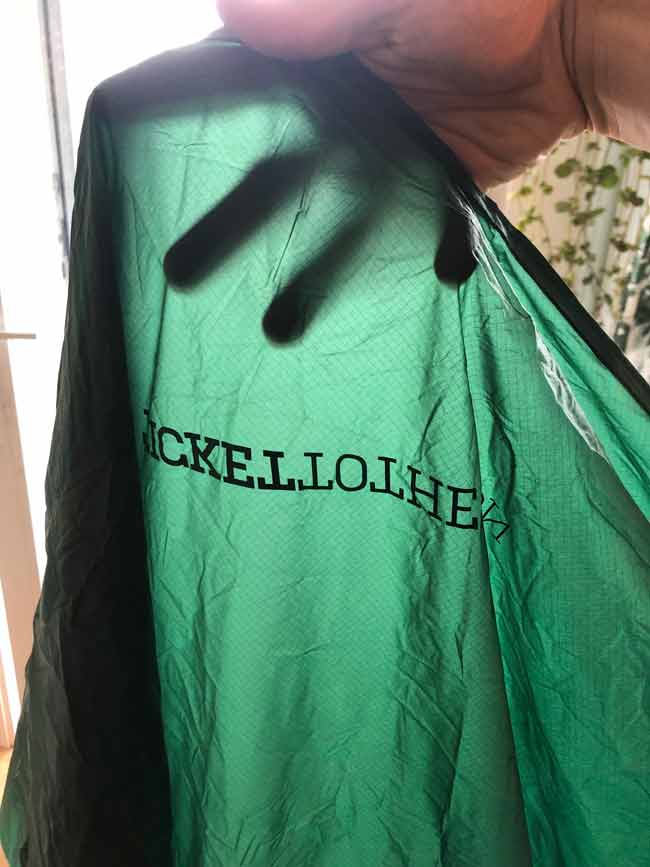 The shock cords, buckles, and even carrying case all feel high-quality and my unit had no manufacturing defects, as would be expected.
All in all, from a materials standpoint, the TTTM Lightest Tarp checks all the boxes and while I don't feel like it's anything extraordinary, it's definitely a step above my previous hammock camping tarp.
Ease of set-up and teardown
I love how quickly it sets up due to the shock cords – it removes the need to setup a separate guyline and toggles. While that only saves a few minutes in the end, I found it solves more headache and sometimes when rain hits – every second matters.
In fact, this system is a joy to use. Setting up my old tarp was often a nuisance due to making a dozen micro-adjustments during the process. It's so quick and seamless with the TTTM setup!
Too, the carrying pouch is large enough that you can treat it like a stuff sack – simply stuff the tarp into the pouch – no complicated folding and rolling. Another couple minutes saved there as well.
Honestly, I really came to love simplicity when it comes to campsite setup and teardown – the less frustrating the better. I switched over the to TTTM Lightest Straps and Pro Hammock setup for that exact reason. When exhausted after an arduous journey, I really don't feel like fiddling with buckles, friction ties, quick-release loops, and untangling ropes.
So in this category, the Lightest Tarp scores great for ease of use.
Portability
At aprox. 400g (TTTM website lists 373-412g), it's quite a light tarp. This includes stakes, shock cords, etc. This is definitely light and my previous tarp (Bushmen.pl 3×3 Thermo Tarp) came in at 750g, not including stakes, rope, etc.
It also packs up into a fairly small (and cute) little pouch. With the full ultralight Pro Hammock Kit (Lightest Tarp, Pro Hammock, Lightest Straps, it comes in a just about 1kg. Add your underquilt & topquilt to the combo and you're fully sorted at this point.
So yes, Dyneema tarps are lighter and smaller, but marginally. Also, a whole load more expensive ($200-$300 on average), so the Lightest Tarp is a nice in-between point from a regular budget hammock tarp and a top of the line choice.
Durability
Ah yes, ultralight gear and durability – two directly conflicting topics.
To be fair, a tarp doesn't undergo much stress aside from torsion & flexing from wind. The reinforced sides and tie-outs give a lot of confidence in these high-stress areas and thus should last awhile. Granted, you can get punctures from tree branches, but you should always setup this tarp in a way which won't expose it to punctures.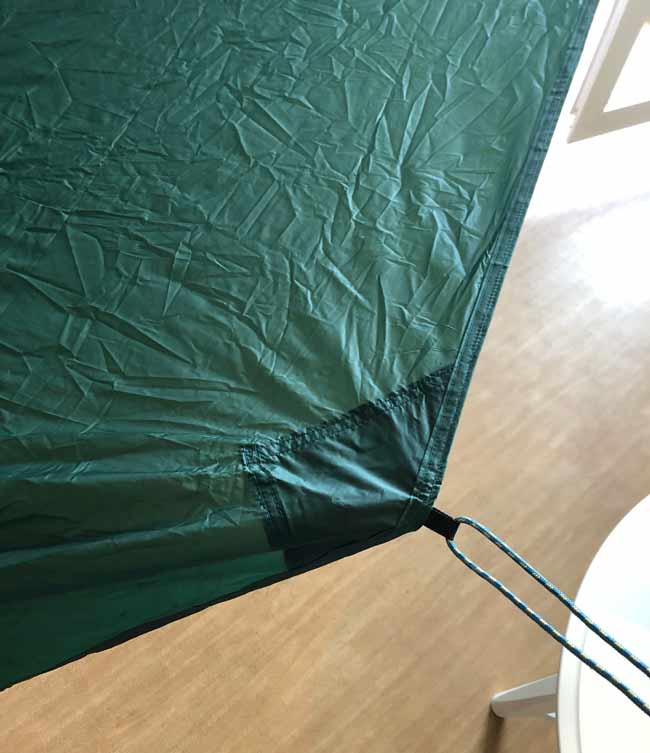 1.5 year durability update: The TTTM Lightest Tarp has held up on over 60 days of camping with zero problems! Shock cords, stakes, main tarp – all pristine and working as it should!
There is also a 10-year limited warranty to defects and such, and Ticket To The Moon so far has a pretty great reputation for service and company ethics.
Other talking points
Ticket To The Moon includes a small repair kit consisting of extra fabric, Sil-Tec adhesive, and a small brush. This is really nice to have in case an emergency strikes when you're out in the bush. Also, the included stakes and extra shock cord is nice to see.
I've mentioned this in my other TTTM hammock reviews I've done so I'll just paste what's from that:
I like a company which has a nice moral compass and ethical standing. From what I can tell as an outsider, they seem to be really solid. All of their hammocks are made in Indonesia – where the company was started and is still headquartered.

They were the first to popularize the travel hammock concept and back up their reputation with a 10 year warranty. I appreciate that.

Also, they have their own foundation, employ locals, offer fair salaries, and overall I have good feelings from them. Maybe I've been bamboozled by outward appearances, but until I hear anything else, TTTM sits in my heart as a positive company.
TTTM gear in generally costs a bit more than competitors due to their quality control, marketing, and material costs. I don't find they cut corners at all and even their packaging & manuals are nice and sustainable.
I love how the shock cords/guy lines never get tangled due to the internal pockets – no matter how meticulous I am with wrapping up my ropes, I often end up with little tangles and annoyances with regular tarps.
Overall
I think it's a great bit of kit! In terms of price, I think it's in-line with offerings from other companies. The packaging is cute, the company is solid, and the product has no complaints from me.
There are definitely cheaper tarps out there with less features, and I highly recommend Bushmen.Pl if you're looking for an excellent budget ultralight hammock camping tarp – they have the best priced gear out there.
Otherwise, you can't go wrong with a TTTM product – I have several pieces of gear from them and they've all held up great.
Edit: I have a TTTM Discount code for 10% off any order! It should work for their global website. Use code NOMAD10
You can see my other Ticket To The Moon reviews here:
Ticket To The Moon Lightest Tarp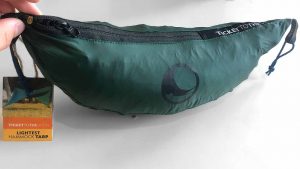 Excellent versatility and thoughtfulness. Well priced and overall a great lightweight hammock camping tarp which is lightning quick to setup.
Product Brand: Ticket To The Moon
Pros
Ultralight
Easy to use
Great protection