Is the Ticket To The Moon hammock gear any good when it comes to ultralight backpacking and related tasks? With their new Lightest straps, Lightest Tarp, and Pro Hammock, they seem to have expanded their range to go for an audience who wants to shave grams and pack size.
I'll go over my thoughts and impressions of these pieces of gear and how they stack up in the real world.
Edit: I have a TTTM Discount code for 10% off any order! It should work for their global website. Click here and enter e-mail to get your code!
The TTTM Pro Hammock
There's both the Pro Hammock and Lightest Hammock to choose from in the 'ultralight' category. The pro hammock is by far more feature-packed and suitable for camping endeavors – what with its integrated bugnet, adjustable ridgeline, and ridgeline organizer.
Light, compact, and feature-rich, it's a very good hammock at a fair price when compared to other brands out there. At about 550 grams it's not the absolute lightest or smallest out there, but considering that you get a ridgeline organizer, bugnet, ridgeline, etc all bundled within – it's a pretty great bit of kit.
I rate the Pro Hammock quite highly in this regard and it's definitely suitable for ultralight hiking enthusiasts. Check out my full TTTM Pro Hammock review to see more detailed thoughts on that.
The TTTM Lightest Tarp
I picked up the Lightest Tarp on a whim while already completely satisfied with my current Bushmen.Pl 3×3 thermo tarp. I didn't expect much but I was actually extremely surprised and satisfied by the Lightest Tarp.
Its ease of use is so many steps ahead, what with the very thoughtful tensioning shock cords and ease of setup/teardown. At 400 grams its in the lightweight territory and unless you want to spend many hundreds on a Dyneema hammock tarp, you won't be able to cut weight down too much from here.
I also rate the Lightest Tarp very fondly and it's my absolute favorite hammock camping tarp. Check out the full TTTM Lightest Tarp review for more of my impressions on it.
The Lightest Straps
Straps are pretty simple and so are the TTTM Lightest Straps. At only ~95 grams and being a strap/rope hybrid, you are able to shave a decent chunk of weight and carry size while still playing nice to the trees you're suspended from.
They've supported 3 people without a problem and are just so easy to use. There's not much more to say about these here, but you can check out my TTTM Lightest Straps review for a more detailed perspective.
TTTM Moonquilt?
While the Moonquilt is a great budget hammock underquilt, it's by not quite ultralight. Weighing in at ~1,2kg and only providing insulation between the 5-10°C temperature range, you're not quite sorted out in the heat department. However, it can zip up fully over top, partly emulating an overquilt – but you sacrifice comfort noticable when doing this.
With that being said – there are not many hammock underquilts in this price range which insulate more or are lighter – so the Moonquilt Allround is still quite a solid choice if budget is on your mind.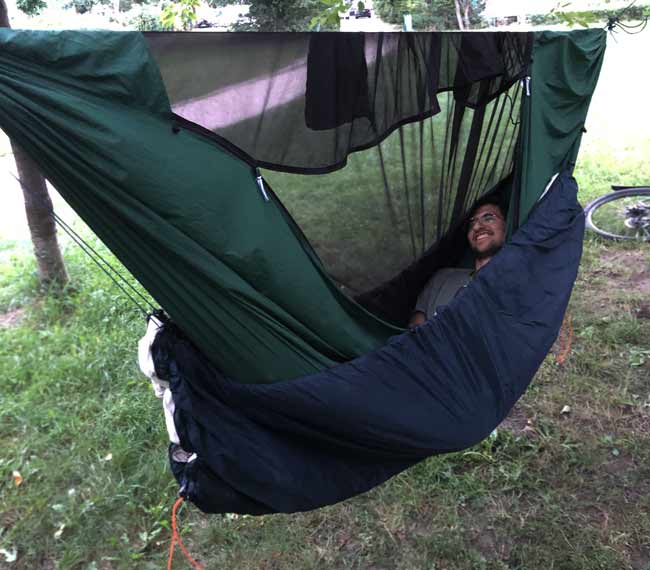 Don't get me wrong, it's a fine underquilt and doubles great as a sleeping bag with a very fair price, but it doesn't come close to something like my LSoH Toaster underquilt.
TTTM has now released a whole new array of underquilts – the Moonquilt Compact, Moonquilt Pro 650, and Moonquilt Pro 850 – I'll let you know how they are if I buy them!
Summary
The combo of the Pro Hammock, Lightest Tarp, and Lightest Straps is really terrific! Super fast and easy to setup, adjust, and take down. The dark olive green color scheme is attractive and the build quality of all the pieces is solid. I enjoy their warranty/guarantee as it gives piece of mind – especially since ultralight hammock camping gear is by default more fragile.
The entire kit weighs in at just about 1kg which is really not much at all and doesn't take too much space in the bag. Add another 1.5kg for topquilt/underquilt combo and your entire luxury shelter is 2.5kg – not bad!
The Moonquilt is alright, however I'd really recommend investing in a proper down or synthetic underquilt which can go down to 0°C or below – trust me, those few degrees make a big difference between a good night sleep and being too cold!
Anyways, hope you liked my Ticket to the Moon ultralight setup review – any comments or questions just drop em down below! Peace.
Edit: I have a TTTM Discount code for 10% off any order! It should work for their global website. Click here and enter e-mail to get your code!
---
You can see my other Ticket To The Moon reviews here: