Hammock camping has become very popular lately and for good reason – it's comfortable as sh*t. This Ticket To The Moon Pro Hammock review will good into how I feel about the pro hammock and if it's any good.
I'll cover comfort, durability, materials, company ethics, etc in this Lightest Pro Hammock review. Lets hop in without wasting any time!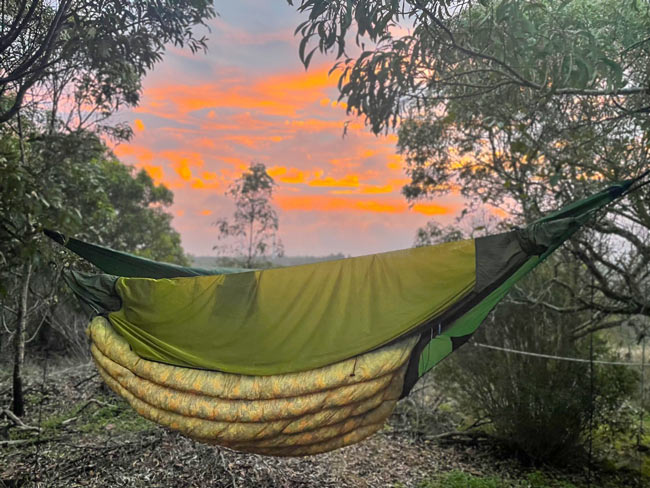 Edit: I have a TTTM Discount code for 10% off any order! It should work for their global website. Click here and enter e-mail to get your code!
Comfort
It's notably narrower than their original travel hammock – 3.1x 1.4m and 550g versus 3.2 x 2.0m at 600g.
By default too it has the integrated ridgeline organizer and bugnet – which I guess objectively bumps up the comfort rating due to not worrying about bugs and having storage space right away.
But when it comes to actual comfort it's pretty fine! If you're acquainted with hammock camping already and understand how to sleep in out, you should be pretty fine with the size of this one.
However, if you're new to hammock camping, you might find comfort a bit difficult to accomplish with this one. This is due to it being fairly narrow compared to other high-quality camping hammocks.
For reference, I'm about 6'3″(191cm) at 80kg and find this hammock just big enough for me. Any smaller and I wouldn't quite like it.
For most people I'd instead recommend the Pro Hammock Original due to its 3.1 x 2.0m side – more comfortable by default!
You won't have an easy time sleeping more than 1 person in it, or even hanging out with someone else. No, this hammock is for personal use – ideally ultralight backpacking. With that being said, I have cuddled and napped with someone else in it before (who was 5'5″) so it is possible, but not ideal.
Materials
Ticket To The Moon uses excellent-quality nylon for their hammocks. Attractive, strong, long-lasting, and comfortable. This extends to the rest of the product line too.
I strongly enjoy the softness of the material – it feels more like silk than nylon but also feels much more fragile than the nylon on the TTTM original travel hammock.
Two carabiners for attachment, 20 dernier 'OEKO-TEX®' parachute nylon, fine mesh bugnet, ridgeline organizer (made of bugnet & nylon), and ridgeline (made of the same 3mm UHMPE material from the TTTM Lightest straps) – all high-quality and well-manufactured.
Honestly, I'll have to update the durability aspect later – it'll take about a year of wear & tear to see how it holds up. My King Size TTTM hammock has stood up perfectly to 3+ years of abuse so lets see how it goes.
The bugnet & ridgeline organizer
No more hanging a ridgeline! Finally – saves me a couple of minutes on the setup/teardown process for setting up a bugnet, all the ties, etc. Also saves space & weight in my backpack.
The ridgeline adjustment system is simple, durable, and quick to operate. Very well-appreciated and this is really something you'd expect on a 'Pro' hammock.
A total of 5 pockets & a center tube holder is available on the organizer – perfect for anything like cell phones, water bottles, pillows, snacks, lights, etc. Finally – no more sh*t falling under your bum in the hammock!
The integration of the whole bugnet and ridgeline organizer setup is top notch and well thought out. Definitely what transforms this from an ordinary hammock into a pro hammock.
The company & ethics
I've mentioned it in other TTTM hammock reviews I've done so I'll just paste what's from that:
I like a company which has a nice moral compass and ethical standing. From what I can tell as an outsider, they seem to be really solid. All of their hammocks are made in Indonesia – where the company was started and is still headquartered.
They were the first to popularize the travel hammock concept and back up their reputation with a 10 year warranty. I appreciate that.
Also, they have their own foundation, employ locals, offer fair salaries, and overall I have good feelings from them. Maybe I've been bamboozled by outward appearances, but until I hear anything else, TTTM sits in my heart as a positive company.
Overall
Ultralight, full-featured, comfortable, high-quality, and ethical – I can't really find anywhere to fault it.
I would've preferred some more horizontal width and gladly sacrificed a hundred grams for that, however that almost feels nitpicking and taking away from the 'ultralight' aspect.
All in all, it's money well spent. I pair it with the lightest straps and the total setup is only around 650 grams.
So yeah, I'd recommend the TTTM Pro Hammock if you want an ultralight hammock camping setup. Beginners be warned though – comfort may take time to accomplish.
I wouldn't get this hammock if you want a hammock which can easily hang multiple people and be abused. For that check out the TTTM Original Pro hammock review
Edit: I have a TTTM Discount code for 10% off any order! It should work for their global website. Click here and enter e-mail to get your code!
---
You can see my other Ticket To The Moon reviews here:
Ticket To The Moon Lightest Pro Hammock
A great ultralight camping hammock but not great for beginners or casual use!
Product Brand: Ticket To The Moon
Pros
Ultralight
Ease of use
Ridgeline organizer