Having the King size and regular Ticket To The Moon hammock I've discovered their subtle differences and will help you decide between the two. Check out the TTTM King Size hammock review for more information there. I've been using TTTM hammocks for ~3 years now and haven't looked back.
Edit: I have a TTTM Discount code for 10% off any order! It should work for their global website. Use code NOMAD10
Ticket To the Moon Hammock Amazon link (Amazon affiliate network)
Comfort
Just about the exact same as the King size hammock, the regular travel hammock is made from a similar nylon, albeit marginally narrower. At 3.2 x 2.3m versus the 3.2 x 2.0m of the king size, you won't notice too much difference right away.
For a single person it's more than enough and even for couples there is plenty of room. However, if you're a pair of tall/large people or wanting to fit a third inside, that extra width from the king size travel hammock really shows its strength.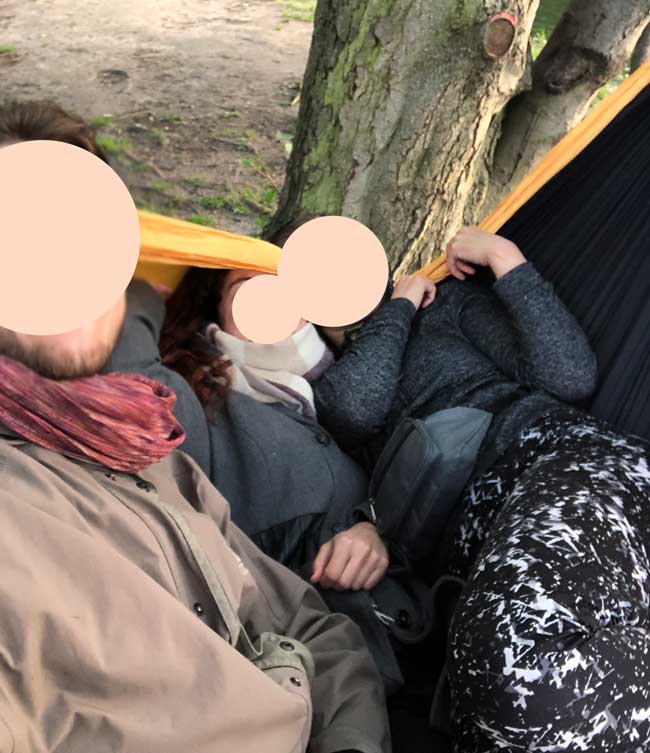 These hammocks really shine when it comes to hosting multiple people. Too, most hammocks out there are too short! Really, try and find me other hammocks which are ~3.0m+ in length – length is a huge factor when it comes to comfort and laying flat, width less so. Width is better for accommodating multiple people.
Materials
Parachute nylon, the TTTM travel hammock is very well made and the grade of nylon is far superior to that of cheap Amazon hammocks.
You get what you pay for, and these hammocks have far exceeded the suggested carry load without showing the slightest bit of giving up.
The regular hammocks nylon seems to be marginally thinner and softer than that of my king size hammock, but maybe that's just my inconsistent observation.
All in all, the TTTM hammocks are made very well and has stood the abuses from camping, festivals, multiple friends, and random shenanigans.
TTTM hammock vs other hammocks
Honestly, after trying different ones – from cheap Amazon hammocks to ultralight hammocks, the Ticket To The Moon hammocks sit in a nice category of premium & quality.
Cheap Amazon hammocks suck. Yes they're affordable and they're light and get the job done, but they skimp out too much. Thin nylon, way too small (seriously, some of them are seemingly made for children), and not quite nearly robust enough.
Ask yourself – do you really trust mediocre materials to support 60-200kg of weight above rocky, uneven, painful ground? To me it's a no-brainer to not risk injury or a ruined trip/day.
On the other hand, TTTM hammocks are on the expensive side though in my opinion it's worth it to invest in something durable, comfortable, and high-quality – especially if it suspends you (and others) above the ground
Hammock straps & hammock ends
So first there are two options – hook or carabiner-style ends.
I have the hook style on both of my hammocks and haven't ever had a problem with them. The carabiner ends are an extra €10 which isn't a crazy asking price, but I don't really have a purpose from them – I never had the end of my hammock come out of the loop. Maybe you'd like to hang something like a shirt from the carabiner which would make sense.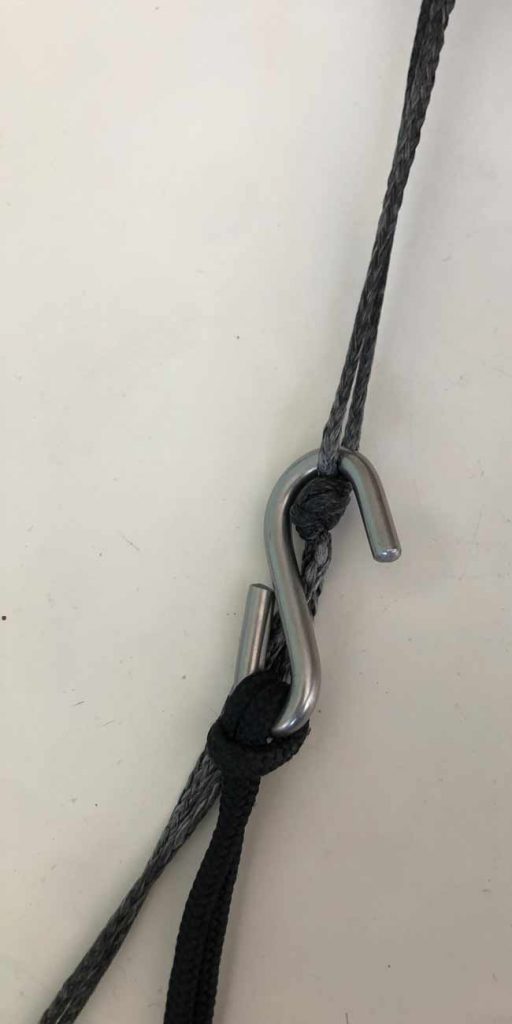 In terms of straps, I would only pick up the TTTM lightest straps. DO NOT buy the nautical rope for hanging around trees and the Moon Straps are only $2 cheaper than the Lightest Straps. They have a bit higher load rating but weight quite a bit more and are quite a lot larger in the bag.
Check out my TTTM Lightest Straps review to see why I love these ones so much over any other hammock strap I've used so far.
The company & ethics
Call me lame, but I like a company which has a nice moral compass and ethical standing. From what I can tell as an outsider, they seem to be really solid. All of their hammocks are made in Indonesia – where the company was started and is still headquartered.
They were the first to popularize the travel hammock concept and back up their reputation with a 10 year warranty. I appreciate that.
Also, they have their own foundation, employ locals, offer fair salaries, and overall I have good feelings from them. Maybe I've been bamboozled by outward appearances, but until I hear anything else, TTTM sits in my heart as a positive company.
Overall
Pricey? Definitely. Quality? Yep.
I was hesitant at first but intuition told me to hop for it. I was especially looking for a hammock which would be long enough and support the width/size of multiple people comfortably.
The size, strength of nylon, quality of materials, and company ethics are all big plusses in my mind and I like to buy things for life, not replace frequently.
Anyways, thanks for reading my Ticket To The Moon hammock review – if you have any questions just please drop them down below as I'm glad to help out 🙂
Otherwise, you can't go wrong with a TTTM product – I have several pieces of gear from them and they've all held up great.
Edit: I have a TTTM Discount code for 10% off any order! It should work for their global website. Use code NOMAD10
---
You can see my other Ticket To The Moon reviews here:
Ticket To The Moon Travel Hammock
Excellent lightweight hammock suspension - strong, compact, and easy to use! Highly recommend
Product SKU: Lightest Straps
Product Brand: Ticket To The Moon
Product Currency: USD
Product Price: $30.00
Product In-Stock: InStock