After a lifetime of athletics and subsequent abuse to the body, I decided to give barefoot running a shot. My athletics life changed rapidly as a result and I'll tell you exactly why in my Vivobarefoot Primus Trail Review here!
I've now had 3 pairs of Primus Trails over the last 4 years (hence the different colorways and photos of different eras you'll see below). Here are my raw thoughts:
Edit: Discount code for 10% off Vivobarefoot – CNOMAD10

Durability of the Primus Trails
I had fairly low expectations to start with. My original pair of oldschool Vivobarefoot shoes seemed a little delicate with the thin soles and cotton/suede upper. I was careful to not damage them and was worried about these guys breaking as quickly as my other shoes.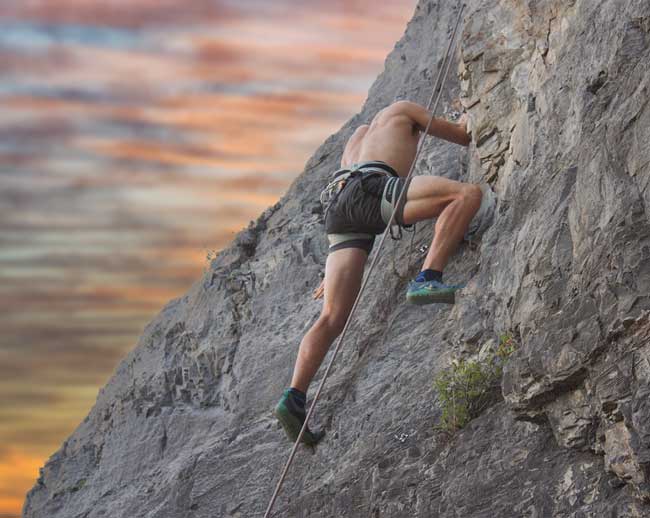 Was I ever wrong! I abused my Primus Trails thoroughly throughout the year I had them. Daily use of running, swimming, climbing mountains, adventuring, etc. I used them for every activity and in sport.
The bottom lugs held up very well up until the 11 month mark where a series of mountain adventures quickly shaved and flattened up the bottom.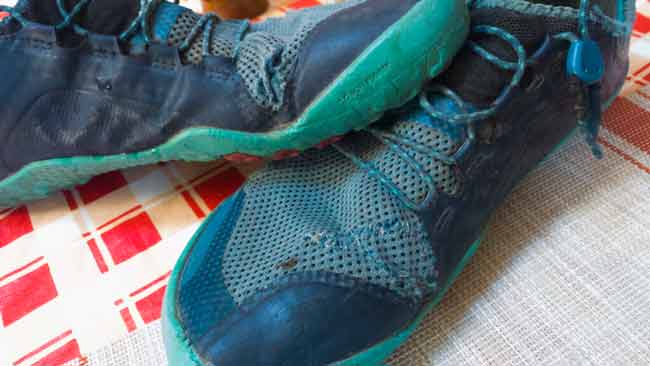 Near the big toe and pinky toe the mesh upper had abraded and developed holes after ~6 months, however this didn't change the intrinsic function.
I went swimming in salt water many times with them, up a dozen mountains, trail running, pavement running, playing football(soccer) in the, etc. Usually I thrash a pair of shoes in 6 months or less. The fact these held up for so long is seriously impressive.
After climbing Devils Head mountain in Alberta, I finally decided to retire my year+ old Primus Trails. So long my beaten and battered friends.
Vivobarefoot Primus Trail comfort
From the get go, the Primus Trails were very comfortable. Relaxed yet snug around the foot, excellent flexibility, breathable, and had a short break-in period.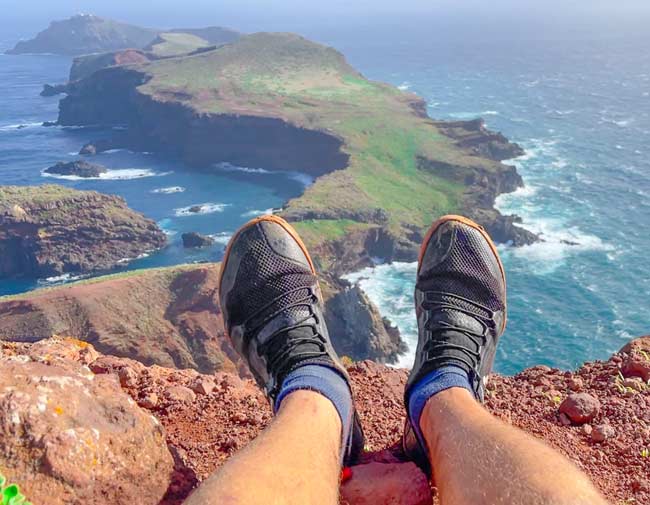 I love the laces as they allow for very quick synching and no tying. Durable, flexible, and comfortable – what else could I really ask for?
I would really say these are at the top of the comfort game, however I haven't gotten my hands on enough barefoot shoes to compare. Vs my Nike or Adidas shoes, it's just no contest – the Vivos win hands down.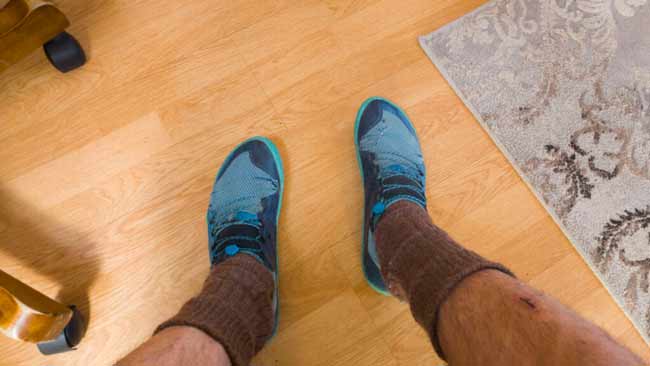 Are the Primus Trails waterproof?
No. I have the Primus Trail Swimrun in particular and they're made to drain water quickly. This doesn't mean your feet will be dry after a while – they won't be. I wouldn't go through deep water or snow with these too often if you're adverse to getting wet feet.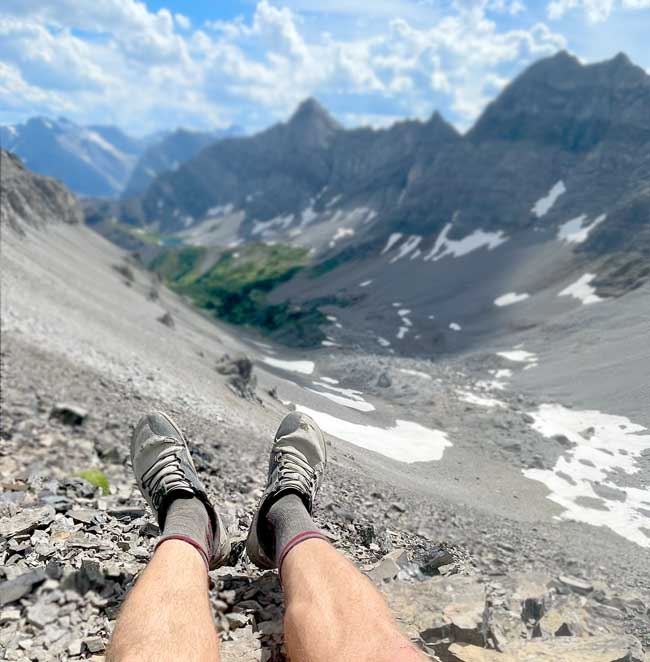 I used these guys in all 4 seasons – summer, fall, winter, and autumn. They do great in all conditions, unless it's very cold or very wet out. You'll want to look at my Vivobarefoot Primus Trail 2 All-weather/winter review for better winter barefoot shoes.
Merino wool socks is a must with barefoot shoes of all types. By default, barefoot shoes insulate far less than others from the bottom, and merino wool is infinitely better.
Primus Trail sizing
I found them to fit quite true to size and not needing much break-in period. Have about a thumb-width of room between your big toe and the end of the shoe. Check out the Vivobarefoot sizing guide to help find the right fit.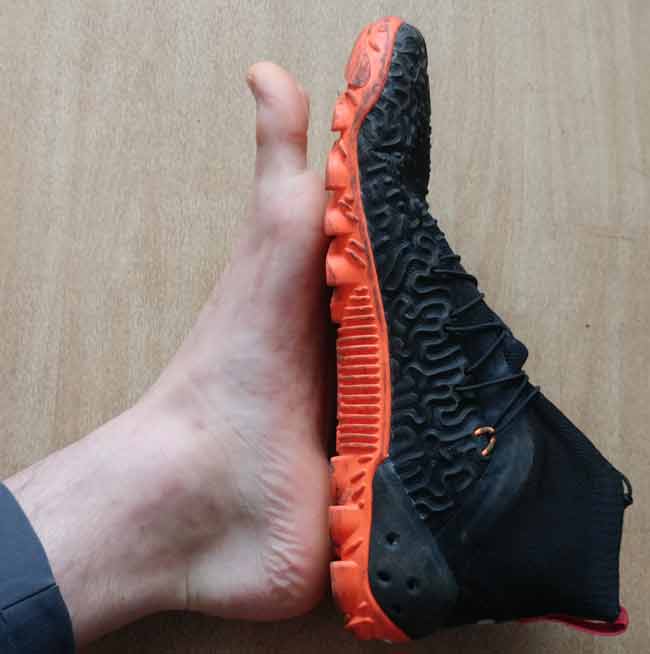 Keep in mind, your feet will spread out and change over the time you have barefoot shoes. I went up ~0.5 sizes after a year of wearing these as my foot structure changed fundamentally.
Primus Trail vs other barefoot shoes
While the Primus Trail are excellent, there are a few heavy competitors around.
Vivobarefoot Primus Trail vs Magna FG:
They're completely different shoes. One is a sport runner and the other is a casual/tough daily/outdoor shoe. I wouldn't use the Magna Trails for running and I wouldn't use the Primus Trails for rainy weather commuting. Check out my Vivobarefoot Magna Trail review for more info on how I feel about those shoes!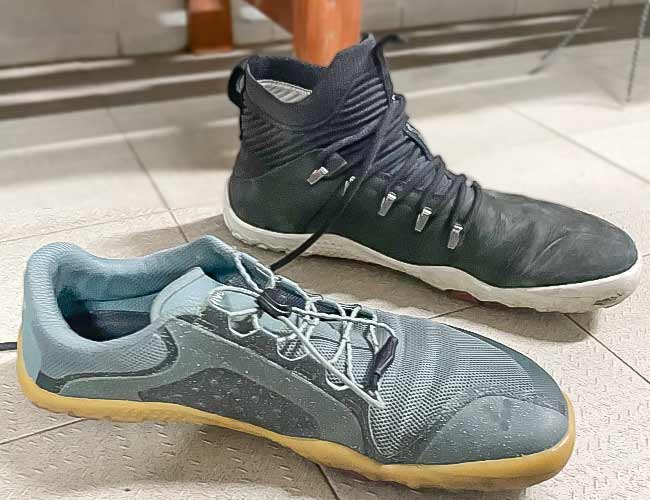 Vivobarefoot Primus Trail vs Vibram:
It's a tough one. Vibram makes excellent shoes and if you can get over the aesthetics, you'll very much like those too. Being five fingered shoes you have more control with each toe, but in our summit of Devils Head, AB, me and Xavier in our comparison found that both shoes are excellent for agility, finesse, and climbing.
How barefoot shoes really changed my life.
I've had dozens of injuries to my legs. Ligaments, tendons, muscle, bone – you name it. Big pain. MTSS (shin splints) for half a decade, 'collapsed' arches, etc.
My biodynamics changed fundamentally. I started barefoot moving and training slowly. 100m a day at the track, then some agility training on grass, and so forth.
As an athlete since a very young age at a quite high level, making improvements to agility, run time, speed, and balance is very slow. Big leaps like this were massive!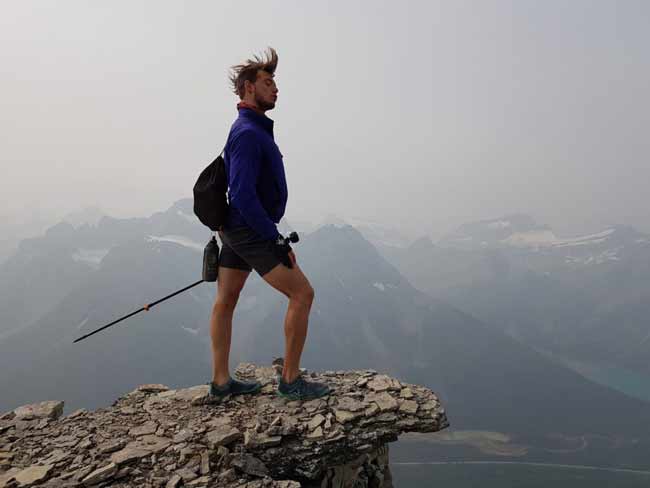 Yet, I found these traits to skyrocket after a quick re-learning curve. Suddenly I'm using muscles and methods of movement which my body was foreign to. This resulted in amazing improvements across the board for run times, balance, speed, agility, light-footedness, etc.
Alongside helping with injuries, my posture, and biomechanics, these athletic improvements were gigantic. If you're on the edge of transitioning to barefoot running – just do it. You'll likely have a similar story as I.
Other things worth mentioning
Style and aesthetics
Water shoes. At least that's what my friend Xavier calls them! Agreed as the blue colorway I chose is especially reminiscent of the sea. The newer black Primus Trails look very contemporary and like a regular running shoe even.
I don't care much for fashion and aesthetics in general and didn't mind. A big improvement over the freaky Vibram FiveFingers nonetheless!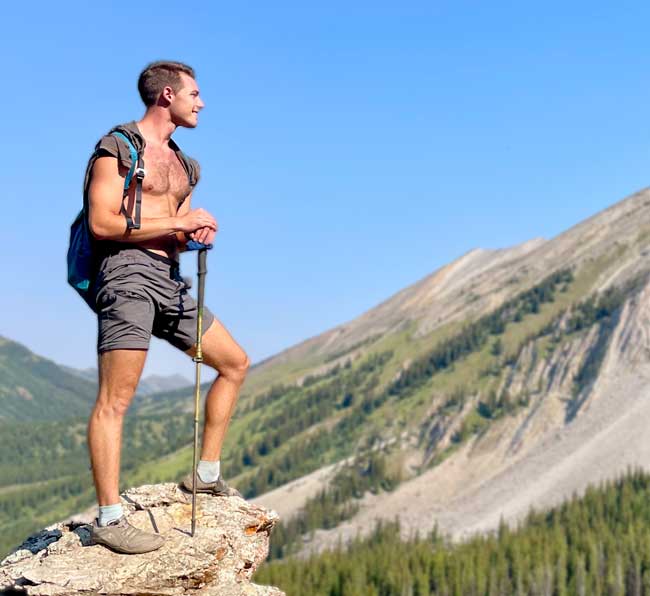 In fact, when we compare these to most barefoot shoes out there, Vivobarefoot has a very high level of style! The Primus Trails are IMO the most attractive looking barefoot hiking shoe out there.
Trail running
These are some of the best barefoot shoes for trail running around. As much grip as you'll realistically need, very light, comfortable, breathable, and durable.
I took these up for a 45km 3-summit adventure going up and down three mountains and they were terrific. In fact – I don't think I'd ever choose another pair of shoes for this task.
Except for one thing – loose rock and gravel tends to go down the ankle collar and into the shoe. For deep Rocky Mountain adventures, this got annoying qucikly.
Grip
I see no reason to request more grip in any scenario. Aside from snow and mud – which you won't be using these in, they've been nothing but stellar.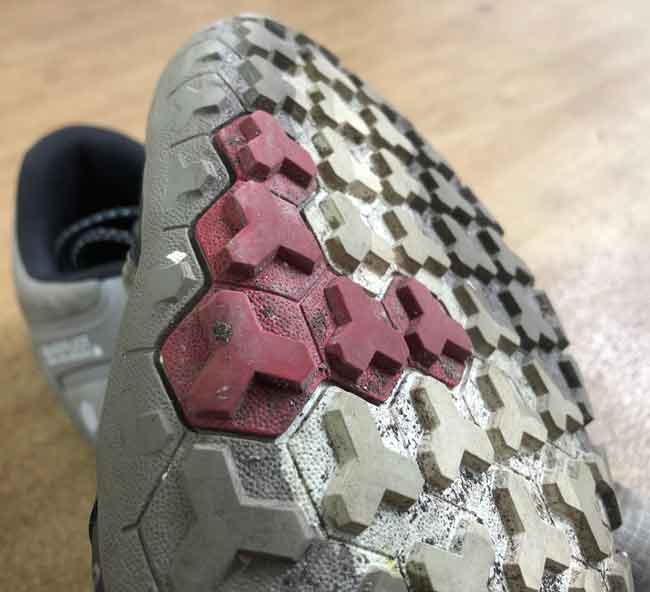 These were my shoes of choice to climb Devils Head, AB – a technical climbers scramble which tests your body, mind, and footwear. For such terrain where agility and precision is very well needed, these gave me so much information and feedback that allowed for exact foot placement and weight distribution. 10/10
I go more into detail in my Vivobarefoot Primus Trail Reddit Review linked here.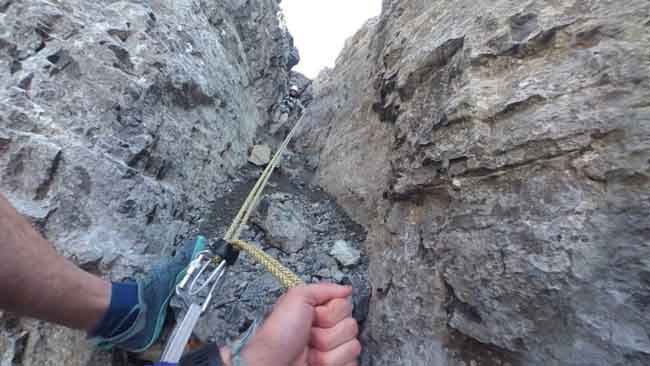 Overall
These shoes really changed my life. I was just getting started in barefoot running before taking the plunge on these. After aprox. 1 year I had a few injuries slowly fade away, developed better biomechanics, improved my run times, agility, balance etc.
I also have a comparison of the Vivobarefoot Primus Trail FG vs SG vs Knit vs All-weather right here 🙂

They completed my conversion to barefoot movement and ever since I've never worn regular shoes again. Ever for playing soccer, I found the Primus Trails to be far superior in comfort and feeling to my fancy $300 Magista Obra 2 cleats…
Check out my Vivobarefoot Primus Trail review video for more info and a complete run-down on my thoughts of these bad boys. I go more into depth on why these are the best barefoot shoes I've ever used.
Also hit up my Vivobarefoot buyers guide to see my complete rundown on all the Vivobarefoot shoes!
review: Vivobarefoot Primus Trail FG- changed my life!
Comfortable, lightweight, flexible, durable - excellent barefoot trail running/hiking shoes and I absolutely love mine! Almost a perfect 5/5.
Product SKU: Primus Trail
Product Brand: Vivobarefoot
Product Currency: USD
Product Price: $130
Product In-Stock: InStock