I think we're all loving live beats in the park or sketchy locations, but lack of AC mains power is hard. I've spent a long time trying to sort out the best battery-powered portable DJ party setup for the cash. I value weight, size, and quality above others. Ability to stuff it all into one bag is huge in case you need to escape in case of emergency. Here's what I use:
I'll also include some pieces of gear/tech which I don't have but are very interested in/have seen in the field. First here's my personal setup.
My portable battery powered DJ setup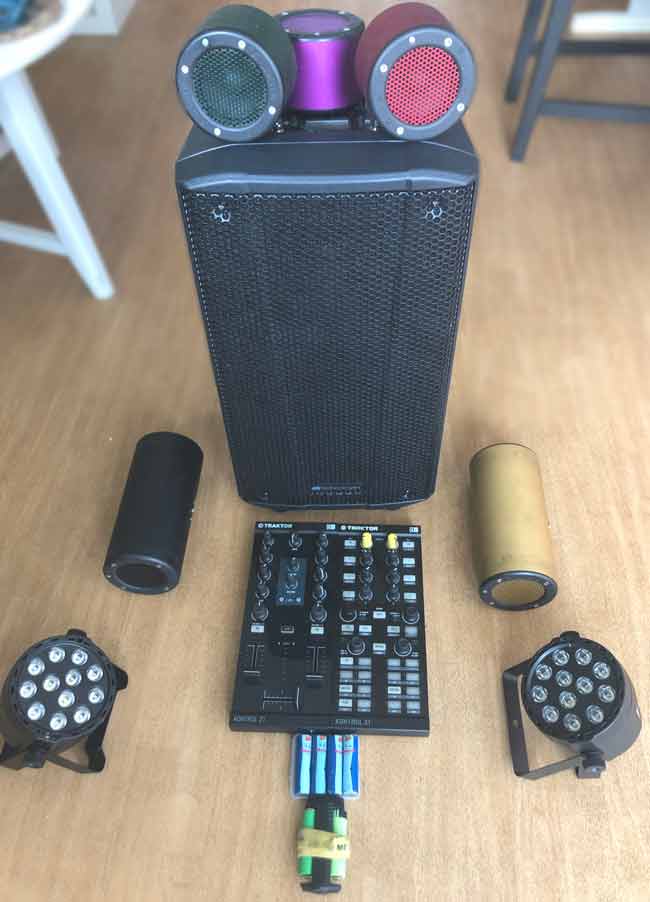 3 x Minirig 3s – Two for audience-facing with L/R stereo, and one facing me as a stage monitor if I don't bring cue headphones. They're tiny, light, have excellent sound quality, high relative SPL, and great battery. In & out 3.5mm for daisy-chaining and pass-through charging to keep the sound going.
2 x Minirig Subwoofer 3 – Bass in your face. Okay they're not too crazy outdoors, but small-medium sized rooms can get a big amount of fill from these and for the size/weight, to me it's a no-brainer to bring along. The entire 5-speaker Minirig setup is around 3kg and sounds excellent for hanging at parks with a few friends.
1 x dB Technologies B-Hype Mobile 10″ – The big boy. It's big and heavy at 12kg but more than pulls its weight in the sheer sound quality. Wireless microphone transmission, a fine battery, professional looks & construction – I can't find a better speaker at this price. Nice bass, crisp trebles, and loud volume.
1 x Traktor Kontrol Z1 (optionally an X1 too) – Light, small, compact, USB-powered mixer. Easy to use, inexpensive, works great!
1 x laptop – This has all the music and connects to the mixer. Don't need to say anything else here.
2 x Eurolite AKKU Mini PARty – Just 2 of these is enough for setting vibe and doing sound-reactive duties. A headlamp is useful for DJ booth ordeals.
18650 power-bank & extra 18650 batteries – Light, compact, lots of power density. For charging the Minirigs, lights, phone, or anything else.
This entire setup is good for around 50 people indoors, fits in my (large) bag which I can bike away with. Setup time is mostly in connecting the cables between all the Minirigs and mixer.
Portable battery-powered sound setup
Arguably the most important aspect of any DJ set is the sound – if your speakers sound like shit, no one actually cares about how good the mixing or selection is. There are tons of options available in my actual best portable speakers megalist, but I'll just go over a few.
Minirigs – Smallest battery-powered DJ speakers
The Minirigs are compact, lightweight, and powerful. Aux-in and aux-out on each driver, L/R stereo, dedicated subwoofers, and impressive sound for the size, there's nothing as small and light which produces such good sound.
These are the best for small groups, small rooms, mixing in the park and just a compact overall package. ~$180 per speaker is what hurts, but considering the sound and size it's a compromise to live with. Check my full Minirig 3 review here!
JBL Eon One compact – Best mid-size speaker
Stepping up in size from the Minirigs while still small enough to fit in a bag and light enough to not be a nuisance, the JBL Eon One Compact is fairly impressive and grave if you want to add a microphone or instruments into the mix. The app offers plenty of EQ options and the battery life is solid. JBL makes great gear and you can't go wrong with this. We often use this as a center-channel speaker right in front of the DJ, crowd-facing and at only $500 it's not a bad choice.
dB Technologies B-Hype Mobile – Best priced strong battery-powered speaker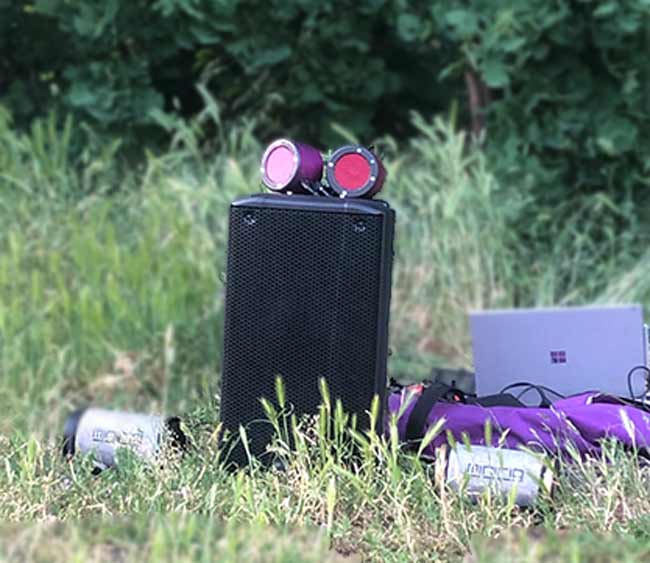 Significantly larger than the JBL Eon One, the dB B-Hype M has a 10″ woofer & 1″ compression driver in a ~12kg package. It has great sound output, a basic +-10dB treble & bass EQ, terrific wireless mic/headset integration, and a professional build. Two of these would easily work great for a professional gig for a small audience, with a subwoofer added to really make it a professional option with the B-Hype coming in at ~$500.
Soundboks 3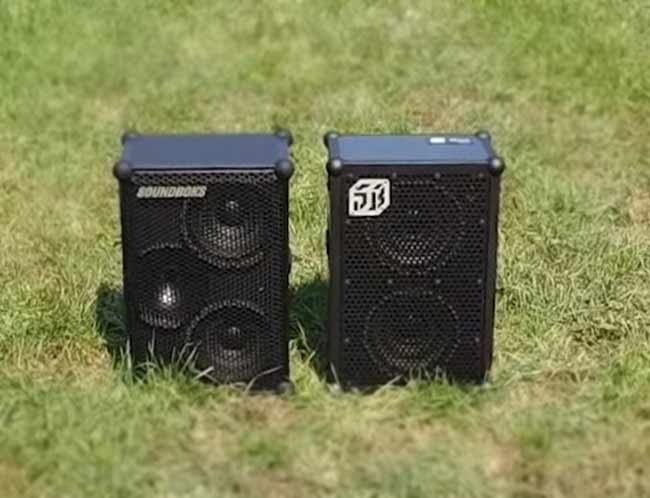 16kg, 2 x 10″ woofers, dead-easy setup, great battery, and solid build, the Soundboks is definitely 'overpriced' from a raw audio point of view, but definitely terrific from a simplicity point of view. At around $1,000 it's a tough pill to swallow as that enters the range of 2 * dB B-Hype mobiles which benefits from better sound and stereo separation. It does have wireless L/R stereo though and I've seen these move crowds of 50+ outdoors every weekend.
Teufel Rockster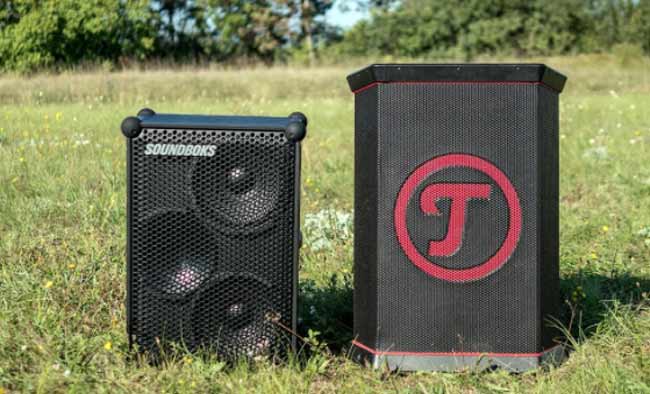 Way beyond the portable aspect, the Teufel Rockster is just a behemoth at 32kg but undoubtedly the king of sound. Excellent high and low-end extension, big power, and professional in construction, this is the speaker for legitimate events. Two of these in a mid-sized club actually produced proper live sound which could really have a crowd bumping. At $1,000 like the Soundboks, it clearly sounds better but far less portable.
Portable or battery-powered mixer/DJ controller setup
Unless you want to put on some mixes from your audio source or some Spotify or Soundcloud action, you're going to want a battery-powered DJ mixer or controller. Unfortunately you're very limited for options.
Portable mixers
Two mixers in particular stand out. The Traktor Kontrol Z1 (and optionally X1) and the Allan & Heath Xone:K2. I'll go into both setups.
Traktor Kontrol Z1 and X1 setup
I run a Traktor Kontrol Z1 and occasionally an X1 alongside it. These bits of kit are very affordable and powerful while being compact. They're not battery-powered, however they run perfectly fine off the USB power/data cable from a laptop.
This setup is very plug-and-play with Traktor and Virtual DJ and works just fine. Serato and Rekordbox may be a different story, but I don't have experience running this combo with those workflows.
Allan & Heath Xone:K2
Marginally larger than the Traktor Kontrol Z1 but definitely more powerful & versatile, it has 4 audio channels and big potential in terms of keybinding. Personally, I'd go for the Xone:K2 instead of the Traktor Kontrol Z1 if you have the money and time to invest into keybinding and finding your perfect workflow.
Portable controllers
Denon DJ Prime Go
A full standalone battery powered DJ controller, the Denon DJ Prime Go is a really impressive piece of tech and perfect for the short party. However, the size and weight are slightly prohibitive when it comes to raw portability.
The battery lasts around 4 hours which is alright, however an M1 Macbook which costs the same as the controller will have double the battery life and can power the Xone:K2 or Traktor Z1&X1 combo while being much lighter, though to be fair not as great as using a fully-fledged DJ controller.
If you're serious about your craft as a portable DJ, then the Denon Prime Go is the way, otherwise hobbyists and enthusiasts will be fine with a laptop + USB mixer setup.
I don't really have any other recommendations because any other DJ controller isn't standalone & battery powered and more expensive than a cheap Thinkbook laptop & Traktor Z1.
Portable battery powered DJ light setup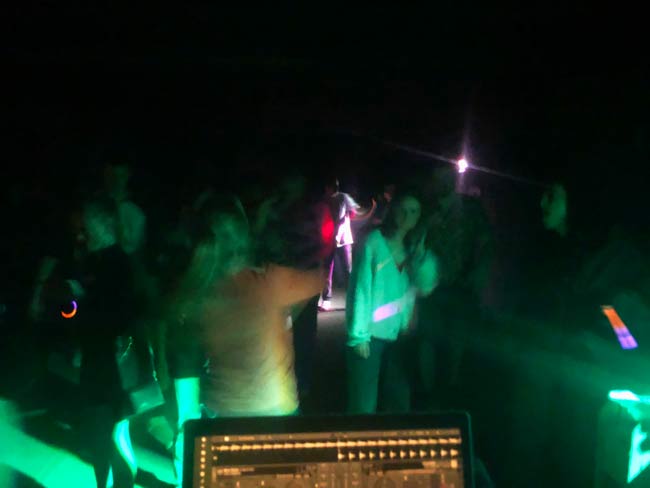 Lights are criminally underrated in a portable setup. For dark-environments it can make or break your entire performance. I've browsed far and wide and there's a rather limited choice in what's available. Here is a great webstore (EU/UK) which has a good selection of battery powered DJ light equipment.
Eurolite Akku mini PARty – battery powered PAR lights
These things are actually pretty solid. They look professional, are lightweight, and do the trick when it comes to simple tasks. What I mean by simple tasks is sound-reactive lighting and solid colors. I picked up a pair of these and they really add a lot more to the mood.
The remote is kinda jank and their battery life is only around 4-5 hrs, but once you figure it out you can deal with it – especially considering the price. For what it is, they're fine and affordable. They do have DMX input/output if you're so keen, but I just set it and forget it on sound-reactive mode.
APELight Lightcans
Yeah I don't have the money for these. They're expensive but definitely worth it. A very attractive light show, these are nice for up-lighting and have wireless DMX and synchonization. Sound-reactive, smartphone control, and the whole 9, these last 10+ hours per charge and are suitable for professional applications.
They cost a ton but not much can match the APEight LightCan when it comes to professional setting and battery powered party lights.
LaserCube – battery powered DJ laser
Boy, is this an expensive bit of kit. Is it even an impressive bit of kit too. This is a fully-fledged and capable DJ laser light show in a portable package. Wireless connectivity, excellent performance, and painful on the wallet at around $1,000.
There is really nothing else like the LaserCube on the market and by far is a powerhouse. At this point though you may need/to be a dedicated VJ or experienced with VDJ & DJ multitasking to really get the most use from this tech box.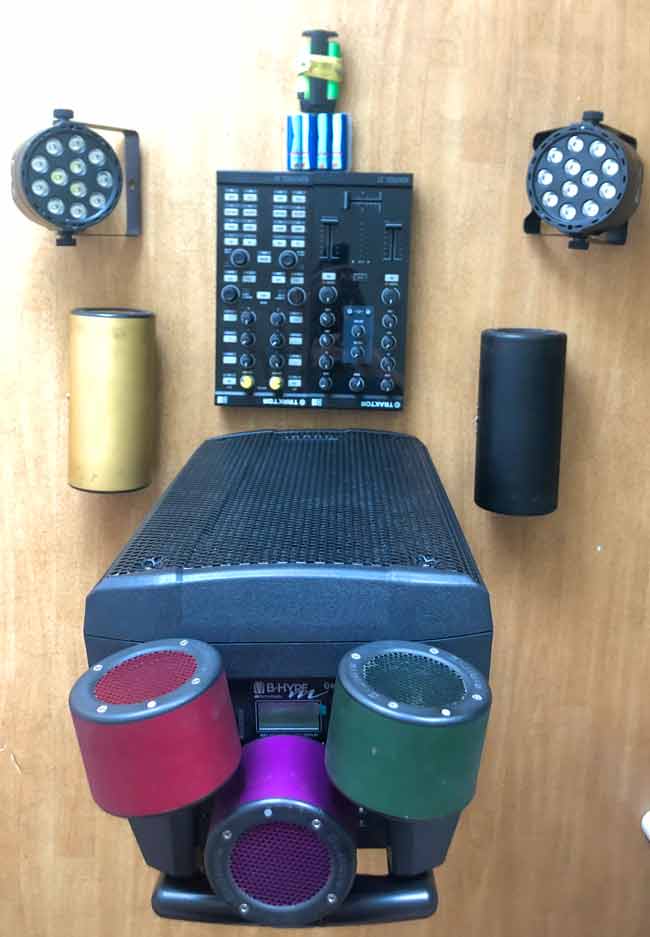 Battery-saving tips for a portable DJ
Have a 4k or 2k laptop? TURN DOWN YOUR RESOLUTION! My little Surface Book 2 gets 50% more juice if I turn the resolution from 4k to 1080p.
Also on your laptop – ENABLE COLOR FILTER! Basically, it's a black & white filter which uses just a little bit less processing power. Anything helps eh.
AIRPLANE MODE – Wireless networking, Bluetooth, Cellular connection, and even searching for WiFi networks will drain a noticeable amount of power. You don't need to use a wireless mouse and Facebook while playing a set anyways 🙂
TURN IT DOWN BY 10% (or more). Once you're at your maximum volume, drop the sound levels a bit. Remember, sound is logarithmic. Running 150w RMS instead of 200w RMS will give you another hour of playtime and only sound marginally quieter (and maybe better/more dynamic). Going all day? Maybe run it at half power.
Summary
You get what you pay for when it comes to the live sound and audio world. Even as we see with lighting, big $$$ yields you big performance. Of course, I'm not going to spend $1k on lights, $1k on a portable battery-powered DJ controller, and $1k on sound.
My entire setup is right around $1,300 (not including laptop). The Minirigs were about $600, the dB speaker $500, the mixer $100, and the lights $80.
To be fair, you can get a much louder setup (Soundboks or Teufel Rockster) but I like my lil rig – the Minirigs for small gatherings and the dB audio + rigs for more energetic affairs. I value versatility, performance, professionalism, and durability.
Need more bass? The battery powered subwoofers post goes into all the portable subwoofer on the market.