In the ultralight world people are constantly looking for good performance and a good price. This Naturehike 800fp down sleeping bag review will go into the quality, comfort, and value of such a bag. At ~$100 or so, how good could it be?
I use this bag as a sleeping bag/top quilt for my Ticket to the Moon hammock camping setup, so lets get right into it!
Amazon link to the Naturehike 800fp down sleeping bag right here, for conveniences sake.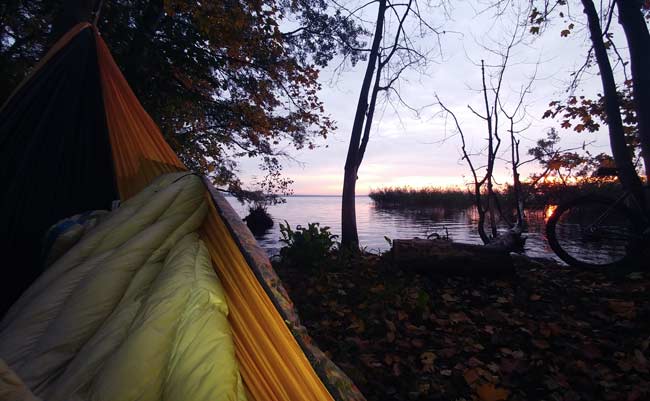 Review: Naturehike CM280 800fp down sleeping bag
Materials and weight
The 15d nylon is standard, practical, and effective. It's a fine thickness and I have no qualms with it.
I have the Naturehike CW280 model which suggests 280g white goose down. I'd say that's about right though I feel like this isn't quite 800fp down.
It hits the scales at right around 600 grams, marginally lighter than my 707 gram, -10°C LSoH Toaster underquilt which is tiers ahead in quality.
Note: This comparison photo pits a 280g fill vs a 500g fill, but even then it's not comparable!
The zippers I reckon are what contributes mostly to this added weight and unless you're a mega weight weenie, I don't think you'll mind or even notice the difference. I have the one which measures 200*80cm and I'd highly recommend these dimensions if you're a tall or wide person.
Overall, the build quality on the Naturehike envelope-style down sleeping bag/quilt is pretty decent, though it's clear that the down isn't great and the baffling is not premium in quality vs high-end quilts.
Adjustments/attachments
You have two main adjustments points on the CWM400 and CW280 sleeping bags – the main zipper and the neck collar.
1 – Main zipper – this can unzip all the way into a quilt or zip up into a tight mummy-style sleeping bag. Versatile!
2 – Neck collar – This can sinch to insulate your neck or around your shoulders. Definitely worth having
It's about all you need and you can certainly use it as a hammock underquilt as you can pass the end of your hammock through the gap at the zipper bottom and sinch up the top, however it certainly won't function nearly as well as a proper one like my amazing Little Shop of Hammocks underquilt
Warmth
Due to the sewn-through baffling, the Naturehike down sleeping back is more prone to cold spots and air leaking through. Below 0°C I really had to layer up underneath and had a meh sleep, while above 5-10°C it'll do just fine.
If you're a cold sleeper, grab something with higher fill and if you're set on a budget bag, the CWM400 is a better choice.
As you can see from the photo – the down doesn't spread so uniform and you can get chilly. It's a good 3 season quilt and for warmer trips.
Other
Stuff sack and portability
The included stuff sack is excellent and while it's a bit of a squeeze to get everything in there, it cinches down very small using the buckles. Do note that the more you compress it, the longer it'll take for the down to fluff up again.
It gets quite small and is a great companion to take during summer or warm spring/fall hikes. Test it out before using it in the field to understand its temperature ratings.
Community and ethics
I'm a big proponent towards buying local and supporting those in our community. The Naturehike gear is definitely not that. Made in China with very questionable ethics regarding the collection of down, I advise against buying Naturehike or Chinalight gear which uses down – it's almost all gathered in inhumane ways and of low quality.
Overall
For what you pay, it's not a bad sleeping bag at all. In fact – it's far better than equivalent priced things at local stores. For me, it's a beater bag which I won't be afraid to abuse a bit.
With that in mind, I wouldn't buy it again. I'd much rather support a small business which sources their down ethically and has transparent production methods.
That and the down quality and sewn-through construction makes it clear that this is a budget bag. I plan to upgrade soon. Regardless, at ~$100 it's hard to beat and I'd recommend it if ethics and build aren't at the forefront of your mind. The difference between a cheap vs expensive down bag is enormous. You can see why in my Little Shop of Hammocks underquilt review – lighter, better loft, multitudes warmer, and ethical!
Thanks for hitting up my Naturehike 800FP down sleeping bag review. If you've got questions or thoughts, please drop them down below and I'll be glad to help out! Peace 🙂
Amazon link to the Naturehike 800fp down sleeping bag
Naturehike
A decent low-priced utralight down sleeping bag however has its flaws with stitched baffle. Better off investing in a better down quilt to start with as you'll want to upgrade from this eventually.
Product Brand: Naturehike
Pros
Affordable
Good build quality
Lightweight and compact
Cons
Sewn-through baffle
You'll upgrade later