Oh Shambhala, our home and crazy land. True patron love, with all thy bongs command.
What is Shambhala music festival really like, and how do I feel about it? I cover the important things such as location, sound, organization, and more in this review of Shambhala festival and how you can prepare for this world-class festival in a remote area of Canadas mountains.
How good can a festival that bans alcohol and promotes safe partying really be? Well…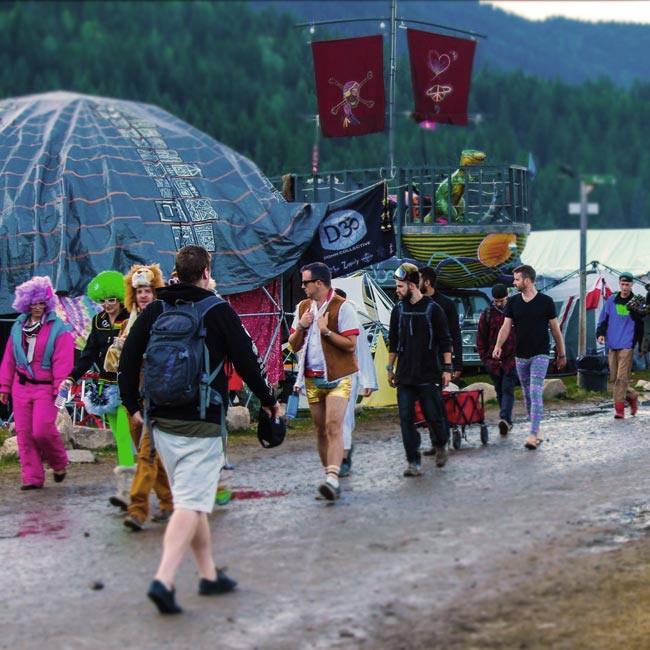 Atmosphere
Several hundreds of kilometers away from cities like Calgary and Vancouver, Shambhala nests itself right in the Kootenay Mountain range, near to Salmo, BC – a town with a humble ~1,100 population.
Mountains, hills, pine trees, rivers – Shambhala is hosted on a large private property/ranch with gorgeous scenery all around and hosts around 15,000 people during prime time.
Of course that's one part of the atmosphere, part 2 being the people of Shambhala.
And what can I say – Canadians are wacky.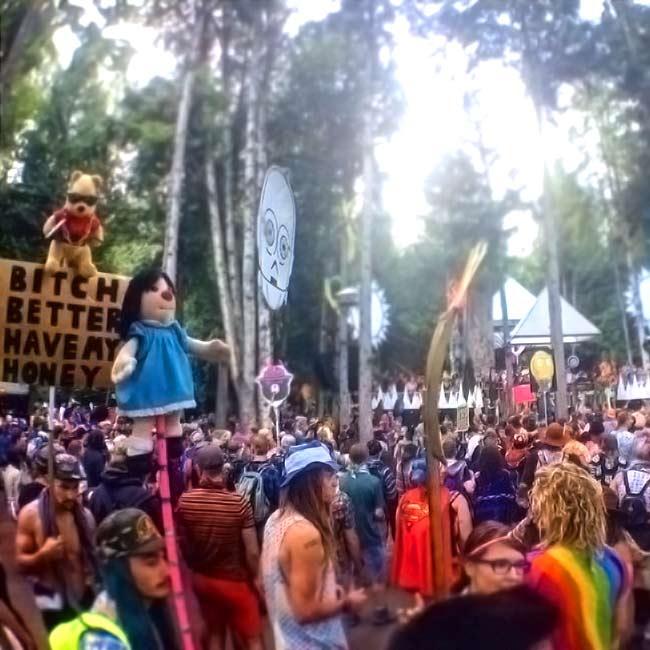 Truly – having been at a good chunk of festivals all over the world, I've never quite seen the same strange, concerning, and downright hilarious shenanigans anywhere else to date.
Yes, there are places like Burning Man, Fusion, Utopia, etc with freedom of expression and strangeness too, but there's something about the Canucks that's special.
Perhaps it's a sort of childlike playfulness which the Americans 'nor Germans quite have. Maybe it's because we're all trying to get out 1 years worth of creativity, angst, and energy in 1 week?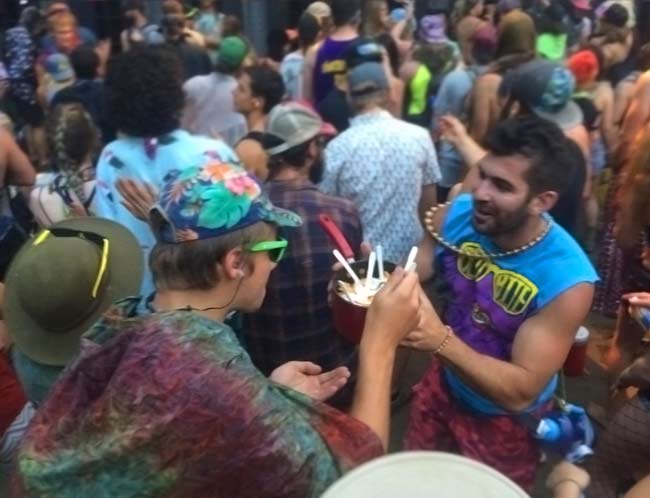 That's not to say that some deranged, concerning, and wild stuff doesn't happen – it sure as hell does, however it's extremely impressive how little of that there is – considering the size of the festival. This is thanks to the excellent harm reduction system they promote.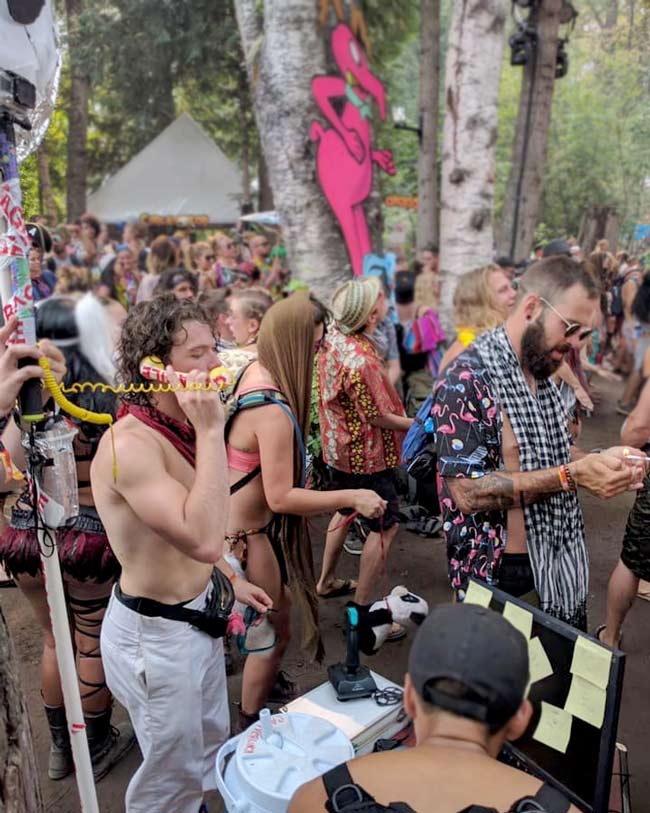 Regardless, I haven't quite found this level of warmhearted shenanigans anywhere else yet and if you know of a place – please let me know!
To prepare for a festival like Shambhala you might want to consider bringing some fun outfits, things to share at the dancefloor (candies or treats), or an even experience to give someone like a lightshow or lighthearted joke!
Music & soundsystems
IMO the next most important part of any festival after atmosphere is the music & soundsystems. Shambhala divides the experience into 6 separate stages, all managed independently with a certain groove/vibe to them.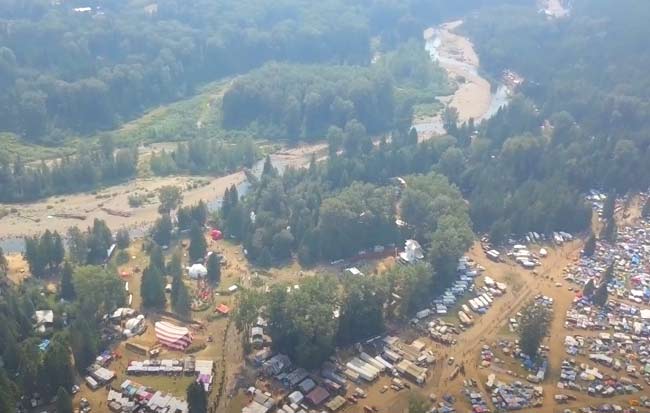 I'll try and give a quick and concise overview of them all. Good festival earplugs are absolutely a must-have since these PK (and Funktion One) soundsystems are powerful.
For a quick overview of all the stages check out the official Shambhala page and description here.
Amphitheatre
Space bass, trap, and laser beam beats – the Amphitheatre is the daytime hype centre which hosts the majority of performances, shows, and energy.
Adjourned with PK Sound in a typical setup, the sound is balanced, powerful, and distributed properly no matter where you stand. There's always a party going on at the Amphitheatre and it brings this connected-crowd feeling very well.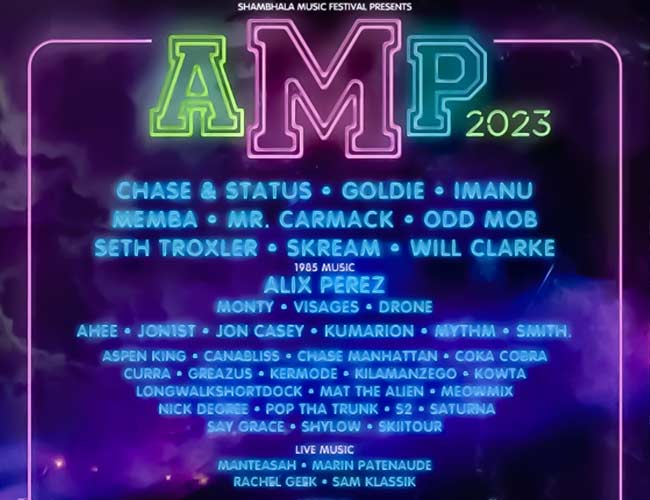 You'll end up passing by this stage a lot and unintentionally join the Longwalkshortdock hype train some time. Good vibes, good times, windchimes!
Perkulat0r 2016 (perky trap), SkiiTour 2019 (bouncy house), Onhell 2018 (space trap)
Fractal Forest
Groovy, funky, hippy hoppy, – excellent electronic tunes with an absolutely incredible stage design. While a 360°-style stage sound cheesy to sound-focused folks, the Fractal Forest crew absolutely nails it in both sound and visuals.
You will get lost at the Fractal Forest at night – whether it's the excellent tunes or spacey visuals (or the 2C-B you took). And honestly, there's nowhere I'd rather be lost on a Monday morning.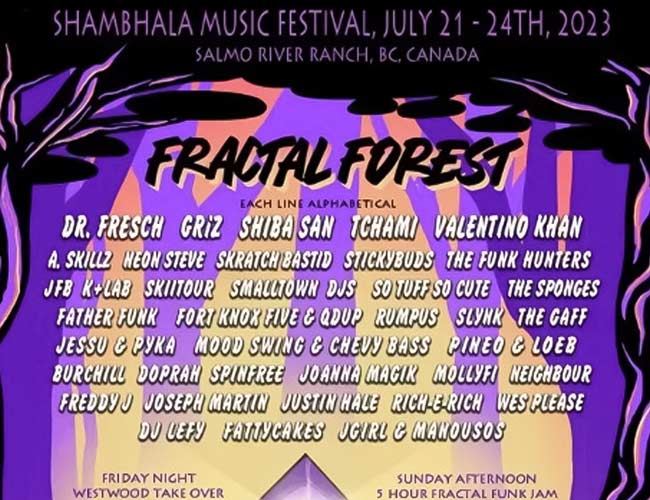 While it's so hard to pick a favorite stage because they're all unique, the Fractal Forest stands out to me because of the silly and bouncy nature.
Stickybuds 2018 (Funky DnB), A.Skillz 2017 (Bass funk), Stanton Warriors 2017 (Groovy bass)
Grove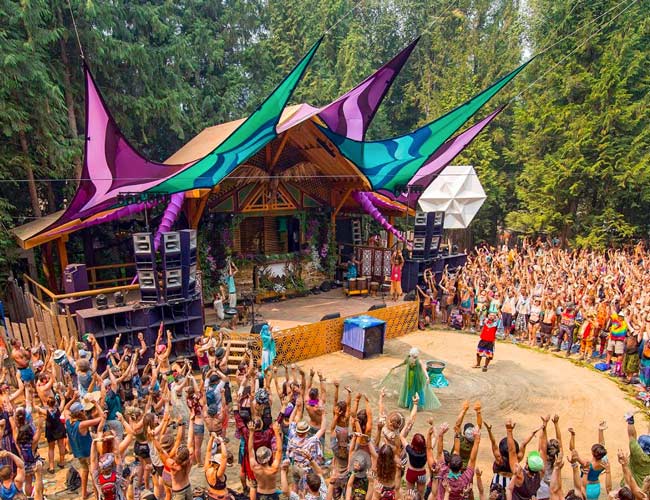 Downtempo, psychedelic, and otherworldly is how I describe the Grove stage. Organic decoration, a homely presence, and spiritual tinge to its atmospheric makeup, the Grove is where you go to just get lost.
Powered up by Funktion 1, the soundsystem here projects loud and very far. Honestly, the bass is lesser than the other stages, however the clarity and precision from the F1s is definitely noticable.
I definitely have big love for the Grove as the place to go trip out and be within my own space for a while – a nice place to recover from the ruckus next door at the Village.
CharlesTheFirst 2019 (Psybass, RIP <3), Organic Mechanic 2015 (Psydub), CloZee 2016 (World bass),
Living Room
House, downtempo, techno, cozy – the Living Room often sticks at around 128bpm. A mellow place to spend the afternoon at the river while washing away the dirt and sins of last night.
The most 'modest' audio setup of the festival, the Living Room isn't blasting your eardrums with the fury of 1,000,000 watts. Instead it's more on the tender side – relaxing, enjoyable, and not pounding you senseless (not all the time).
Often a more classic take on tunes with techno and house favorites here, the Living Room is very distinct in this way and a breath of fresh air compared to the other stages.
DJ Mark Farina 2018 set (tech house), Fort Knox Five 2016 set (funk) Naturalist 2019 set (house/disco).
Pagoda
Electro-hype through and through, the Pagoda is full of 128bpm bangers among dubstep and other high-energy frequencies.
Oftentimes the main stream of acts are slotted into the Pagoda for its large area and tall stage. To be honest, the Pagoda doesn't quite match the other stages in terms of sound output but it never fails to deliver in the energy department.
Personally I've never been so into the Pagoda for the visual and sound aspects, but it's our designated meeting point for the camp group due to its central location.
Deathpact 2019 set (Crunchy bass), Rezz 2016 set (tech bass), Chuurch 2017 set (bass shit idk)
Village
The new Village stage is absolutely immense and so far one of the best stages I've ever seen in my life. In some ways I think it may be one of the best in the entire world. Wood carvings, funky details allover, balconies, sand to dance, and of course the unreal soundsystem. Such an absolutely astonishing environment and the new village entirely blew me away!
Dubstep, DnB, hype trap – the Village is where the hype just doesn't stop. Heavy bass tunes churning your bones into butter, the Village is just a monster as soon as nighttime drops.
High tempo action of heavy resses and prototypical drops, the PK Sound Trinity setup is blisteringly powerful and front row is a privilege, which, when bestowed forces you to commit to headbanging.
Not for the faint of heart, the Village is a complete cluster at night when major headliners are playing and entirely overwhelming. A lovely time through and through – make sure you bring chewing gum and plenty of water.
Excision 2016 set (heavy dubstep), Stylust 2017 set (west coast bass), Crystal Fresh 2019 set (DnB)
Overall audio experience
Shambhala has a huge chunk of tunes primarily focused around energetic, trippy, electronic music. Personally I would actually love to see more live & organic music during the daytime!
Still, the soundsystems are excellent, the DJ selection is always top notch, and you will absolutely be satisfied. Good festival earplugs are absolutely a must-have if you're getting anywhere near the stages unless you want tinnitus.
Personally I've opted for custom earplugs, however I can personally vouch for the popular Earpeace ear plugs!
Food
There are a handful of vendors which pump out food which is actually pretty yummy and not extortionate. Yes, it's still festival-priced food (~$10-15 for a dish), but it's actually pretty good quality food overall!
With that being said, I like to cook for myself and campsite during the daytime and at nighttime hit up the vendors because I'm definitely not in any condition to cook for myself come nighttime. Last I remember I was spending ~$12-15 per meal at the vendors.
I would highly recommend bringing a cooler full of food since this is a nearly week-long event and buying everything at the vendors costs a lot. Food to consider bringing to Shambhala includes:
Nuts and dried fruits
Oat milk and cereal
Bread and spreads
Fresh fruits and vegetables
Canned foods (fruits, beans, soups, etc)
Candies and treats
Electrolyte drink powder/tablets
You need to stay well-fed and hydrated for a festival like Shambhala – you'll be exposed to so many people and bacterias so keeping your immune system and energy levels is essential!
Camping and parking at Shambhala
Camping and parking is free at Shambhala, however to bring your vehicle into Starlight for camping alongside your vehicle you must pay the pass of ~$100.
There is a really large area for camping and it gets separated into zones of no-vehicles (Metta), with cars (Starlight) Shambhalodging, and themed camps like Camp Clean Beats (no substance use).
Days are hot and nights are cool. There's a big rush & event at the beginning when they open the gates for people to secure their campsite. It's a bit hectic to say the least.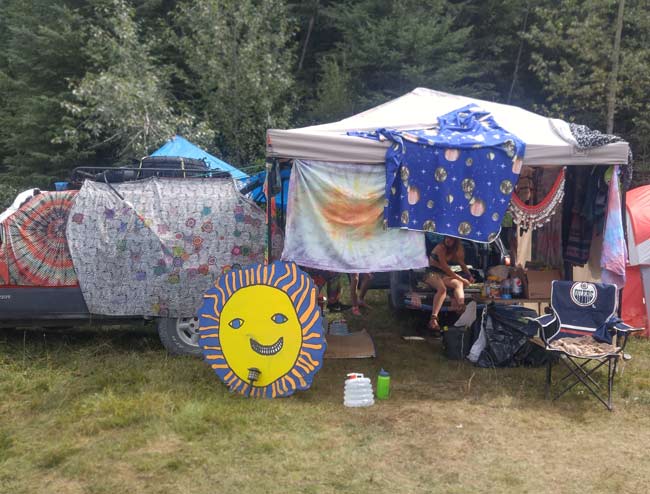 There are no hotels or hostels. While there is the Shambhalodging which give you a campsite/tent/van setup, these services are pretty darned expensive and you're better off just buying and bringing a good camping setup instead.
You're absolutely going to want to prepare thoroughly before camping at Shambhala. Here's a list from the official website on what to pack for Shambhala or check out my full and comprehensive ultralight camping festival dream setup for more inspiration. Part of Shambhala is the wacky costumes and outfits people put together.
For example, people love bedazzling their vests with lapel pins and buttons of all types. You can try making the pin custom and take them to the festival to give away or barter at one of the many trading posts. Individuality and unique shares are key to making Shambhala what it is!
Parking is free at Shambhala, however to camp with your vehicle in Starlight zone costs extra! See the official page for more information.
Workshops
At the Cedar Lounge there's a handful of workshops going on from psychedelic breathwork to Brazilian & burlesque dance.
Surprisingly there aren't all too many workshops at Shambhala compared to most festivals. There are the mass morning yoga sessions and other events happening at the Cedar Lounge and near the main area, but it's nowhere near the amount of workshops I've seen at some festivals a fraction of the size.
In all fairness, Shambhala isn't quite the festival for workshops – it's more of a party haven and I don't really mind this for the most part.
If you are however new to music festivals I would absolutely recommend visiting the Cedar Lounge area and check the schedule for anything that might pique your interests – you never know what you'll learn!
Other attractions
These are just other things and whatnot I felt like mentioning about this festival.
You'll find so many weird little things everywhere around. After nearly 7 days of being there, we still feel like we hardly discovered what's around. Hidden puzzles, hammock gardens, the wishing tree and portals to alternative dimensions – there are so many little things to discover!
Pro tip: Bring a bicycle! The festival grounds is huge and you'll save a lot of energy and see much more if you have wheels!
Alcohol banned at Shambhala?
Yes it is, and that's a damned good thing! Why?
Lets get something straight – everything is 'not allowed' at Shambhala, however there is a no-tolerance for alcohol and smuggling it in.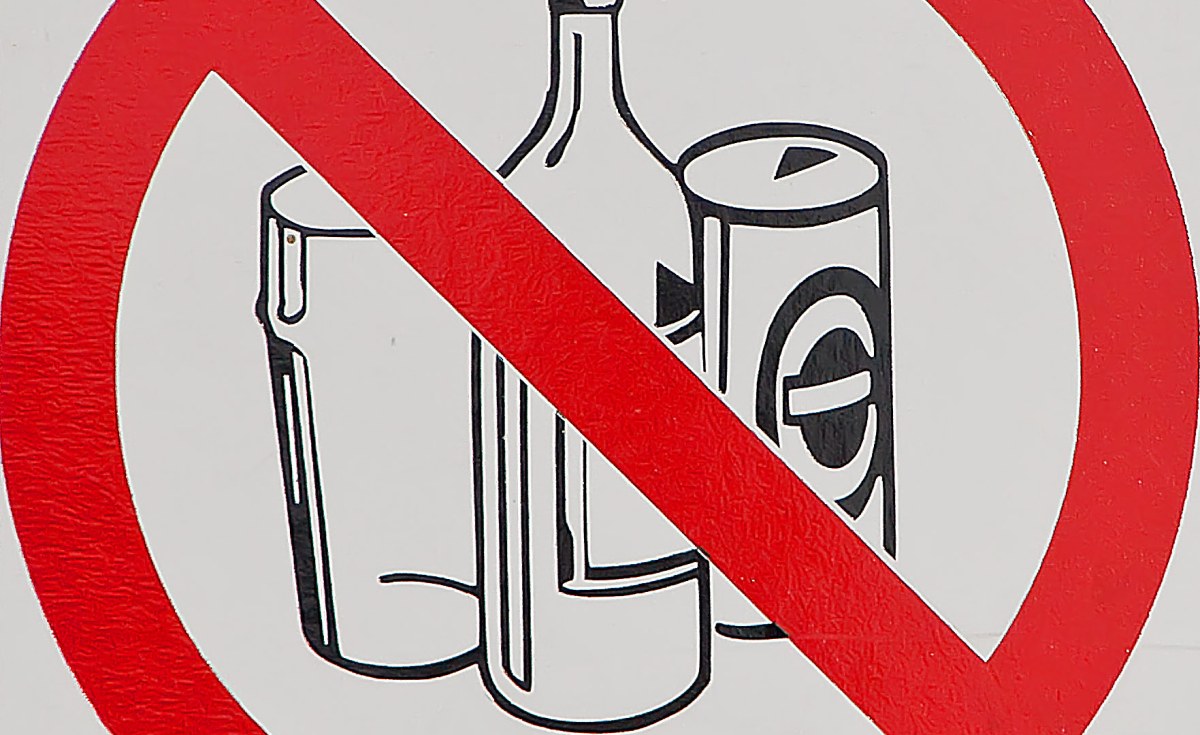 First it automatically acts as a filter – some people who see this automatically become uninterested as they can't get smashed on bottles of vodka all weekend.
Alcohol is just bad vibes. Okay, not always and I like a little drink from time to time, but lets not pretend like swarms of drunk people at a very intense and intimate festival is a good idea for the ambient atmosphere – no one likes disruptive drunkards.
Also, alcohol is just objectively a harmful drug in compared to others. The significant reduction in sexual/assault related issues and health issues is dramatically reduced. Alcohol is generally a terrible drug to mix with others and when health & safety is a concern, alcohol just doesn't bode well.
At nearly every other festival I've been at I've been a bit disgruntled by the mess, sloppiness, and ambience of drunkenness'. That's not to say I wouldn't like a beer by the river, but I'll gladly take that L.
ANKORS/Harm reduction
Ah the legendary ANKORS (AIDS Network Kootenay Outreach and Support Society) is an incredible group which provides free on-site substance testing for safety.
This area is singlehanded one of the best things any festival in the world has. The amount of problems and even lives that this service has served is truly amazing and is a prime example of something society as a whole should adopt.
With lab-grade equipment for GC-MS and FTIR chemical analysis as well as reagent testing, all you need to do is wait in line, provide the sample of whatever you would like to be tested, and wait for the results to show on the large public TV screens outside. No harm, no fuss, no stress, no cost. Absolutely incredible.
Merch & vendors
There's your usual assortment of merch and vendors that you'd find at most groovy festivlas out there and most of them are typically priced. I actually got a Shambhala brass cuff for cheap from the official merch store and it looks wicked!
I'm very satisfied with the quantity of vendors and the quality of their products. You can buy essentials like toothbrushes or earplugs at prices which aren't extortionate, or grab some festival attire if you've ran out of fresh clothes to wear!
Organization
From an organizational standpoint, Shambhala is quite solid. There are thousands of volunteers and staff who help out and while everything at any festival is usually a clusterfork to begin with anyways, I'm actually really impressed by how smoothly the organization is run.
That's not to say it's flawless by any stretch of the imagination, but like, it's pretty damn good all things considered! Yes, you will have the endure a raunchy 2:30AM Port-A-Potty surprise – it's all part of the experience.
Too, Shambhala stays away from corporate sponsorship (no beer or KFC live ads) and while of course Shambhala makes money, it's still privately owned by the property owners and not commercial like most 'EDM' festivals out there.
Overall
Shambhalove is a real thing and while it may be artificially brought-on by this psychoactives-supported utopia/adults playground, I can't help but miss it strongly.
Sincerely one of my favorite festivals of all time, it truly is a special and lovely place with all its wackiness considered.
In the end I actually prefer smaller festivals with a little less craziness and more intimacy, however I absolutely place it near the top of my favorite festivals of all time list.
There's really not much like it in the world considering the location, people, atmosphere, sound, soundsystems, and general feeling. Hectic, wild, and audacious – Shambhala is one heck of a place!
Thanks for reading this little review and make sure to check out my guide to the ultimate festival hammock camping setup for tips on how to prepare for any festival you'll go to!
Pros
Excellent soundsystems
Incredible location
Solid organization
Cons
Hectic
Very large
Hard to access