Decathlons in-house brand Olaian is their take on budget wetsuits and surf equipment. At only €75 for the 4/3mm wetsuit, it stands to be a really great bargain compared to most wetsuits which start at twice the price.
Note: The price tag in America is actually $149, while in Portugal it's €75. Sorry for the confusion.
This review of the Olaian 4/3mm wetsuit will cover the durability, comfort, and overall value. Rated for 12-17°C (53-63°F) waters and with a beginner-friendly price tag, its designed as an all-rounder without breaking the bank.
Performance
The most important thing about a wetsuit of course is the performance and how well it keeps you warm.
I'm definitely quite glad to report that the Olaian wetsuit keeps quite warm! Of course this all depends on how it fits your particular body – a loose fit will let in cold water and essentially nullify any benefit.
However, if it fits well you'll definitely have a fine time in waters between 12-17°C. Here in the waters of southern Portugal (Atlantic), I've never had an issue staying warm enough for those multi-hour long sessions.
It's not incredibly stretchy or lined with any special materials like Merino wool, however it just performs well and I can't fault it in any particular way.
Durability & build quality
Wetsuits are pretty expensive considering how quickly they might wear out. While I haven't been able to give my Olaian wetsuit enough months of use to see how it really fares, overall build quality is definitely not bad by any means.
Maybe it's from user error, however I did get a rip in the material after only the third use. Nothing about this wetsuits strikes me as particularly durable however.
Most of the stitching is quite good and while you can tell it's not a premium product like a Billabong wetsuit, it'll definitely do the trick.
The knee padding is minimal and doesn't really do anything aside from add a little grip and material protection. There is no chest padding so if you're going to be spending a lot of time on the board just keep that in mind.
While I personally don't have many issues with discomfort on my chest or knees while surfing, others (particularly beginners) may be bothered by this. For that reason I'd recommend a better wetsuit.
Design
Simple, minimalist, and practical. There's nothing flashy, special, or unique about the design in any way and there's nothing wrong with that. Neon green accents with a single spot of branding, it's as basic as can be.
I appreciate the long zipper cord which makes putting on and taking off the wetsuit a little easier. I however have very flexible arms and my friend without this flexiblity struggles with taking of his wetsuit.
Evidently Decathlon/Olaian were trying to save on manufacturing costs whenever possible – I have no qualms with this but keep this in mind since there are no fancy features/materials like fuond on more expensive wetsuits.
Ethics/sustainability
Decathlon is a big brand which manufactures most of their products in Brazil or cheap-labor countries. To add to that, the wetsuit neoprene which is in the Olaian wetsuits releases micro-particles which are toxic to aquatic life.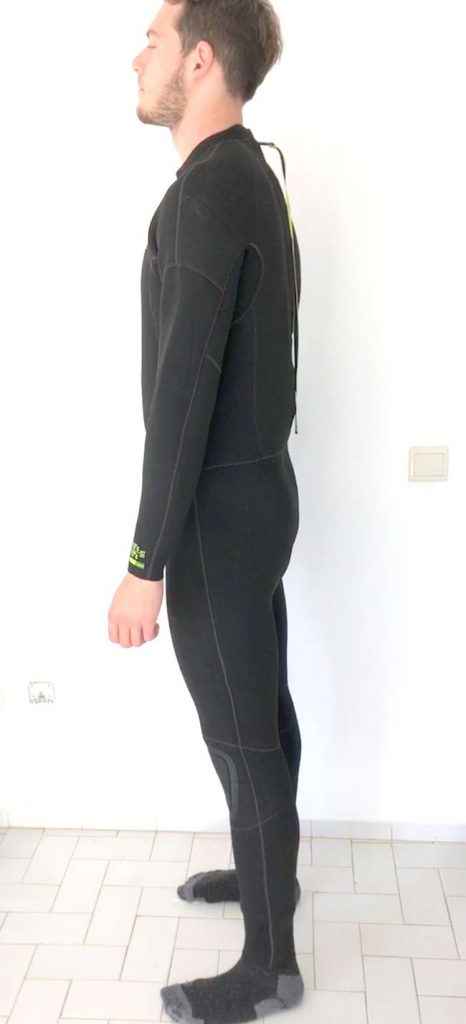 Unfortunately, most wetsuits use this non-sustainable method and environmentally-friendly wetsuits cost quite a lot more.
Brands like Patagonia do have their Yulex natural rubber wetsuits which do cost a lot more but of course are a lot more friendly to the environment than neoprene wetsuits.
Overall
For €75 it's nearly impossible to go wrong on a wetsuit like this. If the ethics and sustainability ethos doesn't bother you and you're looking for a good budget wetsuit, then I really can't find anything wrong with it.
Is it heavier, bulkier, and less flexible than wetsuits 2-3x more expensive? Definitely. Does it still do the trick and let you wade in 15°C waters without issue? Absolutely.
However, the American price of $149 is definitely not so great and at that point I would absolutely search for a wetsuit from a better company.
IMO it's a good beginners wetsuit for people who want to start surfing and other watersports without a big investment. On the other hand I would rather support another company which has a more sustainable product.
However, I would instead suggest spending a little bit more on a better wetsuit from a better company – something more durable, flexible, and sustainable with actual knee and chest padding.
If you have any questions about the Olaian 4/3mm wetsuit please just let me know and I'll be glad to answer! Thanks for reading and peace 🙂
Olaian 100 Neoprene Surfing Full Wetsuit Back zip 4 3mm
A pretty solid wetsuit for a low price. While the neck is a bit wide and the wetsuit is tailored to those who are a bit thicker than myself, it's hard to fault it due to the low cost.
Product Brand: Decathlon Olaian
Pros
Affordable
Good neoprene
Zipper leash
Cons
Not good for slim people
Stiff