I'm a self-proclaimed audiophile. I love music, speakers, headphones, etc. These are THE best bluetooth speakers period. In this Minirig 3 review I'll go into exactly why that is.
Here's the Minirig 3 Amazon link if you're curious. I don't think any other stores in the US/Can stock the Minirig 3, the Berlin store HHV.de stocks Minirigs and ships anywhere.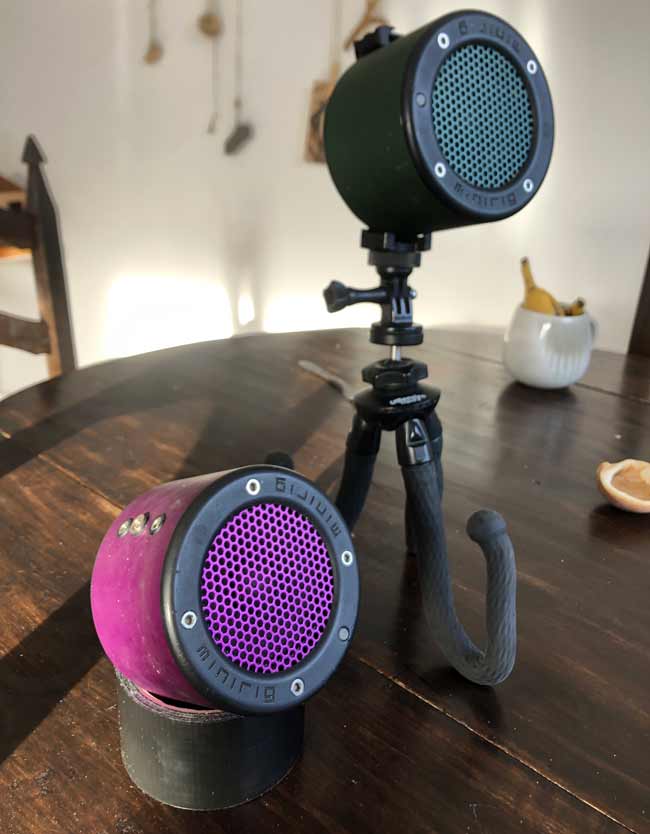 Handmade in Bristol, UK, Minirigs are seldom talked about in the world of Bluetooth speakers. JBL, Bose, and others have much larger budgets for marketing. Crafted by a set of audio enthusiasts, DJs, and producers, I'll go over everything that makes the Minirig 3 and subwoofer so excellent.
Sound test located in the 'Minirig 3 Sound Test' section of the review!
The Minirigs are great speakers and found a spot in my actual best portable Bluetooth speakers list – check that out for more options! 🙂
Note & update: Even other audiophiles on Head-Fi found the Minirig 3 vs Adam A5X (pro studio monitor) to be shockingly close..!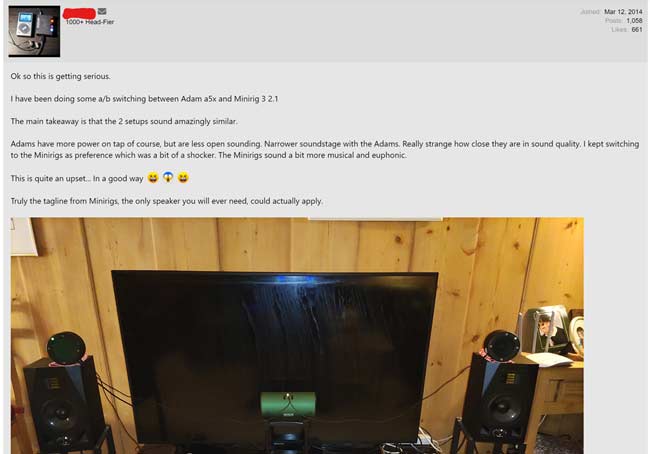 Review: Minirig 3
Minirig 3 sound quality
Lets start off with the sound quality from the Minirig 3.
How good could a simple Bluetooth speaker be? Well, over the past few years we've all seen how decent basic consumer units like the JBL Charge and the likes are. While they absolutely not 'audiophile' grade or anything mind-boggling, they certainly give a clear enough sound to enjoy simple music.
The sound quality on the Minirig 3s are a step above. While its composed of a single large (~3in) driver, it manages to astonishingly put out balanced sound between bass, mid range, and treble. Yes, it's not as crisp as something with a dedicated tweeter, but for a single driver, it's extremely impressive.
So much so that oftentimes I'll forget to turn on the Minirig subwoofer and be listening a to drum and bass or dub track, and not even notice for a half hour that I don't have the sub on. Of course when I power the subwoofer up it kicks it up a notch and I immediately realize what I've been missing, but even my fairly trained ears don't notice at times.
For example, the low basses from Yabby You tracks come through perfectly well from just the Minirig 3. Of course if you place the speaker near a wall it improves even more due to how acoustics and bass works with speaker placement.
I've compared the Minirig vs standard consumer studio monitors like the KRK Rokit 6, M-Audio BX5a, and others. The speaker on its own competes very well for the most part, and with a subwoofer we found them to be superior to the large, plug-in alternatives. Color me impressed. Minirig 3 vs Studio monitors here!
Treble, mids, and bass
You'll get good bass response down to ~80Hz with the main drivers, depending on volume. The Minirigs use dynamic equalization and gain control depending on the volume played. Louder = less low frequencies to prevent the driver from clipping and becoming damaged.
The Minirig 3 is also the loudest Bluetooth speaker out there. Bar none, this little ball can put out a mind-boggling 40W of RMS power and ~105.5dB @ 1m – that's what some budget consumer studio monitors can do…
In a 2.0 and 2.1 Minirig system you can hit up to 108dB and 110dB, respectively. Not bad!
Just a single one is loud enough to get noise complaints from apartment neighbors or spark up your gathering in the park. Setup two and now you're moving. Bass will very much be sacrificed at high volumes.
Coming from someone with $1000 CIEM (custom in-ear monitors) and who has had multiple studio monitors, subwoofers, and speakers – the Minirigs are all but very impressive. Add a subwoofer and you'll be amazed. This makes the Minirigs one of the best portable Bluetooth speakers for producing and DJing for sure.
Software Update (2022) Sound change
In 2022 Minirigs put out a new software update, V19. In this update Minirigs says the Minirig will now play lower at low volume, higher at high volume, and some other QOL changes.
Basses
In this frequency sweep analysis I did, I swept from 20hZ-150Hz and found some pretty remarkable results.
In the previous generation, the basses really cut out when below 40Hz, however now at low volume the Minirig goes all the way down to 20Hz with a pretty impressive response.
Much more bass from 50Hz all the way down to ~24Hz which is just flat out insane considering the size. Of course at high volume this diminishes significantly, but in my test @ low gain, 34% volume, it was incredibly impressive.
You can see the full-size image of the Minirig 3 bass frequency response here.
Treble & mids
The new update has done a decent chunk of smoothening to the overall frequency response by ironing out some peaks in the mid and slightly increasing output.
You can see the full-size image of the Minirig 3 frequency response here.
Minirig 3 sound test
Below is a simple sound test playing King Tubby – Rasta Dub. Both audio samples are rendered in 128kbps MP3. For the 10mb uncompressed .wav file download, click here for the Minirig 3 sound test .wav or the Minirig 3 + Subwoofer sound test .wav
Note: These sound files were recorded on the previous firmware update before the 2022 update, so the sound signature is outdated – the Minirig now goes deeper and louder.
You may want to use good headphones or speakers to hear the differences. From the test from my POV I can say that below medium volume, the Minirig 3 does good enough on the bass, however at medium-high volume the Sub3 really shows its strength and blows the lone MR3 out of the water.
The lone MR3 is pretty impressive though and the fact it can play those trebles and basses at the same time and stay crisp & clear is pretty remarkable for a single driver.
Minirig 3 max volume test (New, 04/2022)
Setup in a roughly 20m2 room, I did a max volume test with three heavy bassy electronic tracks. Here's the raw audio from my audio recorder (Sony TX650). This was pretty darned loud and sounded good overall. Quite a bit of reverb in the room.
Build quality of the Minirigs
These are the golden standard for how products should be made. All assembled by hand in Bristol UK, the anodized aluminum bodies and grills are rugged and strong. The plastic is a tough polycarbonate and in accidental real-world drop tests, they've been terrific.
Once I was cycling ~25km/hr with them playing out of my backpack. Hopping up a curb threw an MR3 out of my bag and face down onto hard pavement. Crack. That loud sound sounded dreadful and the music stopped playing. After picking it up and turning it on – everything was back to normal. A small blemish on the body and none else.
Not to mention that Minirigs themselves are taking steps towards sustainability – the new cases are made of hemp, the packaging is all cardboard, and they're really trying to reduce waste.
In the box is the speaker itself, a quick start guide, travel case, carabiner, charging cable, aux cable, sticker, and lanyard. For what you pay you get a full assortment of goodies and they're all of good quality. The travel case in particular is terrific!
Overall the build quality is terrific and a quick teardown of the Minirig reveals how they engineered it.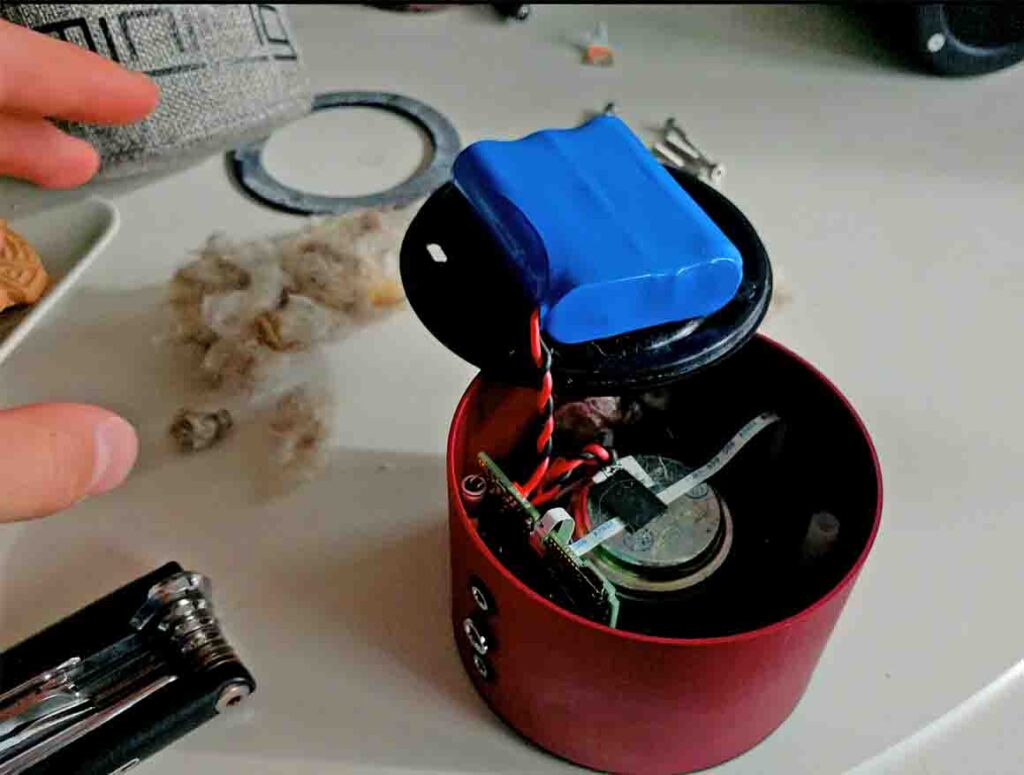 Disclaimer: Don't do this at home – you will likely damage your unit. You must properly replace the gasket and screws and foam to retain ideal acoustic performance.
Stuffed with fibers to simulate a larger enclosure space, a hefty 3 cell 18650 battery pack, motherboard, and large driver. Perfection from an audio engineering standpoint. Far above anything the competition is putting out.
Is the Minirig waterproof?
Though they're water resistant, don't subject them to too much water. I reckon this will damage the cone and it's possible water could leak in through the aux/DC ports.
The main body is very tightly sealed, though the aux ports and DC spot are weakspots. One of mine got soaked by gnarly saltwater and while it still runs and plays fine, it seems to have corroded some of the circuits and I occasionally get cracking and whatnot from it. If you're looking for 100% waterproof, I'd recommend looking elsewhere.
Minirig 3 battery life
Minirigs claim 100 hours of battery life for the Minirig 3. Is that true?
Well, kinda.
I work from home and thusly use them all the time. I put them at average listenable levels with occasional moments of 'fun volume' and even all night playing cricket sounds or campfire noises.
These last around 7-14 days before I need to plug them in. That's with around 4-8 hours per day of on-time on average. We can now estimate that figure to being around 70-110 hours.
At high volumes you're going to have them going flat within 4-8 hours. That's if you're pushing them to maximum or near-max levels. You will very rarely do this unless you're doing some sort of impromptu party or outside. I see around 3-4 hours from max gain, max volume, blasting them at the park.
The Minrig 3 uses a set of 3 * 18650 batteries. While the exact capacity is not known, it's clear that these are so much better than others.
For example in a Tribit vs Minirig comparison, the Tribit speakers died off within a day of use at normal volumes. The Minirigs were still at green (80%+).
They charge very quickly at 5V & 1.5aH (1500mAh). This will top up your units within a few hours and have you ready for a whole week or weekend of fun.
They've used the best batteries possible and it seems that the driver they've chosen is incredibly efficient too. Good job Minirigs, love ya. Note: The charging cables are very mediocre however.
Bluetooth and wired connection
Bluetooth
No matter what, Bluetooth is pretty shite. Not just on these but all around. I've never loved Bluetooth because it's low resolution, laggy, and drops often. Though, there have been huge leaps recently and the AptX Bluetooth 5.0 processing with the Minirig 3 has me content.
Bluetooth implementation on these could be improved. While it works great 95% of the time when I'm using just one speaker, once I connect two speakers with Bluetooth for left and right channel stereo, I start encountering problems.
Seemingly out of nowhere I'll get audio cutting off from the slave unit or even random noise gating from both units. This seems to mostly happen with my computer (Surface Book 2) though I get some frustrating moments when using my music player (Hidizs AP80) as well. It's sensitive to microwaves running (really), other too many other Bluetooth devices, and so forth.
With that in mind, it's amazing regardless how we can now have LEFT and RIGHT stereo sound, wirelessly, with Bluetooth. That with LDAC or AptX lossless streaming for .flac, .wav, or high bitrate .mp3, I'm always super impressed when I have them out and about and can't be bothered by cables.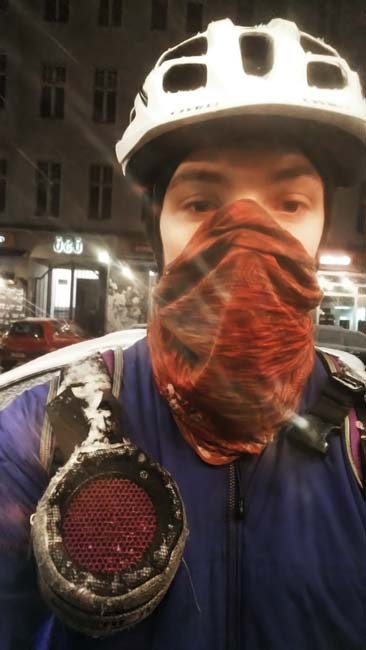 I've had success setting up 3 units for sound and spaced ~5 meters a part, outdoors, under a bridge, with no cutoffs or problems. Pretty solid in that regard, but I had problems pairing them at first. YMMV.
Latency with Bluetooth used to not be noticeable but the newest firmware update seems to have added what feels like 50-100ms of lag in wireless stereo. Enough to notice when watching YouTube videos or movies.
Wired
For the real audio nerds out there, you'll be extraordinarily pleased at the fact where you can daisy chain a seemingly infinite amount of speakers. With two 3.5mm jacks, you can do anything. One input, one out. Or two outputs if the master unit is via Bluetooth.
The stock aux cable it comes is very small & portable, but I've had a few of them die out since they're quite fragile. Keep that in mind if you're constantly moving gear and abusing your equipment like I do – you'll need to buy quality cables.
The Minirig Subwoofer also has two 3.5mm jacks so you can do anything you please. Of course, you'll have no annoying Bluetooth dropouts, no latency, and raw sound quality.
You can input from instruments, your computer, mixing boards, and anything else, and then also output with the same master unit to another driver, subwoofer, or any speaker which accepts 3.5mm inputs.
Overall, you'll be well satisfied with going wired if you're a purist and I'm glad Minirigs keeps this all on the design of the unit for DJs, producers, and serious audio people. There is nothing else out there that can do it.
Portability of the Minirigs
About the size of a very large apple or 4 hockey pucks stacked atop one another, it'll go anywhere. Durable and especially with the travel case on – I trust these things to hold up to any abuse I throw at them. You can see my portable battery powered DJ setup here!
"Festival safe" is how I designate them. If you've been to festivals you know just how messy and janky the campsite gets after a while. They will survive that just fine.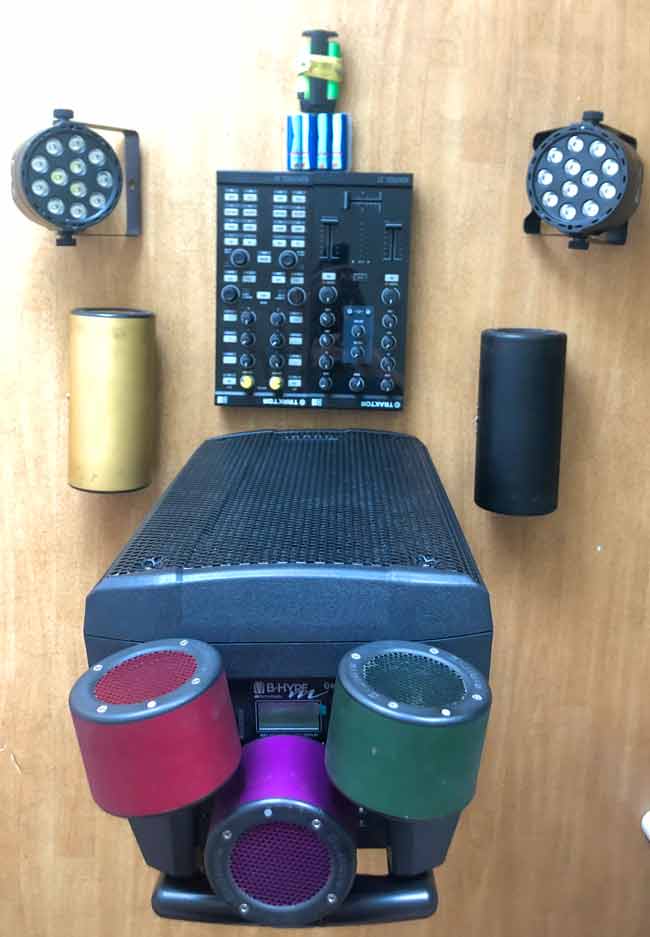 The rigs I just throw in a small mesh bag and toss them in my bag, in the basket on my bicycle, and on the ground. I feel comfortable dropping these on hard pavement from 2m height without the case on, and honestly feel like they could be used as a weapon.
If you're really wanting the best smallest Bluetooth speaker, I implore you to hit up the Minirig Mini 2 – it's very petite and still puts out a very competitive sound (the best in its weight category). I would still take the MR3 any day over the Mini 2 though.
I travel a ton and have taken a Minirig + subwoofer on a half dozen flights, hundreds of trips to the beach and parks, and even hitchhiking in Austria. Set them up at a friends place and it'll be better than 90% of sound setups out there.
Criticisms of the Minirig 3
Nothing is perfect. While the Minirig gets close, I have five gripes with it.
There are only two gain settings on the unit – high and low. Volume must be controlled externally. I wish they had at least 1 more gain setting so I wouldn't need to go to my audio source to adjust volume or to equalize properly. When matching bass & main driver units this would help a ton – sometimes low gain is too quiet and high is far too loud.
Support – Generally CS was very good, however when I tried to service a pair which had expired past the 1 year warranty by just 1 month for failing to charge, they requested 40 GBP to repair, and I'd pay shipping. A bit of a shame considering the cost, however I also understand the price of running a business (especially in an expensive country).
Buggy at times – the app is kinda meh, I've had the reset my units a few times for connection issues, and Bluetooth is, well, Bluetooth. I wish they would refine these aspects a little better for better stability, if possible.
Bluetooth drops out and is inconsistent. Even from mere meters away, unobstructed, I'll get weird audio cut-outs, noise-gating, and more. This problem increases with the amount of Bluetooth devices going on around you and really is infuriating when you're deep into an album or doing a jam session.
The cables fuc*ing SUCK! The aux & charging cables die very easily and I've had 6 die in less than 2 years. Unacceptable. I shouldn't have to spend another $10 to get a new cable to link the sub and speaker which won't die at the slightest kink.
They're expensive – no getting around that. A full 2.1 setup will cost you upwards of 480 euros brand new. This is a lot of money and for half the cost you can get a pair of decent studio monitors.
However those monitors aren't this small, can't be thrown in a bag, brought on planes, brought to the park, and don't have Bluetooth or daisy chaining.
Final conclusion
I fantasized about these speakers for years – before the Minirig 2 even came out I was looking into these. I bought the Minirig 2, loved it, but sold it because I was so poor. The Minirig 2 vs 3 is a tight one in sound quality, but of course the MR3 just brings lots of improvements and is worth the extra cost.
I finally got a Minirig 3, and then a subwoofer. I loved it in 1.1 but then heard a friend who had a 2.1 setup. As a true audio junkie I picked up another for full stereo. Hmm I like throwing parties in the parks though, might as well add another subwoofer to make it 2.2. Actually, I want to plug in my keyboard outside while playing beats in the park, so now I've ended up with a 3.2 setup.
This is absolutely overkill and quite expensive in the end. They're not cheap by any means but the old adage 'you get what you pay for' rings so true. Add to the fact you're supporting a UK company founded by DJs, producers, and audio nuts.
I also highly attest to the Soundcore Motion Boom which for $110 is a really great unit – not as good as the Minirig + subwoofer, but an excellent value nonetheless.
Here's the Minirig 3 Amazon link if you're curious. For $180 it's a pricy little unit but definitely worth it in the long run.

Also check out my Minirig Subwoofer review! A super good bit of kit it is.
Fun little tidbit of info
In fact, you can find the original date that the Minirig concept came around. A post from 2010 on forum.speakerplans.com by 'davey t', the man who started it all. I remember years ago reading the forum and dying to get my hands on a Minirig.
For a DJ, producer, audio lover or simple music fan who wants the absolute best portable Bluetooth speaker, the Minirig is the only one I can recommend. Yes you can spend $50 less on other decent units, but they'll never be as good as the rigs.
Thanks for checking out my Minirig 3 review, hope you enjoyed. The Subwoofer is necessary because it's what completes the Minirig experience. Any questions drop them down below or on my social media channels – I'm always glad to help 🙂
Peace.
Consider donating a coffee-amount of coins via PayPal if my article helped you 🙂
Minirig 3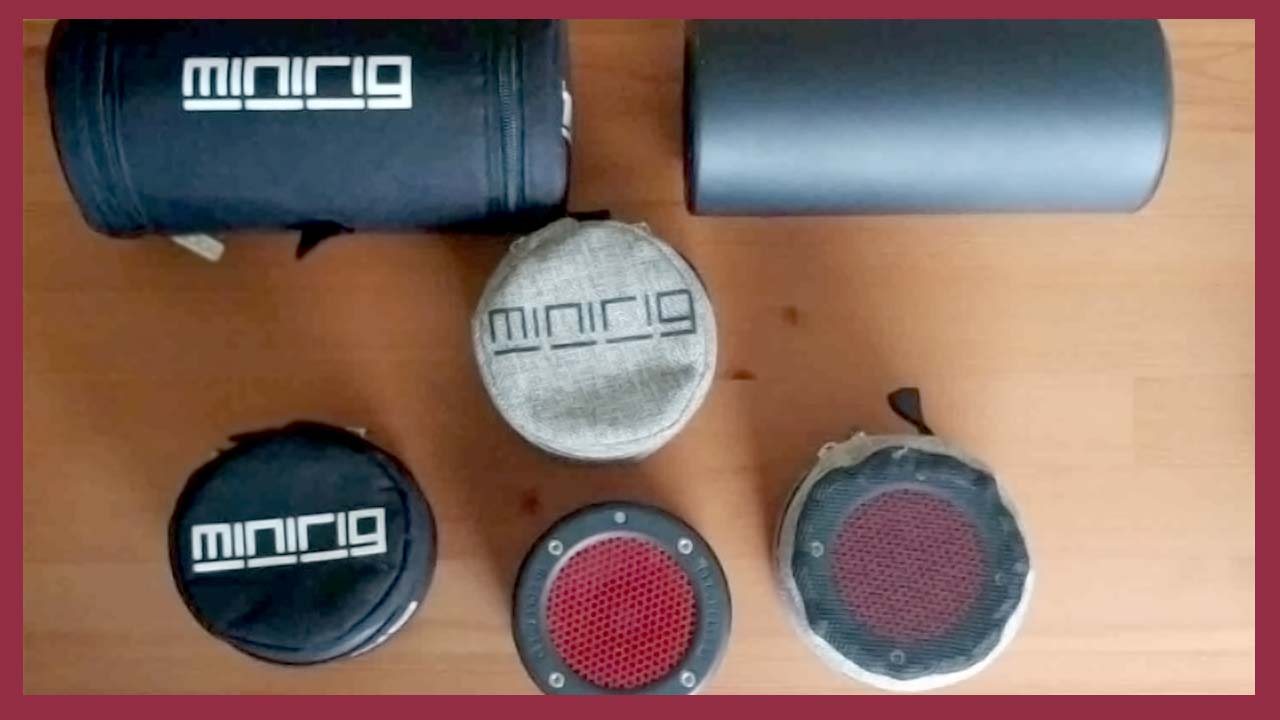 Compact, portable, battery-powered Bluetooth speaker. High quality, pricy, and made in Bristol, UK. All in all a great speaker with some improvements needed to the Bluetooth TWS connection for consistency.
Product Brand: Minirigs
Pros
Incredible sound quality
Excellent battery life
Stereo and subwoofer compatibility
Cons
Price
Non USB-C charging
Stereo unreliability