A market crowded with expensive bikepacking bags which aims to drain your wallet, I went budget mode. I went bikepacking with baskets.
Attaching a simple KlickFix basket to the front and Topeak seatpost rack on the back (with a zip-tied mesh basket) allowed me to enjoy hefty bikepacking adventures for ~$60 of investment. Add $25 for a bargain bin bikepacking frame bag and I've basically got it all sorted out.
Here are the pros and cons of bikepacking with baskets – or – basketpacking.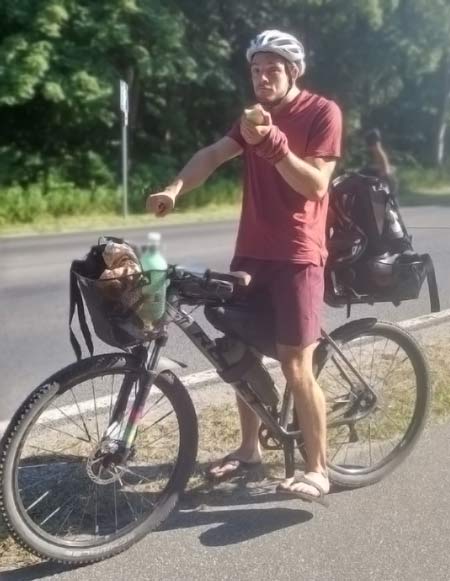 Pros of bikepacking with baskets
Every method has its pros and cons. In terms of bikepacking and touring, the pros outweigh the cons heavily in my opinion! Obvious bias though.
Affordable – Yeah a proper Apidura or Revelate designs handlebar roll and saddle bag will cost ~$300. Baskets setup? Barely was $60.
Versatile – Want to change the size of basket on front or rear? Simply just grab a new compatible one and zip-tie it on. Want to take them off? It takes seconds.
Fits tons of cargo – I fit my 40L backpack on the front or back which technically means 80L capacity if I do both. I usually use my 40L backpack and save the other basket for food & other accessories.
Durable – Aluminum and steel will likely last longer than cordura or PU materials. Bash it, beat it, trash it – it'll hold up!
Simple – No complicated zippers, compartments, or buckles – just throw your stuff in and go. Easy to take things out too!
Style – Rustic? Sure. Practical? Definitely. Is rustic a fancy word for jank? Maybe. Depending on who you are, the non-gaudy yet functional aesthetic may be appealing to you
Shopping – Going to the supermarket? 1 second to unclick the front basket and use it as a shopping basket. Hugely convenient!
More aero than panniers – Well, I think so! I can't confirm this honestly but since you're in a straight line compared to a boxy-shape with panniers, I think it's more aero (without a frying pan)!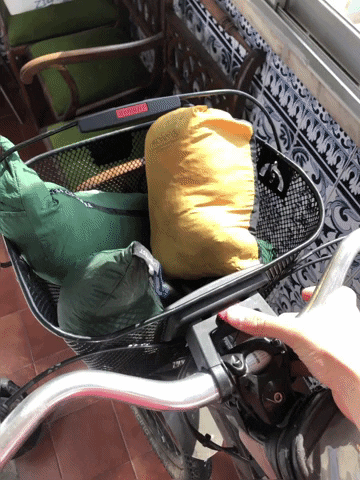 So here the pros can be summed up that it's much more affordable to start with, is very practical and simple when it comes to going shopping, throwing things in, taking them out, etc. The cargo volume I can achieve with my ~3kg setup (incl. backpack) is between 60-80L which is monstrous.
Cons of bikepacking with baskets
Of course there are some cons here which can't be ignored.
Heavy – My front basket setup weighs about 1kg and rear about 500g – a set (total 31L) of bags from Apidura weighs about 600g. Not for the ultralight lovers.
Loose items – You'll need a net/cover/bag to put your items in, lest you want everything rattling around and falling out on cobblestone roads. This can mean more weight or more ugly.
Clunky – It can look and feel clunky at times when compared to real ($$$) bikepacking bags. I've got a system which personally works great though!
Not for racing – Higher weight, a bit clunky, and with loose items means no heavy downhill riding. I've gone on pretty rough singletrack and 45kph+ before with em, but it's not as confidence-inspiring as true bikepacking bags. Nope, definitely not good for bikepacking races IMO.
Heavy handlebars – Of course this depends on what you load in there, but sometimes I'm really thankful that I have the verywide 800mm Ritchey Kyote handlebars for leverage and control.
Attractive? – I don't know, but I haven't really gotten too many compliments on the baskets aside from friends who found out how stupid practical they were when we went on bike trips. No denying, bikepacking bags do look sexier.
If you're doing a ton of singletrack, want to be agile, and want to be sleek then baskets are probably the complete opposite of what you want.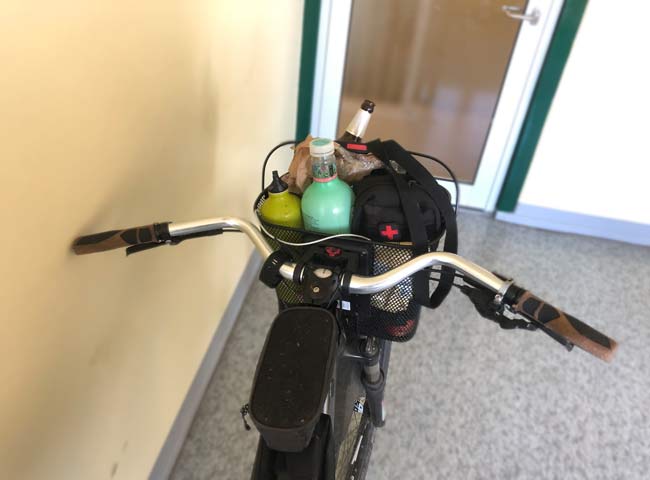 So why do I use baskets?
Well for one, I haven't dropped the $$ hundreds for a set of slick bikepacking bags. One day, sure, but until then I'm going to stick with my bargain bin buddies. $50 is really a low cost of entry to prepare a bike for long-haul touring.
I moved to Portugal with nothing but my 40L backpack (with laptop) in the front basket and some tech/camera gear in the rear. I went to supermarkets twice a day and saved a ton of time in the loading/unloading process.
They're durable as heck too. I abuse my gear more than I should – leaning it on walls, on the floor, bumping against barricades and so forth. Barely any signs of wear.
Back end won't fit in a certain space? Easy, just rotate the seat rack in 1 second and rotate it back when done.
I will admit…
They're a hassle sometimes. I've lost socks after not securing them well enough in the back and they are a bit jank. On the other hand, it's so satisfying just locking up the ride, detaching the basket, and taking it into the supermarket.
If you're touring in sketchy places though it may be a saving grace due to the lack of 'value' they present. Also, it's very easy to take all your valuables out when you need to leave your ride unattended – much easier than taking everything out of a handlebar and saddle bag.
Alternatively, you can opt for the very attractive and sexy Topeak Tetrarack, but then you're spending the same amount of money as you would for nice bikepacking bags with an even larger weight penalty. Cool & practical though!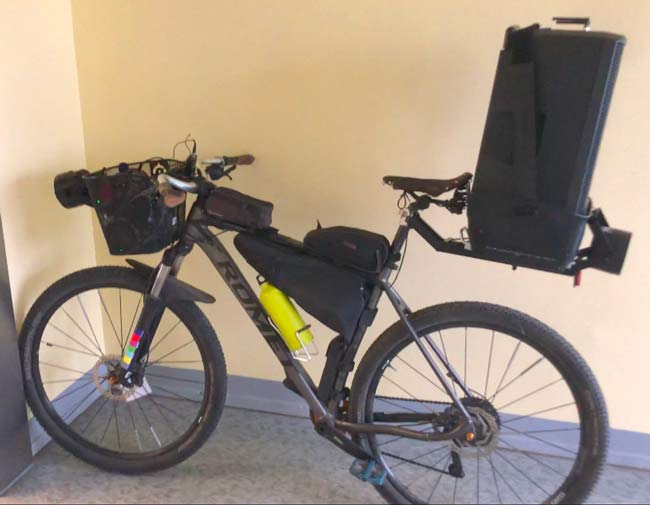 Overall
Until I'm going to be pushing the pace or joining a race, I'm gladly going to stick with baskets. Sure I could shave a kilo or two and enjoy some more luxurious aesthetics, but being able to easily carry 60L+ in no time is a major selling point to me.
The fact I could bring my 15″ laptop safely was pretty important and I couldn't do that with any other setup. For a travelling 'digital nomad', this was almost a necessity.
So my personal setup weighs just about 3kg, 2kg if you don't use the backpack.
Anyways, if you have any questions about the bikepacking basket setup that I use, please just leave a comment down below or on any of my social medias and I'll help out ASAP!
Consider donating a coffee-amount of coins via PayPal if my article helped you 🙂