If you've checked out my Minirig 3 review, then you probably know how much I enjoy them. I mostly went over the speakers there and figured I should give a short overview on the Minirig subwoofer. In particular, the Sub3. If you're wondering about the Sub3 vs Sub2, I'll also get into that.
Without further ado, we'll get into the Minirig Subwoofer review!
Minirig Sub3 Amazon link and official product link here
Review: Minirig Sub3
Minirig subwoofer sound quality
If you're like me, you may be used to 8″, 10″, and 12″ dedicated subwoofers. Or maybe large studio monitors like the KRK Rokit-6 or M-Audio BX5a. Perhaps you've been to a festival or club with good soundsystem and love those low frequencies.
I'm very glad to report that the Sub3 nails them!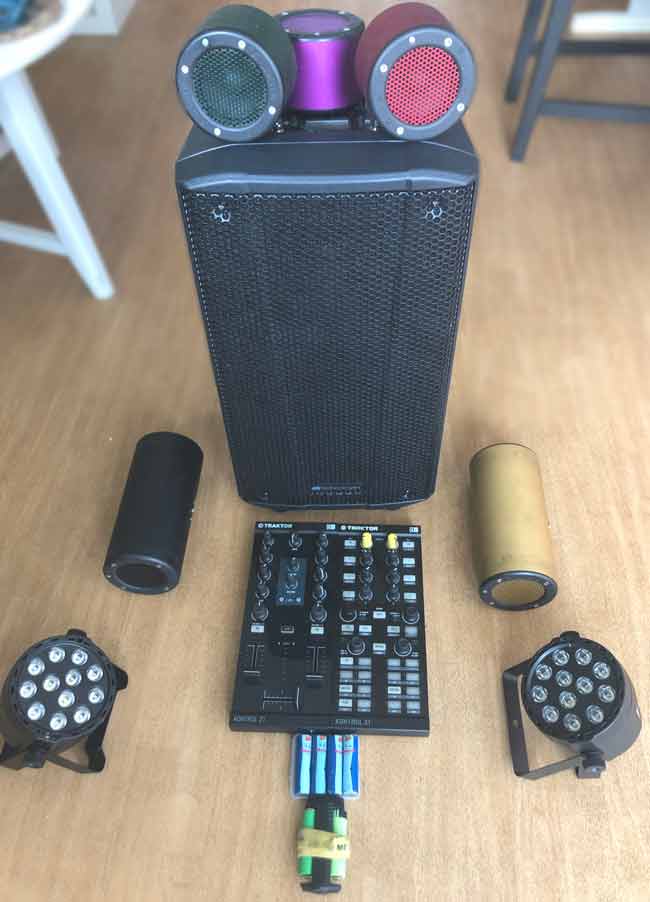 You get a great filling in of both sub bass and midbass frequencies. Very impressive considering the 2L bottle size – anyone who knows acoustic engineering understands how difficult it is to put out low frequencies from a small enclosure and woofer.
Better than KRK Rokit 6's
It hits lower than many 5 or 6″ studio monitors out there and the vast majority of Bluetooth speakers. It's very often that strangers and friends ask me which speakers they are when I have them setup at their house or outdoors. In rooms you can feel the bass – this depends on the room and music choice of course.
Check out the Minirigs vs Studio monitors post to see more details about this.
Who would've thought that a battery powered subwoofer could do such a thing. DJ,s producers, listen up – a portable subwoofer is something you need in life. Trust me!
Minirig subwoofer frequency response
In a frequency sweep, I even felt the basses hitting as high as 300Hz! This is quite high considering it's a subwoofer, but does a great job in filling in the mid-bass of the Minirig 3, especially at high volume.
In terms of lowest, the subwoofer doesn't hit much below 40Hz and seemingly cuts off anything under 35Hz – understandably. Not that there are many songs out there that even go that low, but I figured I should mention that.
There are 'sweet spots' at 50Hz and 60Hz, which lines up nicely with bass heavy tracks found in dub, dubstep, and drum and bass music. My kinda flavor!
Even at high volume this response hits very well and a surprising amount of air is moved. Really, this is the only portable subwoofer that I know of (available to consumers) and it a marvel on its own.
Minirig subwoofer portability
It's about the size of a 2L bottle of soda. It's built rugged, the carrying case will protect it from almost anything, lest you drop it on its face or side. Even then – it'll likely be okay.
If you can fit a 2L in your bag, you can fit this. It's very simple to setup and the lightweight nature of it allows you to place it in the ideal acoustical area for the space you'll be in. Nice!
Name me another portable subwoofer – I'll wait. Unless you want something like a Teufel Boomster, you won't find much with a dedicated sub.
Build quality of the Sub3
Cannot complain. As I said in the Minirig 3 review – you get what you pay for. In this case you get thoughtful engineering, excellent build quality, and assembled by hand in Bristol, UK. Those sound boys over there know what they're doing.
My only gripe would be the 3.5mm aux cable – I constantly stuff my rigs in a bag, have the cables at odd angles, and as a result they develop connection problems quickly. If you're going to be doing a lot of plugging & unplugging and general wear & tear, I'd suggest coiled 'L' shaped 3.5mm aux cables.
Minirig subwoofer battery life
The main Minirig speakers have terrific battery life and the subwoofer matches it and often surpasses. I don't know what sort of voodoo magic they're using, but they've managed to use a very efficient driver which accepts a ton of power (40W RMS @ max) which seemingly sips battery life.
With constant use, expect to charge it every 5-7 days. Of course it can be used while plugged in via DC barrel plug to the USB charger. At 5V @ 1,500mA, it'll top up entirely within ~3 hrs.
Connection options
You have a 3.5mm input, and 3.5mm output. You can use either one of the two – it doesn't matter. Be default I always plug my aux cable into the jack nearest the driver/grill – that's the high-gain one.
You can simply push the front-facing LED to switch between high and low gain. I wish there was a third gain setting to best tune the amount of bass with the Minirig 3's.
It's not a Bluetooth portable subwoofer as the sub itself doesn't accept Bluetooth, however anything that outputs aux will feed it signal – like the Minirig 3. Alternatively, use a splitter to feed signal to this portable subwoofer – the chip inside will automatically cut frequencies it needs to.
Minirig Sub3 vs Sub2
I have both the Minirig Subwoofer 2 and Subwoofer 3. The results are close but evident the longer you have them. They're not night and day by any means and if you have a Sub2, you'll be fine with keeping it.
As many reviewers and even spec sheets say, the Sub3 puts out ~25% more power and hits lower. I'd say about 10-15 Hz lower, is tighter, and a little bit louder.
One thing to note in the Sub2 vs Sub3 thing is that the Sub3 charges at a rate of 1,500mA @ 5V compared to 800mA @ 5V – almost double the speed. That hastening of charge speed is very nice.
Overall
I very, very much like my Sub3. I have 3 subwoofers and while there is diminishing returns after 2, I very much use them a lot. For impromptu DJ and party sessions, outdoor production times, or campsite beats, there's nothing that can beat these.
The Minirig 3 + Sub3 combo is expensive but absolutely worth it if you're a sound nut or audiophile. They'll last the ages and put out very good sound both indoors and out. For the only real portable speaker with subwoofer out there (considering size), it's your best choice.
I hope any new Minirig subwoofer comes with a 6″ driver or something and is ~5L in volume – I think that'd be unreal and I'd be the first to hop on board.
Thanks for reading my Minirig Subwoofer review – drop a question down below or on my social medias if you have anything you want clarified!
Consider donating a coffee-amount of coins via PayPal at bottom of this site if my article helped you 🙂
Minirig Subwoofer 3
A great portable battery powered subwoofer and excellent addition to the Minirig 3. Doesn't hit the extra low notes and costs quite a lot, but overall a terrific bit of kit!
Product Brand: Minirigs
Pros
Tough
Bass output
Portable