This is my current bike setup which I've been rocking to do basically everything. I use it to move from place to place, as a grocery getter, as a fun weekend machine, and everything in between.
I'll just go over the general parts and gearlist as well as listing my thoughts & impressions about a build like this.
This list contains affiliate links, if you click & shop with them, I get a small % of the sale.
Full build hardtail bikepacking machine
So I decided to value comfort and versatility (among durability) among anything else. I needed to build up a bike to be highly versatile and practical without costing an arm and a leg.
I often wait to thrift, buy secondhand, or find parts on sale before buying just to save cash and reduce waste. As a result my total build came in at less than I anticipated. I bought the bike brand new (2021 Romet Mustang M7) at €850 and have made many changes to it.
There are a few parts and pieces I forgot to include like the locking skewers for wheel theft protection and other small things, but overall that's the cost breakdown.
Why baskets?
Well for one; bikepacking bags are expensive, man. I was able to outfit a full front and rear basket setup for only like $60, which is less that what just a good handlebar roll bag costs.
Also, they can hold way more things – I can get between 60-80L worth of goodies on the front and rear rack, and another 15-20L between the frame and top top bags. When I'm trying to move my backpack, laptop, audio gear, etc – baskets just make more sense.
I do an in-depth post on basketpacking which you should definitely read if you're keen on baskets on your bike!
Wheels & tires
Durability, speed, reliability. It's common knowledge that the DT Swiss DT350 rear hub is very long-lasting, and that's why I went for the DT Swiss CR1600 wheel with DT350 hub.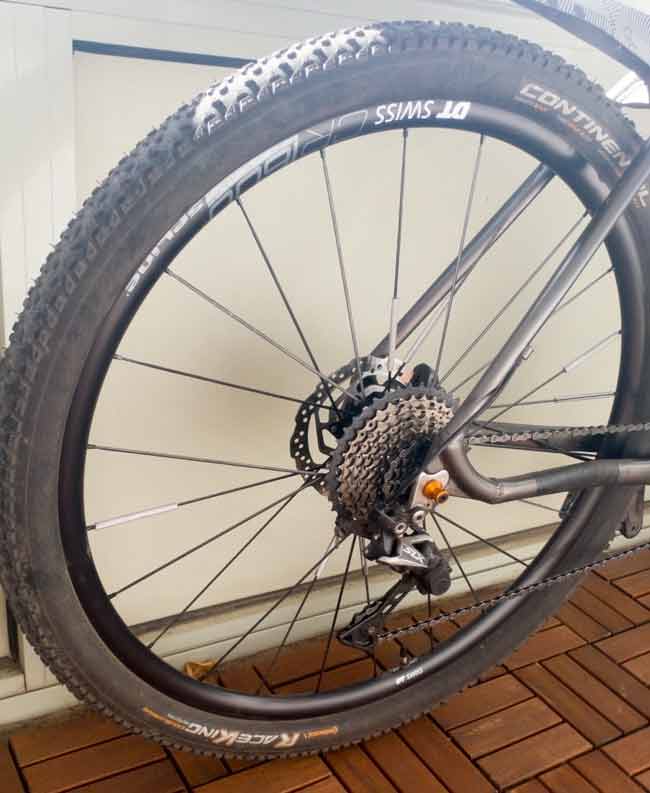 Continental Race King ProTection on the rear and Schwalbe Racing Ralph up front makes it able to go everywhere with the 2.25″ width. Tubeless setup of course for better rolling resistance and puncture protection, I've put on a few thousand kilometers onto this thing without much tire-related problems.
What's it like?
Every guy is in love with their machine, and to me it's no different – I really like it and it fits like a glove for my body and requirements.
The 11-40 gearing with a 34T front chainring is definitely an area I'd like to improve on – these hills in Portugal are quite steep and when fully loaded a taller final gear would be greatly appreciated.
Otherwise, its been nothing but stellar. Comfortable for long trips, rolls nearly as fast a road bikes, and can do basically anything that I want – nuclear base missions, soundbike parades, or downhill single track fun.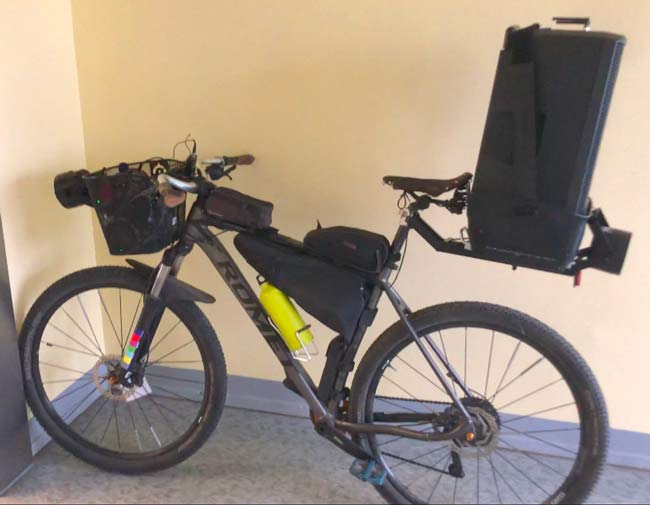 Condensed parts list
Here's all the parts and pieces on the ride which I use on the 2021 Romet Mustang M7. Stock parts like the front fork, bottom bracket, brakes, etc. I wore out the original 2×11 setup and went to a 1×11 for simplicities sake.
Bags/baskets
Drivetrain
Shimano SLX, 1 x 11 speed
34T front chainring, 11-40 rear cassette
Brakes
Shimano MT500 hydraulic disc brakes
Ceramic brake pads
Stock disc rotors
Wheelset
Other
ABUS Bordo folding lock
Brooks Flyer saddle
Ritchey Kyote handlebars
Giant Connect Ergo Max grips
Contec locking wheel skewers
Crankbrothers Stamp (M) pedals
Reflective Ass Saver + SKS front mudguard
Spoke reflectors
Summary
A jack of all trades in every way, it's definitely not the single best in any given department, but it's about the absolute best all-rounder I can think of. Reliable, practical, versatile, hardy, and fun!
Of course a dropper post and sleek saddle would dramatically improve the downhill function and drop bars would go faster, but then there are also cons associated with those aspects (mainly comfort).