Having tested out and used all of these ultralight jackets, I compare the Atom LT vs Beta LT vs Alpha AR to let you know which is the best Arc'Teryx jacket out there. Lets get right into it.
Arc'teryx Atom LT – best insulated jacket
I use my Atom LT all the time whether thats squeezing through nuclear bunkers, climbing Devils Head, or extended bikepacking trips.
It's the only jacket I have that'll stay warm when wet. Thanks to the synthetic fill, this jacket has saved my a$$ really hard in some situations. Sure, you could be with a water-proof Gore-Tex jacket instead, but that'll only keep the water out – not keep you warm when stationary (trying to sleep, eating, etc).
If you travel without a puffy/insulating layer, then the Atom LT can be that. For full bomb-proof weather resistance in the colder years, I'd combine the Atom LT with the Beta LT or Alpha AR.

Even then, the Atom LT + a merino long sleeve was perfect for continuous winter cycling in wet 0°C snow/rain Berlin winter. It's light, great for temperatures from -5°C to +15°C, and has really taken a beating.
Arc'teryx Atom LT official store link
Arc'teryx Atom LT Amazon store link
Arc'teryx Atom hoody – even warmer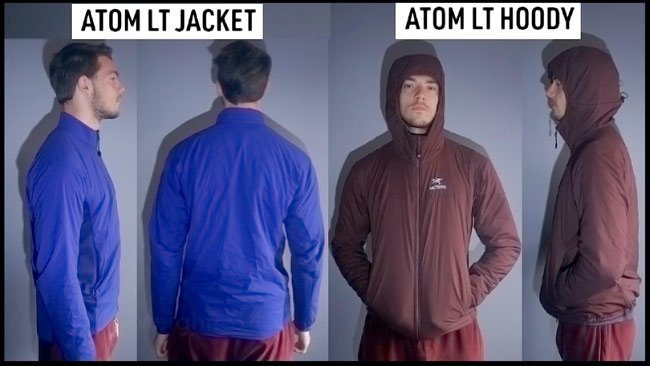 If you have a reason to want a hood then, well, get the hoody version. The main benefit of this is that it weighs barely anything more than the regular Atom LT and will keep your head very warm – even when compared to a hat/toque.

The Atom jackets also have the best ventilation with the large & soft side vents – great for hiking & scrambling confirmed!
Arc'teryx Atom hoody official store link
Arc'teryx Beta – best all-around jacket
If you had to get just one jacket though, let it be the Beta. Since it's waterproof, has the rain hood, etc – it's the most versatile (and well-rounded) jacket out there.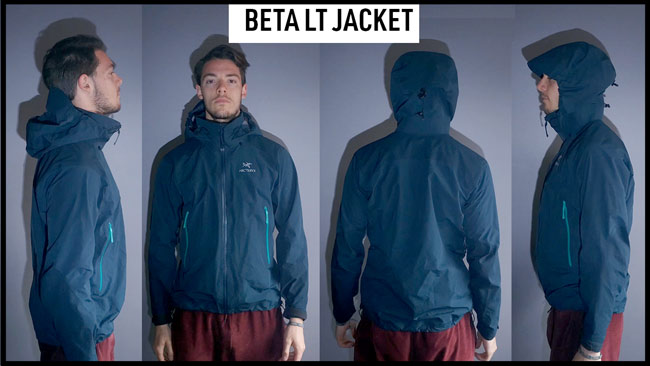 It's not as feature-rich as the Alpha which is more alpine & climbing focused, while the Beta is general mountain/hiking focused.
Still, it's an excellent jacket and without a doubt a great one to pick up. Durable Gore-Tex, plentiful pockets, waterproof, so-on and so-forth. Just not very warm, so make sure your baselayers are solid!

Arc'teryx Beta LT official store link
Arc'teryx Beta LT Amazon store link
Arc'teryx Alpha – best heavy-duty shell jacket
The Arc'teryx Alpha lineup is ideal if you're doing climbing, mountaineering, alpinism, and so forth. The Alpha lineup is their benchmark, high-durability, professional Gore-Tex jacket
In truth, there aren't so many differences between the Alpha and Beta jackets aside from some minor fit and pocket differences. Personally, I prefer the Alpha due to the superior pockets and fit for myself, but it's all up to your own discretion.
Add a puffy insulated mid-layer like the Atom LT or Cerium and bam, you're ready for cold climate (-20°C) adventures – whether it be ice climbing or mountaineering.
Great jacket. A little bit on the expensive side but hey, isn't all Arc'teryx gear?

Arc'teryx Alpha LT official store link
LT vs SL vs AR vs SV – what are the differences between the Arc'teryx jackets?
Lightweight, Superlight, All-around, Severe – what does this all mean?
LT – Lightweight
Honestly, the LT lineup is where it's at! Cheaper, a little lighter/smaller, and just about as good and hardy as the AR types, I really like my Arc'Teryx Atom LT and take it practically everywhere with me.
Maybe it's the affordability which sold (or bought) me, but I've had nothing but great longevity and durability from my LT Arc'teryx gear.
SL – Superlight
Ultralight nerd? Welcome to the Arc'Teryx SL lineup – these jackets are ideal for shaving every bit of weight. This can come in handy on especially long expeditions or races.
Of course with lightweight comes the compromise in durability and features. SL variants of Arc'Teryx jackets often have less pockets or features and a thinner/lighter material than the other varients. My Arc'Teryx Gamma SL pants for example have worn much quicker than the LT pants.
I don't find any purpose to have many SL-based items in my wardrobe because I find the LT models to be light enough and well, I don't like to replace my gear too often.
AR – All-round
More hardy and 'versatile' than the LT and SL models of jackets, the AR-styles are better if you're not quite sure what you want, but want something to last the ages. If you're picking up your first Arc'teryx jacket, I'd definitely recommend just hop for an AR model and just be done with it.
Sure it may weigh a 50 grams more and pack a little larger, but it'll also last quite a bit longer than the other types out there. However, there are some differences. The AR Atom jacket does not have ventilated sides, so high-output activity will cause overheating rapidly.
SV – Severe weather
If you're taking on adventures which is demanding of 'Severe-weather' style clothing, then what on earth are you doing reading my blog? Hah.
Jokes aside, the SV variants are for when you need your gear to stand up to the abuse you're putting on it. You take a weight penalty of ~50-100 grams when option for the SV models, which, is honestly nothing at all.
Instead, the SV jackets are quite more expensive than the others – as if Arc'Teryx gear wasn't pricy enough eh?
Overall though, the SV jackets are thicker, a little heavier, and definitely more durable than all the other models out there. Perhaps this is the one to pick up if you want a 'buy it for life' (BIFL) sort of thing. Otherwise, maybe save a few dollars and pick up a different model.
Overall
Arc'teryx gear is good. Arc'Teryx gear is expensive. My Arc'teryx Alternatives list will help you find some other brands out there if you want to flip the bird and go for another brand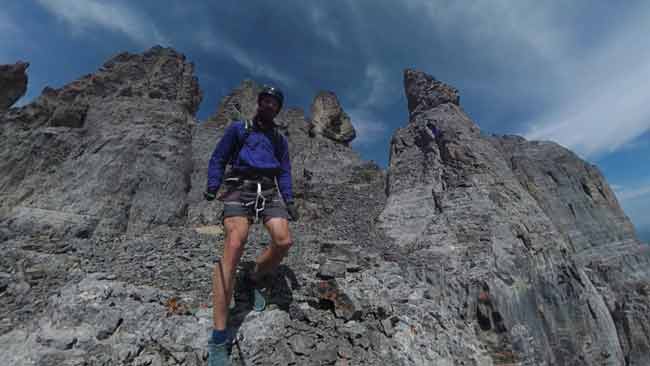 Maybe you'll feel good by the received trail cred of donning the famed bird logo upon your chest, and maybe you won't care. After all, it's just material items at the end of the day.

Regardless, I hope this little guide helped you figure out which is the best Arc'teryx jacket for you and which style to go for. Any questions at all please just leave them down below or on my social media and I'll get back to you ASAP! 🙂
Consider donating a coffee-amount of coins via PayPal if my article helped you 🙂
Arcteryx Atom, Beta, Alpha
While the Alpha is by far the best hardcore weather-protection shell, the Beta does what it does (minus a few features) for a fraction of the price. The Atom LT is best for insulating and providing moderate weather protections
Product SKU: 0001
Product Brand: Arc'Teryx
Product Currency: USD
Product Price: 250
Product In-Stock: InStock