Made by hand by James in Saskatchewan in Canada, this Toaster underquilt review will go into deep detail about the quality, build, attachment points, and everything else about the Little Shop of Hammocks underquilts.
I should mention in this underquilt review that I'm 6'3″ and 185lbs in weight and using the Ticket to the Moon King size hammock.
Note: This is not a paid or sponsored review – I paid for this quilt and enjoy it very much!
Review: Little Shop of Hammocks Toaster Underquilt
Materials and weight
Little Shop of Hammocks (James) is very familiar with constructing quilts. After all – hammock stuff is his line of work and he very much knows his stuff!
He chooses none but the poofiest down, lightest nylon, and most effective minimalist suspension/shock cords. As a result my -10°C/15°F quilt comes in at 707 grams.
The ripstop nylon is usually 15 denier however mine is 10d. Being lighter and packing smaller, the 10d is more fragile and slightly less insulating. The 15d option instead packs slightly larger and heavier however. The 15d vs 10d underquilt decision really comes down to preference and there is no winner – you'll be glad with whichever you pick.
Adjustments/attachments
The suspension system on the LSoH underquilts is unique and the best in the business. There is a huge amount of versatility and attachments included on the Toaster underquilt – I'll get into them.
1 – Side tension – These can be tightened or loosened to increase/reduce the side height of the quilt when you lay in it.
2 – Head & foot tension – These adjust the tightness/slack of the head and foot opening, allowing you to cinch it down
3 – Vertical tension – This adjusts the general tension/ride height of the quilt.
4 – Additional tie out points- This connects the sides of the quilt to the hammock. You can also join these together and sandwiches you in – amazing for warmth but not great for a diagonal lay and may be stressful on the materials.
As hammock camping is – there's a learning curve. Too much or too little tension in one area may lead to compression of down or room for draft to occur. It took me about 2-3 full evenings to figure out exactly how to find the best settings for the hammock underquilt.
It's different for everybody so you'll have to experiment on your own. Once you get it dialed in though, the Toaster underquilt will keep you toasty warm! LSoH has a great how to use hammock underquilt instructional video which goes into far better detail than I.
Warmth
It works so extremely well! Cozy, warm, puffy. Granted, there is a little bit of a learning curve towards getting the ideal fit for your particular lay. Mine is with the 900FP goose down and I stay warm even below the rated temperature of 15°F (-10°C). To be fair I'm a warm sleeper and often use merino wool undergarments (socks, buff, underwear) when I sleep.
Still, the rating by Little Shop of Hammocks is definitely conservative and I reckon you can push -5°C below rating if you're confident and get the right adjustment points setup. I would recommend getting the highest fill power down that you can get. An underquilt is a sort of buy it for life type investment – make it count!
I pair it with a cheapo Naturehike down top quilt. You can see my Naturehike 800FP down sleeping bag review here!
Other notes
Mine was built with custom draft collars/baffling at both the head and foot and I highly recommend this as it prevents heat escape and drafts from affecting your lay. It's clear that the Toaster underquilt is very well thought out and in my opinion one of the best hammock underquilts on the market.
The baffle design is excellent and leaves zero cold spots. Warmth and coverage is terrific and paired with a quality topquilt you'll be as cozy as can be.
In my LSoH Toaster hammock underquilt review on Reddit I go into some other details which you can see.
Community and ethics
I'm a big proponent towards buying local and supporting those in our community. The down used in the Toaster underquilts is ethically sourced which is extremely rare. I'm confident in saying that 90% of hammock underquilts out there do not use ethically sourced down.
Taking care of a down underquilt
You can view detailed Toaster hammock underquilt care instructions here. This will apply to all down underquilts out there and I recommend following what is written if you want to preserve the longevity of your down underquilt.
Lead times
It takes a while for each quilt to be made as LSoH is a small operation. As such, each order is custom made by hand and has excellent quality control which you won't find in most places. While you won't get that instant gratification right away, the wait is well worth it.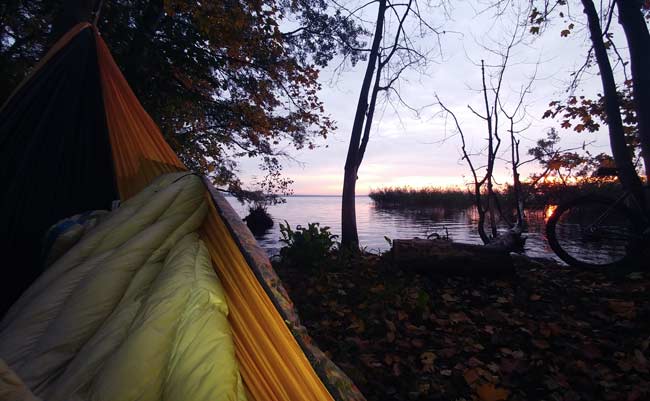 Overall
I'm in love with it! Yes, they're expensive and you need to be careful with it, however if you treat it right it should last a lifetime. I actually use it every evening overtop my body at home as I sleep with the windows open.
The price is extremely fair however if you take into consideration the cost of materials, labor, and all the intricacies of running a small business.
If you're looking for once of the best underquilts in Canada then look no further. Paired with my Ticket to the Moon king size hammock it's a hammock dream come true, however one day maybe I'll upgrade to the LSoH hammocks too.
Thanks for reading my Little Shop of Hammocks Toaster underquilt review – if you've got any questions or thoughts at all please drop them down below, I'm very glad to help out!
Little Shop of Hammocks Toaster Underquilt
Absolutely excellent hammock underquilt with fantastic build, great function, and cozy comfort! Expensive but worth it for an ethical, handmade product!
Product Brand: Little Shop of Hammocks
Pros
Build quality
Superlight
Adjustability