Ah, what an animal. Powered by 275HP and torque while costing less than $5,000 CAD ($3,800USD), I'll go into what owning a Subaru STi swap Outback wagon is like. I'll include a list of mods, notable moments, and learning resources.
Edit: BTW this page has Amazon affiliate links – if you wanna support my weird stuff, please click through and support!
The power delivery system
The star of the show, the Subaru STi swap would be nothing without the motor. If you're looking to engine swap a Subaru Outback, you have a few options. I went for an Outback STi swap, obviously.
An EJ20G from a JDM car was used. Ensure this bad boy is in perfect working condition before swapping – old parts in an old car is nothing to play with – especially if you'll subject it to abuse.
For the intercooler, you'll have to cut a vent to allow for airflow.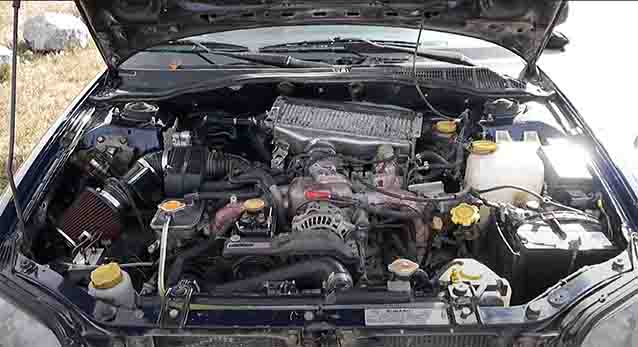 275 horsepower and torque is a healthy number. Though this is offset by the curb weight of the vehicle, but some simple tricks can easily shave a hundred pounds – namely the heavy leather seats!
However, it was enough to have more than enough fun and was overkill for rallycross – there's no reason to have more power for rally; either you need to become a better driver or you're Sebastien Loeb.
In terms of the best Outback engine swap builds, some people have gone for a Subaru Outback WRX swap which is about the same in terms of complexity.
If you're going to be doing an engine swap Subaru Outback build, you might as well make it an Outback STi swap.
More drivetrain & transmission
The transmission was left stock with a 4.11 rear differential mated to the 5 speed manual transmission. From what I understand, this was a direct and irritating fit for the original builder to put together.
The Exedy Stage 1 clutch had excellent bite but not unforgiving when it comes to daily driving. Machined flywheel and other parts are recommended to improve longevity and performance. Clean everything up, and if you notice something wrong anywhere replace the part! This could save you thousands of dollars and tons of headache in the future.
Thankfully this transmission is fairly reliable from the get go and you shouldn't encounter many problems at all. Be a G and use the 5MT, the autos suck.
When doing a Subaru Outback engine swap, you should very much look into the compatibility with your current transmission. Read on the forums to find out more infos.
Exterior
My purpose was to make this wild, hideous creature into a sight to behold. I believe I succeeded in that.
While it was in 'sleeper' mode earlier in its conception, Mr. Bones was well suited by the plethora of junk, debris, and accessories that littered its existence.
Make no mistake, this thing got more looks, stares, and even compliments than I imagine an exotic car owner to get. Probably just jerking myself off here with that statement though.
Interior
It had to be cozy and comfy. This was done in the form of a tie dye headliner, excellent audio system, comfy seats, and full twin sized memory foam mattress in the back.
I would frequently hang out with friends and partners in it near parks, outside the city, and even in parking lots – unseen by any wandering eyes. Finally, a place where a teenager can comfortably do teenager things without supervision.
Those of you who are young and stuck at home, I'd highly recommend a similar setup – the freedom is well worth it and pays dividends in peace of mind when you know that you have a small portable room you can take anywhere.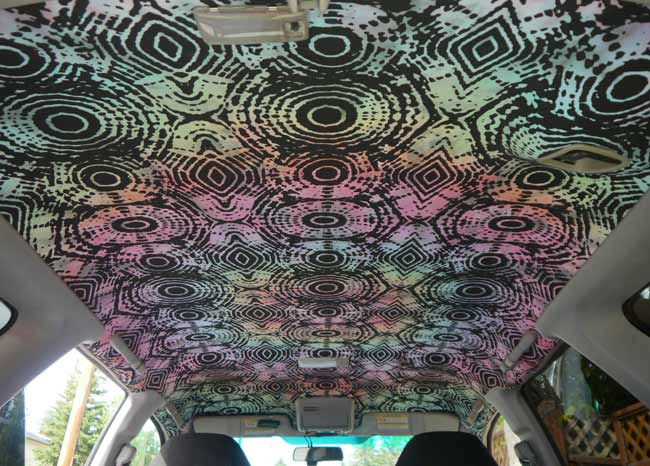 Complete mod list
Power, drivetrain, electrical.
EJ20G motor
6K ECU
Magnaflow 2.25″ exhaust
'04 STi boost control solenoid
Machined flywheel
Variety of rally tires, winter tires, and all-season tires. Pro tip: If you want grippy cheap tires for rally/offroad, simply take some winter tires and cut out chunks – you'll get heaps of grip!
Exterior
Self expression and hilarity were at the forefront of my mind. Partly inspired by Top Gear and also the desire to point out the vapid and vain consumerism of car culture and pointless aesthetics and mods, I went ahead and made some DIY custom bumper stickers from CustomSticker.com. I uploaded the silly pic/design and the team helped me out.
"Brush your teeth if you like Mr. Bones' Wild Ride" was my (and others) personal favourite. Cheap and easy style points right there. Anyways, here's a list of the other exterior mods down below
All the tape, stickers, and stupid shit you can think of. Just put it on there.
Bedliner spray for the bottom plastic panels. Easy to maintain, durable, super simple to apply, looks nice, cheap.
Tiny spoiler for downforce
95% tint on rear 4 windows – check to see your local areas to find out acceptable tint limits.
DIY Hood scoop (essential for the intercooler)
Pool noodles (in case it rains)
Dents (for aero)
Interior
Red LED lights for instrument cluster
Sh*tty aftermarket shift knob and boot
Pioneer 2-din touchscreen deck
Focal PS-165 Audio setup (front)
Dayton Audio 6.5″ woofers (1 for each rear door)
Sound deadening foam in the doors
Tie-dye headliner (remove old one, spray adhesive it, then gently lay and spray new headliner, cut and replace!)
'04 STi seats (I think from an 04 – could be different. Direct fit, amazing upgrade).
Front & rear dashcam – A NECESSITY!
Momo Millenium Evo Steering wheel
Other
An STi swapped Subaru Outback wagon is a great idea – if you're a bit mechanically inclined. If you've never picked up a wrench in your life – you're going to struggle. There's absolutely a learning curve to such a creature and it's a great way to learn mechanics.
Subaru Outback wagons are hearty, reliable, and durable. Cheap parts can be found in junkyards and online easily and many Subaru components are interchangeable. One race accident had my sway bar linkage, control arm, tie rod assembly, etc completely destroyed. $30 in junkyard parts and it was fine as new.
I absolutely loved this thing since it had enough power to keep up with and even beat cars 3x+ its cost. Considering it has the same HP/torque as a stock 2022 Subaru STi, you'll be laughing as your shitbox matches it.
Final words
It was the best of times. Mr. Bones faithfully carried myself and others through a dozen camping trips, music festivals, and other excursions. Before meeting its death in the form of a cracked engine block, Bones was surprisingly reliable – lest for a few hiccups which I outlined in my STi swapped Subaru Outback video.
Before you STi swap your Outback though, ensure you have some know-how and a way to test piston compression before doing the swap. You'll be in for a mighty rough time if otherwise.
Thanks for checking out my Subaru Outback STi swap build here, any questions please drop a comment down below and I'll be glad to help out.