List updated and valid, June, 2023 🙂
Portable battery powered subwoofers is a bit of an oxymoron, isn't it? Traditionally, subwoofers are those big, hulking, heavy speakers meant to move a lot of air and sucks a lot of power. Those go against all notions of portability.
Still, there have been some great advancements in tech lately and there are a few options on the market out there. Especially useful for bass-heavy music like hiphop, trap, dub(step), deep house, etc – a dedicated subwoofer will fill out those low ends unlike a regular speaker can.
Low notes (under 100Hz) need a large speaker to move air and create those vibrations. A large speaker means large power requirement, which means large battery, which means large enclosure, which means heavy. You get the picture.
The golden rule is you can only pick two:
Choose low cost and high output? It'll weigh a ton. Small and high output? Big $$ (and power draw). You see what I mean.
So regardless, it's a series of compromises. I have here listed a few of the best portable subwoofers out there.
Smallest battery powered subwoofer – Minirig Subwoofer 3
UK-based Minirigs managed to engineer a subwoofer with only a 3″ driver. Loaded in a very clever enclosure with a Li-Ion battery which weighs only 875 grams total, this little marvel is able to put out a surprising quantity of bass when you consider the volume it takes up.
Of course, you want to pay a lot of attention to placement and when you bring it outdoors where acoustics are very difficult. Still, I love these little dudes and I have 2 Minirig Subwoofer 3s to pair with my 3 Minirig 3s for an ultra-portable, high-quality audio experience with Bluetooth and Aux In & Out (for daisy-chaining).
Considering the size, the Minirig Subwoofer is insane! Good output, excellent battery life, decent bass extension (down to ~45Hz), and smaller than a 2L soda bottle.
You absolutely will not match the raw output of the other subwoofers on the list because, well, it's so small. It's fairly priced (~$160) considering the engineering, the value, and that it's handmade in Bristol, UK by a good company. Check out my full Minirig 3 subwoofer review for more info there.
Condensed audio specs: 1 x 3″ subwoofer, ported aluminum enclosure, 30 watts RMS, 100dB max SPL.
Portability specs: 875g, size of a 2L bottle, recycled hemp carrying case with mesh covers.
Deepest bass battery powered subwoofer – Diamondboxx Sub 8.2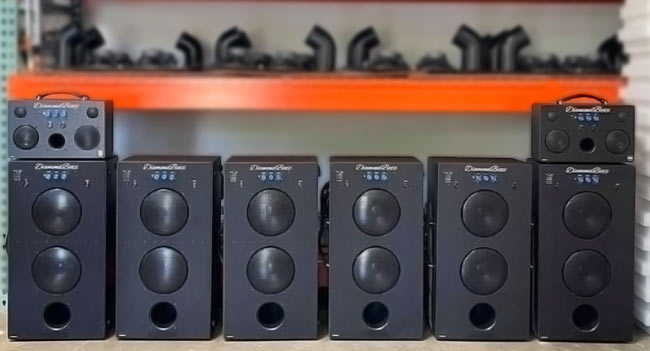 US-Based Diamondboxx put two 8.8″ subwoofers in a ported enclosure running at 200 watts RMS (400w peak). Efficient, powerful drivers powered by a 231 Wh Battery Lithium Ion power pack. This supposedly will power the DiamondBoxx Sub8.2 for around 40 hours or 6 hours at MAX volume and has pass-through.
The total package is excellent since it has aux in & out for daisy-chaining multiple subwoofers or speakers and has pass-through charging. A pure MDF enclosure, properly sealed for water-resistance, and has that home-made elegant aesthetic. Impressively, this all comes in at ~39.5lbs (18kg) which is really not so bad considering what this unit is.
We don't have any official measurements about max SPL, however Diamondboxx claims it hits down to 32Hz at -3db which is insane. The subwoofer also receive Bluetooth so it can be either the master or slave unit in a series. ~$950 is a steep order but they put a lot into this and it seems to be a fair price.
Condensed audio specs: 2 x 8″ subwoofer, ported MDF enclosure, 200 watts RMS, 32Hz – 120Hz +/- 3dB
Portability specs: 39.5lbs (18kg), fairly large but can be carried
Most professional battery powered subwoofer – Yorkville EXM Mobile Sub and Yorkville EXM ProSub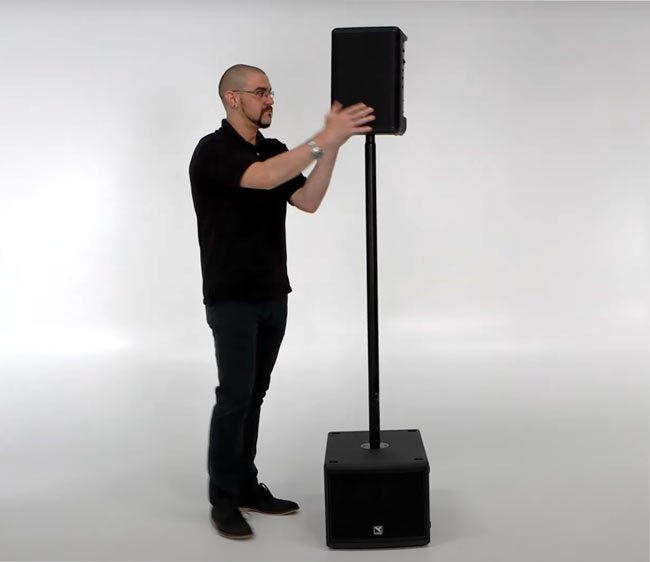 Canadian-based Yorkville put together two subwoofer designs which are fully battery powered and compatible with their battery-powered EXM Mobile speakers.
| | |
| --- | --- |
| EXM Mobile Sub | EXM ProSub |
| 2 x 8″ drivers | 2 x 10″ drivers |
| 100W RMS, 175W Peak | 500W RMS, 800W peak |
| 116dB continuous, 122dB peak | 122dB continuous, 128dB Peak |
| 47Hz-100Hz +/-3 dB | 47Hz-100Hz +/-3 dB |
| 12mm Birch Plywood | 15mm Birch plywood |
| 30lbs, 13.6kg. | 67lbs, 30.5kg |
| 5.5hrs battery life | 5.5hrs battery life |
| $899 | $1,549 |
Also with a Li-Ion battery composition, Yorkville claims ~5.5 hours of battery life at full tilt which is fairly good. The prices are fair given then features on the products.
The full set of inputs & outputs for XLR, TRS, Aux as well as crossover adjustment and whatnot makes this a proper setup for a proper audio rig. It can receive Bluetooth signal and output to other speakers so it also has master or slave functionality. Their EXM Mobile subwoofer video explains a lot.
The real shock is the weight! At only 30lbs/13.6kg and a fairly compact box, it's definitely portable if you have a very large bag, a trolley, or just with your hands. This makes it very versatile when compared to larger/heavier subwoofers because hey, that matters when we're talking about portable battery powered subwoofers, no?
The heavier and larger ProSub of course hits much harder but is much harder to carry around – a vehicle is required to move it and its companion speakers.
Overall, these are excellent options for a professional application for DJing, parties, etc. Also, Made in Canada!!!
Best professional battery powered subwoofer – Diamondboxx PASUB15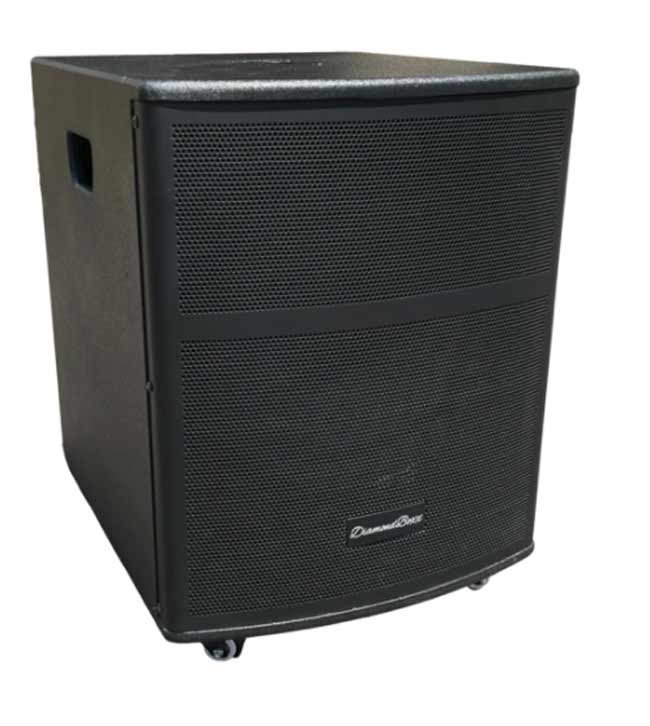 Diamondboxx makes another entry into this list with their PASUB15. As implied, this battery powered subwoofer has a nasty 15″ driver which can move a lot of air. Backed up by a 300W RMS amplifier with a claimed 600W peak, it's no doubt this is the biggest and baddest portable subwoofer on the list and hits 35Hz and -3db.
Portable is a loose term – all these specs come with a penalty and this pumpkin hits the scales at 59lbs (26.7kg). This is part to them using a 12v 40Ah SLA battery – basically a lead acid car battery. This can be swapped out for a Li-Ion or LiFePo4 battery, however that'll literally cost hundreds. It is an 'upgradeable' component which is great, but you'll void any warranty and it's a DIY solution which needs some research and knowledge.
Beyond that, you get a full range of inputs and outputs (aside from Bluetooth) as well as a proper crossover and other things you'd expect to see in a professional battery powered subwoofer. If you're serious about your audio, I'd take this one and consider cutting 20lbs by swapping out the battery. You'll need something to help transport this monster though but at only ~$500, it's quite the deal!
Condensed audio specs: 1 x 15″ subwoofer, ported MDF enclosure, 300 watts RMS, 35Hz-150Hz @-3dB
Portability specs: 59lbs (26.7kg), very large, can be carried but would benefit from transport gear.
Bluetooth speakers with subwoofer
There are a few battery powered Bluetooth speakers with subwoofers on them. If you just want an all-in-one package, then you have a small handful of decent options around which I already covered in my actual best Bluetooth speakers list. They are as follows:
Teufel Rockster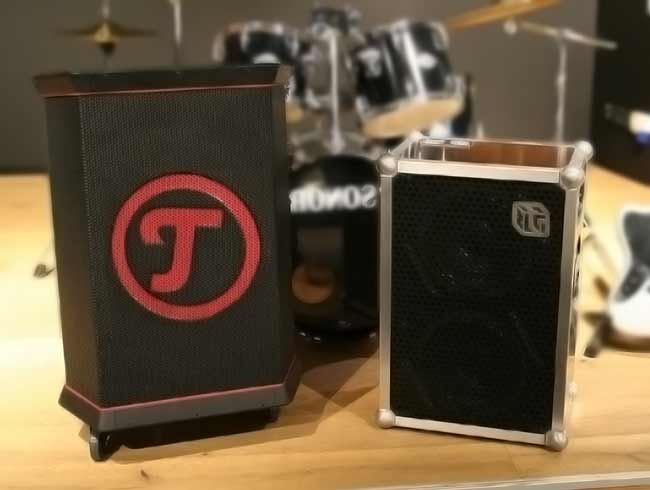 Those pesky Germans. Teufel made the Rockster with a 15″ subwoofer, 1″ compression horn, 121dB SPL, 440w RMS, external car battery connection – this all sounds like heaven and it is. One of these setup in a field delivers some really impressive sound, and a pair is more than enough for a good group of people. Inside a closed space, it genuinely delivers a rave-ready experience.
It's also 69lbs (31.50kg) and is big – it has wheels on the bottom for a reason. This behemoth is not portable in your conventional sense and it sucks power very quickly. At peak volume you're only getting ~45 minutes of sound until it's out of juice. You can hook it up to another deep cycle AGM car battery (or LiFePo4 which is better), but of course that's more money and weight.
If you want a big all-in-one setup, then this is what you want. Of course it all comes at a cost and $1,000+ per unit is pretty heavy. You get a lot of performance for that though and it's hard to find much thats not good on the Rockster. There is no battery powered speaker on the market which outputs more.
Condensed audio specs: 1″ tweeter, 1 x 15″ woofer, 440 watts RMS, max SPL ~126 dB, MDF enclosure, 45 – 20000 Hz.
Portability specs: 69lbs/31,5kg, needs trolley and multiple people or a strong person to move, very robust.
Soundboks 3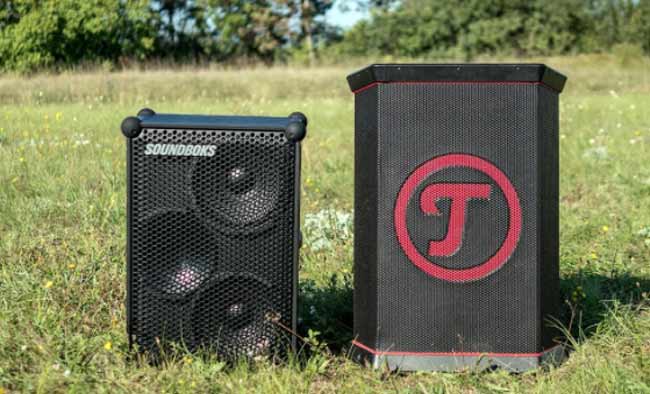 Okay I lied – the Danish-bred Soundboks doesn't have a dedicated subwoofer. In fact, it's a pair of 10″ woofers (& 1″ compression driver) with some other keen tricks up its sleeve – the biggest being that it only weighs 34lbs (15.4kg) and has a very impressive sound output. These things are pretty impressive. I've seen and been in groups of ~50+ dancing away to a single one of these.
However, it will not hit those low notes under 50Hz like a dedicated subwoofer can. It does great for techno, house, and kick-focused music. When it comes to those low, rumbly, deep frequencies which really move your chest, the Soundboks won't deliver. Premium materials like LiFePo4, poplar enclosure, wireless stereo pairing etc drive up the value and experience.
Around $1,000 which is a hard pill to swallow when the much stronger Teufel Rockster costs the same. THe Soundboks is phenomenal for 4/4 house and techno-type music but struggles when it comes to bassy hiphop or dubby music. The Soundboks has really high SPL & battery life for the weight and form factor and it's truly a great overall package when you look at it like that.
Condensed audio specs: 1″ tweeter, 2 x 10″ woofer, 216w RMS, max SPL ~117 dB, poplar enclosure.
Portability specs: 15,4kg, needs trolley or giant bag or the backpack cage accessory, very robust.
Subwoofer + external battery
This is absolutely an option and opens you up to a lot of new options. Of course, money is the limiting factor here.
You'll need to choose a proper battery and subwoofer to match. In terms of batteries, one of those high-capacity Li-Ion portable power stations (Amazon link) is what you'll need. I don't know too much about them but I know the Bluetti power station is one of the best values. DO NOT CHEAP OUT. Buy reputable, buy name-brand.
Don't risk ruining your expensive gear. Higher capacity will of course mean longer run-time. DO THOROUGH RESEARCH to make sure it can handle the output you want.
Alternatively, you can run a car battery & car amp or DC/AC inverter, but you'll have to do some janking, you'll have efficiency losses, and it's kind of not worth it in the end because you'll be wanting to upgrade anyways.
Any subwoofer will do, but you're looking for efficiency. Efficiency is measured by way of dB @ 1W at 1m. Remember, 3dB difference is 100% louder. You can have 2 subwoofers – one which draws 100W and the other 200W, but them have the same output due to driver and enclosure design.
Efficiency is huge because of battery life. You can get 6 hours from 100W RMS or 2 hours from 300W RMS. If you can have the same output at 100W, might as well do that, no? Look at professional PA audio brands like QSC, Yamaha, Electro-Voice, etc – you can get great powered subwoofers at fair prices from them.
Summary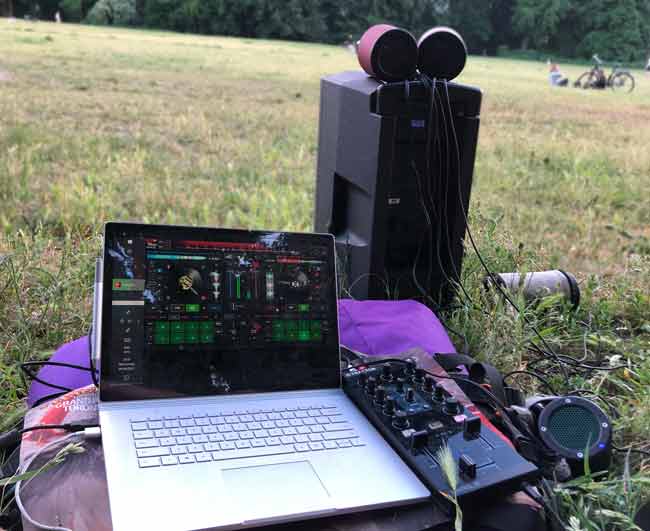 So there you have it – most of the portable battery powered subwoofers out on the market today. There's actually not too many options out there which is unfortunate because I'm a bass junkie. DIY battery powered subwoofer idea has always been on my mind but it's a huge amount of work to create an enclosure with battery, amplifier, inverter, etc.
Anyways, I hope this list helped you out. If you've got any questions at all please just leave a comment below or on any social media I have – I'm seriously glad to help out!
Also, check out my battery powered DJ setup if you're keen on mixing, audio, and lights all on battery power!