Having gotten heavily into training, running, and playing football barefoot, I was in search of the best minimalist or barefoot soccer cleat to play in. Here's my quick shortlist – unfortunately there aren't too many options available on the market, but nonetheless I hope this helps!
I was playing at the professional level at Benfica, Cruzeiro, SBV Excelsior, etc. I am committed to the best of the best and helping you play as well as possible.
NOTE: If you are looking to start training and playing in minimalist cleats/shoes, GO SLOWLY! Check my How To Start Barefoot Running YouTube series so you can transition safely! 🙂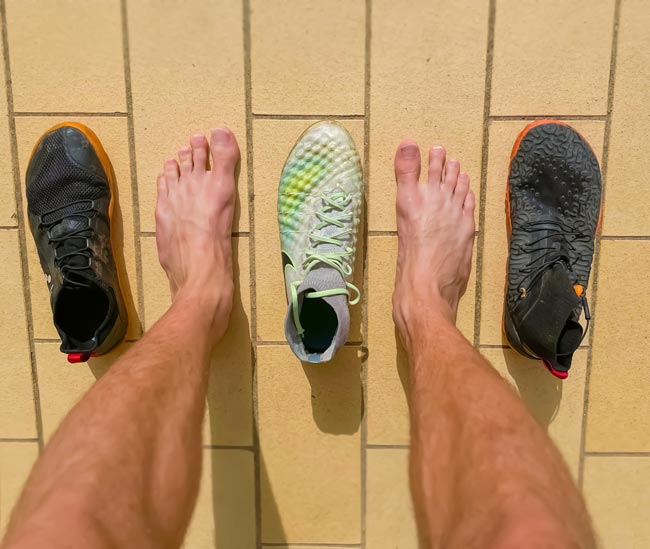 While football cleats are often 'minimalist' with a thin sole and no rise/drop, the narrow toe-box is a big problem which exists in the soccer cleats world. Here are some alternatives for turf, grass, and hard surfaces!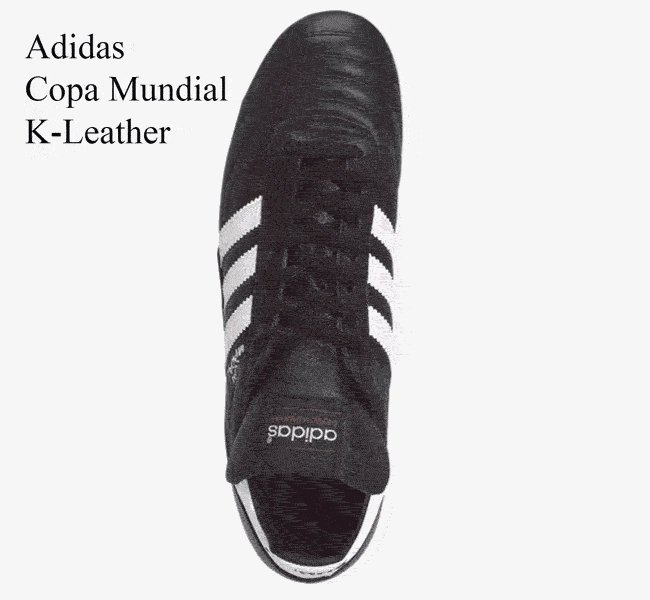 Best barefoot cleat – New Balance Tekela V3 Pro Wide
New Balance is one of the few brands out there that specifically makes wide versions of their shoes. Rightfully so, the NB Tekela V3 Pro Wide leather variants gets a spot on the list because while they don't quite have the barefoot-style toe spacing, they're far batter than 95% of cleats out there.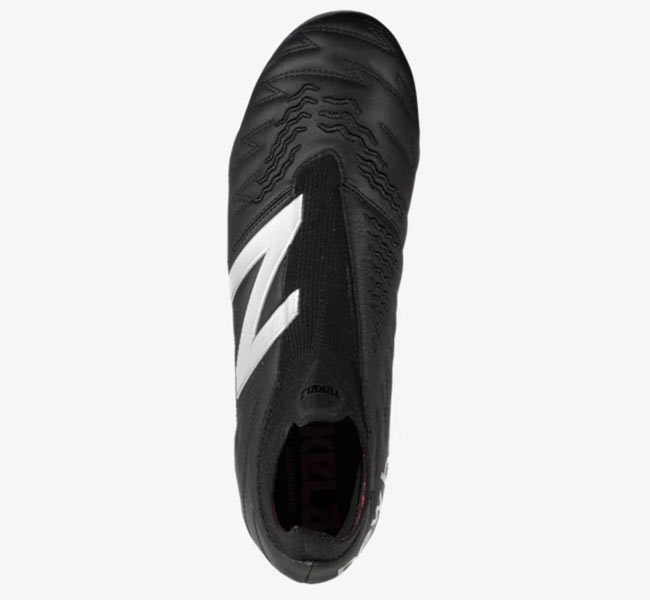 Leather is desirable here too because leather will stretch to accommodate your feet better than plastic/synthetics will. Of course you can go for the synthetic V3+ Pro instead, but I'd personally recommend the leather.
Laceless and with kangaroo-leather, these shoes are a good choice if you want the modern design philosophies without squishing your feet into a teeny pair of regular cleats. If you're a high-performing player and up to spend the cash, these are a solid choice. For a lace-up version try the Furon V6+ Pro wide instead.

Best turf/indoor barefoot shoe – Vivobarefoot Primus Trail
Lightweight, minimalist, grippy, and great for striking, the Vivobarefoot Primus Trail is a versatile and overall excellent shoe to consider if you're playing on turf or hard surfaces and want a truly barefoot shoe.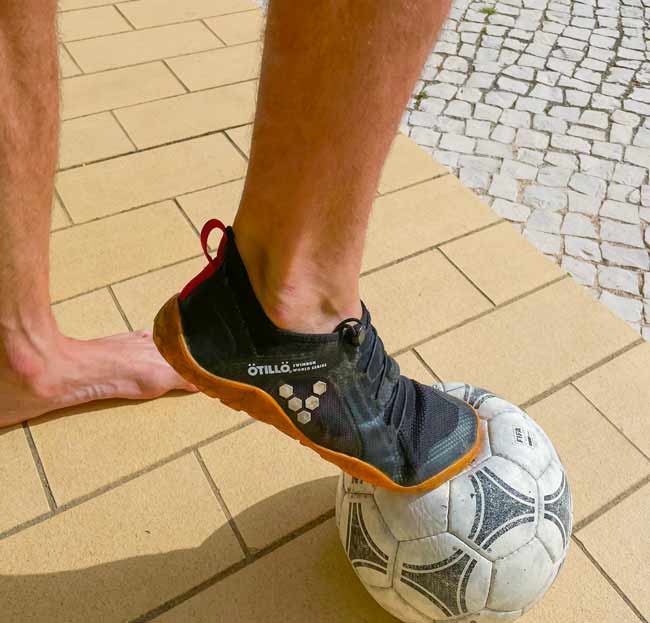 With that being said, I find that the quick-tighten laces need to be swapped out for regular ones since the buckle releases the laces after not too long and the shoe becomes a bit too loose. Other than that I have zero complaints!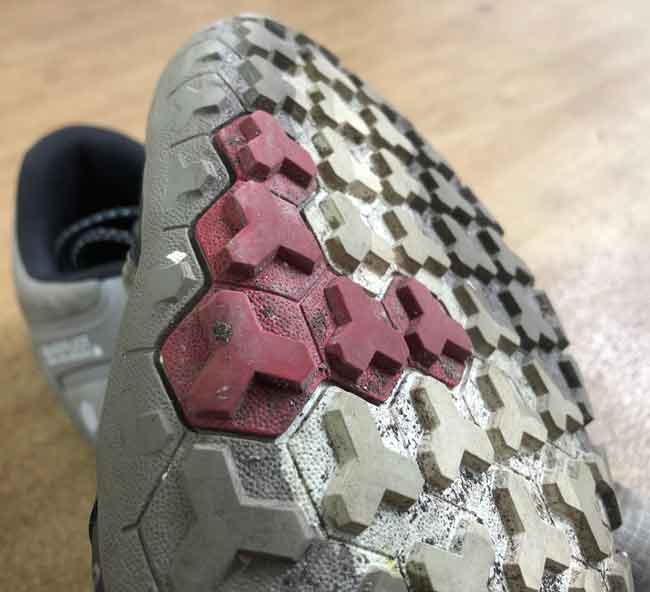 I would personally recommend the Primus Trail All-weather variant since the upper offers a bit more padding to lessen the impact of strikes and deals better with wet/cold weather. These shoes are definitely my #1 pick for playing football in (when not on grass)!


Best classic wide cleat – Copa Mundial or 19.1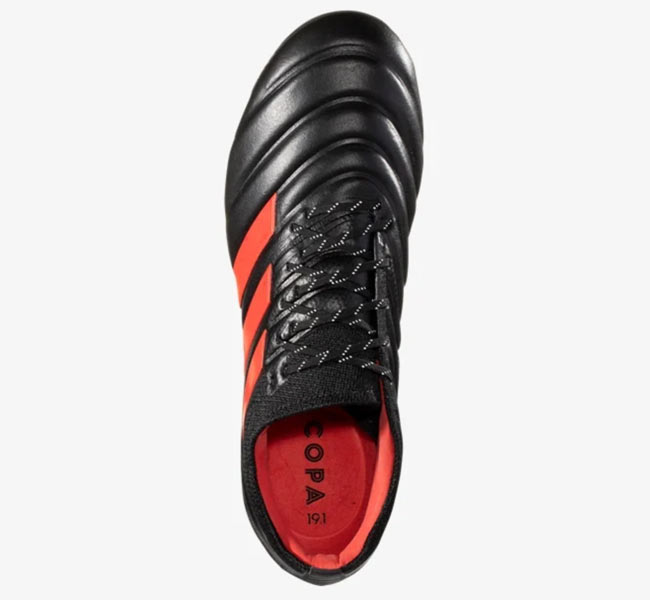 Timeless as any, the Copa Mundials are known all around the world for their comfort, flexbility, durability, and ability to conform to anyones foot. Soft leather and durable as possible. However, Adidas has launched the Copa 19.1 with a wider toebox from the get go.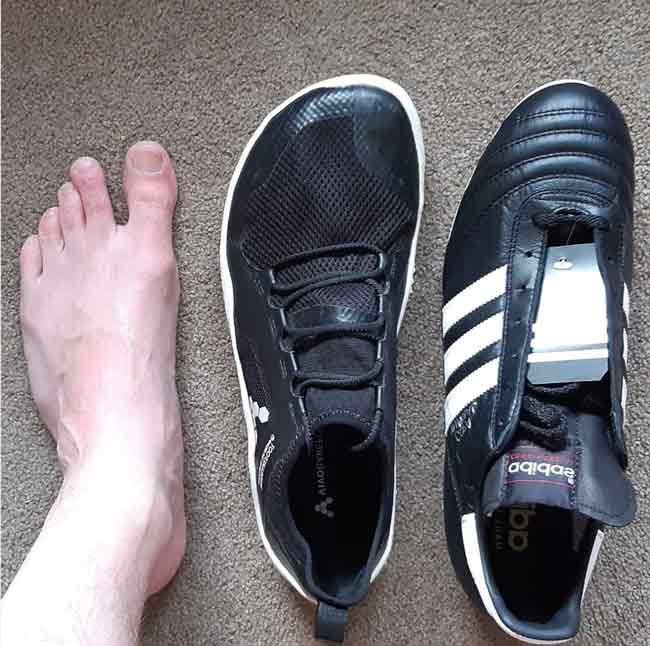 Of course the break-in period is crucial towards getting that glove-like fit and the new design is a good step up from the last generation of Copa Mundials. The Copa 19.1 and Mundials are about as good as you can get when it comes to pure comfort. The Copa Sense share a similar footprint too.
Affordable, durable, and truly built for the ages, I could definitely recommend the Copas to anyone with wide feet looking for as close to a barefoot experience as you can get – you'll just need to wait some time for the leather to form to your feet.
Best AG/turf grip barefoot shoe – Vivobarefoot ESC Tempest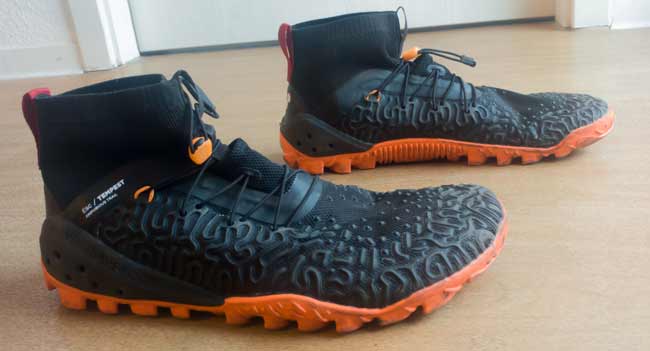 If you want a bit more traction than the Primus Trails for artificial grass surfaces, then the tread pattern on the ESC Tempest is what you'll be wanting. Still lightweight and great in any position, however these are also shoes which are only really suitable on turf/hard ground. Grass you'll still be slipping on.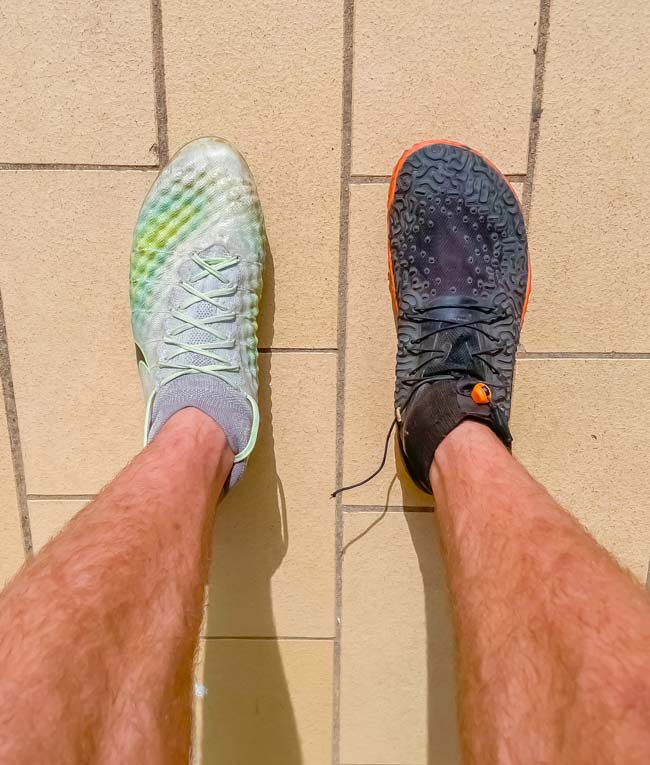 Like the Primus Trail, I find the laces on these to not be optimal for soccer. Swap out the laces and you'll have a much better time! I also found that this shoe is not quite as durable as the others.


I also like the grippy texture on the upper portion of the shoe and it definitely helps for dribbling and ball control. Overall a great barefoot shoe for football – check out my grip test of the ESC Tempest vs Magna Trail!
Best leather wide cleat – New Balance 442 Pro FG Wide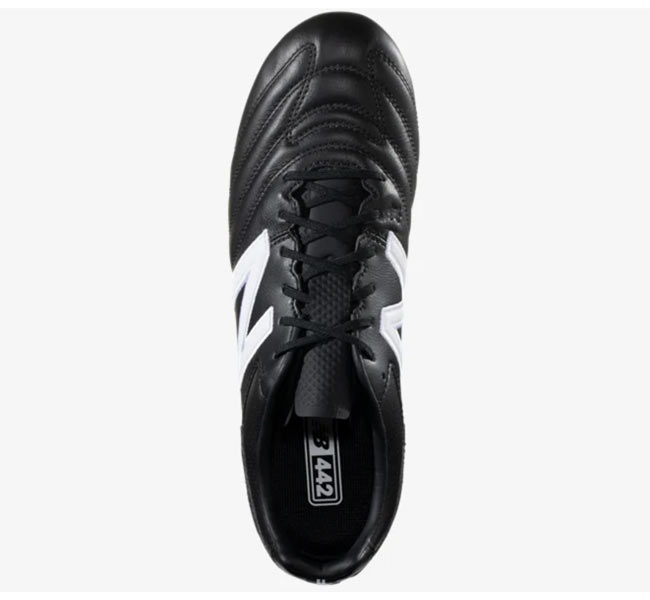 Don't care about laceless shoes and prefer that versatility and classic aesthetic? The New Balance 442 Pro FG Wide also sports kangaroo leather and that Copa Mundial-type design.
Full disclosure – like the other regular cleats on this list, the NB 442 aren't exactly barefoot shoes in their shape, but the wide design and leather upper allows for more spare for the feet to expand and breathe.
With a slightly more modern take than the Copas above, the 442 have a less intrusive tongue and also well-priced. A good choice overall for those who value comfort and general performance.
Best premium cleats for wide feet – Mizuno Morelia II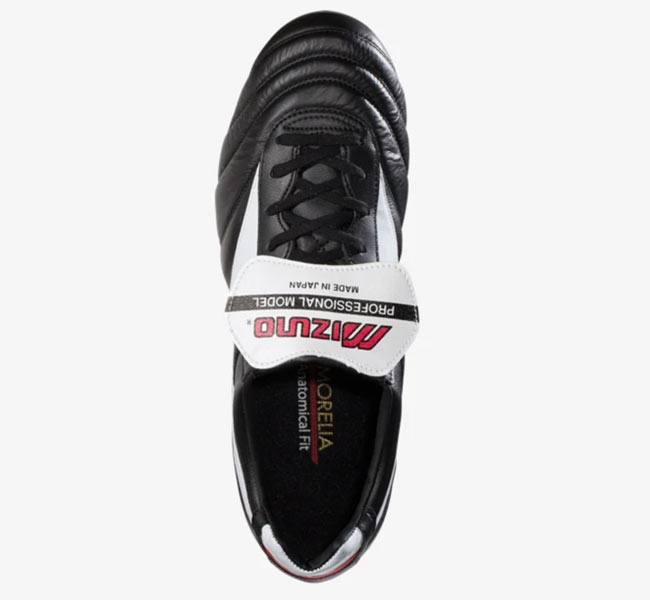 Another modern classic, the Mizuno Morelia II have nothing but a great reputation for their quality and comfort. Carrying a pretty high pricetag usually sets these shoes out of reach for the casual player, however they've been well worth it for the players I've known who had them.
Kangaroo leather, modern engineering, and a timeless aesthetic, they're the best of both world when it comes to a competitive football cleat. Ask anyone who uses Mizunos – they love them!


At only 238g, they're about as light as you can get for leather cleats and while people on a budget may be better suited with the Copa Mundials or NB 442's, the highly-competitive player will be well-served by the Mizuno Morelia II. The Neo III are a good alternative for a slightly narrowed yet more modern cleat.
Best barefoot futsal shoes – Vivobarefoot Primus Lite All-Weather
Like the aforementioned Primus Trails, the Primus Lite are similar in many ways but instead of the sole with large amounts of tread it's substituted for a completely flat bottom – better for dedicated futsal on an indoor/perfect surface.
Flexible, lightweight, and very agile – the Primus Lite are exceptional for every aspect of passing, sprinting, and shooting. The flexible upper isn't so durable however and some may find the thin amount of top foot padding a downside when striking a futsal shoe.


I would definitely not use these on turf/artificial grass/grass due to the lack of tread and if you're looking for a more versatile shoe just hop for the Primus Trail instead. Otherwise, they're an excellent shoe overall!
Best custom barefoot cleats – Code Biocleats
A fully custom-designed football cleat which is 3D-printed using scans of your feet, these shoes promise to be the next best thing. The catch? They cost over $500 for a pair.
Custom colors, cleat types (FG, SG, AG), length, width, etc – these are seemingly the most customizable cleats on the market, bar none. Only available for pre-order right now, they seem to be right on the horizon of release (spring 2022) and I'd love to try them out.
With that being said, no-one has tested these at all for durability, comfort, and so forth so it's buyer beware. It's always good to give the benefit of the doubt though and my fingers are crossed for the success of Code Biocleats.
DAGDA barefoot – Unreleased
DAGDA barefoot is developing a barefoot cleat. There is very little information known publicly right now and for now we just consider them on the maybe list of one day coming to fruition.
While they announced that a release may be coming around mid-2022, it's hard to say when an official release date will hit. They mentioned that we can stay updated by checking their website.
Overview
Barefoot cleats for football/soccer are pretty few and far between – the best compromise clearly is a shoe designed for wide feet and with a stretchy material like kangaroo leather. For me it comes down to the Adidas Copas, Mizunos, and NB Tekela for the best barefoot football cleat.
However, if looking for an artificial grass, turf, or futsal shoe, the options become much more plentiful. My personal favorites being the Vivobarefoot Primus Trail (review) and ESC Tempest (review).
If you're looking at a pair of Vivo shoes, check out my sizing Vivobarefoot from Adidas & Nike guide so you can convert over easier.

Those shoes will not perform well on grass at all and so you're best off with one of the cleats mentioned above. Go into a store and try before you buy – it's imperative towards good performance.
Any questions please feel free to ask and I'll be glad to help out, really! Peace.
NOTE: If you are looking to start training and playing in minimalist cleats/shoes, GO SLOWLY! Check my How To Start Barefoot Running YouTube series so you can transition safely.