Minimalist design, zero-drop sole, thin design. When I first saw these sandals at Decathlon I was blown away – no way they have barefoot sandals for sale!
With how expensive some companies price their barefoot sandals ($100+?!) I was keen on these. Locally they're about 25 euros, and the American Decathlon site shows me $45 – still below the average.
Well, how are they?
Note: Forclaz is a Decathlon brand which I consider to be mid-tier gear.
Comfort
About the most important aspect in my opinion, comfort is paramount.
Perhaps it's just the shape of my foot or the wrong size, but I didn't find these particularly comfortable. At least not compared to my DIY barefoot sandals or other barefoot shoes.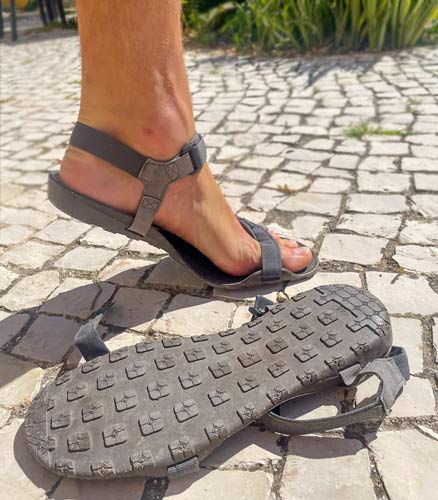 For me the biggest issue is my heel is pressed against the heel of the sandal too much, causing rubbing. The back heel strap is fixed so you can't adjust the position to change this fact.
This single one design flaw changed the entire dynamic of the sandal and unfortunately it didn't work so well for my foot.
Build quality/durability
These sandals are tough. The rubber sole no doubt will last a very, very long time. However I will mention why that can be a con in the performance section.
I was very surprised at how heavy they were when I unboxed them.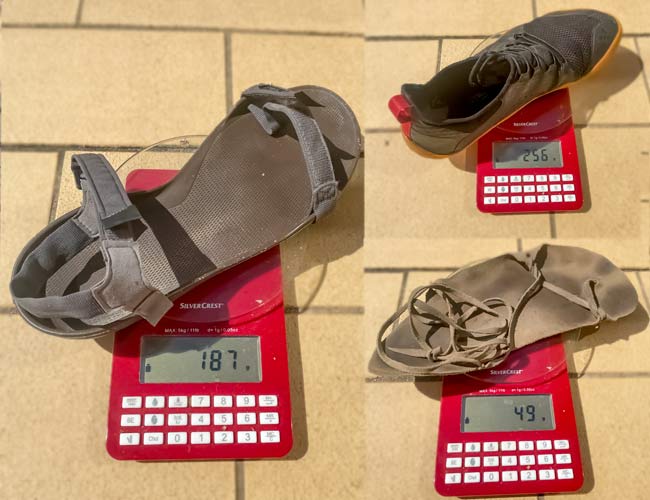 My Forclaz Trek 500 sandals in a size 11US/45EU, weigh a hefty 187 grams each. That's 13.2oz for a pair!
For context, my DIY barefoot sandals weigh 54 grams (1.9oz) a piece, and size 45 Vivobarefoot Primus Trail weigh 256 grams (9oz) each – and those are full out shoes.
Not only for long runs is this weight difference substantial, but also that's 374 grams more to carry if you want to use them as a second pair for backpacking… no way! I left them at home.
The velcro straps stick on well, but they are actually too long. This extra length is actually quite ugly and just bothersome as you have some flaps sticking out.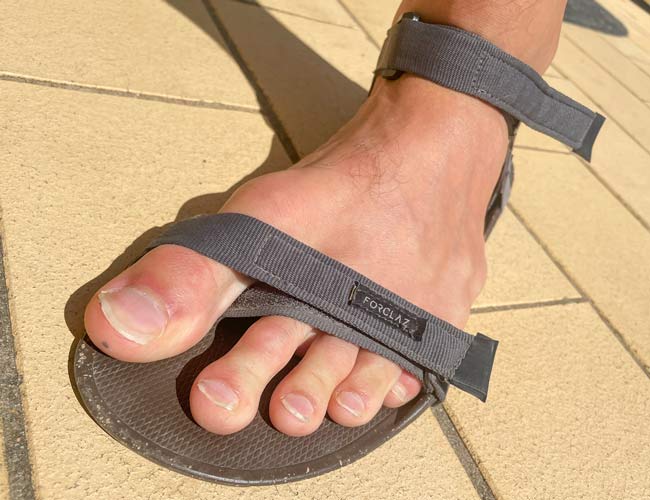 Also I wish they factored in the ability to wrap the big toe for better stability. It can be done, though the spiky velcro part will abrade the inner bottom of your big toe quite annoyingly. Another small design flaw.
I'd say the construction itself is proper and trustworthy, however they clearly weren't designed by people who constantly use sandals/walk barefoot.
Performance
They are very tough, which is relieveing.
However, the tread is surprisingly shallow and this toughness reduces grip even further.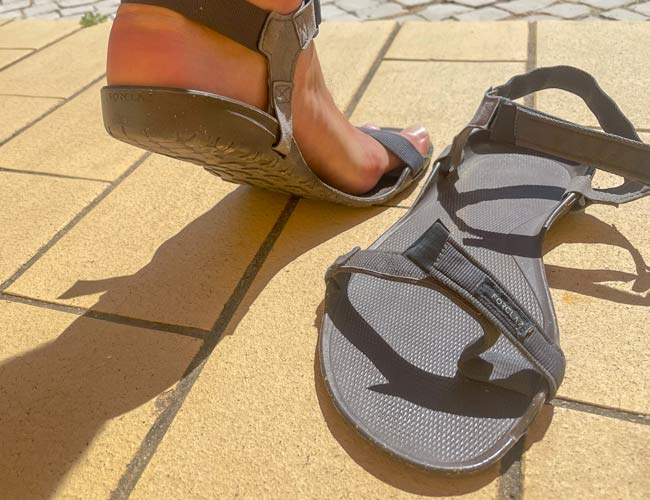 Generally speaking – the softer the compound, the more tacky and grippy. This is true for all things from shoes to tires. These have a hard compound.
Combined with small tread and you have 2a slippery sandal – particularly on wet, hard surfaces (like pavement, rock, cobblestone, etc).
All that added to a relatively high weight and abrasion/fit issues they make for poor minimalist running sandals.
As such I never use them for trail running or intense hiking and even prefer my DIY sandals for performance aspects!
Style
Aesthetically, I think the Forclaz Trek 500 sandals are pretty fine! They are rather plain in appearance and don't do anything too out of the ordinary. I've had a surprising amount of compliments from people about their look though!
Decathlon as a brand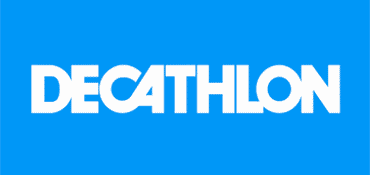 A large international mega-corporation which outsources most of their manufacturing to cheaper countries. While this doesn't impact build quality, I know that Decathlon is not exactly a sustainable company with moral/ethical integrity at the forefront.
Rather, Decathlon is a great choice for bang-for-buck, budget, mid-tier outdoor gear. I enjoy a lot of their stuff and as a whole they're better than say Wal-Mart or Amazon, but they're certainly no eco-leaders!
Overall
To me they're excellent daily use sandals for going to the shop, to the beach, or just around. They'll last forever and the price was very fair.
However they are absolutely not going to see much trail running, scrambling, climbing, or backpacking. They're simply too heavy to throw in my bag as a secondary set of footwear when other barefoot sandals are 1/2 the weight.
I paid only 25 euros for them which really is a steal, however Decathlon likes to price differently around the world so your price may be different.
I hope this Forclaz Trek 500 sandals review helped you out. If you want more reviews on Decathlon gear check my comparison of Icebreaker vs Decathlon merino wool.
Any questions drop em down below! Thanks and peace 🙂
Decathlon Forclaz Trek 500 sandal
Overall it's a very good causal minimalist/barefoot sandal, however not close to my first pick for high-output activity where traction and weight are important factors. For me, they'll be sticking to casual and daily use. Very fair price though!
Product SKU: 0001
Product Brand: Decathlon Forclaz
Product Currency: USD
Product Price: 44.95
Product In-Stock: InStock