This review of the Ritchey Kyote handlebars will cover how they've been for the last 9 months which I've had these handlebars. Designed for singletrack, bikepacking, touring, and comfort, these 800mm wide bars are definitely trying to do it all. Do they, though?
I've been using them for everything from my bike courier job to bikepacking and downhill single track use all on my 29er hardtail.
Here's the Ritchey Kyote official website link.
Comfort
I went from a (nearly) flat 720mm bar to these guys. With a big ol' sweep of 27.5° and rise of up to 35mm, the Ritchey Kyote Comp are far different than most bars out there.
Boy, was the difference ever night and day. It certainly helped tilt my wrists in a far comfier direction, relieved stress on my shoulders, and certainly gave more leverage/control when navigating rough terrain – especially with a handlebar bag.

While things like the Surly Moloko handlebars have move sweep and even more comfortable posture, these are about the most comfortable that you can get for a bar tailored towards more serious downhill riding.
I run them with my Giant Connect Ergo Max grips (review) and they're very nice for long rides, both downhill and on flat surfaces. Overall, I can't complain and while there's not exactly many alternative hand positions available by default, adding some bar tape can change that.
Build quality
I've put these things through a pretty hefty sum of abuse. I'm not doing wicked dirt jumps or serious enduro-style riding, but I've been loading 10kg+ on them, banging them on trees, cement, and so forth.
Sadly the shiny chrome didn't take long to show scratches, but it's not so visible from a few meters away anyways.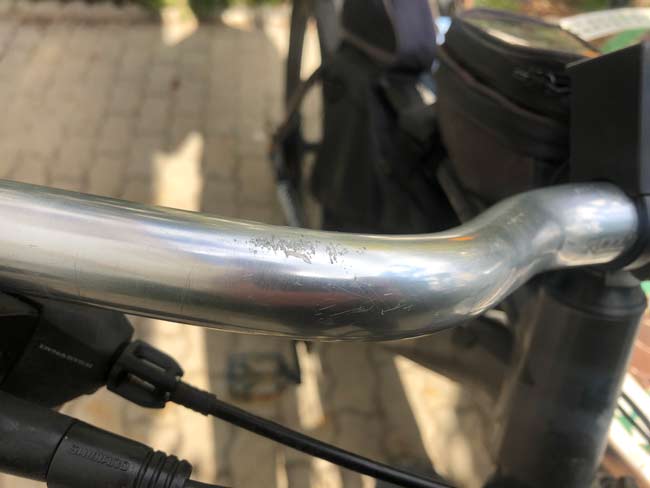 The quality of aluminum is definitely beyond adequate and while it's not tough as steel, I don't see any reason for that honestly. The logo is subtle and nice, the bar is gorgeous from brand new, and the sweeping design is attractive but not outrageous.
Size
800mm is pretty substantial to say the least. This is now seen as fairly normal in the MTB world, but coming from 720mm bars on my XC hardtail – boy did they feel wide! Hilariously, the other couriers I worked with had bars even half the size at 400mm.
After putting it on, holy god did my cornering and steering suck! It was so slow and like I was sweeping a broom sideways.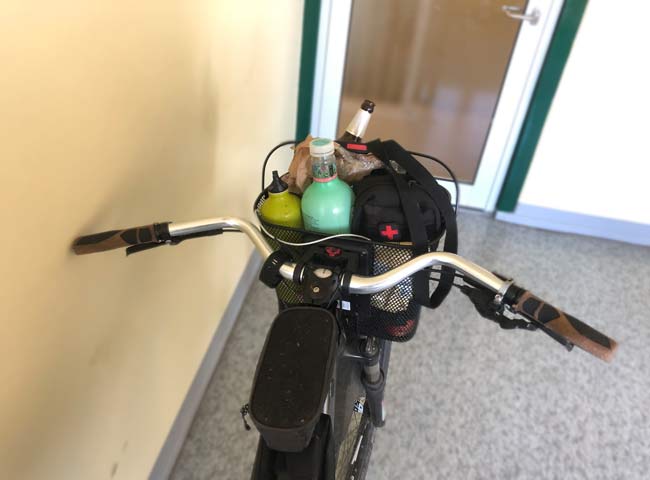 I went from a 110mm stem to 35mm stem and it was day and night. Handling then became responsive, clear, and controllable.
While it felt odd at first, by body and brain adjusted quickly and I really enjoy this wide reach now. I have long arms and a long torso so it works quite well for my geometry, but I had to change my stem to something very short for it to work.
Not practical at all with a long stem.
Practicality
Working as a bike courier with 800mm handlebars, everyone you work with to question its practicality.
I won't pretend like it wasn't a struggle to enter narrow doorways sometimes, but it actually wasn't as bad as I thought it would be! Even with big 2.35″ 29er tires and this monster handlebar setup, I was able to squeeze past doorways and corridors quite easily while I went to drop off the customers items – just turn the bars diagonally!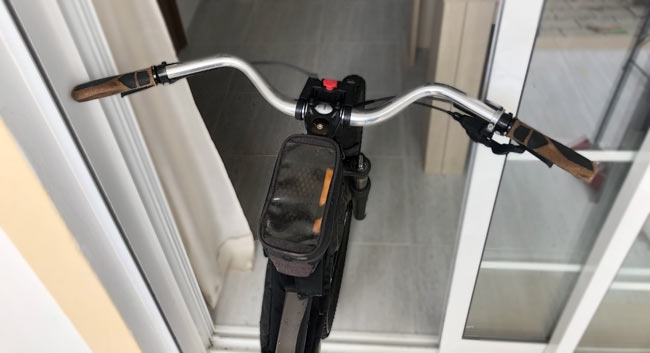 In terms of bikepacking with 800mm handlebars – yes, it's comfy! Especially with all the sweep and some rise, it was a massive change from my nearly flat bars.
When I have gear loaded in my front basket (yes I bikepack with baskets), it has sometimes gotten up to 8kg. The width comes in enormously handy because of all that leverage – especially when going over gnarly terrain.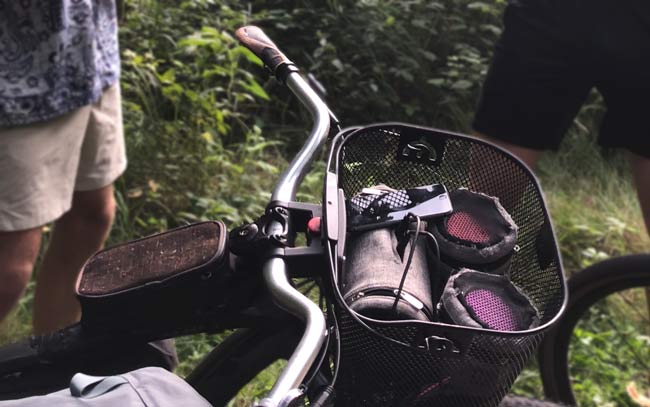 Even with a basket full of food or speakers, the added comfort and confidence from these wide bars is huge. So yes, they're very practical and have tons of room for adding accessories to.
Other things to know
A short stem is almost a must. It was hilariously unwieldy with a 110mm stem. 35mm made it excellent.
To my knowledge, there are no other handlebars as wide as the Ritchey Kyote with as much sweep.
Bar tape, bar ends, speedometers, trip computers, feed bags, baskets, thumb grips, and more can be added since there's so much room.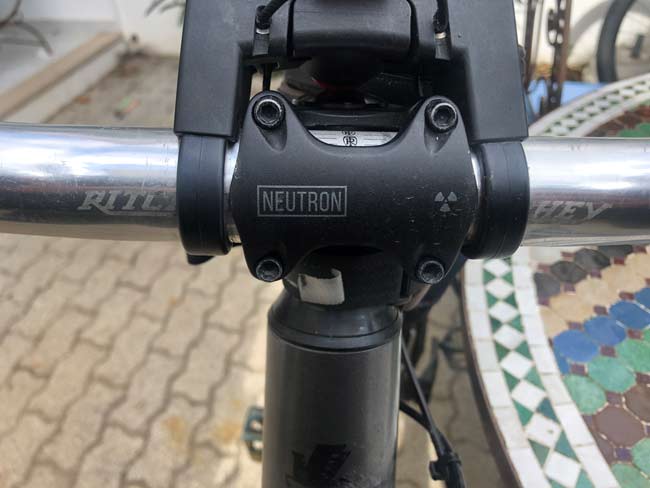 The curvy parts of the bar are a good position for hands, but you will want bar tape and TOGS to get the most out of it.
You will have a fun time squeezing it through really tight doorways!
Conclusion
I really like the Ritchey Kyote comp handbars – they're comfortable, attractive, versatile, and offers a lot of control. It's by no means the end all and be all of handlebars and some people will be better off with bars which are ~700mm wide.
For me, it fits a perfect role on my hardtail XC MTB which is geared up for adventure and heavy loads on the front. It somehow wasn't so much of a problem while doing a bike courier job through the streets of Berlin, though I can't pretend like it was optimal.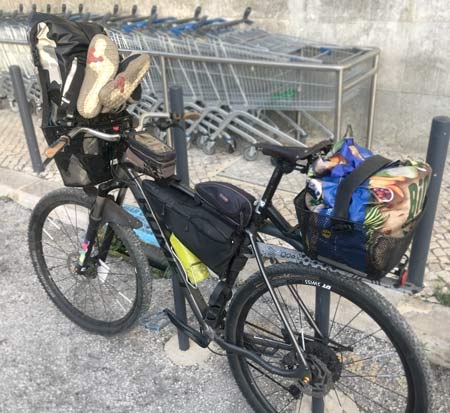 Overall, I can definitely recommend them! I hope you liked my Ritchey Kyote bars review – let me know if you have any questions right down below as I'm glad to help out!
Anyways, I hope you enjoyed this article! It took a while to write up this post. Consider donating a coffee-amount of coins via PayPal to keep this project alive 🙂
Ritchey Kyote
Comfortable, wide, pretty, and versatile - I find that they're some pretty solid bars overall and worth getting if you're up for the width.
Product Brand: Ritchey
Pros
Visually appealing
Comfortable sweep
Excellent build quality
Cons
Too wide for shorter riders
Limited bar-end compatibility