Biking and camping around the Algarve is extraordinary – particularly during the shoulder seasons of Sept-Nov and Feb-May!
I'll go over wild camping informations and best practices when camping around.
The route I personally followed for some of the best sights and camp sites can be generalised as:
Lagos to Salema
Salema to Vila do Bispo
Vila do Bispo to Carrapateira
Carrapateira to Tojeiro
Tojeiro to Aljezur
Aljezur to Monte Ruivo
Monte Ruivo to Lagos
Too I will cover some of my favourite locations, tips, and things to avoid if you plan to camp, hike the Camino de Santiago, or bikepack around here.
In particular I biked and camped around the SW section – from Lagos to Sagres to Aljezur to Monchique, though this applies to the rest of the Algarve (and Portgual) too.
Tips, tricks, and things to know starts here.
Note: I live in the Algarve and am very familiar with the landscape. I hope to give you the best information possible!
My 7 day itinerary
Starting and ending in Lagos, I did a sort of figure-8 to explore all the delightful variety possible.
The route as a whole is about 180km split over the week. This divides each day into a few hrs riding, relaxing at the beach, eating food, taking down/setting up camp, etc.
Link here to the Google map! This route I created with local knowledge and a sense for adventure. I'd highly recommend similar due to the lovely variety.
The route I personally followed for some of the best sights and camp sites can be generalised as:
Lagos to Salema
Salema to Vila do Bispo
Vila do Bispo to Carrapateira
Carrapateira to Tojeiro
Tojeiro to Aljezur
Aljezur to Monte Ruivo
Monte Ruivo to Lagos
The above linked map is not the same route I took exactly – My exact route and the full .GPX here.
183km with a gain and loss of nearly 3,000m! That's quite a bit of elevation!
Day 1 – Lagos to Salema
Total distance and ride time: ~25km, 3 hrs.
Google maps route (from Lagos to Salema)
I passed through Luz and Burgau to avoid the main highway (N125) which was a great plan.
Stopping by at the ancient Forte de Almádena was lovely before a rapid decent and gruelling climb up to Salema. Overall the whole ride was filled with tranquil beauty, green rolling hills, and cozy beaches all over.
I ended up wild camping at a beach a bit beyond Salema, though there is a dedicated campground near Salema you can choose to go to. A simple, relatively short day with only a couple hours of riding.
Tips and takeaways:
You can certainly go further and all the way to Vila do Bispo and beyond in this 1 day. I just decided to take it slowly and enjoy time on the beach.
Avoiding the highway is crucial. Casual cruise vs ambient chaos.
Cabanas Velhas, Praia da Figueira, Praia das Furnas are 3 awesome beaches here.
Day 2 – Salema to Vila do Bispo
Total distance and ride time: ~25km, 3 hrs.
Google maps route (from Lagos to Salema)
I followed secondary roads most of the way to Vila Do Bispo and avoided Sagres for 4 reasons:
Its quite far and horribly windy
I've already been there
Crowded with tourists
Poor camping locations
Sagres to me is a bit underwhelming and super arid and windy. Not worth adding a few hours of cycling as there are hardly any good places to camp (pretty much none) as its awfully windy, exposed, and not private at all.
Instead I set sights on Torre de Aspa viewpoint – a spot with a remarkable view, heaps of camping spots, large abandoned building, and less human activity. The ride out there was pleasant, gliding through small villages and settlements before it gets more sparse.
Bonus: there are plenty of places to shop and eat in Vila do Bispo. Hit up the Lidl or local market to stock up on cheap and delicious foods. Also, the viewpoint has a large abandoned building fine for tent camping!
A lovely night safely covered by trees and waking up in a cloud – excellent! I highly recommend heading towards the viewpoint. Alternatively Praia do Castelejo is very nearby if you'd like to hit the waters.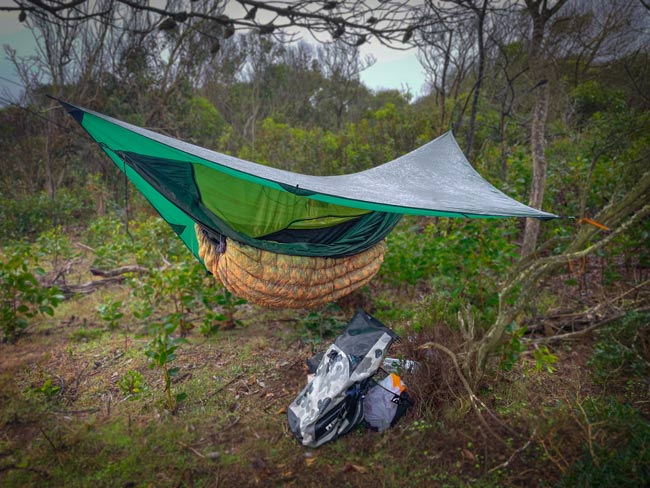 Tips and takeaways:
You will go past a Lidl in Vila do Bispo on the way in & out so don't worry too much about supplies.
Find a place away from the wind! The SW coast is very blustery
The Torre da Aspa spot is visited often so camp a little out of the way
Day 3 – Vila do Bispo to Carrapateira
Total distance and ride time: ~20km, 2 hrs.
Google maps route (Torre de Aspa to Praia do Amado)
My distance and ride time: ~25km, 6 hrs.
This next day I blundered. Hard. From here I biked back to Bispo and then started north towards Carrapateria. I followed the Camino De Santiago and Camino De Pescadores paths.
Many of these paths were sandy (hard for bike) and my navigation was failing me due to the plethora of winding roads which can easily take you in the wrong direction. I ended up at the jaw-dropping Murração Beach.
That's not where it went wrong – I made the next mistakes. I foolishly tried to think I could easily navigate these smaller trails, however when you have a full bike of equipment, these narrow, steep, and sometimes rocky descents got exhausting and I burnt infinite energy going up… and down… and up… and down…
Realistically, I should've bit the bullet and went back up and followed the main road to Carrapateira, but I tried to cut north and get to Amado beach and then roll into Carrapateira. I succeeded, but not without spending hours and hours of time and huge amounts of energy.
Anyways, I camped nearby Praia do Amado and set my guides on Monchique. There was a Halloween music festival happening that I was not going to miss.
Tips and takeaways:
To get to Carrapateria just stay on the main road – it's fast and easy
A lot of the trails are deceptively difficult with a loaded bike
Day 4 – Carrapateria to Monchique (Tojeiro)
Total distance and ride time: ~40km, 3.5 hrs.
Google maps route (Carrapateira to Tojeiro)
My distance and ride time: ~45km, 7 hrs.
Oh la-la. Through no fault but my own I took my sweet time to get moving and paid the price. The route itself wasn't so bad… until it got dark. Then I had a couple hours slowly cycling through a maze of low-visibility trails.
The entire ride from Carrapateira was quite simple though, primarily on paved roads without much cars or people. Passing through smaller villages is where you need to be mindful of loose dogs though. Also this is where the hills and incline really start to begin.
In daytime it was beautiful and the section I went through at night was likely stunning – but I was on 4% battery with my power bank dead and a dwindling flashlight…
It ended up taking about 7.5 hours to cover the 55km I planned for due to my nighttime antics. However, I finally arrived at the beloved Pizza Night party and setup camp and prepared for a whole evening of dancing.
Absolutely well worth the journey and an unforgettable experience!
Tips and takeaways:
Stock up from the larger stores beforehand
In daytime it's simple, avoid cycling at night.
You'll end up on unpaved and gravel paths if you go for shortcuts.
Day 5 – Monchique to Aljezur (Amoreira)
Total distance and ride time: ~35km, 4 hrs.
Google maps route (Tojeiro to Marmelete to Aljezur to Amoreira)
My distance and ride time: ~35km, 4 hrs.
A wild evening indeed, I then packed up camp and directed my focus on the beaches beyond Aljezur. The only real way is up. A very, very long 1-hour hill climb which has a 300m elevation gain.
And as soon as I begin I notice something. Handfuls of cyclists all going the same way as I. It turns out that I accidentally ended up in the middle of a road bike race…
This somehow kicked my motivation into high end and I hustled alongside the spandex warriors as well as possible, and ended up passing a half dozen without losing position. I don't know how on earth I out-climbed ultralight roadies with my dusty fully-loaded mountain bike on 3 hours of sleep, but I'm unbelievably proud of it!
Anyways, what goes up must go down! This means a phenomenally fast descent down to Aljezur which I hit my record of 68km/hr! What a thrill!
Passing through the quaint town I scampered along cobblestone streets until cruising along long stretches of familiar farmland and treadmill roads until reaching Praia da Amorerira.
A stunning beach with phenomenal sights and excellent camping spots all around, I happily enjoyed the respite before as I planned for the next chunk. Highly recommend camping here!
Bonus: There are even some abandoned buildings which you can get to for even more shelter.
Tips and takeaways:
The climb is slow and long – pace yourself
Zipping down to Aljezur you can go fast (68km/hr)! Wear your helmet!
Stock up on supplies in Aljezur and grab an amazing pizza!
Day 6 – Aljezur to Monte Ruivo
Total distance and ride time: ~22km, 3 hrs.
My distance and ride time: ~36km, 4 hrs.
Google maps route (from Amoreira to Vale Figueiras Beach)
This is where I blundered… again. Quite badly too.
The idea was to go South again and camp near Vale Figueriras – which I nearly accomplished. Getting there was lovely and took me through beautiful rolling hills and cliffs of orange clay and sparse humankind.
The beach itself was lovely and I took my time to enjoy a delightful meal and suntan before going to what I thought would be my campsite.
However… my campsite turned out to be uninhabitable due to the insane amount of thorny bushes, and my #2 and #3 backup campsites were also not ideal. I decided to test my luck and find a site as night grew.
My luck was poor and I ended up going another hour and a half inland to an area where I knew would be vegetative and private enough…
Except for the dog. THAT ONE DOG. Who, as I applied my finishing touches to my campsite, finally decided to being howling. That dog would never stop howling.
I was a good couple hundred meters away but too little too late – this dog remained alert all night and my sleep was fractured as I wasn't going to packup, bike further, and setup camp (another hr+ of time).
However my reward from dealing with the incessant barking was with one of the most practical and attractive sites I've ever camped in with an absolutely unreal sunset. After all, this was the final night and the next day I'd be back in bed.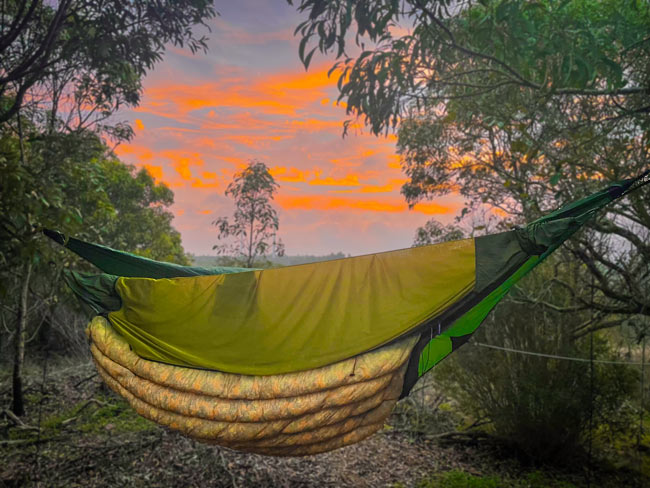 Tips and takeaways:
Stock up in Aljezur – the ride after is long, dry, and hot!
Some of the trails get rather rough if you leave the road.
Stock up on supplies in Aljezur and grab an amazing pizza!
Day 7 – Monte Ruivo to Lagos
Total distance and ride time: ~30km, 2.5hrs.
Google maps route (from Vale Figueiras Beach to Lagos)
My distance and ride time: ~19km, 1 hr (Monte Ruivo to Lagos)
This final day was rather straightforward. Pack the bags, have a lazy and relaxed ride, and coast down to Lagos over the next couple hours.
As everything, nothing can be uneventful. Rain came on down and while this had me slowing down on the descent, it was a lovely stage for a relaxed and hazy morning.
Adiós, dog. Hello hot shower and bed!
Final tips and takeaways:
Finish happy! Take your time and enjoy the ride.
Keep an eye out for fresh fruits on the trees!
Eucalyptus forests often guarantee clear and spacious places
Tips for biking and camping the Algarve
Here are some ways to assist you with planning your biking, camping, or hiking trip:
Use a good offline maps service
Have a back-up plan
Have a sense of direction
Ask around
Offline maps service
While main areas and towns have connection and internet, there are very many dead-zones around the Algarve where you won't have service simply as there are no cell towers or there's a giant cliff in your way.
Regardless, download your maps offline directly on Google Maps or use AllTrails, Komoot, Organic Maps, GaiaGPS, OsmAndMaps. I personally use GaiaGPS and OsmAndMaps.
Have a back-up plan
While I always wild camp, I always have some fallbacks. Either thats 2-3 alternative campsites, or hotels/paid campsites in my mind which I can retreat to if things get terrible (tropical storm, injury, bad luck, etc)
Have a sense of direction
I love unscripted, unplanned adventures. However, having a destination in mind (ancient landmark, beautiful camp spot, tasty café) gives guidelines to your journey.
Ask around
Who better to get information from that someone who has already been to where you want to go? Maybe you'll discover a hidden ruby by asking that old fisherman of his favourite spot to have a sunset beer. Besides – you'll be in solitude for 90% of your journey – may as well get a little human interaction in!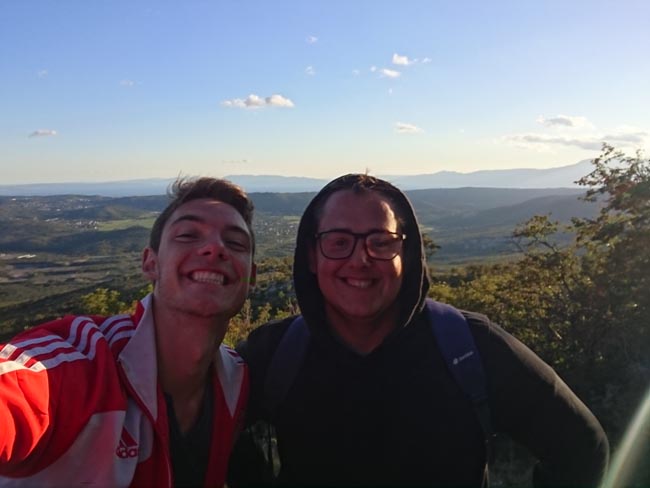 Obstacles when bikepacking and camping the Algarve
There are 4 key factors when biking and camping around the Algarve that you must keep in mind:
The hills
The wind
The humidity
The dogs
I'll go into depth about each of these because this should play an integral role for planning your upcoming journey.
The hills
Take a look at the topography of the Algarve. You'll notice that the majority has a lot of variance and only the towns/cities are flat.
It's unavoidable and if you're by bike, be prepared for using more leg power. I was on a 36T front, 11-40 rear and wish I had 1-2 more climbing gears.
Now this hilliness is a double blade – you can find lovely no-wind microclimates, but struggle to find flat ground for camping. I hammock camp and so finding a pair of trees is usually easier than flat ground.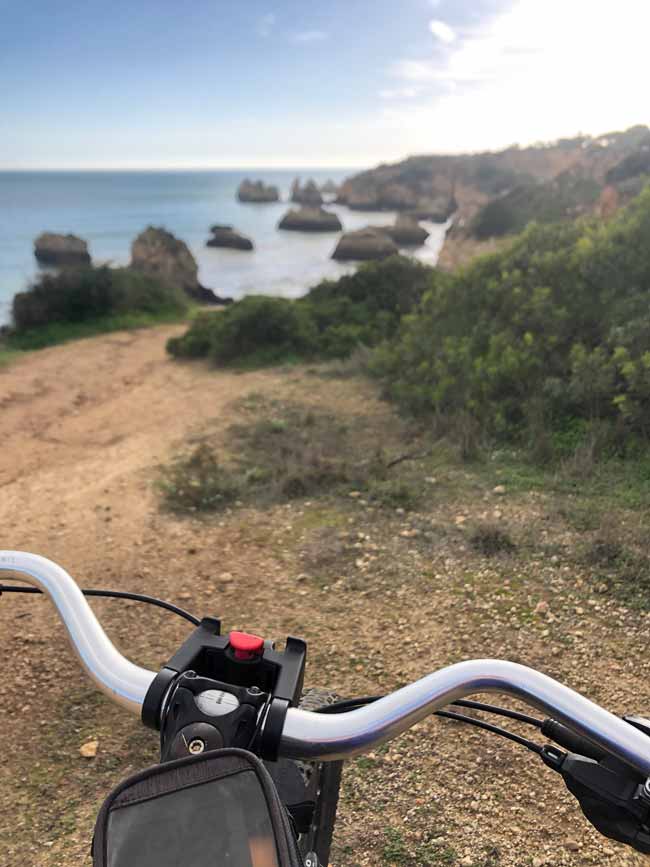 Regardless, part of the beauty of the Algarve comes from the foothills, steep cliffs, and bountiful vegetation. It worth putting up with the hills!
The wind
Any coastal place on earth is subject to the power of the wind and it's no different here. This is where hills can be beneficial as you can find dead-zones with better success.
On the other hand, if you mis-gauge your setup on a blustery evening, you're going to have a very rough (and loud) sleep! Especially if rain joins in for the fun…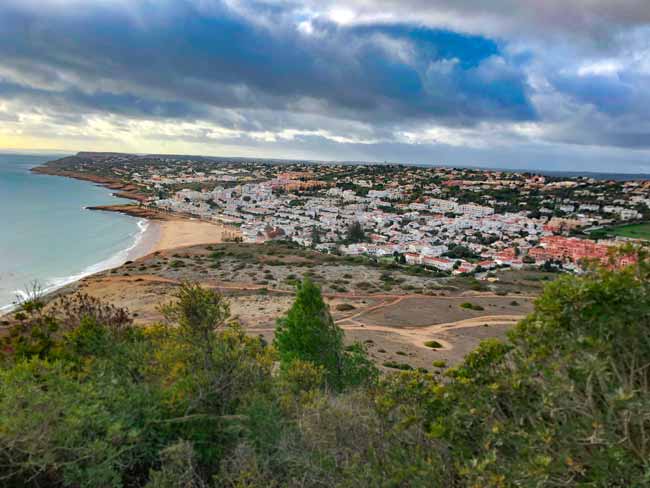 When planning your campsite keep in mind the wind and try to tuck yourself into some trees at the bottom of a hill.
While it looks so perfect to camp right by the cliffs and the conditions look clear, they can turn in an instant and completely invert your elation.
The humidity
Particularly after mid-late October and before May, the humidity can have a devastating impact on your trip.
Now, it's not like the Algarve is humid as the tropics, however the dew point will catch you by surprise.
As I write this (mid march, 22° and sunny at 61% humidity) it seems like no problem! However checking the dew point shows 12° – which it exactly what the night predicts.
Of course waking up to a fresh layer of dew is common and lovely, though you'll be surprised at how much moisture will rack up in no time, and you'll be shocked at how soggy everything gets when you wake up in a literal cloud (common occurrence by the way!).
Unlike a tent, a hammock camping setup doesn't suffer as much so I recommend that. Also, daytime sunlight is usually toasty enough to dry off your soggy boxers in an hour.
The dogs
WOOF.
Nope, not the Workaway platform. Annoying freaking dogs. They're not too aggressive, but they're loud.
I love dogs, but Portuguese dog culture is something else.
It seems like owners here simply ignore their dogs barks and allow them to continue on… for hours…
Imagine this: You create a campsite at the crack of dusk. You unravel your crinkly loud raincover.
WOOF.
That will continue for hours, guaranteed.
Use the following information wisely: If you are at your campsite and hear a dog bark – MOVE.
Find a new campsite. Or play your luck! Up to you – all I know is that dog now is aware of something (you) nearby in the dark, and will constantly bark to alert everyone. And the owners will not do a darn thing. They'll let it howl forever. And ever…
Also do be warned – some certainly are aggressive, unleashed, and protective of territory (or the sheep and chickens). Friends have been bitten. Practice safe dog etiquette to minimise risk (carry a powerful strobe light and always move slowly).
Summary
Overall, a very amazing time with spectacular beaches, dense forests, and ridiculous shenanigans. 10/10 would recommend.
If you need help or tips for your Algarve camping or biking adventure, please reach out below or on my social medias!
I'm always very happy to help. Peace!