On a random whim and flea market find, I put the spring-loaded Brooks Flyer saddle on my bikepacking/touring bike. I was looking into a Brooks saddle but didn't want to cough up the cash, and for $25 I though hey, why not!
I'll let you know what it's like to do touring & bikepacking in this Brooks Flyer saddle review, leather version, as well as how it's like on an XC MTB for some singletrack and light downhill use!
Official Brooks Flyer website link
Comfort
First and foremost, bikepacking is all about comfort. Yeah, speed and functionality is one thing, but you're going to spend 80% of your waking time sitting on your bum if you're doing long distances. A comfortable bike saddle is so important as it's one of three points of contact (seat, pedals, hands)!
Of course, comfort hugely varies from person to person based off human geometry and stuff like that so what works for me may not work for you.
The Brooks Flyer is definitely unique as far as bike saddles go. Leather but of course, those big coils of springs.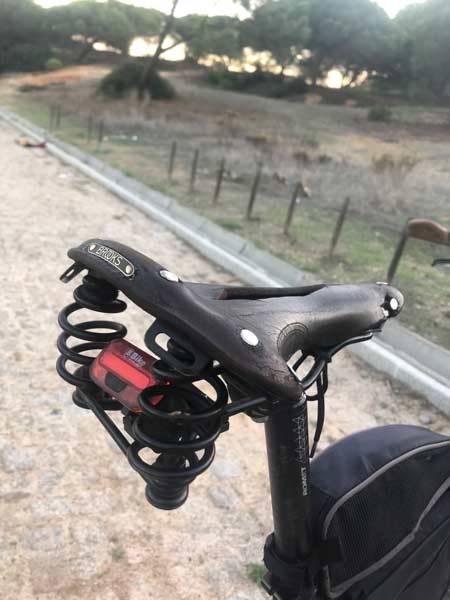 For me, my bum has gotten used to the shape, feel, and give that the Flyer has. I've found the right angle, position, and tension for my particular case and it's pretty darned comfortable! In fact, every time I try a 'regular' saddle I'm always surprised and how firm and painful it is on my bum bones.
I made some taint relief cut-outs with a knife and added a some holes and a shoelace to tighten the material – it was second-hand and very worn out when I bought it. It feels pretty great now and the taint-relief cuts like on the Carved Brooks seats was really useful for improving comfort.
Big part of why any Brooks saddle including the Flyer is comfortable is because the leather wears in and has give. Rather than a single chunk of foam, a leather saddle will have a structure which allows a 'hanging' of the material, kind of like a hammock. I'll talk about the springs more in the below section.
Do the springs work and are they worth it?
They definitely work, but they're actually quite firm! For reference, I'm ~85kg and I have to drop my weight from a few inches to get any spring compression.
This is a good thing because you won't experience any bobbing when pedalling like you might have with some suspension seatposts or soft springs. I've pushed as hard as I can at high speeds (35kmph+) and never once felt bobbing.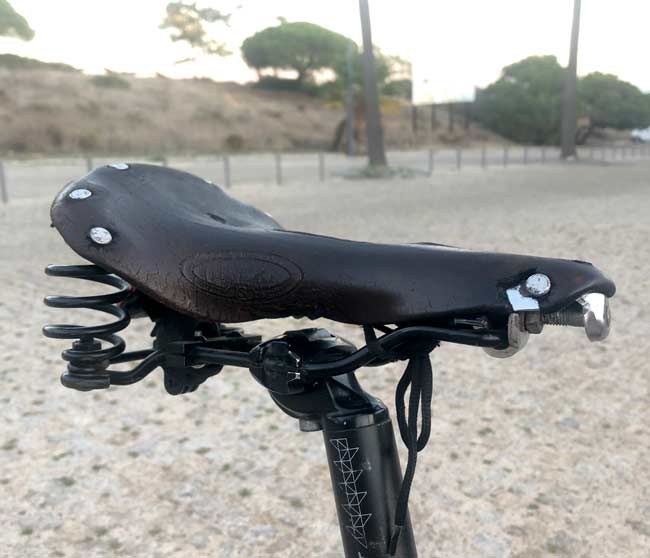 To add to that, there are two ways the springs/saddle absorb impact/vibration
The combination of the dampening from the steel and suspended leather transmits very little/no vibration from the road to your body. Of course there are more factors like tire size & pressure, but without a doubt this is a significant factor.
Direct impact – dropping off curbs, hitting, roots, and other obstacles. The springs will compress and bounce back at a very quick rate. While this can prevent the pain from the shock, you'll be bounced upwards pretty forcefully!
Particularly talking about point #2, the bounceback can lead to that 'pogo-stick' type experience where you bounce 3-5 times after hitting a root-sized obstacle.
If you stay seated going down or up curbs, you can expect to be launched upwards a good few inches. This is however preferable to your butt and spine taking all of that impact!
So yes, definitely the springs work and they work in a predictable, consistent fashion. It's not the best thing in the world by any means, but it's by no means bad.
Aesthetics
Some love it, some have literally said it looks like a torture device. Most people would say it's awfully out of place on an XC MTB, and they'd be right. Personally, I loved the look right away for some strange reason.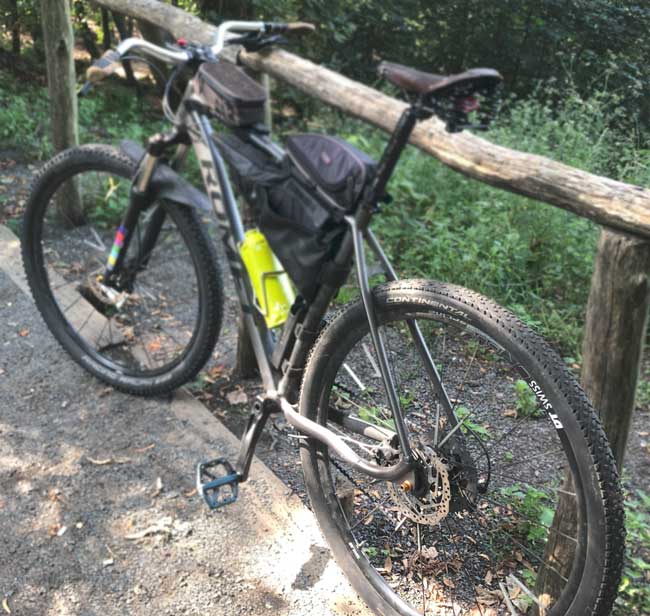 There's no doubt though that it's an odd-looking saddle on any modern bike – let alone something going downhill on singletrack or 45km/hr.
However if you want to embody old-school, classic design, and rugged retro-styling, this saddle might just be your baby.
Pros of bikepacking with the Brooks Flyer
Comfortable – Can be extremely comfortable if it matches your body
Durable – Steel and leather, good luck damaging that.
Unique – Be one of few
Brooks street-cred
If you hit the jackpot, this saddle can be absolutely the most comfortable thing you've sit your bum on. I won't say that's quite the case for me, but it's pretty darn comfy!
I've had this thing in the pouring rain, smashed it on pavement, scuffed against concrete, etc – not a problem. This seat is durable as heck and will last a lifetime – even if the leather has cracked and snapped and sagged, it can be modified.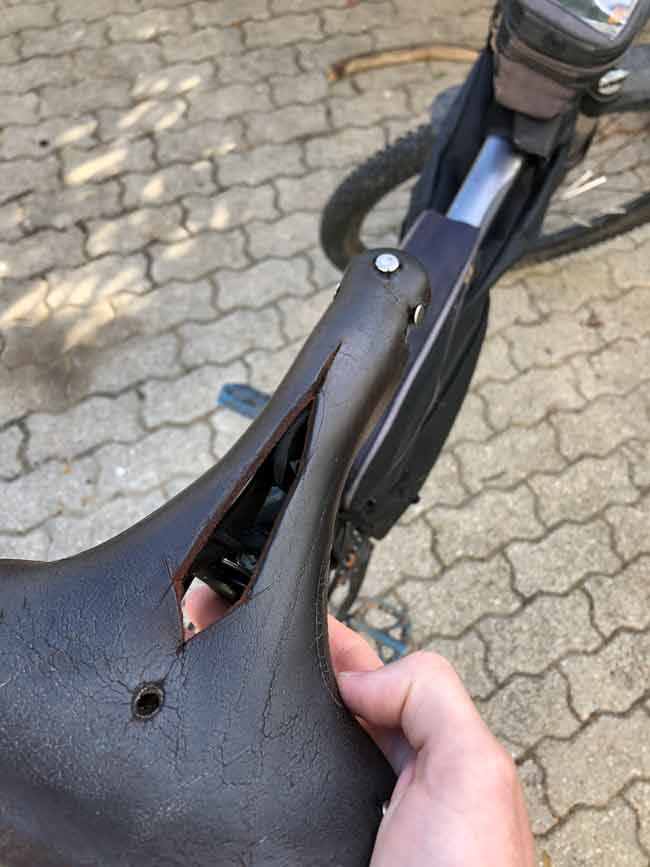 Of course, street cred can either mean nothing or a whole lot to you. Are you that weird dude flying around the streets on a race machine, with a seat that should belong on a 1970s beach cruiser, ridden by a 120kg fat guy?
Maybe the Brooks logo means something to you. For me, mine is so hideous/strange and has no Brooks logo so that it's less tempting to steal. This can definitely be a pro!
Cons of bikepacking with the Brooks Flyer
Noisy – Mechanism can rattle
Heavy – All that steel & leather adds up
Takes up space – Can interfere with saddle bag
Bounce can be weird sometimes – on long-distance rough terrain
Maybe strange looking
Bad for singletrack & downhill
I thought my cranks were squeaking but it turned out to just be the saddle and a bolt that went missing. I replaced that bolt after a long time, but god every bump and pedal stroke would make a pretty annoying squeaking and rattling. Even with everything new, I've seen people complain about squeaking.
No denying that it's quite a bit heavier than your average saddle. At 870g compared to 446g for the C17 Carved, most weight weenies will be turned off. Does it really matter when you're moving? Not really, but if you have roadie arms then you might notice this difference when carrying it up staircases.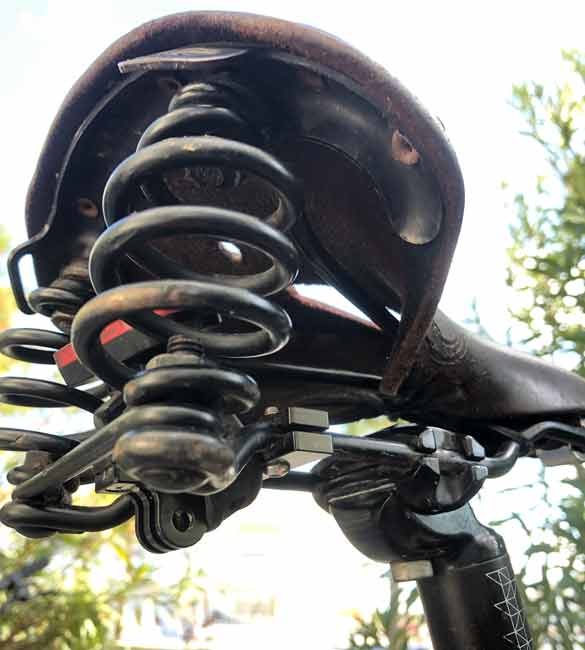 The spring mechanism can also interfere with a saddle bag if you don't have so much room to play with between your tire and saddle.
The bounce can either be fun, functional, or downright irritating. Usually for me it's fun, functional, and occasionally annoying. It kind of feels like a pogo-stick under your bum and has actually brought a smile to my face a couple times. That's worth it's weight in gold on those monotonous, long rides.
If you're all about sleek lines on a modern bikepacking rig, maybe you won't care for the retro-ish design. I listed that as a con because often the saddle is the focus of the attention and I'd say it's a 70:30 split between good:strange reactions.
Getting behind the saddle when doing downhill & off-road bike stuff is difficult because it's quite wide and my thighs have a hard time going past it. Getting my weight behind my rear wheel is quite a bit harder due to this width.
Overall
I think it's definitely a decent option to look into. The hardest part about buying a saddle is knowing if it'll fit your particular geometry. This is moreso the case with leather saddles and even harder to guess when you add springs into the mix.
For most people, I'd say give it a miss and just get a regular Brooks saddle – whether the leather or rubber Cambium models – they're lighter, more sleek, less moving parts, quieter, and have most of the same comfort and cost lest than $140.
However, if you somehow find one of these bad boys on discount or you're really keen on trying a unique saddle, it's definitely worth a try. You might strongly dislike it, but you actually might just love it.
I personally give it somewhere along the lines of a 7.5/10 for my personal use-case and will one day upgrade my saddle, but I've had this one for about 2 years now and I'm in no rush to upgrade.
I used the Brooks Flyer for my courier job, singletrack MTB, touring/bikepacking, and Alleycat races. It's the main attention point on my bike when people talk about it and it's definitely a vibe in some way.
Anyways, I hope this review of the Brooks Flyer helped you out and if you have any questions, please feel free to leave them down below!
Hope you enjoyed this article – It took a while to ride and write for this post. Consider donating a coffee-amount of coins via PayPal to keep this project alive 🙂
review: Brooks Flyer saddle - Spring-loaded bikepacking!
Bikepacking with the Brooks Flyer is about as comfortable and luxurious as you can get - provided you don't mind the weight and creaky sounds.
Product SKU: Flyer
Product Brand: Brooks
Product Currency: USD
Product Price: $135
Product In-Stock: InStock