I started living in Rijeka a couple years back and stayed for ~16 months before moving to Berlin. A lovely city nestled in the pocket of the Kvarner bay, this Adriatic-Mediterranean town is a groovy little place to setup shop. Here are all the things you might want to know about living in Rijeka as a digital nomad/remote worker.
Check out my Moving to Croatia from Canada article for more information about my Working Holiday Visa process and such.
Tourism
Rijeka isn't a tourist hotspot – at least not like the rest of Croatia. Rather, it's more of a pass-through spot for people from other parts of Europe to connect to Zadar, Split, and Dubrovnik.
This means there's a nice lack of tourist traps in comparison, however there is of course still plenty of that during summer season and especially at Opatija.
You'll often be viewed as a tourist unless you adopt local dialect and mannerisms – which is a bit unlikely unless you have Balkan/Soviet/Eastern European blood. This isn't a problem but you may experience higher prices from taxis and market vendors as a result.
Cost of living
Cost of living in Rijeka isn't particularly expensive at all, but it's not cheap. It sees a lot of students and working-class people moving there from other parts of Croatia because, well, it offers more than smaller towns & villages.
Rent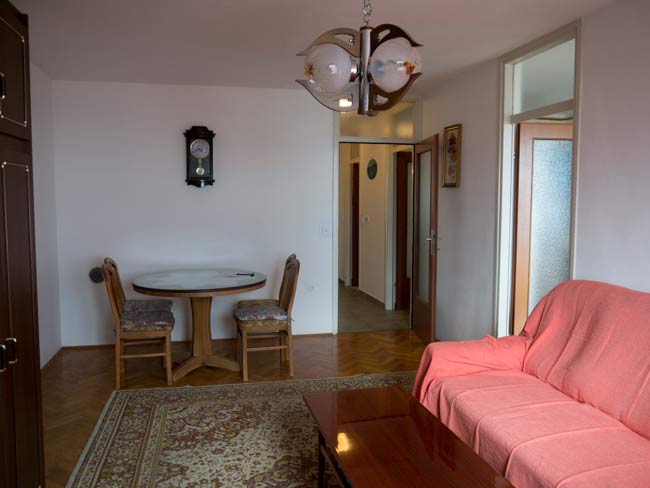 I was paying €130 (+~50 for utilities) for a shared flat in a decent place with a balcony, relatively modern stuff, and nice view in a good neighborhood (Zamet/Krnjevo). A solo flat will likely be around 250-350eur. Not expensive by any means but not 'dirt cheap' like some would expect. Still, very do-able if your income is from foreign sources. I used Njuškalo to find rent, and Facebook groups can be useful too.
Food
Food from supermarkets is quite affordable, depending on what you're buying. I'd say most items are pretty standard in price compared to places like Germany, however you can get really nice quality fruits and vegetables for good prices from the most stores like Kaufland or Plodine.
Food when eating out is fairly reasonable, but there are also many places are which 'standard EU' pricing. I've found a handful of really nice places that I liked to go to where a full meal was about 5-10 euros. Check out my best places to eat in Rijeka guide for my favorite spots.
Transport (Busses, taxi, etc)
I made a guide to transit in Rijeka which covered all the bus lines, maps, pricing, etiquette, etc.
The bus network is a bit janky (no Google Maps coverage) but works quite well! ~10kn for a one-way ticket, and 20kn for a taxi within 5km (this may have changed in the last year from what a friend told me).
It's affordable and works fine. Sadly, Rijeka is pretty hard to bike around due to how hilly it is, and the drivers are a bit more chaotic than Northern Europe.
Other
Going out is pretty affordable with prices at bars, clubs, restaurants, theatres, sport venues, etc being very affordable. I love the Ivan Rajc theatre, HNK Rijeka & HNK Orijent 1919 football matches, and of course the sea. For me, Rijeka had everything that I really wanted aside from a solid electronic music nightclub.
Language
Croatian (or Hrvatska) is a funky language. With obvious Slavic roots but not using Cyrillic as an alphabet, it's a bit easier than say, Russian. However, it's a rather difficult language and each region is very different with how they use the language – Slavonia to Dalmatia to Istria – it's all quite different in accent and diction.
Of course, it's completely different than Latin-based languages and many struggle with it. After ~1 year I learnt basic phrases and swears (they love creative swearing in Croatia) and was often able to order food without a hitch.
I was also very surprised by how many people spoke English quite well! The older generations are actually better at speaking German while the younger (under ~35) crowd has basic to advanced English skills. I made some really great Croatian friends who all spoke English at a pretty solid level, so English shouldn't be too bad of a problem until you get official bureaucracy-related ordeals – which you'll need a translator or friend for.
Food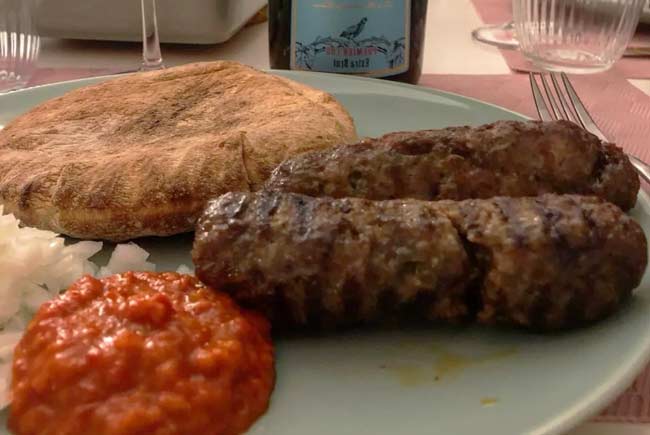 Croatian food is excellent. They draw inspiration from the sea, from the Balkans, from the Hungarians, from the Italians, and so forth. Burek and Ćevapi are staples, affordable, and often tasty.
Also, Croatian food is often not vegan/vegetarian. They love fish, cured meats, good cheeses, dairy, etc. Mediterranean diet with Balkan influence. Olives, grapes, figs, apples, oranges, and all sorts of veggies. Reasonably priced at supermarkets and Rijeka has a very nice local downtown market which has things coming from locals & farms. Absolutely lovely!
Eating out is affordable in Rijeka and you can get a nice meal for 25-60kn (5-10 eur). Drinks (beer, wine, and Rakija) are plentiful and common.
Culture
Ask a Croatian person how they feel about Croatians. They'll usually make an unpleasant face and say something along the lines of "not so nice".
They're lying – Croatians are freaking great people. Much more sociable and kind than the Danes and Germans – I was very warmed and welcomed by locals. Oftentimes strangers would approach and speak to me on the streets in Hr – then quickly find out I don't understand a thing and then switch to English.
I've been offered food, drinks, snacks, and to join the group very often by Croatians – they love to get you drunk and share local tips.
Of course they're not as warm (or dramatic) as say the Italians or Spanish – in fact many Croatians are a bit rough around the edges at first. This is likely due to the domestic/international disputes the country has very recently endured during the last few hundred years. It has not been an easy life for Croatian (and other Balkan) peoples.
Lifestyle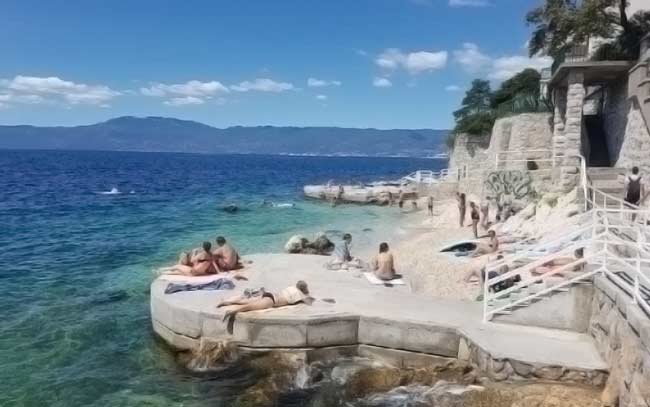 Productivity? Ahhhh, yeah, that.
No, lets go to the beach and have some wine and food instead. It's warm out after-all and the sea is beautiful!
It's a Mediterranean lifestyle, and you may join that habit. It happened to me, it happened to others, and it's definitely not a bad thing. The nature is very nice, the scenery is gorgeous, the sea is refreshing, and the overall vibe is relaxing.
The city itself has a little bit of hustle and bustle going on, but it's at a much more relaxed tempo than say Berlin. Living in Rijeka is a great idea if you want to sit back and relax instead of grind and work relentlessly. How about another glass of wine?
Local government/bureaucracy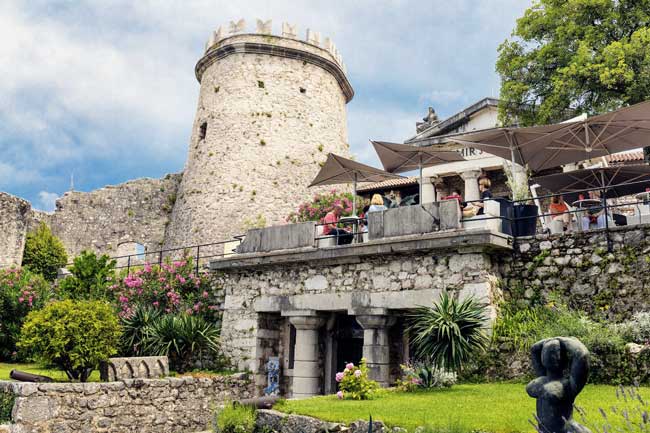 Ask any Croatian about how they feel about the politics. They'll usually make an unpleasant face and say something along the lines of "very bad".
They're not lying – the government(s) are pretty corrupt, squander tax money, make poor decisions, and generate hardship for the Croatian people. They cope quite well with it, all things considered, though it makes things difficult when it comes to paying for rent, food, and other expenses.
Too, the paperwork process for digital nomad residence application took over 6 months to process. Snail mail, official translations, etc – all reminiscent of how my mother described her time of living in Belarus when she was my age.
Postal services are mediocre, government services are mediocre, etc. It's not awful though but honestly I didn't really mind.
If you're looking to start a business – you're not going to have a pleasant process in compared to some other countries like Estonia. Taxes, regulations, paperwork, bureaucracy – it's not exactly streamlined to say the least.
Overall
I really enjoyed Croatia and living in Rijeka! I felt very welcome there (unlike living in Denmark), had a very pleasant time with the people, loved the food, climate, and scenery, and was definitely wanting to stay longer.
I moved away because I (impossibly) came across a great flat in Berlin and had to take that rare opportunity. I still very much miss Croatia and can't wait to return for some snorkelling and sunlight.
I feel like it's one of the best places to live in Croatia – Pula coming second. Zagreb is alright but the real strengths of Croatia is by the sea. Zadar, Split, and Dubrovnik and neat – but so heavily touristy and the local culture isn't quite what you'd like if you're an international remote worker.
For more, check out my Moving to Croatia from Canada article for more thoughts & impressions, as well as my guide on How to travel Croatia, my 11 favorite things to do in Rijeka and my guide to the best beaches in Rijeka!
Anyways, I hope this little guide to living in Rijeka as a digital nomad helped you out! If you have any questions at all, please just let me know as I'm always glad to help out 🙂