As a bike courier and mountain climber, I was searching for some high-quality waterproof Merino wool gloves to keep my hands and fingers dry & warm. Enter the Sealskinz Waterproof All-Weather Glove.
I was previously using Merino wool liners under regular soft gloves but below 5c my fingers got freezing cold after biking for ~15 minutes. Add rain to the mix and I was in real trouble.
This Sealskinz waterproof Merino glove review will let you know my thoughts on these pricy paw protectors.
Note: My purposes are using these gloves 4-5 hours a day as a bike courier in Berlin winter (rainy, cold, windy). Interacting with my phone, opening/closing zippers, shifting, braking, etc.
Review: Sealskinz all weather gloves with Merino wool.
Waterproofness
Lets start with how waterproof these guys are.
Sealskinz being a British company knows what they're up against – bad weather and bitter rain.
Indeed these gloves do really well against rain and snow. Of course nothing is 100% waterproof (they'd be terrible if they were) and water mostly comes in around the thumb zone area where the waterproof lining stops.
With that being said they're actually perfect. Unless you're in a serious torrential downpour or actively sticking your hand in lakes, these will repel 95% of water. Anything that does get it isn't a problem as merino wool stays warm even when wet, unlike cotton.
I rate their waterproofness 9/10 since they do breathe and let water in for sure if put under the sink. For practical purposes though and having cycled for 5 hours through rain and snow, I never had a problem.
Comfort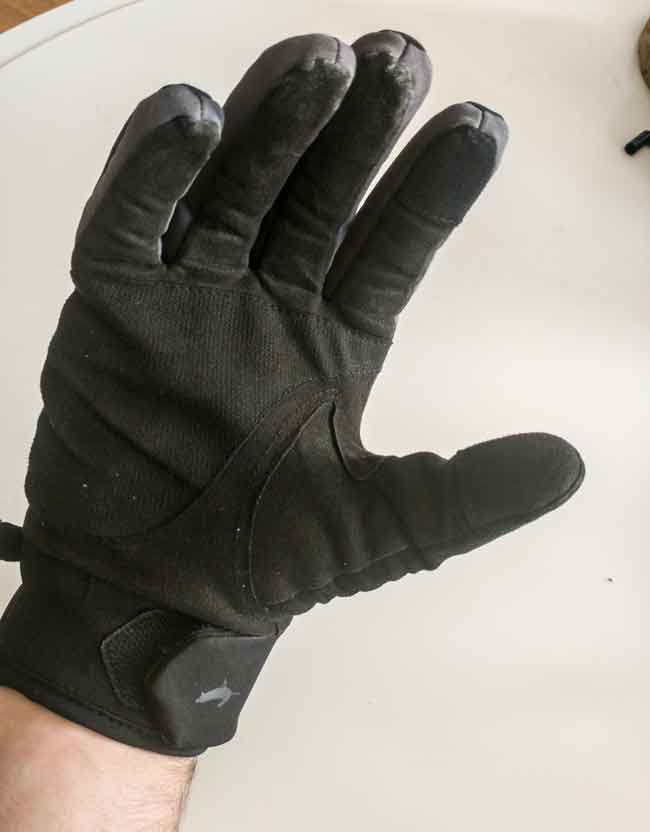 Immediately after unboxing my fancy new Sealskinz I was really disappointed. They felt stiff, clunky, and the seams seemed annoying. Money wasted?
Thankfully they broke in and now are extremely comfortable! Initially stiff, they've softened up a good sum and I can wear them all day without issue. They do get warm above ~10°C (when biking) but then you can just take them off, obviously.
For the size and breadth of these gloves, I rate them at 9/10 for comfort and the Merino wool liner does an excellent job.
Touch-friendly?
Yep! Both the thumb and index finger are touch-sensitive and it even allows for touch to my phone through my protective layer. I will say though that since the thumb and finger are quite thick and broad though you may have many typos if you require precise input.
Dexterity
They're pretty thick and bulky. Not huge compared to ski gloves and typical gloves made for this climate, but they're certainly noticeable.
Rather, they're about as small and unobtrusive as you can make gloves for these weather conditions. So with that being said I say they pass with flying colors though they're evidently a lot more restrictive than light gloves and liners.
Cold weather
Cycling at ~20km/hr in -15 would leave my fingers a bit cold after ~15-20 minutes. A 5 minute break would see them warm again and even after a short traffic light my fingers were close to normal.
With that being said I would definitely say the Sealskinz merino gloves are great down to -15 for short-medium distance trips of cycling. I reckon when hiking or walking you wouldn't have problems with the cold.
For even more warmth I would suggest mittens instead of gloves – mittens do much better at retaining heat and keeping your digits warm.
Sizing Sealskinz all weather gloves
I fit a size 9 glove very well and the size L fit like… a glove.
They felt a bit tight at first but after a few rides and uses they softened up nicely.
Other notes
I ride a MTB with flat bars. As a result that thumb-zone isn't prone to water coming in since it's hidden behind your handlebar. For road bikes however this may be a problem if you're riding on the hoods as your thumbs are up-turned.
So with that I would say you shouldn't buy this particular model of Sealskinz waterproof gloves if you have a road bike. Rather, look at the Sealskinz road bike gloves
Sealskinz durability
I've had them for 2 months and have been using them pretty frequently. The only place I see wear is on the suede of the fingertips. They seem to be well-built and will last a long time unless abused hard. I hope they last a few years with how expensive they were.
Overall
Premium price for a premium glove.
They work great and are about as good as I could hope for. They're not 100% waterproof and anything that is would suck as heat management would be tough. The Merino wool keeps the hand nice and warm (or cool) even if drenched and they repel 95% of wind & water. No more frozen fingertips during winter cycling!
I'll be retiring them for spring/summer/fall since they're very warm and I'd like to prolong their life. I can see myself taking these Sealskinz for bikepacking trips, mountaineering adventures, and my daily commute for the foreseeable future.
See my master list of digital nomad gear to see what other things I use!
I hope you liked my Sealskinz all weather glove review – any questions or comments drop them down below as I'm glad to help out! Peace.
Sealskinz Lyng
Overall some excellent gloves which have good dexterity, protection from the elements, and warmth, though can be subject to wear and tare.
Product Brand: Sealskinz
Pros
Warm and dexterous
Comfortable
Waterproof
Cons
Subject to abrasion
Price