In the quest for the best dry herb vaporizer I've tested over a hundred units and written hundreds of reviews (for the clients I worked for). Here's now the time for a completely un-biased, un-paid, and raw overview of what I think the absolute best herb vapes are (for me).
In no particular order, here we go:
Edit: Full disclaimer – I have now struck an affiliate relationship with PuffItUp (NA) and VerdampftNochmal (EU). They're IMO some of the best webshops in the world with the best service so I'm very happy to partner with them! Click the links to support 🙂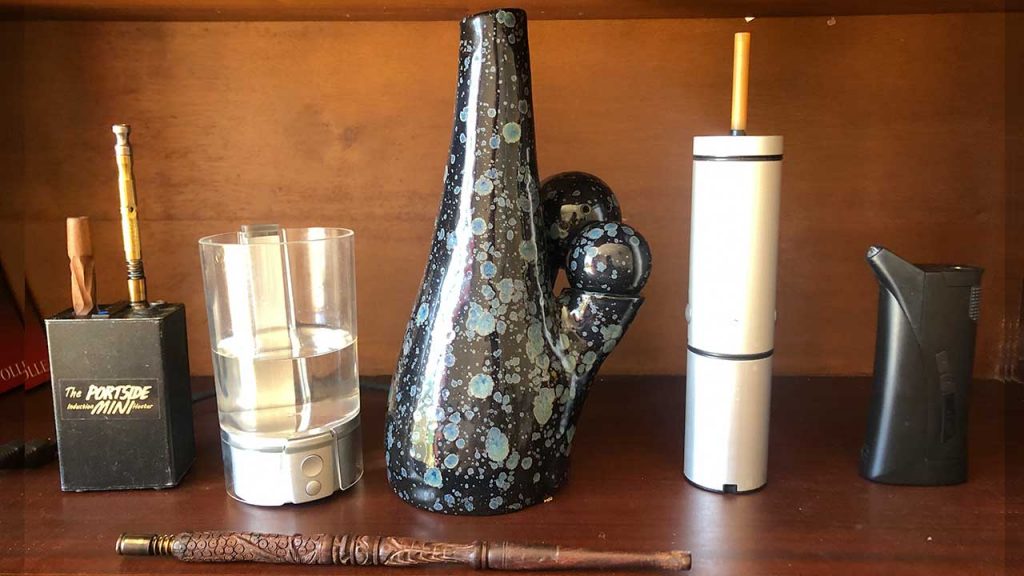 VapBong (Collyland Aromatizer) – Best experience herb vaporizer
I'll start with the most unique, sensational device out there – the German VapBong. Love it or hate it, the aesthetic design and 99% ceramic construction is entirely unique to this device only. Not just is it a literal piece of art (takes tremendous skill to create), it has absolutely top notch performance.
Bulky, expensive, and not portable at all – it's absolutely not for everyone. It's ritualistic, wholesome, and deserving of intention. If you like to relax with a view and sip a cup of tea and contemplate things, you will find yourself well accompanied by the VapBong (or VapDong, according to Reddit).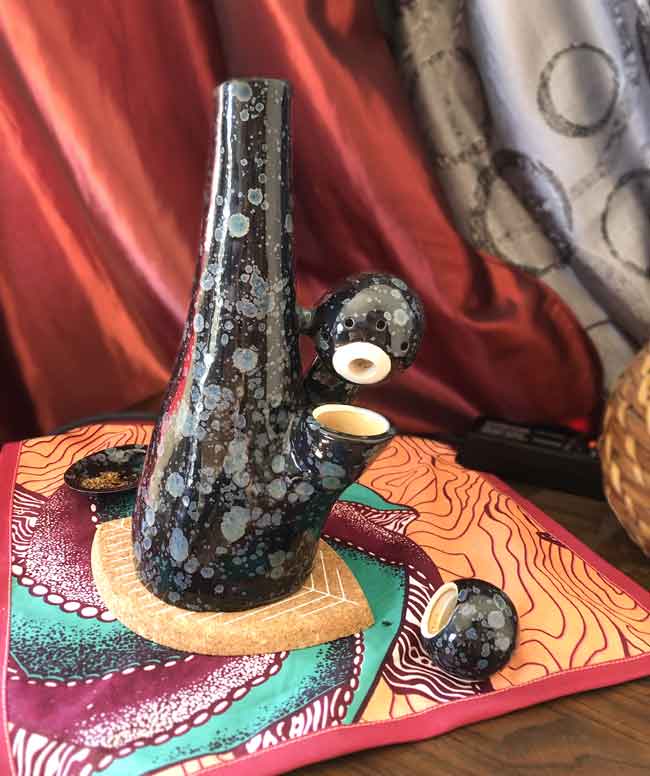 If I had to choose only one desktop vaporizer for the rest of my life, it'd be this one – no questions asked. The hits, the smoothness, the flavor, the smells, the experience, the vapor gently billowing out after you inhale a thick cloud – no experience is alike. Also, the people who make it are really outstanding. That's worth something, no?
I often use unground buds with great result and even better results with my classic SCS grinder and store my herb in a Jyarz container , if anyone was curious.
Powerful
Handmade
Functional art
– Not for everyone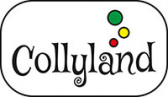 Airvape Legacy Pro – Best overall portable herb vape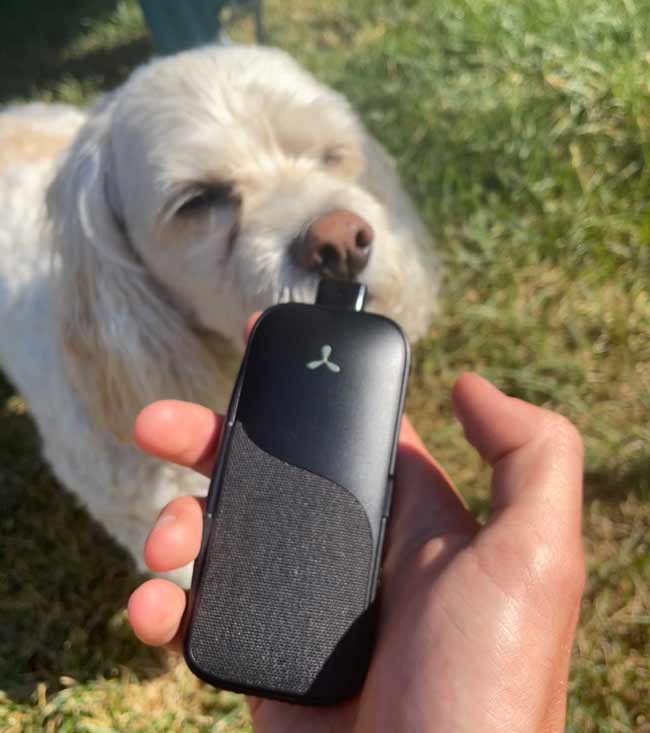 The Airvape Legacy Pro is new on the block and the US-based Apollo has really gone so far above and beyond any commercial maker in recent times. They've pushed innovation, they've listened to customers, they've provided excellent service, and they've now made a phenomenal vaporizer.
This vape seriously has everything. Session mode, on-demand mode, USB-C, wireless charging, removable 18650, removable glass vapor path, wax mode, sleek design, and very fair price. The old Legacy was close but no cigar, but the new Legacy Pro goes really far!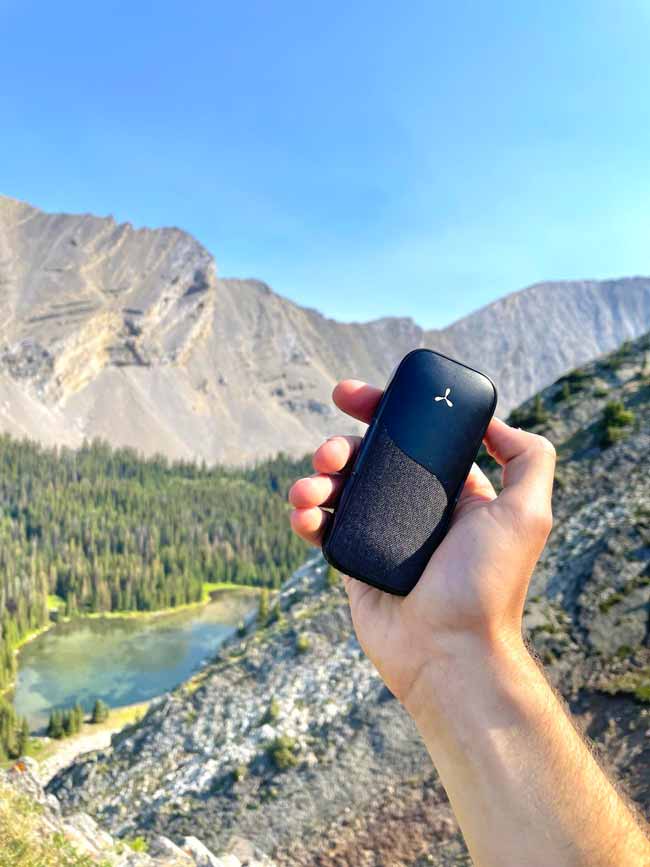 Vapor is a delicious hybrid with a stellar first hit, discounts are everywhere, international shipping & support was stellar, and I'm extremely impressed by it. My only gripes are it's not easy to rig up to a bubbler without the special adaptor, loose mouthpiece, and loading & cleaning gets messy. Aside from that it's imo the best overall vape on market. Sorry Crafty+!
It's what the Firefly2 wishes it achieved, pushes innovation which Arizer and Storz & Bickel have ignored, and is exactly what happens when a company listens to the community. Huge ups and respect to Airvape for this one.
Extremely feature-rich
Excellent yummy and rich vapor
Replacement parts are very cheap!
– Cleaning and maintenance
MiniVap – Best performing portable herb vaporizer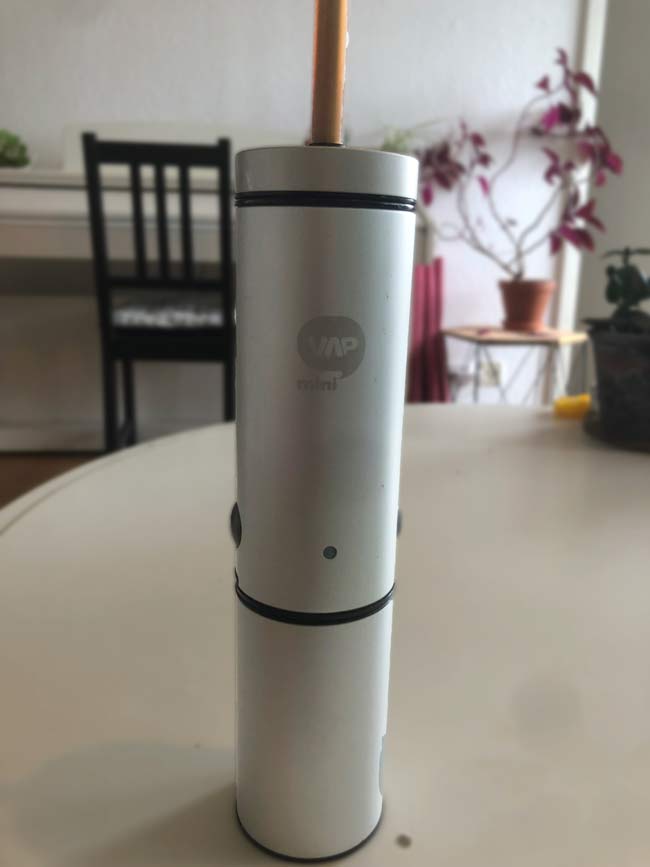 So heavily overlooked by everyone, the Spanish MiniVap is just the best performing portable herb vaporizer out there, bar none. The chamber is huge (twice that of the Mighty), the battery life is literally second to none, the vapor quality is great, and it's the easiest vaporizer to use on the entire market.
Expensive, large, and somewhat strange looking, the MiniVap is also not for everyone. It's not exactly portable in the sense that it fits in your pocket – I use the (included) camera bag to carry it. To me, it's absolutely worth the trade-off due to the above mentioned attributes. You turn it on and can hit it for hours and still be getting vapor. Thanks, big bowl!
I hiked with it for 4 hours of nonstop vapor. The battery is immense! Yes I'll often prefer the Legacy Pro in most situations where portability is a factor, but the MiniVap is the undisputed heavy hitting session convection king.
Rumor has it that the MiniVap team are working on a new vaporizer which has even better battery life and will actually be mini. I may or may not have seen the prototype. I now digress, this vaporizer is the equivalent of sipping from a beer bottle/space thermos lovechild. Terrific.
The MiniVap does great with ground herb and even fairly decent with whole buds!
Huge bowl (up to 0.5g)
Incredible battery (~3 hrs)
Session convection vapor
– Not 'mini' at all
DynaVap – Best tiny herb vaporizer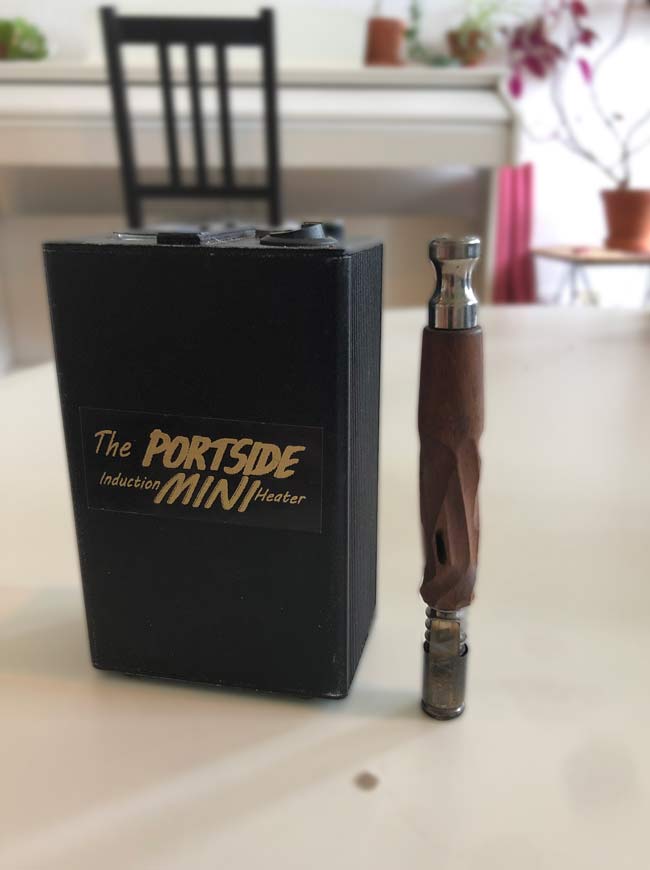 Cliché, the American DynaVap doesn't need much explanation at all – it's petite, affordable, and (nearly) indestructible. The microdosing-sized chamber can unload gigantic clouds, it emulates that smoking experience, and bestows all the power of the device into the hand of the beholder.
Cumbersome, difficult, and fiddly at times, the DynaVap struggles when it comes to torching it in public settings and for beginners. I almost exclusively use an induction heater with it, save for the times I don't have one with me. The DynaVap turns from good to terrific with an induction heater.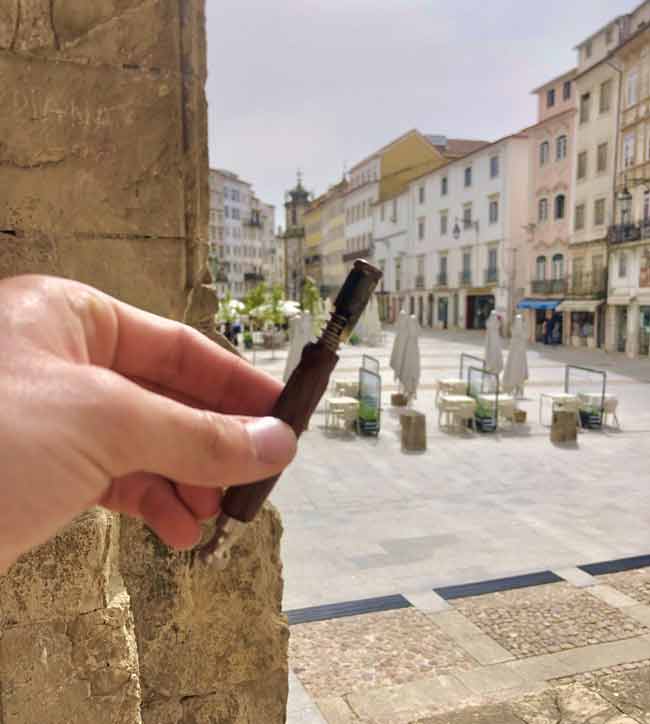 They're massively popular for a reason. It makes a lot from a little amount of herb. It'll last a lifetime, can be elegant in the right setting/with the right parts, and something which will always stay in my collection due to how versatile it is.
I often use the DynaVap with unground buds – just jamming the tip into a nug and pulling it out, though I do get better performance with ground herb.
Nearly indestructible
Fully manual experience
Emulates the smoking experience
– Torching is meh, induction heater is yeh.
DynaVap on PuffItUp with 20% off with code PUFFITUP
TinyMight – Best small portable herb vaporizer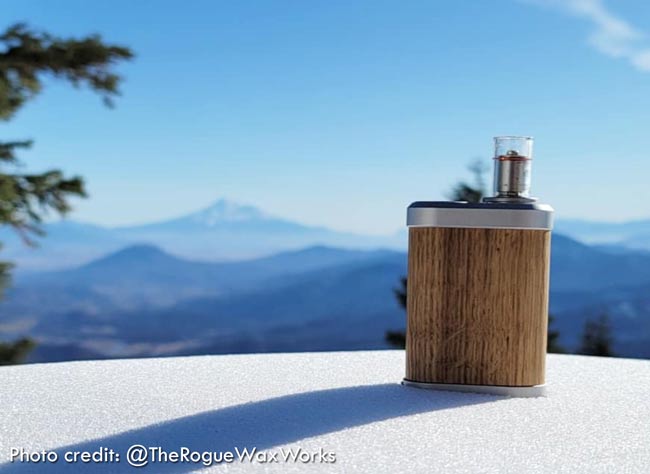 Beautiful, powerful, and overwhelming are the adjectives I choose for the Finnish TinyMight. Not only is it visually excellent because of its wood/metal/glass design, but it has great ergonomics too. Couple that with an immense convection heating element and Arizer-style stem function and you've got a real winner.
Untrustworthy is one way to put it however. From the hassles other have experienced from manufacturing issues & subsequent customer support woes, this device is hindered only by that which makes it great – precision and a small team. While many have no problems with it, it's something to keep in mind.
18650 batteries, incredibly powerful, and small enough to bring around, the TinyMight is aptly named. It has its faults for sure but I cannot think of a single portable unit which can do what it does in a similar form factor. That's why it deserves a spot on the list.
This vape needs properly ground herb to work properly. For that I use my SCS grinder.
Extremely good convection vapor
Handmade – wood, glass, metal
18650 batteries
– Reliability and customer service issues
Mighty+ – 2nd best overall portable dry herb vaporizer.
Is it really a best dry herb vaporizer list without the Mighty being on there? Of course not. German Storz & Bickel knows what they're doing and every unit they've put out has been top quality. Reliable, easy to use, dosing capsules, portable – there's a good reason why everyone who has one loves it.
Sure they use plastics, non-removable batteries, and some other annoying design choices, but there's no denying the powerful & smooth hits that the Mighty (and Crafty+) can put out.
It's not the best in any single category – hit size, flavor, ease of use, size, etc – but it blends all those aspects into one solid unit which makes it a jack of all trades. Can't recommend the Mighty enough for someone who wants a portable power tool which will stand the test of time.
The Mighty does fairly well with whole buds but the best with ground herb. Truthfully, I prefer the Airvape Legacy Pro now – it's smaller, has better vapor, has more practical features, and has IMO dethroned the king.
Update: The Mighty+ has launched and while it's a good upgrade, the original one is still nearly as good.
Jack of all trades – does everything well
Excellent session hybrid vapor
Very smooth and easy to draw from
– Cleaning is a hassle
Available on PuffItUp with 20% off with code PUFFITUP
Honorable mentions:
Tafée Bowle – Best boutique dry herb vaporizer
Completely strange and unique, the Canadian Tafée Bowle quickly silenced all critics what with its absolutely excellent pure-convection vapor – something that countless vapes (Firefly, MV1, etc) have failed to do for all these years. Near-instant heat-up, some of the best flavor from a dry herb vape, and robust hits – the Bowle comes close.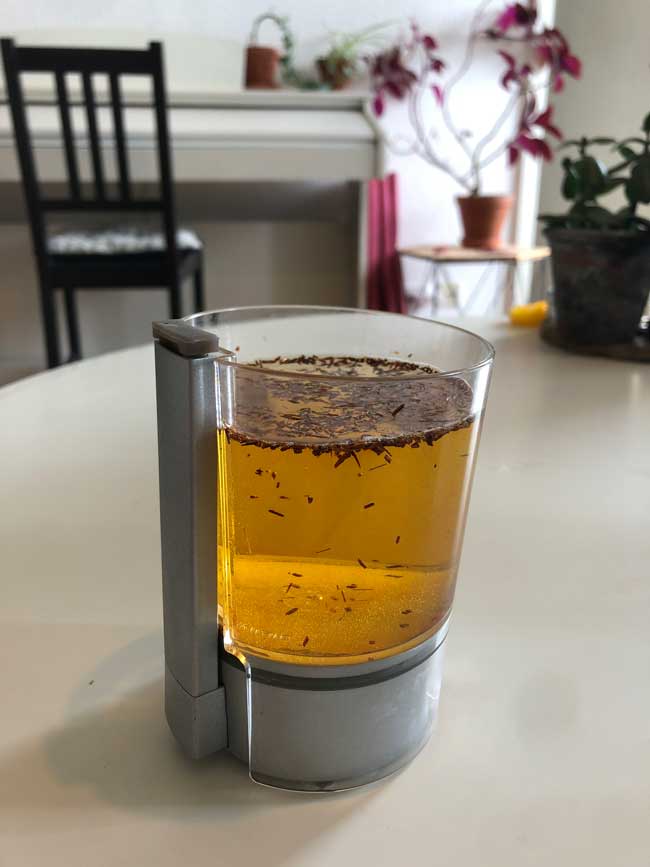 A scuffy-plastic cup, odd Micro-USB charging port location and a relatively small battery – there are some improvements to be made still. Regardless, it's extremely dopaminergic to pour a beer and have your hits from the same cup. Skeptical as I was, it really performed far better than I would've imagined.
Very easy to use, a very unique form factor, and terrific vapor is what draws me back to this unit over and over again. Having a few bowles pre-loaded with the (nice) grinder makes it as on-demand as can be. Just remember to charge it!
The Bowle performs poorly with whole nugs and excellent with fluffy ground herb.
Incredibly fast on-demand convection vapor
Amazing flavor and hit density – easy to draw from
Beer + Bowle is heaven combo
– Meh battery life and charging port
MistVape Imp – Best 510-threaded dry herb vape
In the world of 510-threaded dry herb vaporizers there is only one which I actually love most – that being the American MistVape Imp. Underappreciated and whatnot, this is a good vaporizer for those who like to tinker (me). Unlimited potential, excellent hits with wax & dry herb, and rebuildable. Also, wood!
Tinkering and toying is something you must be fond of because setting up firmware's, resistances, rebuilding coils, etc – not user-friendly at all. The reward you can get though is stellar as you're left with a budget-friendly vape which performs among the top of the top and does wax better than any other.
A small bit of sanding allowed me to use any Arizer stem, and I have 6 x 18650 batteries ready to go for whenever the situation calls. Still, I wouldn't recommend this 510 herb vaporizer to anyone except those who know what they're getting into. Seems like MistVape is discontinued though, so the next options are the Dreamwood Glow and ModPodLabs StemPod which I hear are about as good.
Excellent value
Fully customizable
Terrific with herb and wax
– Steep learning curve
Sticky Brick (O'Connel Woodworks, Dreamwood) – Best manual herb vapes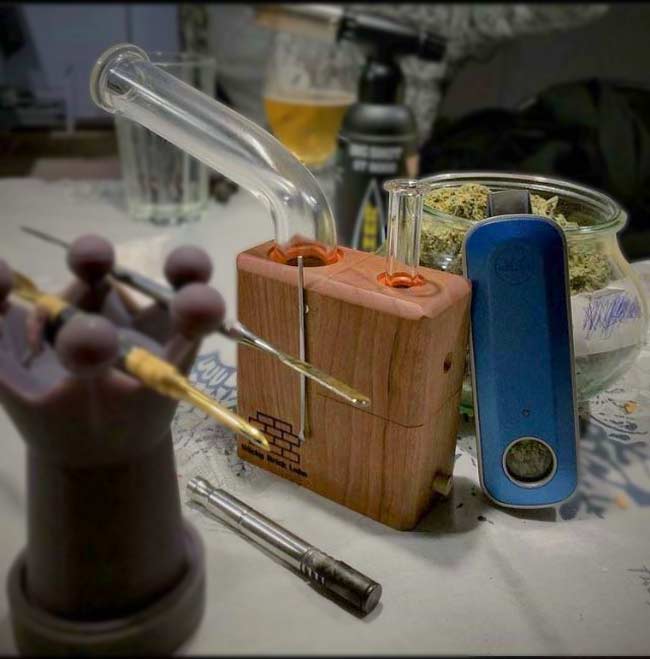 Butane is fun. Butane sucks. The American Sticky Brick and related brick-style vaporizers hit like a freight train but have a steep learning curve for newbies. Fun to use, fully manual, and charming in some ways, the Sticky Brick vapes are particular and niche.
Burning, inconsistency, and difficult to share – the Sticky Brick types are pretty awful for passing around with others, lest you like a very involved and intimate sharing process. There are ways to work around this, but in the end it's sub-optimal.
However, it's a fully-manual drag car which can blow your head off with the dense and instant hits. Not many vaporizers can achieve the same results, it's just you need to work to get the results. Also, I freaking love wood and they're a complete joy to use.
Extremely good performance
Glass and wood
Fully manual control & rewarding experience
– Steep learning curve
Sticky Brick on PuffItUp with 20% off code: PUFFITUP
Tetra P80 – Most powerful portable dry herb vaporizer.
Ahh the Swiss. The Tetra P80 stands out as one of the most tinkered and tuned dry herb vapes in existence. Also expensive as heck and very difficult to get ahold of, this small behemoth is a work of art in a visual and engineered sense. The final product? Obscenely good vapor quality.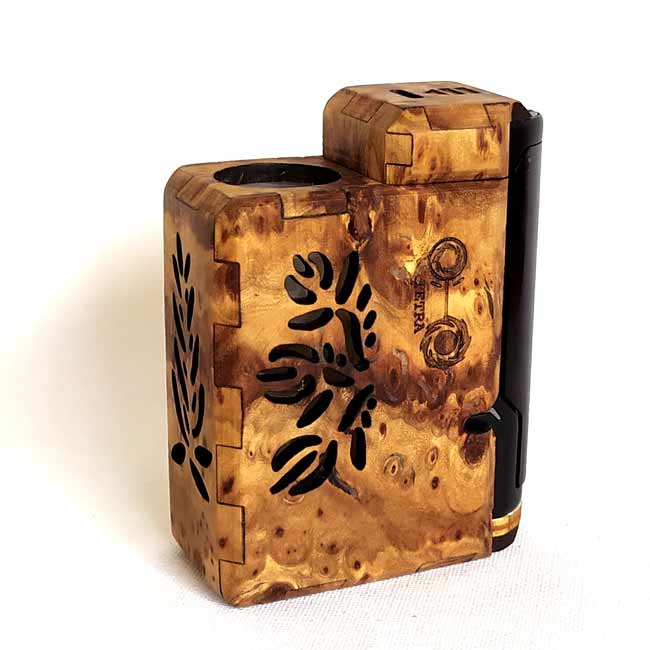 Bulky, somewhat odd, and not exactly 'simple', it's an enthusiasts vape but still one of the best dry herb vaporizers on the market, period. Modular, fully customizable exterior, and genuinely art, it's not exactly my first pick for going outside and walking around, but it can fill any role just fine. Battery life is okay but it uses removable 18650s so that's a plus.
If you're looking for the power of an Extreme Q in an on-demand, turbo-charged beauty of a vape, this is the one. It wouldn't be my only vape but by god is it ever lovely.
Powerful work of art
Handmade with love in Switzerland
Finely tuned and well-rounded
– Hard to get
Arizer Extreme Q & Volcano Hybrid – Best desktop dry herb vapes.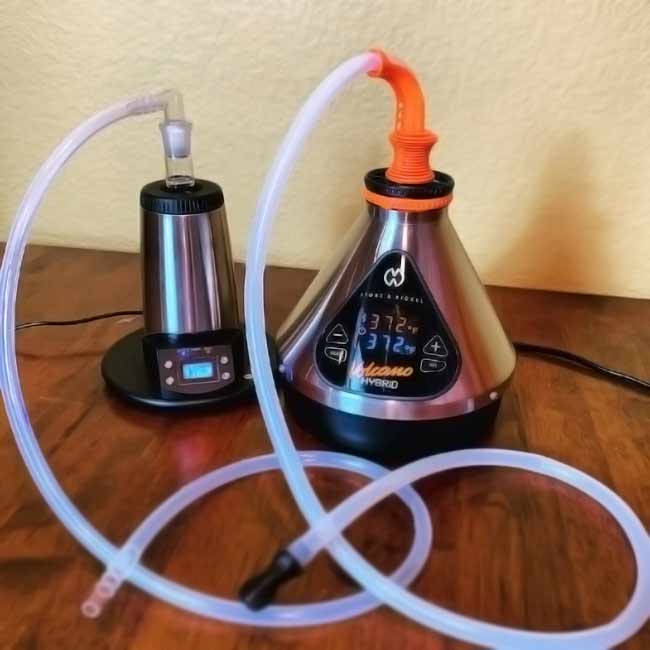 The Extreme Q is just an phenomenal value. There's really nothing else in this price category as simple, effective, and powerful. I only really like to use it with a whip (and at times a bubbler), but it's absolutely perfect just like that. It's a bargain and terrific for the price paid.

The Volcano Hybrid is just a supercharged Extreme Q with a pricetag that is in big wallet territory. It's absolutely better than the Extreme Q but also overkill for most scenarios. I can't really think of many scenarios where I've been using the Extreme Q and said "gee, I need even more vapor". I guess it's really nice to have that power on hand though for when you want it.
Easy to use, great results, and a overall solid experience, both of these desktop vaporizers are excellent in every right and deserve a spot on the runners-up list.
Both vapes perform quite well with whole buds but far better with ground herb.
Whip, balloon, direct draw functions
Excellent and smooth vapor
24/7 workhorse
– Not elegant at all
Extreme Q on PuffItUp with 20% off code: PUFFITUP
Volcano Hybrid on PuffItUp with 20% off code: PUFFITUP
My favorite vaping accessories
Some things are essential to a good vaping kit – carry cases, grinders, humidity packs, water filters, etc. Here are 5 thing which I deem necessary for any quality vape kit to include!
Favorite water bubbler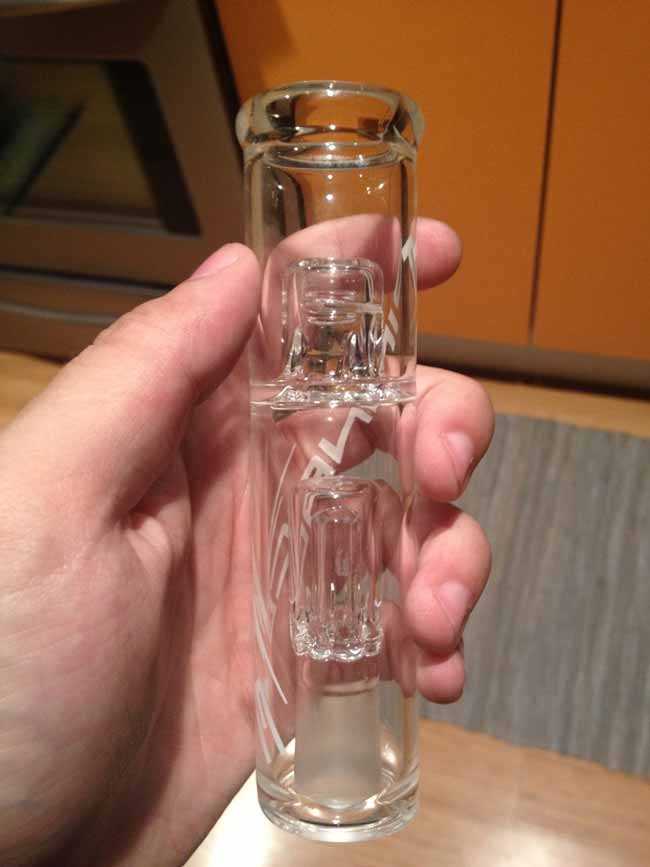 I love carrying a small 14mm bubbler in my travels. The only one I deem portable enough is a 14mm hydratube. Helps get huge smoother hits, doesn't take up much space, and piques everyone's curiosity.
Favorite grinder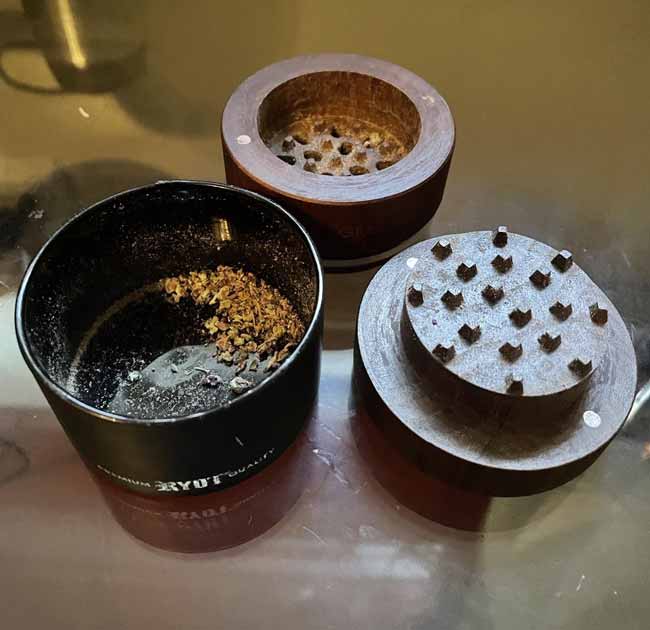 While I love the SCS and Brilliant Cut and metal grinders, I actually really love most my Kannastör wood GR8TR. The glass storage space is lovely and keeps herb fresh, the walnut wood is attractive, the magnets are strong, and I get an excellent mixed grind! Organic feeling through and through 🙂
Favorite multitool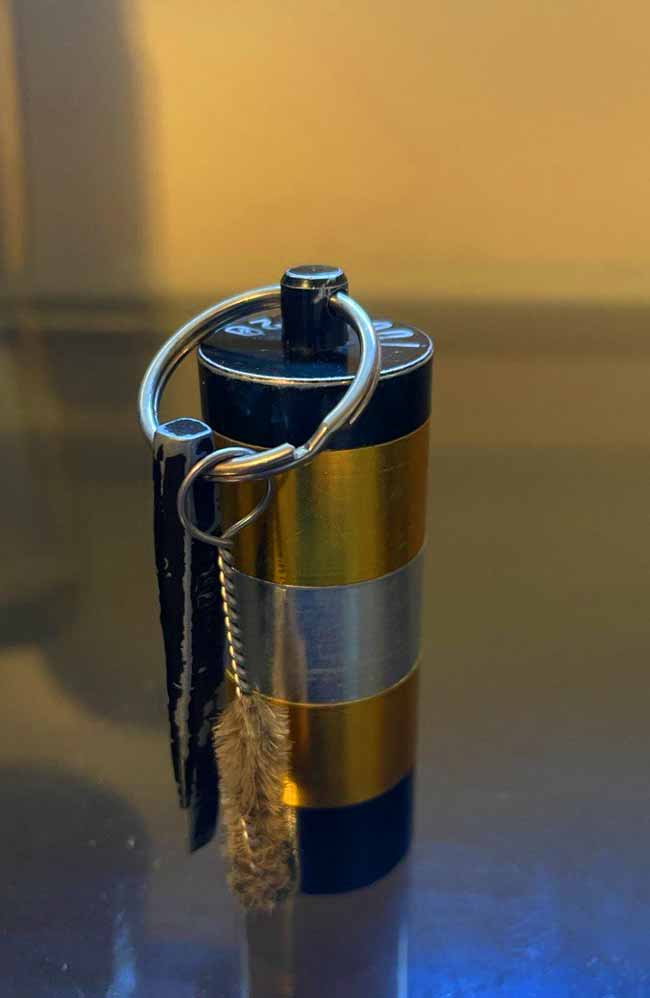 The Storage Keychain by Tools420 is my favourite portable herb storage thing. With 4 chambers all fitting about 0.5 grams each you can carry 4 different herbs/concentrates in one small container. I put a lil cleaning brush and dab tool on the end of mine so I'm 24/7 ready for whatever session I want!
Favorite carry case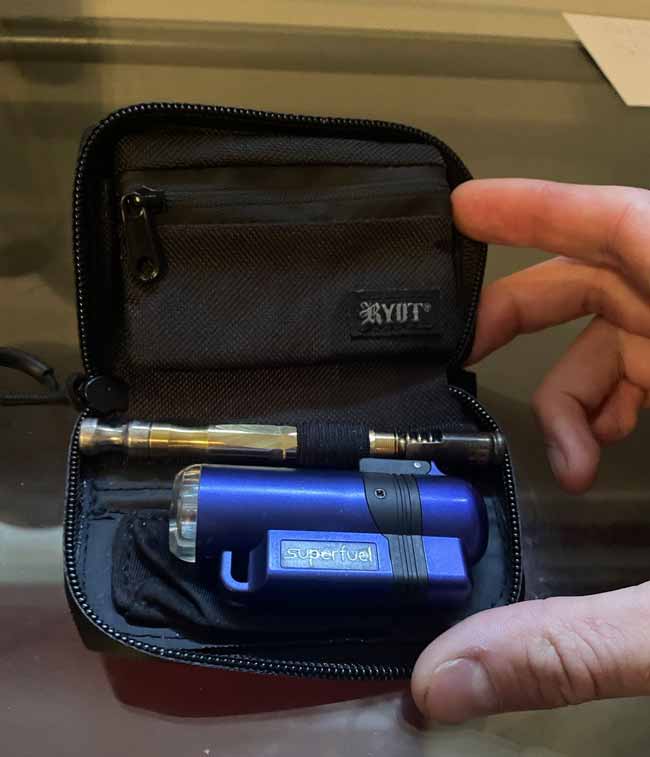 The RYOT Krypto-Kit is a small, padded, smell-proof case which I store my Dyna, torch, and herb inside. Perfect travel size and keeps weight down. Keep in mind any vapes larger than a Pax or Fury 2 will not fit inside.
Favorite adapter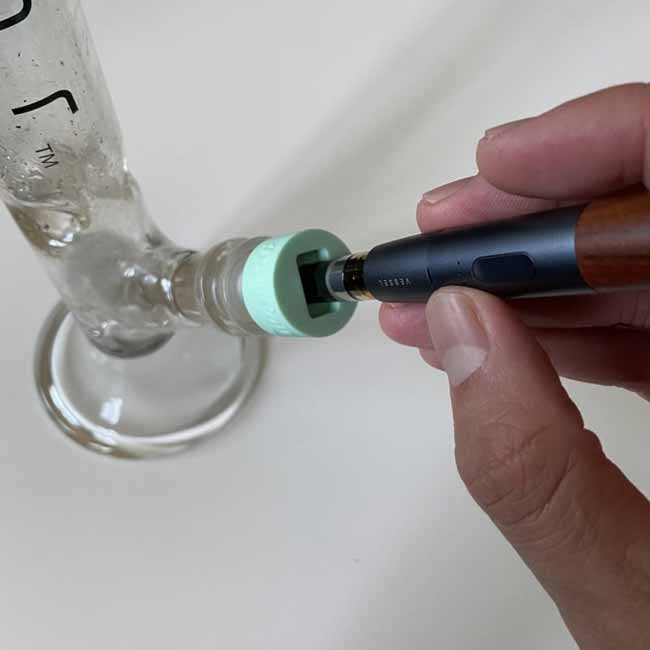 Both the Dynavap Fat Mouthpiece and DabCap are essential to making nearly any vape fit on a water piece. For $15 total you pretty much guarantee water compatibility – not a bad price to pay to futureproof any vape you might but!
Summary
Having done many years of testing and reviewing the best dry herb vaporizers around, I've narrowed my collection and list down to these main units. Of course there are tons of units I'd like to recommend like the HR Fury Rogue, Flowerpot, etc – but this list is focused on the best of the best and these don't quite make the list.
In my personal life, I use the MiniVAP as an easy 'turn it on and forget it' vaporizer when cooking and chilling. Same for the Aromatizer/VapBong – I just leave it plugged in and ready to go for those all-night sessions.
The Bowle for flavor tasting with a radler, the Dynavap and Imp for out and about & ultralight backpacking. I don't own a Mighty, Extreme Q, or Brick anymore just to thin out my collection.
If you have any questions or thoughts just please drop them down below as I'm glad to help out. I've literally spent hundreds (if not, thousands) of hours compiling information and writing about herb vaporizers – so pry away!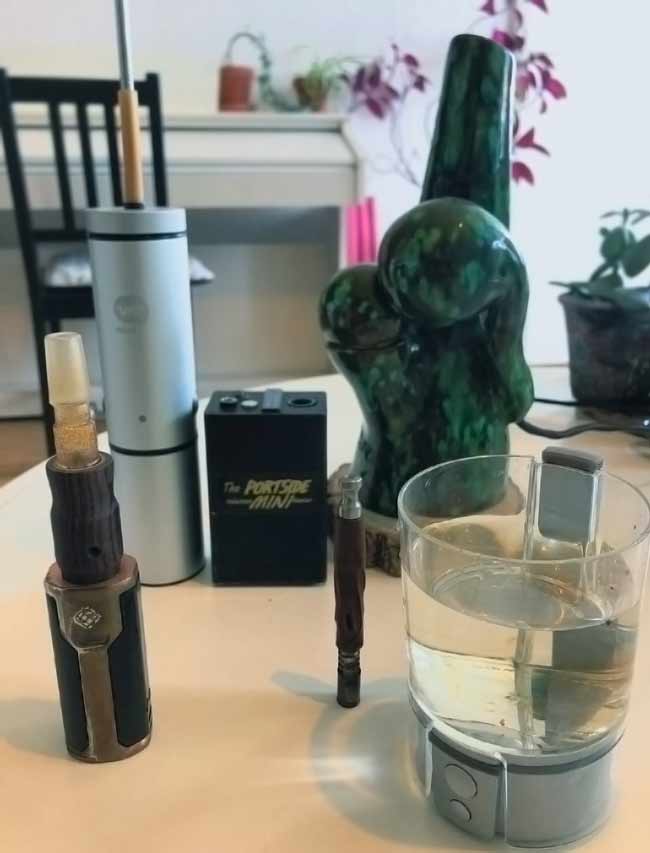 Lastly, check my article on using CBD & THC for athletes – this little plant has changed my life and hopefully it can positively impact yours too.
Consider donating a coffee-amount of coins via PayPal if my article helped you 🙂