If you're anything like me, you love to take things a part or fix things on your own. If you're in need of a Minirig 3 repair and don't want to send it in to Minirigs themselves, check out this repair guide first – we may be able to solve it or not. Likely not, and you'll see why!
Here's the Minirig 3 Amazon link if you're curious on a new unit.
First, before you disassemble your Minirig…
Do a factory reset! I've had weird driver issues, connection-drop off, and charging problems all resolve using the factory reset. Detailed steps to do a factory reset on the Minirig can be found on the Minirig 3 user manual or by following the steps below:
Turn off Minirig 3
Hold down power button for ~15 seconds, or until orange/yellow light comes on and is solid
Press power button again when this solid orangish light comes on.
It should beep with a deep tone. You'll have to reconfigure the app settings here.
If this hasn't fixed the issue, then honestly you might want to send in the Minirig for repair as it's likely a circuit board issue. The circuit board is not possible to remove, though you may remove the battery pack.
Also, if you're having charging or cable problems, it could be the cables themselves! They're pretty meh in my opinion and could be the culprit as I've experienced.
Minirig 3 disassembly
These things are built extraordinarily well and I tilt my imaginary hat to Minirigs!
Regardless, disassembly is fairly simple, here's a step by step guide on how to take a part your Minirig 3 speaker:
Turn off speaker entirely
Insert Allen key (hex key) into any of the hex screws.
Turn counter-clockwise. If you look at the bottom of the device, you'll see the rubber gasket starting to separate from the body
Once you can, remove said gasket from the body.
Now see the 4 hex screws on the bottom of the unit. You can now take those all out
Now it gets tricky – either you can simply pry off the bottom if you're lucky, or you'll have to really work it off. Some of the Minirig 3s I took a part were a piece of cake while others were nigh impossible to get off. Be careful!
Move bottom plate gently. The battery pack is affixed to this bottom plate.
Disconnect battery pack from circuit board using a small pick or gentle fingers
Remove stuffing/filling from the speaker
Disconnect driver from circuit board
Voila – you have now disassembled your Minirig!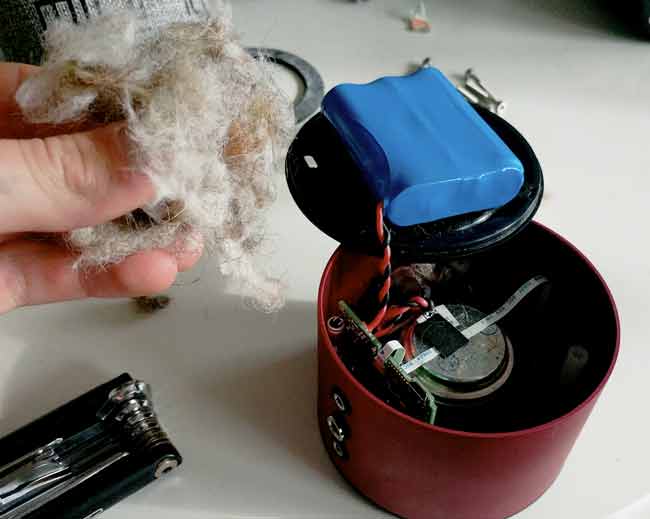 To put the Minirig back together, simply follow these steps in reverse order. Oh yeah and that MicroUSB port on the back of the bottom of the Minirig behind the gasket is also a charging port – good to know in case of emergency!
Other Minirig 3 teardown notes
Honestly, there's not much to repair on the Minirig 3 except for the battery pack. The driver is special and I don't think you'd ever want to replace this. The circuit board is not possible to take out and is the brains of the unit.
That stuffing inside is really important! It simulates a larger enclosure space and is big part as to why the Minirig speakers are so awesome!
Re-assembling the Minirig 3 is a bit of a hassle due to the alignment you need to achieve with the hex key slots inserts and the back plate. Took me 10 frustrating minutes to get it together perfectly. A little air leakage will make a huge impact on the sound quality from your Minirig 3.
Disassembling the Minirig Subwoofer for repair
I couldn't fully crack this code. I unscrewed all the hex keys which loosens up the ported rear end. You can twist and move this out of place, however I wasn't able to remove this fully after a half hour of fiddling. I reckon however trying to repair your Minirig subwoofer won't really possible anyways, just like the main speaker.
Conclusion
The Minirig speakers have phenomenal build quality and audio quality as outlined in my loving Minirig 3 review. The only thing you can repair on the Minirig 3 is the battery pack. It's a set of 3 18650 batteries and while you could likely improve battery life marginally, I don't think it's worth the hassle.
If you want to fix your Minirig speakers, you're better off just sending them into Minirigs for repair. Last I asked they wanted $40 to repair each unit. Understandable since it takes man hours and time to fix any speaker.
Anyways, hope this Minirig 3 disassembly guide helped you out. Though it might've just made you a bit sad that you can't fix your Minirig 3 by yourself, at least you've found out that it's not worth it to take a part! Peace 🙂