Can you compare a Minirig 3 vs studio monitors? After all – studio monitors plug into a wall and have no size limit and the Minrigs are, well, Bluetooth speakers.
This little comparison will stack the Minirig 3 versus a pair of KRK Rokit 5 studio monitors – a common budget studio monitor for home audio, listening, and light production work.
Here's the Minirig 3 Amazon link if you're curious. I don't think any other stores in the US/Can stock the Minirig 3.
If you haven't checked it out, check out my Minirig 3 review, and Minirig subwoofer review to see how these little speakers can perform.
Even other audiophiles on Head-Fi found the Minirig 3 vs Adam A5X (pro studio monitor) to be shockingly close..!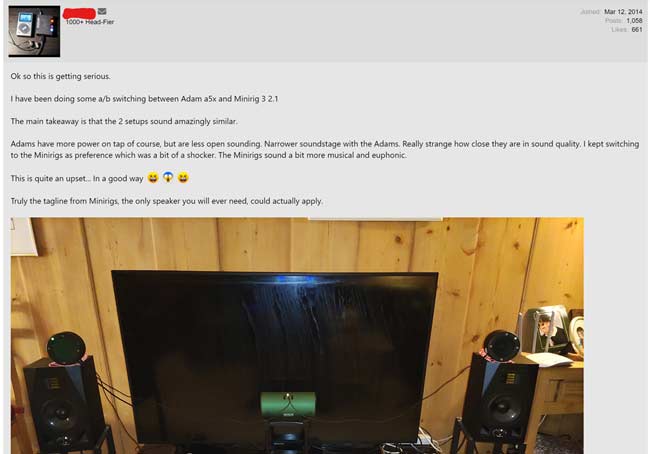 The specs
Lets first look at the Minirig 3 & subwoofer's specs to see how it looks on paper. For the test we'll use 2 Minirig 3s and 2 subwoofers, but the specs below will be for 1 x each unit.
Minirig 3 specs
As listed, the Minirig 3 has a suggested 40W rms power, 2.75″ driver, and ~100dB SPL with 60Hz-18kHz frequency response (which varies with volume output to prevent distortion). All this in a speaker that weighs 550g and is the size of just a couple tuna cans stacked together.
The Minirig Subwoofer 3 was designed to match with a Minirig 3 and has similar 40W output and a frequency response of 48-120Hz (though it goes as low as 40Hz and has a very strong peak at 55Hz). At 875g and about the size of a 2L bottle, it's also fairly compact. Both together hit around 103dB SPL @ 1W/1m, however with some clever EQ you can hit ~104-105dB. For tests sake, we'll leave EQ on flat.
KRK Rokit 5 specs
Clearly, the Rokit 5 should have the upper-hand here with its 5″ driver, 1″ tweeter, much larger size, almost 4x the weight, and AC power. However, the pair of Minirig 3 + Sub3 has 80W of power availability at max and ~103db with a similar frequency response. Surely the Minirigs can't match a studio monitor though, right?
The test
We set up the Minirig 3s and KRK Rokit 5s in the corners of a large room with various objects around just like how you'd have a living or bedroom. The Minirigs were ran via Bluetooth and the Rokit 5s plugged in via audio interface. Here are the results:
25% volume
Almost identical in fidelity and frequency response with some preference to the Minirigs in terms of dynamics at the high and low end.
50% volume
Almost similar at the 25% degree mark – the Minirigs have slightly yet noticably better sound quality due to wider dynamic range and more 'air' in the sound.
75% volume
Basically the same trend. At this point it seems like the Minirigs should begin clipping or shouldn't be able to go higher in volume. The bass extension of the Minirigs starts dropping off and the Rokit 5's start to shine a little more.
Max volume
Call me flabbergasted. Both me and a friend were floored by how well the Minirigs performed. Almost 1/4 the weight and ran off of freaking batteries – they held their own. In fact, we felt like there was marginally more clarity in the upper-end of the Minirigs – something we didn't expect at all.
In basses we did find that the Rokit 5's had just a bit more extension and weight to them – makes sense considering the size of the enclosue and the more amount of air that the 5″ driver could make when compared to the Sub3.
However, backing the volume down from maximum brought more depth back to the subs. The max SPL in the mids and highs were nearly indistinguishable between both sets of speakers.
Portability
It's no question whatsoever that the Minirigs just completely dominate this category. A pair of Minirig 3s and Subwoofer 3s weighs less than a single KRK Rokit 5 (2,85kg vs 4.85kg) and takes up less space as well.
Not to mention how it's much easier to place them in the perfect acoustic spot, place them in a bag, forget about outlets and connect via Bluetooth – it's a completely unfair comparison.
Practicality & price
Obviously, the Minirigs are more practical with that whole portability ordeal. Of course you can just plug them in via aux and power cable if you want to run them with no latency and not worry about (infrequent) recharging.
However, the real factor here is price. At ~$300 for a Minirig 3 + Subwoofer 3 (from the official Minirig website with EU VAT removed) and about $170 for a KRK Rokit G5 from Amazon, you're of course paying much more money.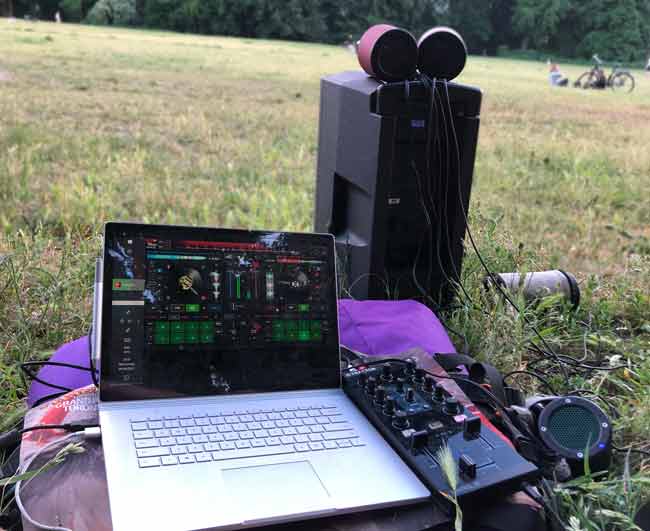 Conclusion
Is the portability, battery-life, form factor, and Bluetooth connectivity worth it to you? For me, it's a no-brainer, but I'm someone who moves around a lot and always like to setup speakers at the park, at a friends house, for jam sessions, and so forth.
The fact that we can have (budget) studio monitor performance in a small battery-powered Bluetooth speaker is just insane – the Minirigs are still the kings of the compact portable audio world and for great reason.
Without a doubt, larger (6″, 8″+) studio monitors will handily beat out the Minirigs in sub-bass and max SPL, but hey, lets appreciate the engineering these little beasts can accomplish.
Find more info of the Minirigs on my complete list of the best portable battery powered Bluetooth speakers if you're keen on finding the best unit for you. Any questions please feel free to ask down below!
Consider donating a coffee-amount of coins via PayPal if my article helped you 🙂