Corespun merino wool joggers – dream come true right? Well, yes! At $150, these pants are no slouch so this Icebreaker Shifter pants review will cover everything you'll need to know before buying them. I'll go over durability, warmth, comfort, style, and more in this review!
I've had mine for just about 2 years – and they're excellent pants but also terrible. Here's why:
Comfort
I don't quite think I've ever had a pair of pants so comfortable as the Icebreaker Shifter. Excellent thermal properties, soft fabric, well-designed and just feels excellent. If you like lounging around in sweat pants and just taking it easy, these are absolutely excellent.
For light activity like yoga, cool morning jogs, casual cycling, etc, they're also terrific. They're not restrictive in any way and fit like a second skin. Absolutely one of my favorite pairs of pants I've ever owned.
Style
In terms of style though I absolutely enjoy the Shifter – they look great, feel great, are modern, and accentuate the important features. People commented on how good my legs and bum look and I don't know about you, but I'm proud of that!
I really got these pants because I so very much wanted a stylish pair of durable merino pants/joggers. The aesthetics part really did great, but the durability not so much.
Materials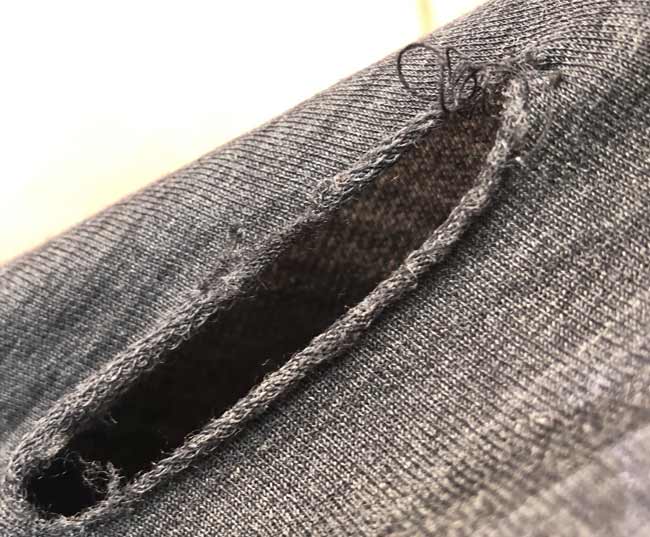 At first glance it seems all great!
88% Merino wool
9% nylon
3% Elastene
This is an ideal ratio of materials IMO. Coming in at 305g for a large pair they're quite light and pack up small. The tapered leg, elastic waist, drawcord, etc – everything is designed, stitched and machined well.
While from a materials POV they seem to excel, in practice they fail miserably in the durability department.
Durability
These $150 joggers fell a part so quickly. Gigantic holes at my groin and bum very quickly. In fact all my Icebreaker boxers lasted far longer with far more use. I actually hardly even used my Shifters out in town – I used them 90% at home and 10% while sleeping at the campsite.
I would ride my bike from time to time in them but they lost so much material in no time. Bum almost completely transparent at this point and pretty much unusable publicly due to the plethora of holes and whatnot.
Such a shame because I was anticipating these mega-expensive joggers to last a few years, not a half season. I treated the Icebreaker Shifter with more care than 90% of my equipment but they really did not like to hold on.
Warmth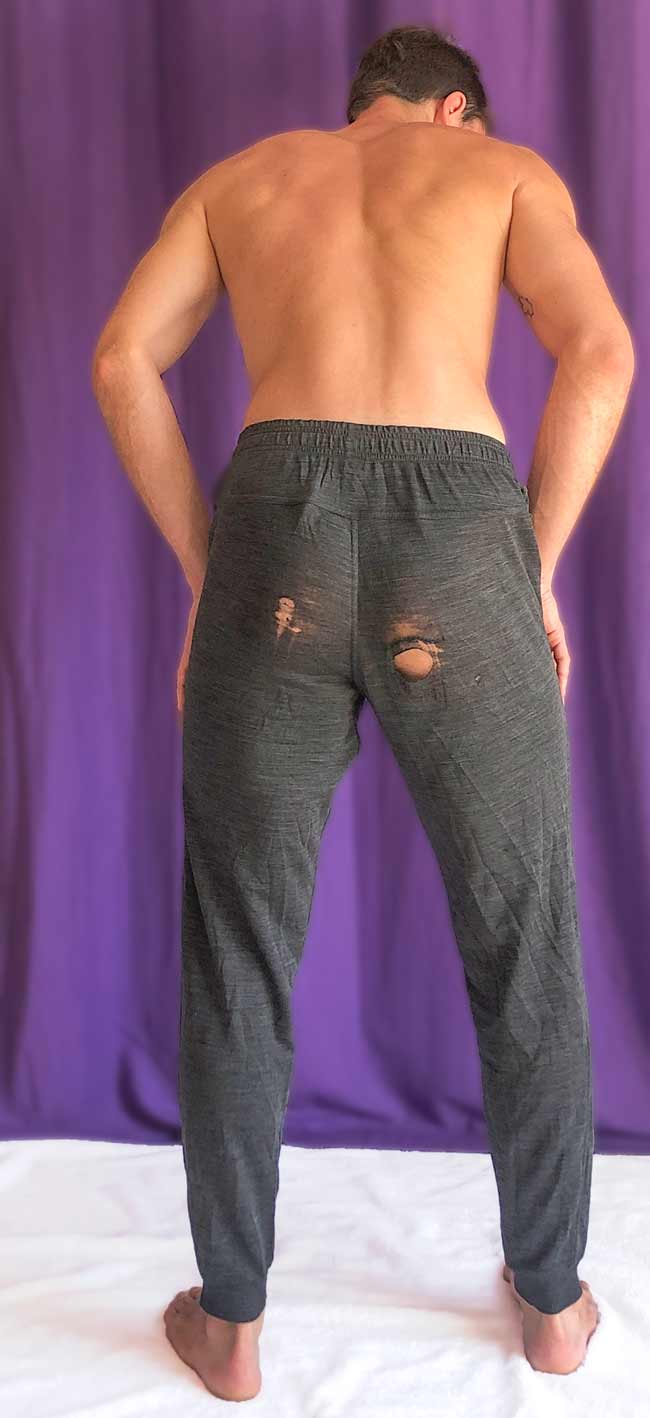 Too, they're quite cozy! Not too cool, not too hot, I often use the Icebreaker Shifter when camping overnight in cool conditions. Instead of long johns I opted for these due to the fact I can use them as a sleep layer or a casual day layer. Wearing only long johns around town might reveal a little too much, no?
Thanks to the wonders and joys of merino wool, they do great at thermal management. While I do get hot in them from time to time when being active, they get nowhere near as sticky as cotton sweatpants would.
Great 3-season pants all the way from autumn to spring as far as thermals go.
Overall
So, would I recommend the best-selling Icebreaker Shifter pants/joggers?
No.
These are $150 pants which is not chump change for many of us. While I absolutely love their comfort, style, materials, and overall package, the fact these started to break so readily is just very disheartening.
Now they're retired to me exclusively to use at the campsite because, well, I'm not going around town with gigantic holes at my groin and bum.
Icebreaker overall for me is hit or miss – I love their underwear and shirt (super durable) but their socks and Shifter pants have failed me rapidly.
So close, but still so far. If you know of some BIFL (buy it for life) durable merino joggers/pants please let me know – I'm searching for my holy grail!
Anyways, I hope this Icebreaker Shifter review helped you out – any questions please never hesitate to get in touch below or social media, always glad to help!
Peace!
Icebreaker Shifter joggers
Super comfortable and attractive with a very fragile build quality
Product SKU: 0001
Product Brand: Icebreaker
Product Currency: USD
Product Price: 150
Product In-Stock: InStock