Are you a filthy ground-dweller? Tired of waking up with your knees and hips digging into the earth as your deflated mattress leaks again?
Hammock camping is here to save your festival experience.
The first time I swung to sleep in the deep stages of festival delirium was when I realized this is the way to go – in comfort. Let me convince you as to why that is.
Cheaper than tent camping
Yes, hammock camping can be cheaper than tent camping*. If we consider this cheap $57 tent (which weighs a gnarly 3.2kg!) and this $159 tent (at still 2.0kg) to be standard festival camping tents, suddenly $150 for a 1.5kg hammock setup is really reasonable.
Of course you still need to have insulation to stay warm for both the tent and hammock setups, but $ for $, hammock camping is cheaper, smaller, lighter, and more comfortable.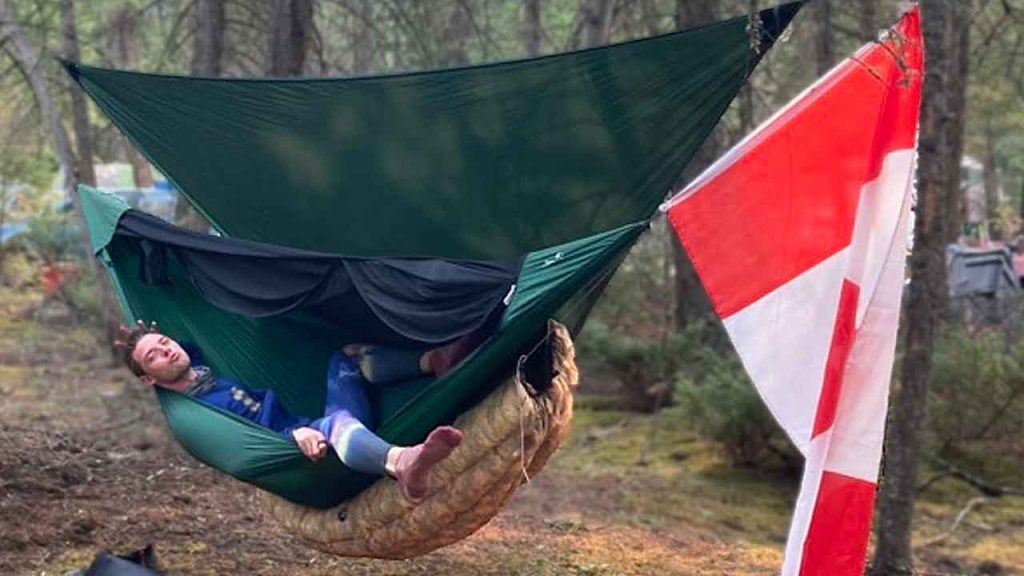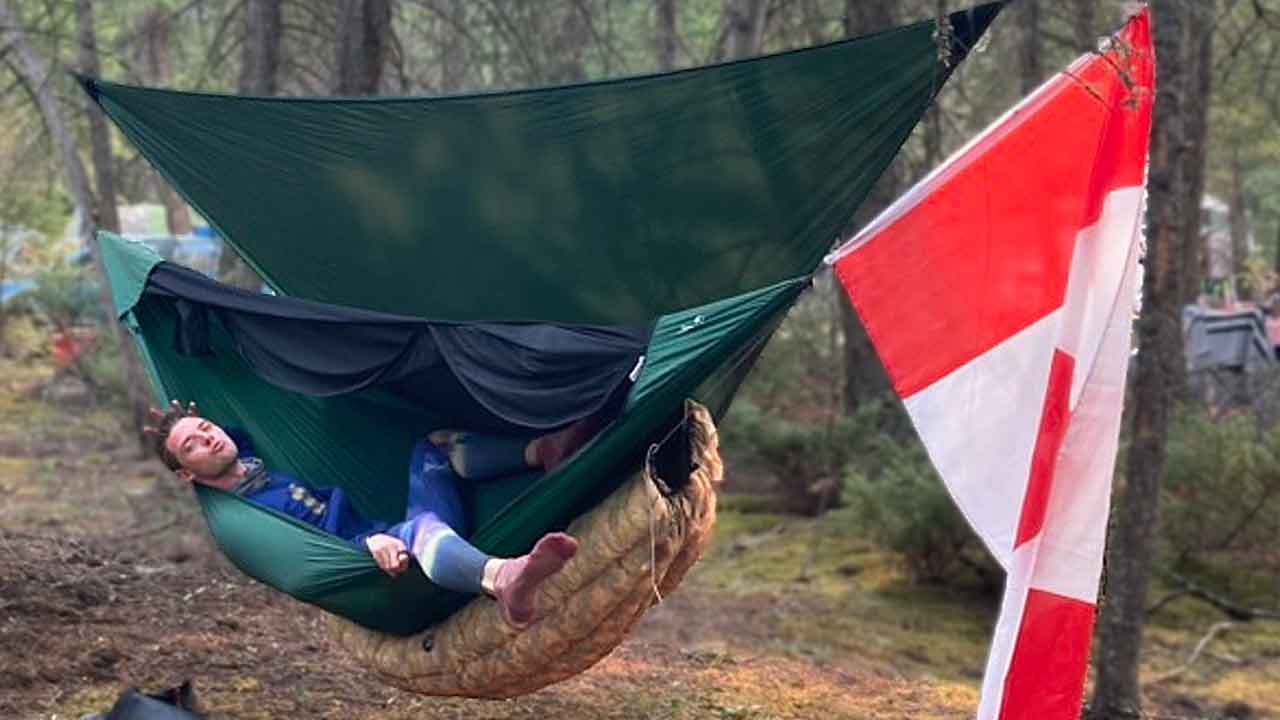 While weight and size might not be a big problem if you're coming by car – some of us without that option are stuck with our packs on our backs which is where size & weight comes in useful. Not to mention if you like camping outside of festivals, you can always use it then.
Won't cook you alive at 9:30 AM.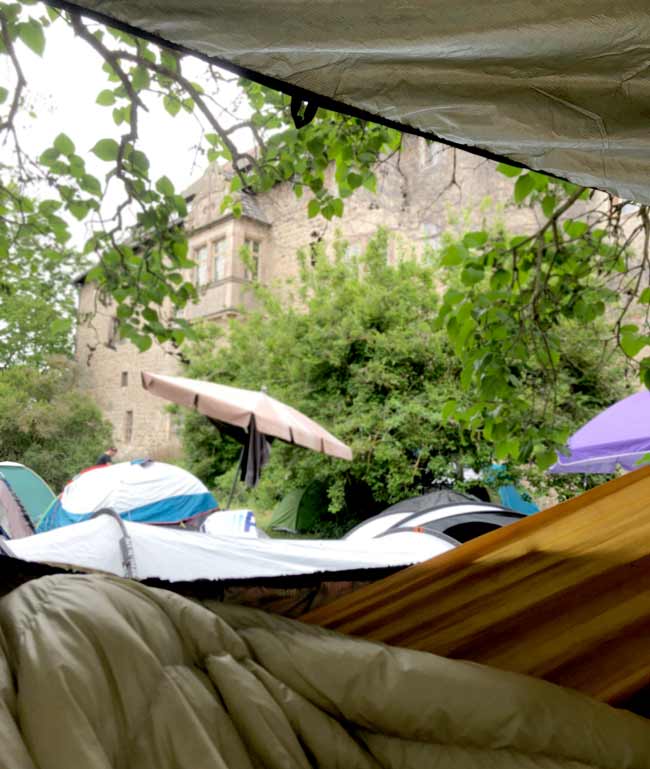 After falling fast asleep late into the evening, nothing is worse than waking up prematurely as the sun turns your cozy tent into a sauna. Yet, that's what happens every time. Too hot to nap with a sleeping bag, too awkward without, and it's humid as all hell.
Let me tell you; hammocks are amazing in both hot and cold. No problems with humidity & heat because of open airflow. We all know how valuable and scarce proper sleep is at festivals and when it comes to day 4 and beyond, you'll be glad you were able to grab a few more hours of good rest.
Less smelly
Lest you leave the door of your tent wide open or all your stinky clothes outside, you're probably familiar with tent musk – that aromatic joy created from 4 days of shenanigans.
Hammocks? Open ventilation, baby. Want to hang your clothes up to air out and refresh from the morning mist? Simply drape them over the hammock suspension. Fresh bed, fresh clothes, no skunk.
Festival campsite organization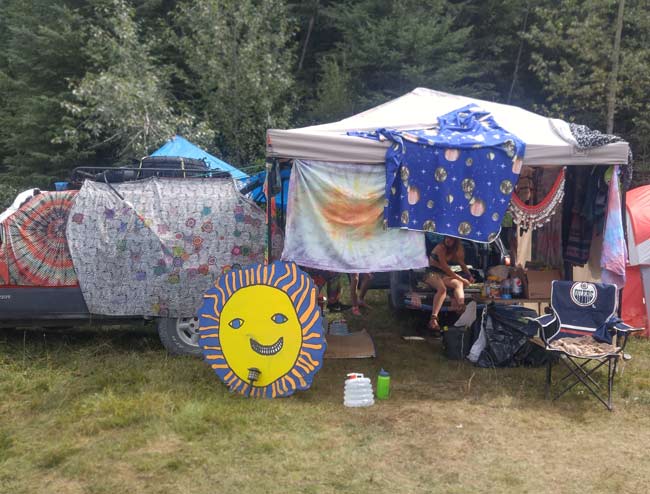 Day 1 with a tent is great – the campsite is clean and every thing has its place. Fast forward 15 hours and you have no idea where your flashlight, chewing gum, or earplugs are. Aimlessly scuttling around on your hands and knees to find your rolling papers right before your favorite DJ hits the decks – we now realize the importance of campsite organization.
With a hammock? You can stand!
Sound pretty unimportant, right? Well let me tell you – as someone who is chronically un-sober and often messy, it's so much easier to dig around my hammock and bags to find my things. I can't tell you enough how amazingly efficient it is in comparison.
What about rainfall and storms?
A gnarly sub-tropical storm nailed us at Outlook Festival and I was one of the only people who didn't get drenched or ruined from the weather. Why?
Well, unless you have a very good tent with very properly set stakes and a perfect position, you're going to have water leaking in from at least 1 of 4 directions. Hammock?
Well, I just adjusted my tarp and tied it strongly to the trees around me. While there were literally tents flying around and the ground underneath turning to mud near-instantly, I was just swinging in the wind and marveling at the scenes.
Fun times with friends
When you're in a tent you're pretty well shut off from the rest of the world. You can hear everything but can't engage with anything and miss out on any beautiful views. While people are sitting on dirt and tiny camp chairs, you can also just rest, hang back, and kick your feet up without being isolated from the fun.
With a quality hammock like the TTTM King Size you'll actually find that you can fit 2 or even 3 people in it comfortably. I've slept dozens of times in my hammock with a partner and I can tell you that nothing beats lazily snuggling up in an oversized cocoon while enjoying the ambient atmosphere.
What about privacy & security?
You must wonder about how safe are your valuables or how private your experience is while hammock camping.
I usually just take all my things and put them in my hammock when I'm away from the campsite. I arrange them in a way that makes it look like there's someone sleeping in it and it's very convincing.
So much so that I went up to the hammock with a new friend and they were saying that someone was already inside it. Flipping over the top section revealed nothing but my gear – safe and secure!
To increase privacy/security, I simply pull the tarp cords all the way down so the hammock is almost completely hidden away. While it's not 100% coverage like a tent, I'd say that the 90% coverage is more than good enough for changing or cuddling up!
It's just easier and better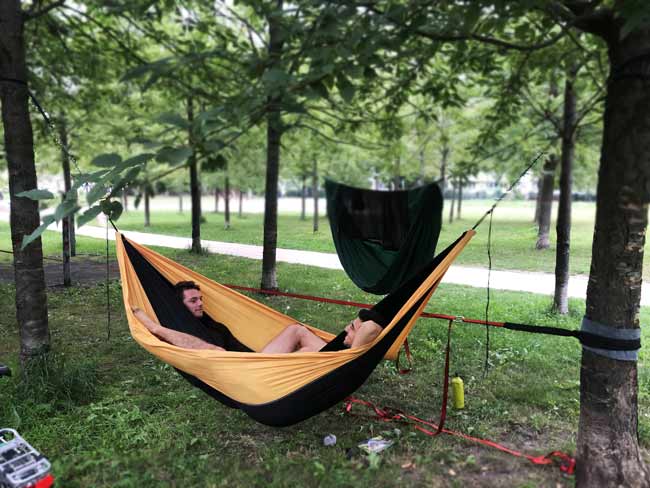 Setting up and tearing down the campsite is in my opinion much quicker with a hammock. Sling the straps around the trees, hang the hammock and then hang the tarp. I found it to be much easier than constantly fiddling with stakes, groundsheet, perfectly folding the tent, etc.
Simplicity and ease of use are things I've really come to appreciate and hammock camping often takes a lot of stress out of the whole ordeal.
Won't sleeping in a hammock mess up your back though? Nope! If you lay diagonally in a hammock, you can actually lay flat!
Summary
Obviously I'm pretty biased towards hammock camping, but that's not without reason. Some quick bullet points to remember:
More affordable than tent camping
Cleaner/easier to organize
Not as hot/humid in the morning as the sun rises
Hanging out and relaxing > laying in an oven
More portable and lightweight
That's not to say it's perfect – it takes time to adjust to sleeping in a hammock and if there are zero trees; you're out of luck. However, if you have the chance, I absolutely recommend hammock camping at festivals instead – you might be blown away!
Check out my favorite camping hammock setup here and my article on my best festival camping setups for more info! Thanks for reading 🙂