Waking life is an incredibly well thought-out and creative festival with an outstanding location, solid organisation, and an excellent overall experience!
I'll score the festival for a total of 50 points and compare it to similar festivals I've been to. I'll go over soundsystem, music, camping, food, atmosphere, vibe, and all the important things to know!
NOTE: PHOTOS & VIDEOS ARE DISCOURAGED (which I support) and I didn't take many, so I'll leave the surprise up to you when you get there. Trust me though – it's a very pretty festival! Out of respect for this rule, I have no photos of the major dancefloors.
Music
There is a pretty solid array of music at Waking Life with some really phenomenal bookings! Daytime often lends its way to the live performances at the Cochillo and primarily techno and 4:4 beats during nighttime.
The diversity in bookings is what initially drew me to the festivals with a range from Baba Sissoko (African Jazz) to FreddyK (Berlin Techno), to Mala (UK dubstep) and DMX Krew (ambient experimental).
The lineup had an excellent diversity and selection in general, though there were some disappointments with how scheduling and how some DJs curated the crowds vibe. More on that later.
With so many unknown and underground DJs and artists, it would be an excellent idea to add a little tag or two to each artist, generalising which type of set they'll play – (funky) (ambient) (psycore) (dubstep) – etc so people can discover more flavours they love.
Soundsystems & stages
There were 4 main stages in 2023 – 3 large and 1 small as well as a workshop area (Apuro) which occasionally had some sets. Both the Floresta and Outro Lado are immediately lakeside which is amazing for cooling off.
Overall the sound was very good, though not excellent – festivals like Shambhala and Wicked Woods provided better coverage, bass response, and variety. Many of us were a bit disappointed and avoidant of the nighttime techno dominance and preferred the lovely positive sunshine vibes instead.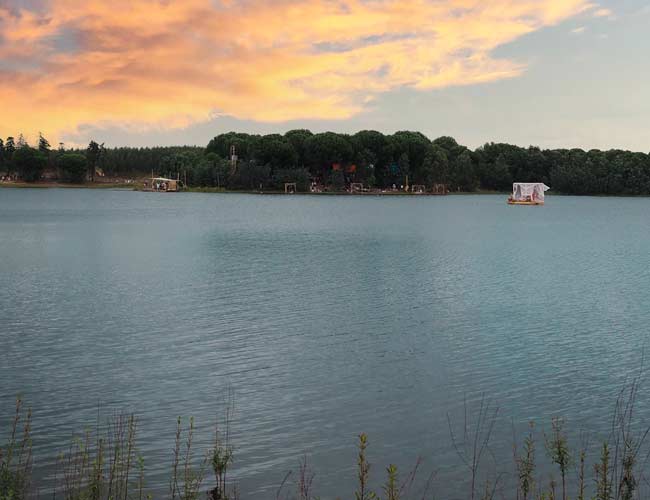 However, even the Apuro workshop space had a Loud Professional soundsystem which surprised me – those VH Micros sound terrific! This shows the organisers really care about fleshing things out properly.
I give sound, stages, & music a solid 7/10 – only losing points due to a bland nighttime music variety, more subwoofers needed, and more separate identity needed from one dancefloor to another. Explanation on the stages below!
Cochillo
The first stage you'll encounter is a humble sandy-dance area which sported a lovely d&b Audiotechnik soundsystem. The majority of the live performance were played here and during the daytime was a source of everything from African beats outstanding performers like Baba Sissoko and Mark Ernestus' NDAGGA RHYTHM FORCE to experimental ambient or jazz from Caroline Lethô and Azymuth.
This stage I spent the majority of my time at since the other stages often had music a bit too dark and heavy for my tastes. The sound was excellent and had great coverage and well-mixed for live performances without too much ear strain. Visually it was cozy but in terms of lighting nothing striking, which is fine as visuals can be distracting for performers at times.
Some of the best atmospheres of the week were during the Jazz and African-type shows. Collettivo Immaginario blew my socks off with their masterful jazz and the Breadwoman opening ceremony was the most hilariously ridiculous show I've ever had the pleasure to witness.
Floresta
Also supported by wonderful d&b audio soundsystem, the Floresta often hosted darker techno-type sounds. The visuals were very groovy with the mushroom-shaped structures and cozy uplighting.
I didn't spend much time here as the music was often too dark and techno-y and the crowd felt a bit like walking into a Berlin club. The soundsystem did have a few weakpoints as the dispersion was too narrow and it could've used a few more subwoofers like most European festivals.
Friends adored the performances by Objekt and Freddy K and techno speed freaks will definitely be satisfied with what pops on over here. I would pop by for around 15-30 minutes of grooving before getting bored by the repetitious nature and weary club-like crowd and moving over to the Praia.
Outro Lado
Another large stage with now a Loud Professional system which had excellent delivery (but also a bit of a narrow disperson and light on sub bass), Outro Lado also hosted primarily techno and experimental music. 4/4 beats was the norm and also felt like walking into a Berlin club at times.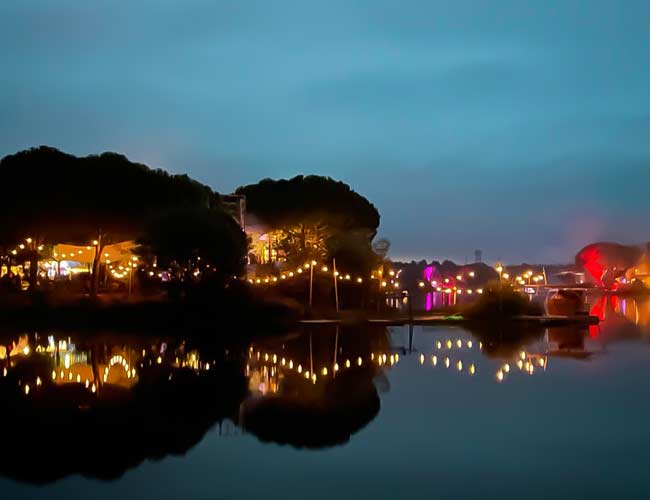 Beautiful large sandy area for dancing, a welcoming atmosphere, and right by the lake where all go to cool off during the hot Sunday sun. I do wish there was some laser projection mapping or more done visually for nighttime aesthetics as I wasn't quite captivated even when really high.
Though I've listened extensively to Aleksi Perälä and DMX Krew in my own time over the years, I became a bit agitated and brought down by the malhormonious sounds many artists would play. Lots of bookings opted to play a deliriously strange set during daytime which honestly brought down the atmosphere and had myself and many friends running away quickly.
Praia
A smaller but still viable stage also powered by Loud Professional speakers, the Praia also hosted techno but also drum and bass and dubstep which was a VERY welcome change from the 4:4 techno which dominated the nighttime festival. As such I spent most of the nighttime here or at the Cochillo since IMO the techno became overbearing quickly.
Mala, Nomad Embassy Soundsystem, and Darwin absolutely put on terrific shows and had some of the best crowd vibes all week! Visually simple but certainly adequate, the only downside is that it's quite far and tough to get to.
Vibe & atmosphere
There is an infinite amount of creativity and thoughtfulness poured into this festival. It was truly mind-boggling how amazing and creative this place is – truly exceeded all of my expectations and left my heart happy and smile full. From the half dozen floating 'air-hotels' and accompanying performances to the mid-forest Portal and time-travelling spaceship, this festival has some of the most hilarity and creativity I've ever seen.
Considering the size and how young the festival/space is, I'm absolutely impressed and give it a solid 10/10 in that regard. Too, the crowd was generally very great – though some seemed to be prepared for a night at a club rather than raving and camping. Also, the cigarette smoke at the dancefloors was often sickening – especially when on acid. I wish European festivals/people were more aware how terrible they smell and affect the lungs of non-smokers. All of my group had this issue.
However another mention towards music and direction vibe and atmosphere – more happy and peaceful daytime music with the likes of house, hiphop, dub, and reggae would go a LONG way as many of us could just not catch a break from the continuous 4/4 dark thud from the larger stages. DJs are responsible for the ambient energy of thousands of people and at times failed at directing this responsibility properly.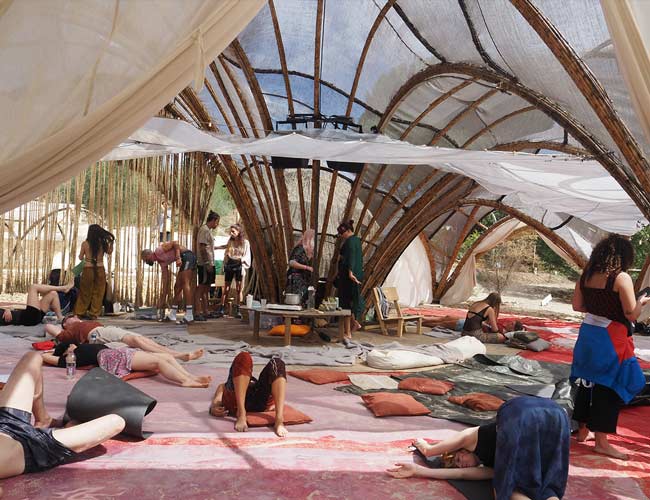 Too, while there was a dedicated trip-safe space, there was no distinct stage for downtempo/chillax/peaceful or happy tunes. This is instrumental at night since partygoers deep on a trip really need a place of respite with some Nicola Cruz-type rhythms or Phaeleh-like heartwarming frequencies.
Heck, the little Chai shop often was packed with people because it had music with melody going on instead of angst-inducing 4/4 techno set in D# and somber minor scales. Tons people were wanting the same.
The Apuro was running a range of workshops which was often packed with patrons so I generally didn't go. Many friends had great experiences though! They have a trip-safe den which is great, and there are SO SO SO and micro-experiences to have around the festival.
Mark Ernusts' Ndagga Drum Rhythm Force absolutely blew my freakin' socks off with their stage presence and energetic show. These were absolutely some of the highlights of the week!
Vibe and atmosphere I put at a strong 9/10, only losing a point due to many DJs putting on shows which really did not match the ambience (dark delirious experimental is not what should pop off at 3 in the afternoon by the lake on Sunday). I heard many complaints from fellow partygoers about this.
Food and vendors
Absolutely, overwhelmingly excellent! While I'm not vegetarian and did miss some more filling and hearty meals, the selection and prices were absolutely perfect and I had zero complaints!
Most days I'd see myself cycling between pizza, pasta, and a falafel wrap. The prices were reasonable, coffees and chai very nice, and overall one of the best food selections I've seen at a festival! If only I could have some Portuguese porco preto or Piri-Piri chicken though as I burn a ton of calories and the sustenance from fats and proteins are necessary – falafel and pizza only does so much for me and my body!
Too, I wish there were some arts and clothing vendors around to pick up a few souvenirs or accessorise an outfit.I'm sure many first-timers would appreciate it too since being able to buy a festival kimono or party poncho vibes better than a black shirt and jeans which many arrive with and gives them something to remember their vibe.
9/10 here because the food and prices were generally excellent!
Camping and accomodation
I opted to camp (as I usually do) in my luxury hammock camping setup. I was excited to pitch up on the large property and find a beautiful spot to myself.
However that's not the case. Unfortunately campers are crowded into sectioned off areas which heavily aggravated my hay fever. Tripping over dozens of tent stakes at night is a serious hazard (I partially sprained my near un-sprain-able ankles!) and it made for a very crowded camping experience.
I can understand if there are limitations to their ecological impact they can have to they funnel all the people into these areas, but it was one of the least pleasurable camping areas I've ever had at a festival. My hay fever was brutal even with my medication and I feel bad for all those who didn't bring earplugs for nighttime sleeping.
Maybe even an option to pay extra just to camp in the eucalyptus forests for those of us who like 'hardcore' camping more than being in a tent village.
There is not much sound bleed from the stages so that's alright though the amount of campers around you may disturb your valuable rest. They were thoughtful by providing shade tarps over the entire camping areas which certainly helped with managing daytime heat.
The bathrooms were quite nice and tidy though and the cold showers worked quite fine. There were a number of themed camps which is always great to see – VR & AI experiences, chill-out lounges, chess camps, massage places, etc. I reckon this will increase year-over-year as well!
I rate the camping and accommodation a 6/10 due to all factors listed above and was the weakest link at Waking Life.
Organization
Absolutely outstanding! I'm outright impressed by how thoroughly planned out this festival seems to have been run. The toilets (MASSIVELY IMPORTANT) were often happily clean, the festival grounds was litter-free, and within no-time the wobbly bridge got repaired in the middle of the night.
Not to mention the infinite amount of creative conundrums scattered all around the place for your psychedelic psyche to absorb and fall into hilarity with – this festival is REALLY something special.
I was impressed with their response to start dispatching safety crews to evacuate swimmers during thunderstorms after security risks were mentioned and I can tell the organizers really do a thorough and thoughtful job overall. The entire place is an ecological regeneration project which is really well planned and serves as excellent inspiration to all of us looking to do similar.
I give organization a solid 9/10 because I've seen shitshows before, and this was very far from it!
Overall
One of my favourite festivals in Europe so far! A beautiful location, refreshing and clean lake, excellent organisation, and groovy creativity around every corner. I'm sure with a bit more refinement of the sound, DJs, and camping situation it'll easily top my charts. The homegrown feeling is strong and beautiful.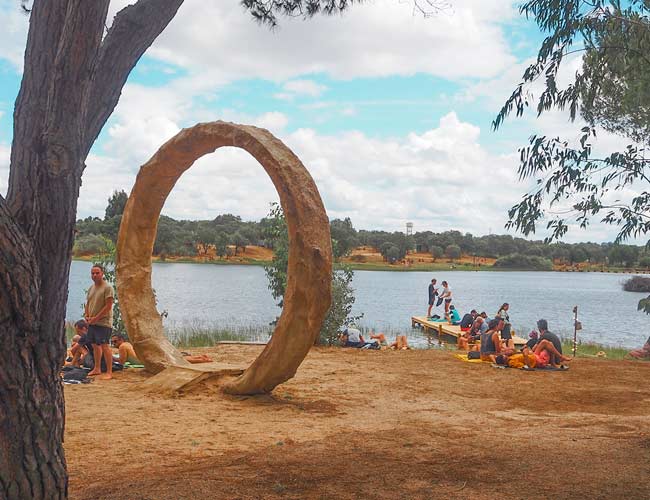 The only festivals I've been to which surpass it in terms of crowd vibe and sonic experience are Wicked Woods, Motion Notion, and Shambhala (all Canadian festivals). Hard to beat though since Canadians are IMO the most hilarious and groovy festival patrons around who take camping and partying very seriously! Maybe banning alcohol like at Shambhala would be a wise move!
Highly, highly, highly recommend Waking Life to all those who like to hop in the lake nude, explore the creative conundrums scattered around the grounds, and enjoy a beautiful experience with tons of excellent people. I never saw any aggression, people freaking out, or bad vibes in general – which is brought on by the experience of the festival itself.
Overall rating: 40/50, or 80%, which is very very good.
I asked dozens of people how thwey found out about Waking Life as the site and socials are quite cryptic. Pretty much everyone answered the same: They heard from a friend. I love this and think this also contributed to the good crowd.
It's hard to compare 'similar' festivals because Waking Life is certainly unique. The closest I would say it comes to is 3000Grad (De) and Wicked Woods (Ca), and Waking Life is absolutely much more full of content and creativity than those two.
It's not too big (few thousand people), not too small, has great variety, lovely scenery, and diverse music. Some improvements to be made, but overall very impressive. With more engaged and wacky partiers, I can easily see this festival surpassing Shambhala (Ca) in the sheer hilarity and funkyness factor. Until then, Shambhala is still the holy grail of sound, visual, and patron excellency.
If you want to camp as a festival like a pro, check out my hammock camping at festivals guide – comfort and rest are paramount to a terrific experience!
Thanks for reading my review of Waking Life festival – please let me know if you have any questions or have any thoughts about it! I had a lovely time and absolutely will be back for more!