Already have a Minirig and looking to upgrade and and either add a second Minirig 3 or a subwoofer? I'll go over your options and which you should hop for.
Check out my individual Minirig 3 review and Minirig Subwoofer review before this article so you get a feeling for how those units perform.
Lets hop into it.

Also, Here's the Minirig 3 Amazon link and the Minirig official website link for refence.
2 Minirigs vs 1 Minirig (1.0 vs 2.0)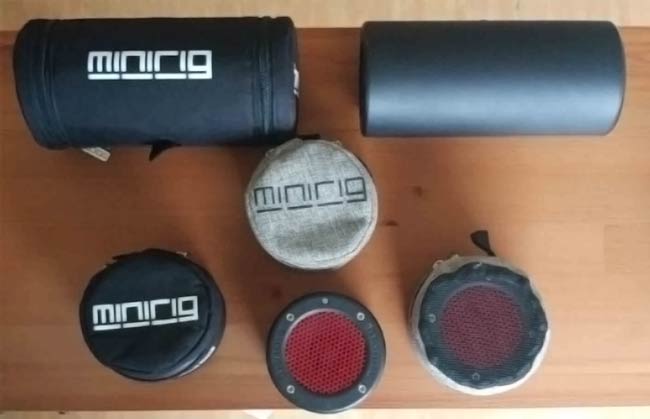 Well, you'll have double the drivers. You also gain stereo separation. You'll have independent right/left channel audio which is great as you can enjoy the music or movies better.
The sound is excellent across the board. You get surprisingly good basses, nice trebles, and clean mids. Unless you're putting those volume levels pretty high, you might have a hard time noticing a lack of bass.
However, one gripe to keep in mind is the Bluetooth connectivity in stereo mode in flakey at times and I experience dropouts randomly. Many other people do too and this is pretty frustrating – I hope they can improve this.
Too, there is a slight bit of latency added, so if you're particularly sensitive towards lag from dialogue and audio, maybe you should go for the 1.1 setup instead.
Minirig 3 + subwoofer (1.1)
Bass head? Definitely grab the subwoofer. If you're playing high volumes or outside from time to time, the subwoofer will outperform the 2.0 setup more often than not. However, you do sacrifice the clean and alluring sound of dual stereo.
If you're playing bass-heavy music like dub, drum and bass, or other forms of electronic music, you'll likely benefit more from the 1.1 setup.
Too, there's less latency and drop-out problems when in a pure 1.1 setup.
What's the better Minirig setup – 1.1 or 2.0?
If you listen to less bassy music and are most focused on quality, resolution, and would like stereo separation, then the 2.0 is a no-brainer. The bass levels are still pretty impressive when indoors and the stereo sound is really a winner in this circumstance. There are many times where I forgot to turn on the subwoofer(s) I have and was still jamming out to bassy tunes without being unfulfilled in the low end.
However
As soon as you crack the volume past 50%, you'll notice the 1.1 Minirig subwoofer setup takes the reigns and fills the room with those grooves.
My personal preference with the Minrigs:
Personally, I'd take the 1.1. The disconnection issues from 2.0 is the biggest reason why, but I'm also a bass lover and we like to crank the volume levels high when outdoors.
However, psychedelic music, classic rock, classical, and highly-detailed songs are significantly nicer one a 2.0 setup. If you listen the majority to those types of beats, then you might be better served by the 2.0.
Summary
I have a 3.2 setup because I'm mad. I have a left and right channel, each with subwoofer, and then a center channel for an instrument or to fill. However, that's completely overkill and most people would be fine with a 2.1, or 2.2 if you're really an audio addict.
In the end, the 1.1 is pretty awesome, and you can always go for a 2.1 later on. You'll be sorted out on the bass front and the audio from a single Minirig 3 is good enough in mono.
Thanks for checking out the Minirig 1.1 vs 2.1 comparison. If you have questions drop it down below, otherwise, peace!