Lighting is an underrated yet crucial part to any party. Without good lights and sound, what on earth are you doing? This guide to the best battery powered lights for DJ and party purposes will help sort you out!
I'll go over the best portable LED and laser setups at both budget and high-end offerings. This guide is meant to accompany my best battery powered speakers and portable DJ setup articles, so open those in a new tab too!
Lets skip furtherjibber jabber and slide right into the info.
Note: This list is 100% unpaid and unsponsored, but does have affiliate links! Updated as of 06/2022
Best budget battery powered LED PAR light – EuroLite AKKU Mini PARty
$45 isn't too much money at all for a PAR light, and the EuroLite AKKU Mini PARty is about the lowest level light I would recommend. I personally have 2 of these (the first generation) and found that their performance is very good considering the price!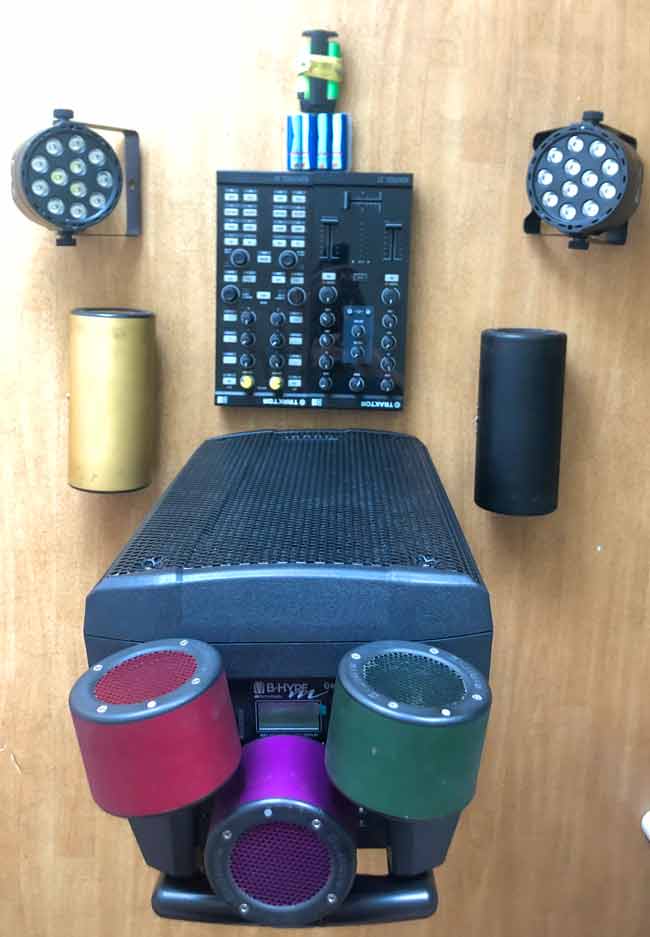 The fact that they're sound-reactive is a big benefit and doesn't require a DMX to control. It has an included wireless remote to tune the visual elements to a basic yet functional level. You can use DMX-in and DMX-out on this light, making it versatile enough for more professional application.
Inexpensive
Sound-reactive
USB-C
USB-C charging is a nice upgrade over the previous generation (EuroLite LED PARty) which is $15 less. Integrated fan for cooling, 2600mAh battery, and 10W LED output – it works just fine and I used it for many impromptu raves and soundbike shenanigans.
Best high-end battery powered LED PAR light – Ape Labs Maxi
At $479 we're no longer in budget territory at all. We've gone right into professional-ready application and the Ape Labs Maxi V2 is about as good as you can get. Built tough as nails and submersible waterproof, German-made Ape Labs knows a thing or two about lights.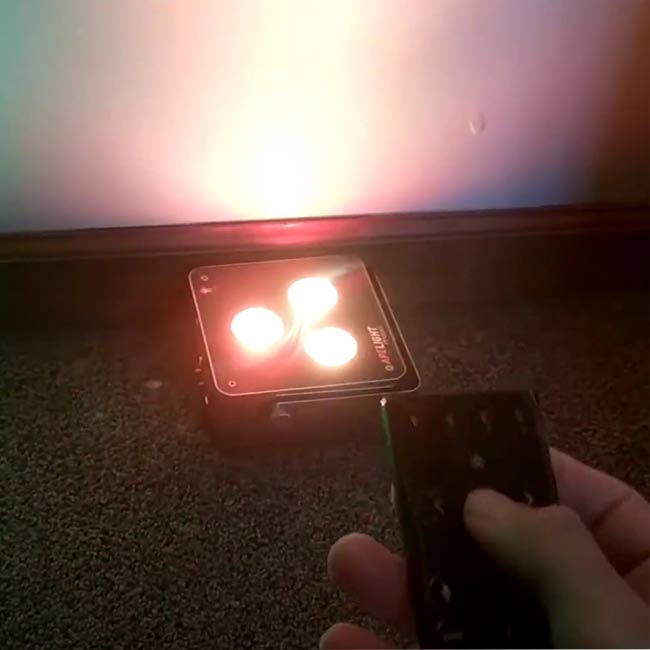 With 45 watts of output and high-efficiency diodes, this is a terrific portable light for uplighting venues, DJ booths, or sections of crowd. Additional lenses are available for altered beam angles and optics.
The real highlight of all Ape Labs lighting is their wireless DMX/app setup. Sync multiple Ape lights and set a sound-reactive lightshow for an impressive realtime analyzed lightshow – it allows for tremendous versatility when you have many tasks to control at once.
Very high and bright output
Excellent wired or wireless DMX w/app
Terrific build quality
This is the light made for professionals, by professionals. Set it and forget it or complete DMX control, you'll get great results no matter the scenario. Just be prepared to spend a good chunk of cash for a full setup. For similar results and $130 cheaper, the Ape Labs Mini is a fine choice.
Best budget battery powered LED light – Varytec Giga Bar
The Varytec Giga Bar is a 3 x LED light which can even provide UV spectrum – criminally overlooked by many operators. Coming in at ~$89, it's not at all on the expensive side and has wireless control with IR remote.
DMX in & out, around 5 hours of battery life, and a sturdy metal housing, it fits right in alongside high-end professional equipment without the pricetag.
While on its own it's a fine bit of kit, setup in a 3-way configuration is where bar lights really show their strengths and considering the price – that's definitely attainable!
Ultraviolet lighting possible
Great in a set of 3
Music control
Definitely worth looking into the Varytec Giga Bar, especially if you're fond of UV-spectrum lights because there are no other lights on this list that offer ultraviolet!
Best high-end battery powered LED light – Ape Labs LightCan V2
The size of an energy drink can, the Ape Labs LightCan V2 is a seriously impressive bit of kit when you factor in all the details. While the initial price tag of ~$225 is a bit of a deterrent, the Germans truly know how to engineer a high-quality bit of kit.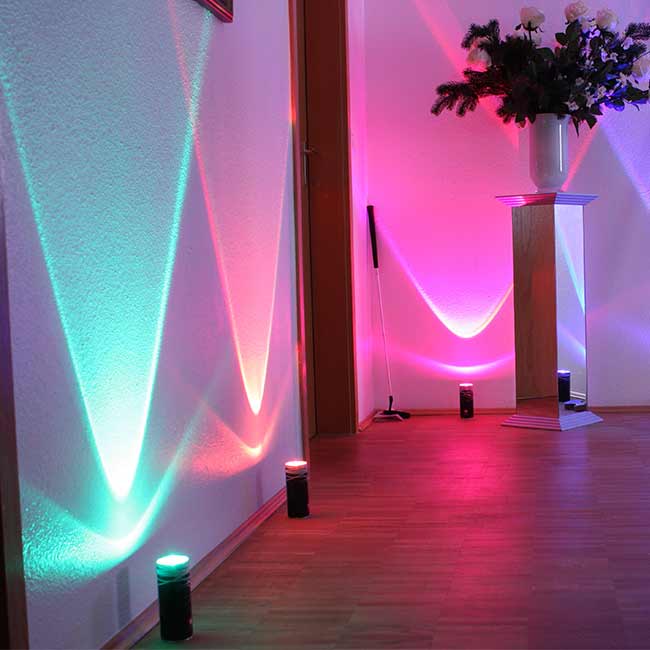 You get a high-quality light, attractive and modular beam angle (various lenses available), great battery life, small form factor, and their phenomenal wireless DMX system.
The integrated no-thought lightshows system will automatically synchronize all Ape Labs lights for a quality, effective, and attractive lightshow. Perfect for one-man shows or low-maintenance lighting applications.
Very portable and robust and fully waterproof.
Attractive lightshows
Excellent wired or wireless DMX w/app
While it comes with a price, you definitely get what you pay for with superb build quality, excellent lighting, and a compact package. These are definitely professional-ready lights which any beginner can get great results from. Just don't mind the $69 remote…
Best high-end battery powered laser projector – LaserCube
Nothing quite matches the raw output and versatility of the LaserCube by LaserOS. This expensive ($1,000+) little box can really put on a show beyond what was previously possible without being connected to mains.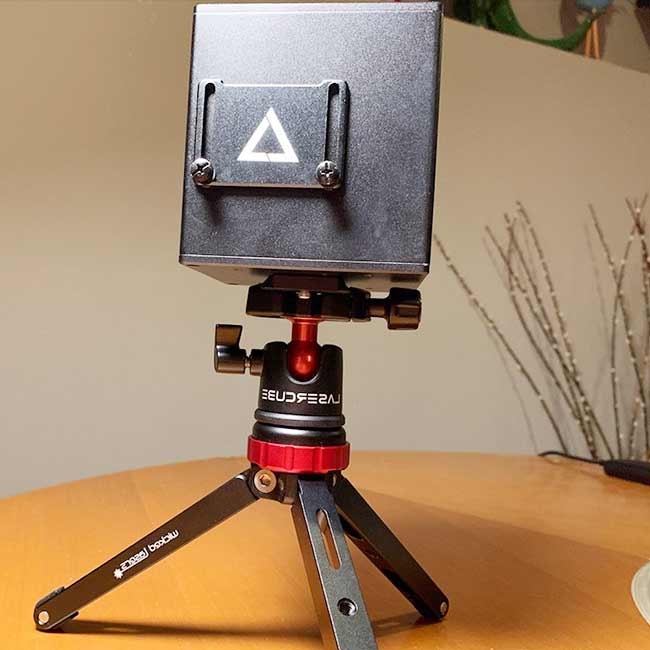 No other battery powered laser projector is out there which can do what it does. Wireless & wired DMX w/passthrough, a very impressive app, and much versatility with a wide range of lenses.
Of course you can use a portable power station and regular laser projector for less money, but you won't match the form factor and UX. Nope, this little projector is seriously impressive.
Wireless DMX & passthrough DMX
2.5W maximum output
Very good software
You get what you pay for rings very true and if you can afford it, you'll add a serious amount of dimension to your visual setup. Multiple of them would be a dream, but there's a big pricetag associated with that.
Best budget battery powered projector – LG Cinebeam
There really isn't any affordable battery powered laser projector out there that's intended for high-end visuals. However, a regular projector can easily add a layer of visuals that can very well improve the ambiance of any show.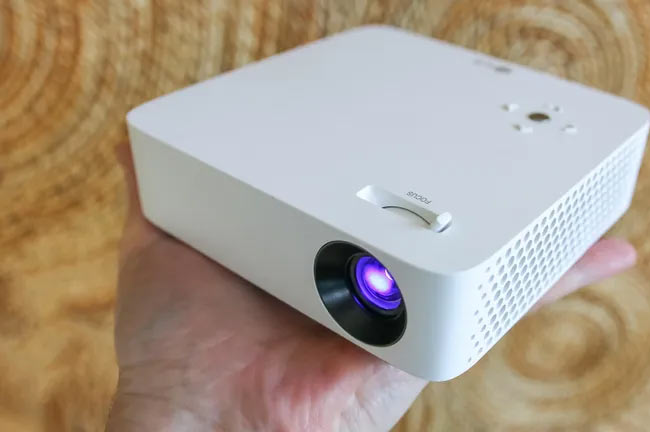 Linked up to music with a MilkDrop visualizer sync'd up – you can get a pretty good set of visuals without breaking the bank. HDMI or USB-C input is where you'll have to make things work out (no DMX easily possible).
You can opt for any pico projector, either LED or laser, by any brand (LG, BenQ, etc), but I'd recommend something with at least 720p native resolution, ideally 1080p native or more. More lumens the better.
Versatile (use at home or for raves)
Portable, lightweight.
Safe for eyes
While not 'cheap' by any means, you can of course use such projector for home cinema use too which you can't quite do with a dedicated laser. Also, you don't need to worry about patron safety with these types of projectors. Overall a very easy and versatile choice!
Best all-around battery powered LED lights
Not too expensive, not too cheap, I've selected 3 lights right around the $100 mark. They are:
Ape Labs LightCan SE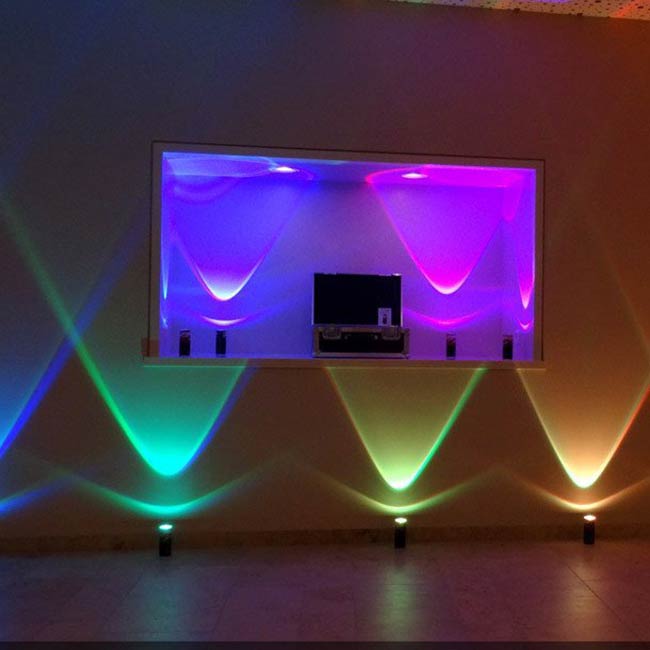 Again the LightCan comes up, however I've now linked the first generation as they're a good 33%+ less at only $111 on Thomann. Versatile, high-quality, and overall a very impressive light, it's hard to not recommend the LightCan.
Varytec BAT.Trusslight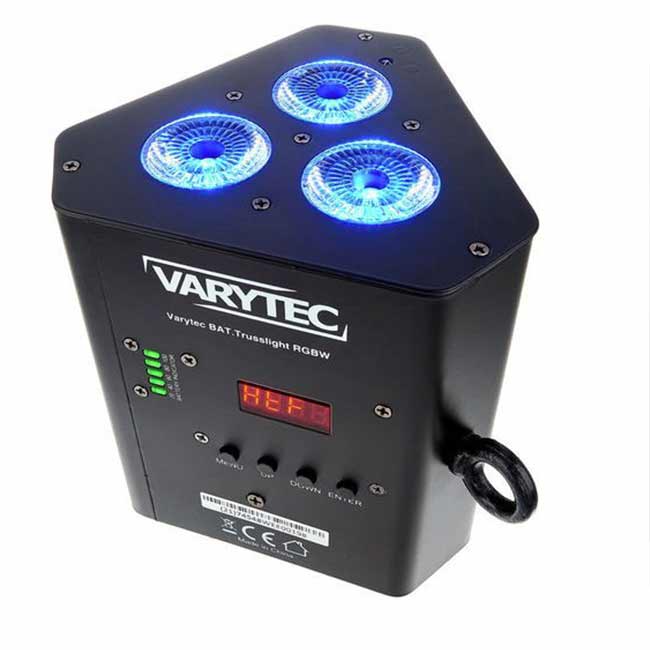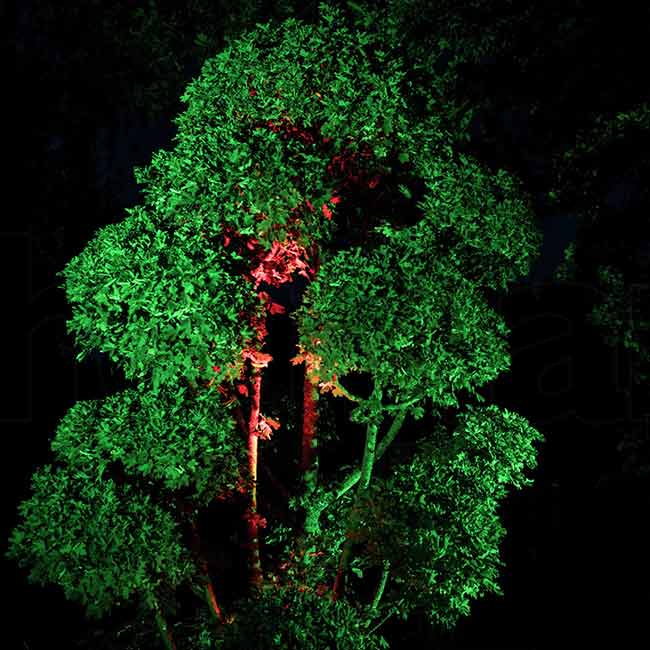 Perfect for uplighting trusses at any venue, the Varytec Bat.Trusslight is an overall fairly solid light however has a weak point of only a 3 hour battery life at full tilt. At also $111 it's not going to break the bank and though it's not as finely engineered as some other lights, it performs very well and will last a long time.
Fun Generation Battery LED Pot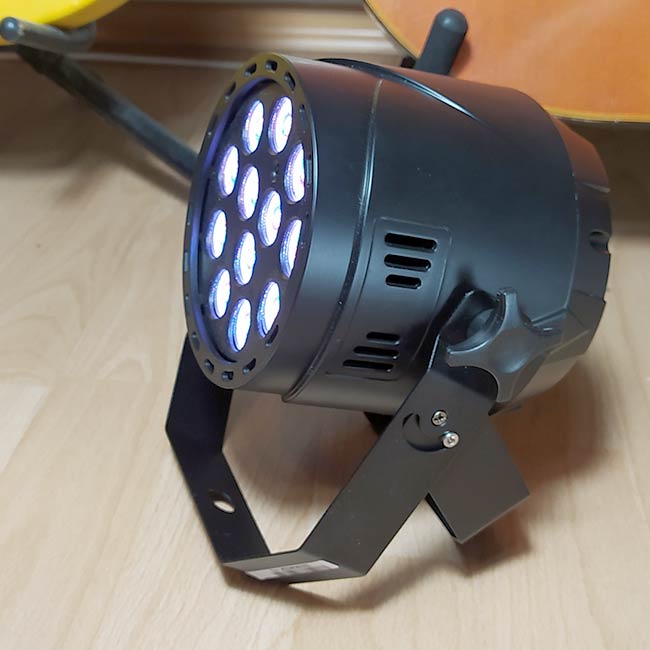 One more PAR light, this is like the EuroLite AKKU but the Fun Generation Battery LED Pot has a better quality light, better battery life, better build quality, and still friendly $99 price point. Great for spotlighting a DJ booth, dancefloor, or visual feature. Sound-reactive features are also nice to have!
Other lights worth considering
Some other cheap and expensive options which didn't fit into any particular category above I've thrown down below – they have specific or different use-cases, cheap prices, or just in general things we haven't seen on this list here.
Both Lighting RF4 and RF1 – budget Ape Labs alternative
A Chinese-knockoff version of the Ape Labs Maxi and Mini, the Both Lighting RF4 and RF1 stack up surprisingly well to the Ape Lights.
From scouring eBay and other sites I've found the RF4 for aprox. $100 per unit, compared to the Ape Lights versions at over $400.
Now, the performance isn't identical, but they're quite close! The lighting throw is narrower with a similar luminance. The remote is notably cheaper (think generic Chinese controller), however works just fine.
You of course don't have access to the Ape Labs app/DMX system 'nor have cross-compatibility with other Ape Labs gear, which is a big selling point of that ecosystem.
The build quality is quite good and still the lighting is great. No, they're not as good as the Maxi or Mini, but they're darn good for the price! Battery life is worse, custom colour selection doesn't exist, etc. This review is very good if you're considering the Both Lighting RF-4 vs Ape Labs.
If you're professional or anticipating professional results – just go with Ape Labs. However for enthusiasts and amateurs who don't mind a slightly lesser experience for a whole lot less, the Both Lighting RF4 and RF1 are a fine option to consider.
Ape Labs ApeCoin – Best USB-powered light
A very unique little $99 piece, the ApeCoin is externally-powered (w/ USB powerbank) but as featureful as their bigger products (wireless DMX, lightshow, etc). Waterproof, tiny, and versatile, you can affix them to the Coin Tube, a magnetic surface, table tube, or Coin Bank. They can produce seriously impressive results with 15W in a teeny tiny form factor.
Cheap fairy lights
These are super cheap on Amazon or AliExpress and light up with a simple button-cell battery. Portable, tiny, and add just a little bit of homely flavor, I highly recommend grabbing a few of these and setting them up wherever needed!
Ape Labs Stick
Back up to the $279 pricepoint, the Ape Labs Stick is a visually-striking piece and of course has all the yummy Ape Labs wireless integration features. Multiple of these really brings a new level to the show. The downsides? Aside from price you'll likely want a flight case to transport these due to their form factor, which is more $$ and bulky.
Cheap LED light strip
A decent LED light strip can be found for just about $25 in many e-shops and some of them are sound-reactive. While you'll have to figure out a way to power them – they can be surprisingly pleasant and versatile. Oftentimes these LED light strips break or get messy easily, so bear that in mind when investing in a strip!
Other cheap Amazon lights
All over the internet there are many cheap battery powered party lights; mechanized rotating LEDs, disco lasers, and so-forth. While they are fun and add a dimension to the lighting, they can become repetitive and almost annoying after a bit.
It's worth picking up one or two good ones but I would actually stay away from getting too many of these – some are pretty tacky IMO and it's better to save your $$! I have a friend with many budget lights and she would've just been better off with two great ones!
Example 1, 2, 3, 4 (Amazon links).
Summary
For portable DJ and party applications, battery-powered is the way to go. Versatility, portability, and ease of use all-in-one. Less headache, less problems – and wiring is usually the most irritating part about setting up lights for any venue.
Again, this guide is meant to accompany my best battery powered speakers and portable DJ setup articles, so open those in a new tab too!
You can use a portable power station and regular plug-in lights as well, but that's a whole different world with different options. Stroboscopes, moving lights, and hazers are then in the realm of possibility.
Personally, it's worth it to invest in some lights, even budget, and invest when the time is right – depending on how seriously you take this whole portable DJ and party thing really!
Anyways, I hope this guide helped out and if you have any questions at all please drop a comment or reach out on social media! 🙂
Peace.