What happens when you give Burning Man festival people a lot of disposable income, a vision and a literal castle to turn into a playground? Well, you can only imagine.
The first proper year of Utopia Festival at the exclusive Schloss Burgscheidungen was quite the journey. Mysterious in many ways, this Utopia Festival review will go into all the important details about this unique place – from BDSM shows to hidden secrets around, this is one keen fairytale.
At first glance it was just a regular old (gorgeous) castle which was just used for a weekend of crazy partying. I quickly discovered that it's not nearly as simple as that, and left much more perplexed than when I arrived.
There's a lot that goes on behind the closed doors at this palace – most of which I won't disclose for privacy and respect's sake. If you've been to any intense music festival before though, you can imagine what I'm talking about.
Atmosphere
A 6th century castle, this place once housed King Henry I. In fact, this exact spot where Schloss Burgscheidungen has supposedly been inhabited since the Neolithic era. It is now where this one-of-a-kind experience is hosted.
For reference – I'm a outdoors and mountain lover, especially when it comes to festivals. However, tripping out at the gigantic ballroom with towering chandeliers, tall ceiling, and psychedelic projections is a unique vibe.
There was a mix of people but the atmosphere and vibe was overall very nice. You felt very comfortable within the walls of this castle. It's not a huge space and it wasn't too crowded this year (~500 all in all) so be prepared for a more intimate and social experience than usual.
Mad Max & Cypherpunk is the official theming. Anything dystopian flies and the designs at the fashion show were pretty wild. This helps build the atmosphere into a pretty entertaining one and served as a unique reflection of modern & upcoming times.
Music & soundsystem
Delightful! I'm sure there will even be improvements for the following year, however as it sits – I was very impressed, especially considering all the music was indoors. They used Loud Professional VH F15EV based soundsystems for both dancefloors. They definitely would've benefitted from a bit more sub-bass and a few more subwoofers. Europeans have never been bass lovers however so it's all par for the course.
They managed acoustics very well, the basses were punchy, trebles crispy, and not decimating to the ear. I wore earplugs for 95% of the time anyways, but even without them you don't get completely murdered. Still, wear good quality festival earplugs (it makes the sound better).
Techno.
Mostly techno – downtempo, hard, melodic, dark, energetic – It was pretty damned great. I'm not a techno-lover per-se and love beats with more groove, but damn it was good techno. I had a blast.
Even then, there were some live performances and variety going on and even if I didn't know a single name on the lineup, I left with a lot of new favorites in my Spotify.
The key element to any good music festival is the sound and Utopia Festival scores well in this review. It's not mind-blowing or bone-rattling at all – the addition of a few more subwoofers would go a long way, but regardless, they did great with the setup.
Visuals
Well, you're in a palace. That's the first visual – centuries old design, furnishings, and atmosphere.
They're quite insistent on dress code which I love. A laser-beam gloved cybernetic-refraction performance while zooked? Please, more!
In terms of lighting for the stages it was nothing crazy but still cozy. I'd love to have seen some laser beams though and projection mapping though. The projections were alright and there wasn't anything particularly impressive, but that also compliments the natural aesthetic of the palace, so it's a matter of taste.
Food
Managed on-site by a team of French (and other) chefs, I've got to say the the food was stellar! Wholesome, organic, tasty, and attractive too. You're paying quite a bit of money (I'm not sure how much honestly since I got food vouchers) but hey, it's top quality food. It may be different next year though so YMMV.
There is also the nearby town which has regular supermarkets which is nice if you'd like to buy food that ways.
Camping
Tents were setup outside of the castle and while there was limited room, it developed a stronger sense of community and an intimate vibe. Coupled with the ~500 people that were there throughout, it was a nice vibe. I like hammock camping so I just setup in the trees.
Still, I would prefer camping in the woods by a lake or river. Nice clean and risk-free terrain though so barefoot isn't a problem.
There were some outdoor showers which were nice but be noted – it's cold water. I like cold showers so for me it's no issue, but keep that in mind if you're shy.
Workshops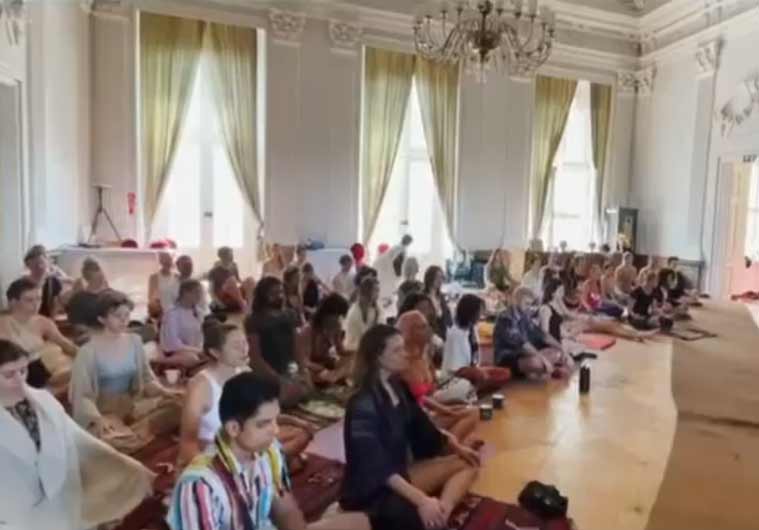 From psychedelic breathwork to lucid dreaming workshops or Bitcoin seminars (you can connect the dots here…) – there was really something for everyone and there was plenty to attend. They were all high-quality and enjoyable. I know for certain they're going to expand on this for future iterations.
Most short festivals don't even have workshops at all so I was very glad to see this. Keen to see how they do it next time.
Other attractions
Thanks to 'CarnieLand', we got some really fun and cute carnival games and even some rides and experiences.
You can invert yourself on the bikechair, decapitate a stuffed bear, or punch your frustrations out to make a personalized artpiece.
The addition of these little setups was very well chosen and I hope to see them again next year – great vibe, excellent constructions, and overall nice to see.
Oh yeah there was the Utopia fashion show, a Shibari performance, LED laser dance acts (which I missed :c), an amazing fire show, and other stuff. No doubt added a ton of value and experiences to the table.
Access
Located near a small town/village, there is easy road access and also the BassLiner bus service which took us there directly from Berlin.
€25 each way and a ~3-4 hour ride from Berlin, it's nothing special. Bus driver was a kind dude though and there were available drinks – pretty neat if you ask me. However, no subwoofers or bass on the BassLiner was a little letdown :p
Organization
I missed Friday but I heard it was a little scattered and disappointing. Saturday and Sunday were good from my point of view and I really have nothing else to report on here.
Bathrooms were fairly clean, had toilet paper (most of the time), running water for drinking. Sadly many guests left cigarette butts and trash in lots of places which the staff tried hard to clean up, but you can only do so much to tidy up after others.
Overall
Insane. I do not want to spoil, advertise, or reveal too much of what goes on behind the walls of this castle – however it's quite mind-blowing and enjoyable. Let me put it straight – if you're uncomfortable with kink/BDSM or casual nudity, this is probably not the place for you.
For those who are deeply into music, workshops, and 'play time', you're coming to the right place. Leave judgement, selfies, and Instagram at home. Get ready to wake up at 8:00PM and sleep at 8:00 AM for the deep experience.
As soon as I got on the bus home I immediately felt sad that I'm leaving this place – it's a very unique and almost mind-boggling experience. Once you take in what on earth just happened where King Henry I once ruled, you'll feel the same way.
I rate it quite well however it's not quite for everyone – know what you're into and decide if this vibe is for you!
Any questions just let me know – always glad to help out!